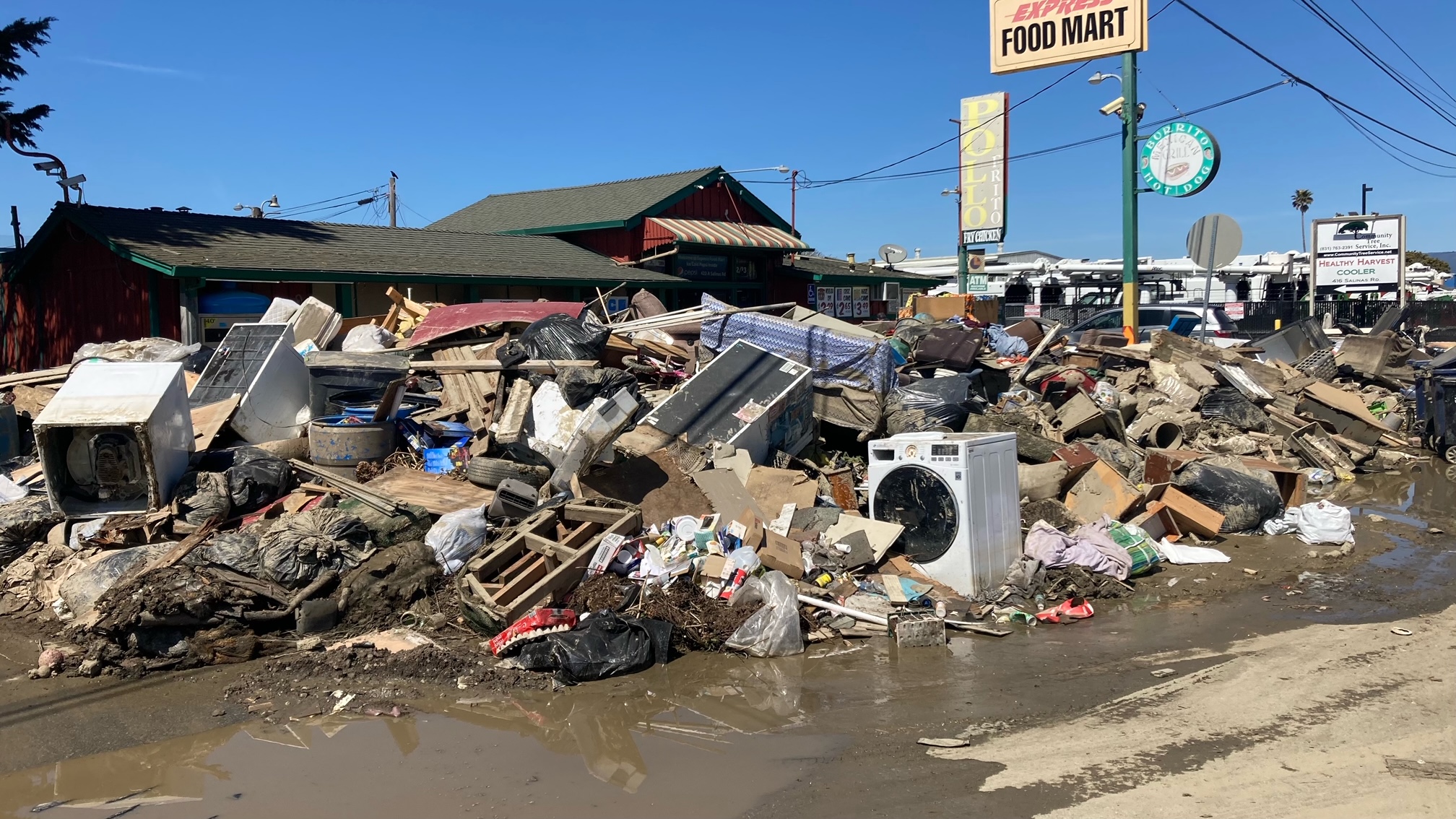 Destroyed appliances and other flood debris are piled for removal on Salinas Road near Railroad Avenue in Pajaro on Monday. (Tyler Maldonado — Santa Cruz Local)
PAJARO >> As Pajaro residents washed mud from their homes and hauled away flooded appliances and mattresses, state officials late Tuesday appealed for money and other help from the Federal Emergency Management Agency, or FEMA.
Gov. Gavin Newsom's disaster relief request was the second this year to include Santa Cruz and Monterey counties, this time for storm and flood victims from Feb. 21 through the March 11 Pajaro River levee breach.
"Nearly every home in Pajaro has been impacted, even those that do not have high water marks or were not reported as damaged," Newsom wrote in a 20-page letter to President Joe Biden on Tuesday. "California is continuing to be trampled by winter weather," Newsom wrote. "Federal disaster assistance and individual and household program assistance is necessary for disaster survivors and the state's long-term recovery."
Help from FEMA and the U.S. Small Business Administration has been available for victims of severe storms in places like Capitola, Felton and Boulder Creek from Dec. 27 to Jan. 31. 
More than $14 million in Small Business Administration low-interest loans have been approved for residents and business owners in Santa Cruz County as of Wednesday — the most money awarded among California counties, officials said. The application deadline was March 16.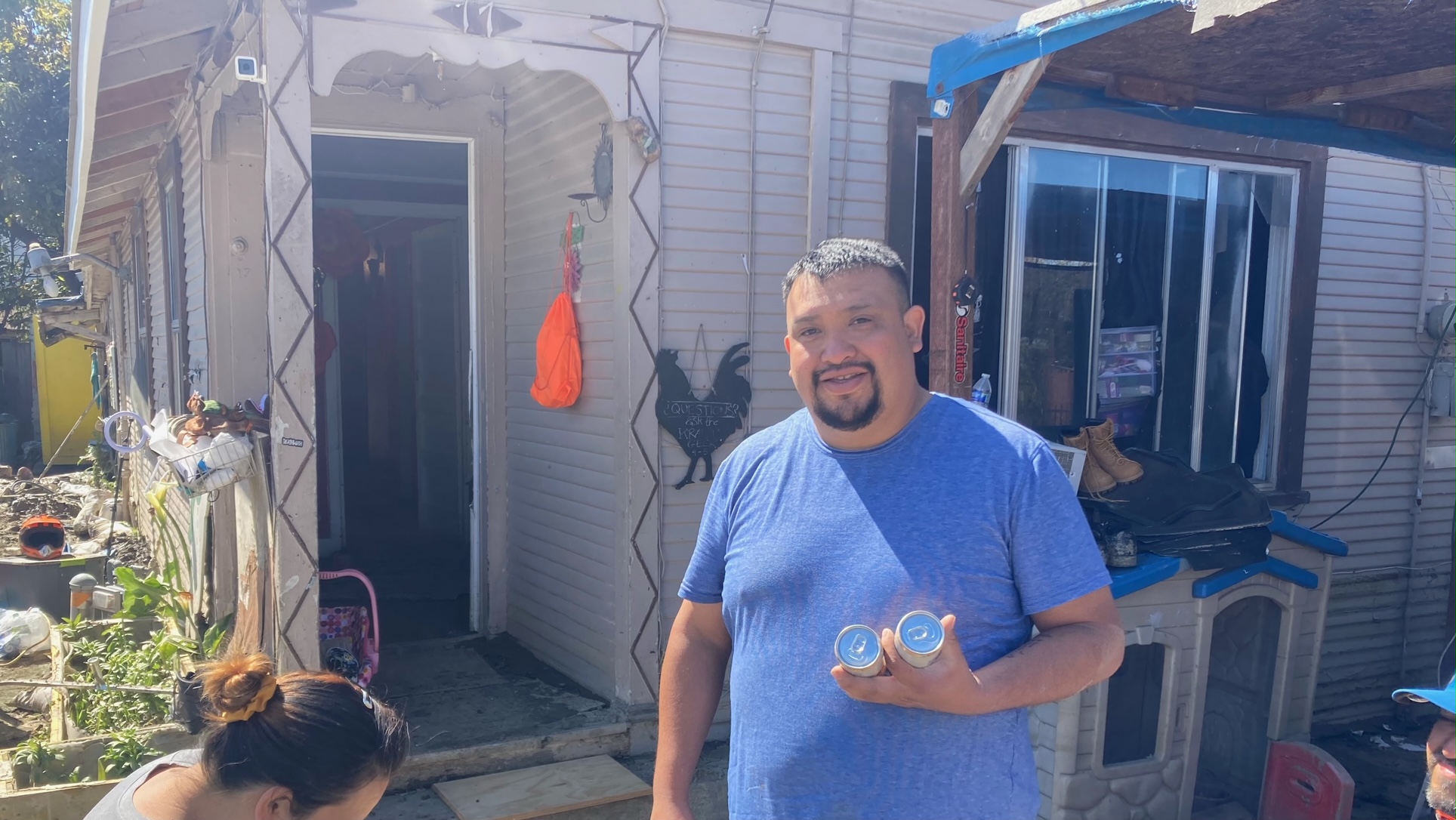 Juan Escutia, a 37-year-old UC Santa Cruz employee, cleans debris from his house on Associated Lane in Pajaro on Monday with help from his family. (Tyler Maldonado — Santa Cruz Local)
Damage estimates and potential relief
About 200 homes were heavily damaged or destroyed in the Pajaro flood, according to authorities' preliminary estimate. About 3,000 people were displaced.

About 900 buildings were damaged in Pajaro and a few more are expected to be added, said Cal Fire Battalion Chief Josh Silveira this week.

In Santa Cruz County since Feb. 21, storms have destroyed seven homes and businesses and caused major damages to 26 more buildings, Newsom wrote. 

About 1 in 3 Santa Cruz County residents do not have homeowners and personal property insurance, Newsom wrote. Less than 5% of county residents carry flood insurance. 
If Biden approves Tuesday's request, local governments and some nonprofit groups in Monterey County would be eligible for FEMA money for debris removal and repair and replacement of water control facilities, buildings, equipment, parks, roads and bridges. 
Santa Cruz County and Monterey County residents also would be eligible for FEMA "individual assistance." 
Biden's consideration of the disaster declaration this week — which includes nine California counties — will rely in part on Joint Preliminary Damage Assessments from FEMA and the California Office of Emergency Services. Santa Cruz County residents can add information to a county damage assessment by completing an online form in English or Spanish until the president declares a disaster.
FEMA Region 9 representative Robert Barker said that FEMA consider several factors before disaster help is granted:
State money capacity and resource availability.

Uninsured home and property losses.

Disaster impacted population profile.

Impact to community infrastructure.

Deaths.

Disaster related unemployment.
For many Pajaro residents, the past week has been arduous as they sort through their homes and try to recover.
Residents dig out
Hugo Florez grew up on Associated Lane in Pajaro. His mother, stepdad, two brothers, and sister still live there and were evacuated for the flood. The damage included their refrigerator, oven and mattresses. Two large, golden soccer trophies also were among the debris.
"There's a lot of stuff you're finding out, little pictures here and there that hold sentimental value," Florez said. "So it's kind of tough."
Appliances, trash and trophies stand outside Hugo Florez' childhood home in Pajaro on Monday. (Tyler Maldonado — Santa Cruz Local)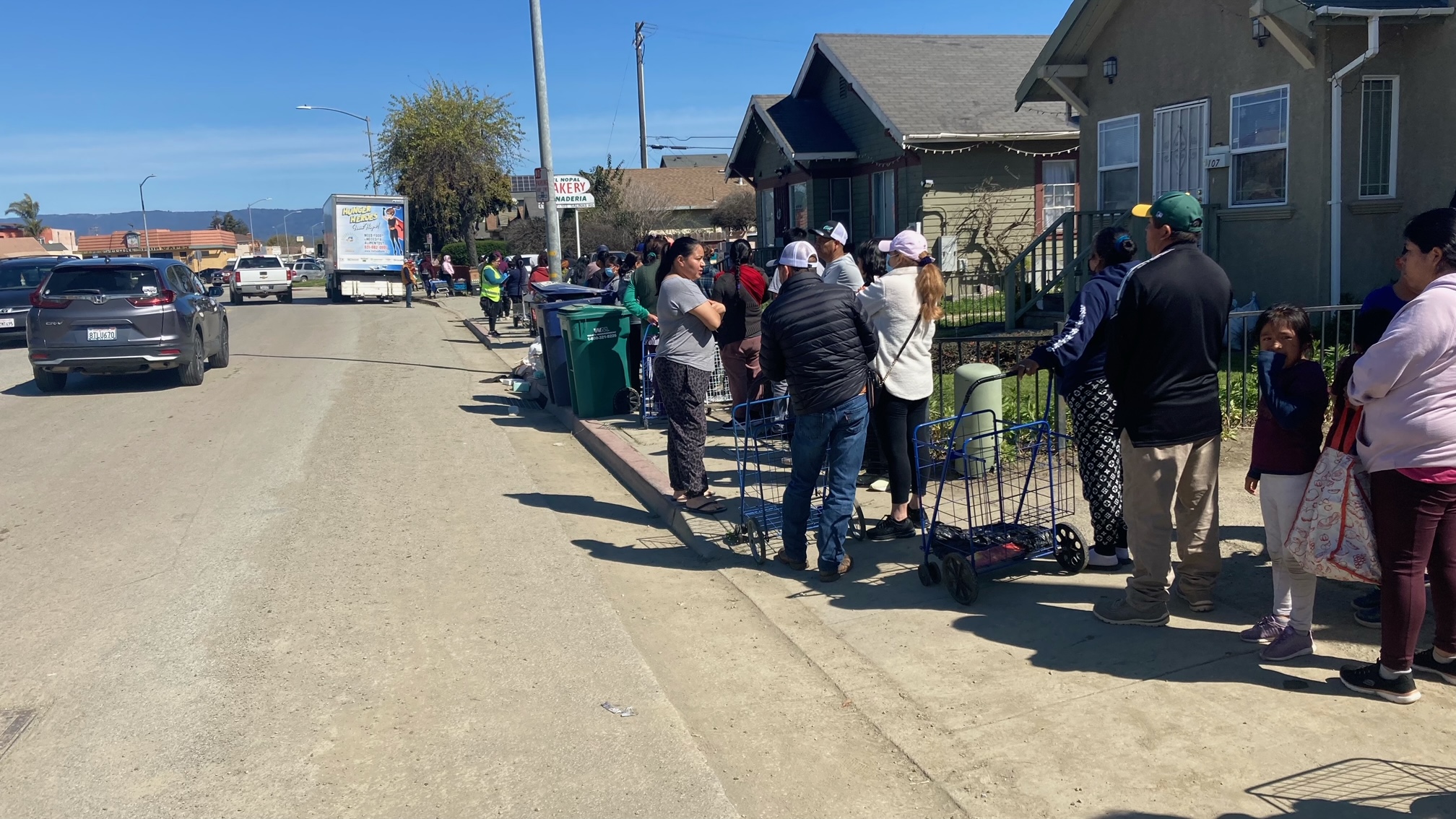 After a flood destroyed hundreds of Pajaro residents' food storage, a line forms for food from Second Harvest Food Bank on Salinas Road in Pajaro on Monday. (Tyler Maldonado — Santa Cruz Local)
After scraping away mud and removing debris, most of the curb outside Florez' home was filled with piles of debris. It was enough to start to block the road. Residents had been told that dumpsters were on the way. 
"We asked an official, 'When are the containers going to be here?' They told us 'Monday.' I was like, 'We can't wait, we have all our stuff on the street already. We need this to be cleaned up quickly'," Florez said. "I was like, 'I don't see a lot of movement, so let's just get it done, you know? We reached out to someone with a dump truck, they brought it over and we just threw everything on the dump truck."
Patricia Medrano, 80, said she and her neighbors and volunteers have emptied essentially everything from her flood damaged home. Medrano's husband, Antonio, can't return to their home because he is a dialysis patient and vulnerable to infection.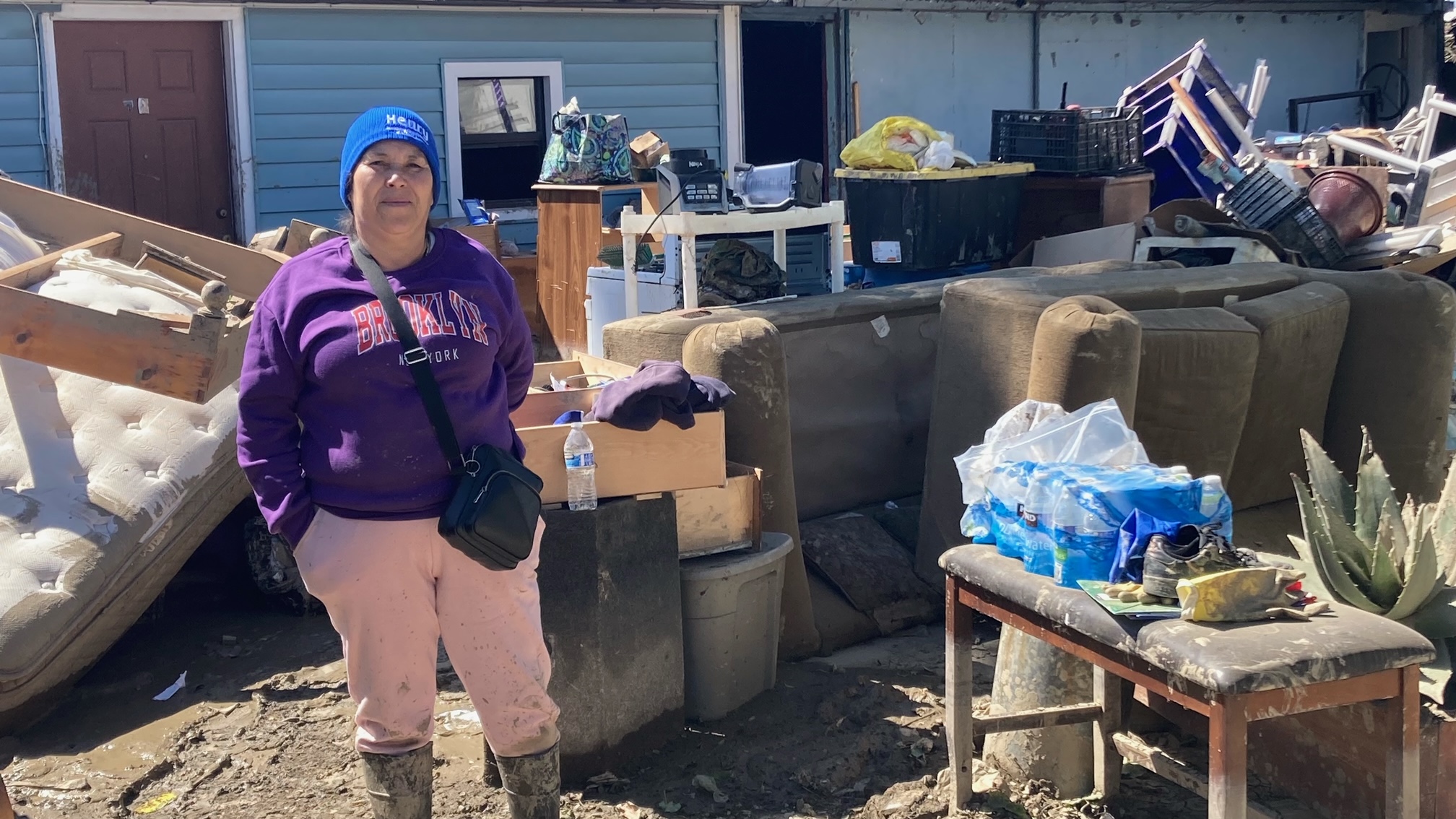 Neighbors and volunteers helped Pajaro resident Patricia Medrano haul furniture from her flooded home on Monday. (Tyler Maldonado — Santa Cruz Local)
"It's very difficult for me because he needs help. He can't even enter the house," Medrano said in Spanish. A neighbor who was helping Medrano on Monday noted that it would be next to impossible for Medrano — a monolingual Spanish speaker — to navigate FEMA's online system to apply for relief money. Medrano also lost most of her identifying documents in the flood.
Juan Escutia, 37, is a lead custodian at UC Santa Cruz who lives with his family on Associated Lane in Pajaro. He said his daughters' whole room was flooded, along with the laundry room and most of his beloved DJ equipment. Two speakers on high stands in the living room survived the water, Escutia said. 
Since Escutia is not a farmworker, he said he was not eligible for the $600 USDA grant for farmworkers with identification and proof of employment. Most of his neighbors also work in industries other than agriculture.
"It's bad, because all people have the same problem," Escutia said.
If a disaster is declared in Monterey County, Escutia could be eligible for FEMA money. 
Water for cleaning, not drinking
Running water and flushing toilets returned to most Pajaro homes on Saturday, March 25.
While residents are still advised not to drink or cook with the water by the county, the water is safe for showering and cleaning. Brushing teeth and cleaning dishes with tap water is still not advised in Pajaro. 
There are different risks with water ingestion and skin contact, said Don Rosa, general manager of the Pajaro water provider Pajaro/Sunny Mesa Community Services District. Even miniscule levels of ingested water carry far higher risks than skin contact, Rosa said, and water contamination has not been ruled out since the flood. 
Showers and laundry service at Pajaro Middle School are expected to close Thursday, March 30.
Though water has been restored, many residents lost their laundry systems in the flood. Destroyed washers and dryers were piled in several areas of Pajaro. A laundromat on Salinas Road remained closed Tuesday. A Monterey County-funded service washed more than 7,000 loads of laundry as of Monday.
Monterey County has paid for many services provided to Pajaro residents directly, including staff money for an emergency shelter at the Santa Cruz County Fairgrounds and money for the shower and laundry service provider All Clean Emergency Systems.
Resources for residents
A local assistance center opened Wednesday, March 29 at the Veterans Memorial Building, 215 E. Beach St. in Watsonville. The center is expected to be open 9 a.m. to 7 p.m. daily through April 7. 
The center is operated by the County of Monterey with local nonprofit groups and includes the following services for flood victims:
Water safety testing kits.

Mental health services.

Legal help for price gouging, housing, employment, civil rights and other matters.

Rebuilding guidance.

Help for farmworkers.

Financial aid.

Vehicle disposal.

Replacement of mobile homes.

Identification and other document replacement.
A state guide ists services for residents without legal immigration status, including mixed-status families such as those whose children are US citizens.
Disaster Recovery Centers at 701 Ocean St. in Santa Cruz and 250 Main St. in Watsonville are expected to close at the end of business on Thursday, March 30, county leaders said. The Santa Cruz center is open 9 a.m. to 5 p.m. and the Watsonville center is open 8:30 a.m. to 4:30 p.m. Santa Cruz County also has an online resource center.
The Community Foundation of Santa Cruz County is accepting donations for storm and flood victims on its website.
Read more
Learn about membership
Santa Cruz Local's news is free. We believe that high-quality local news is crucial to democracy. We depend on locals like you to make a meaningful contribution so everyone can access our news.
Learn about membership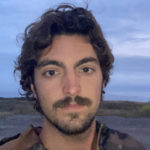 Tyler Maldonado holds a degree in English from the University of California, Berkeley. He writes about housing, homelessness and the environment. He lives in Santa Cruz County.