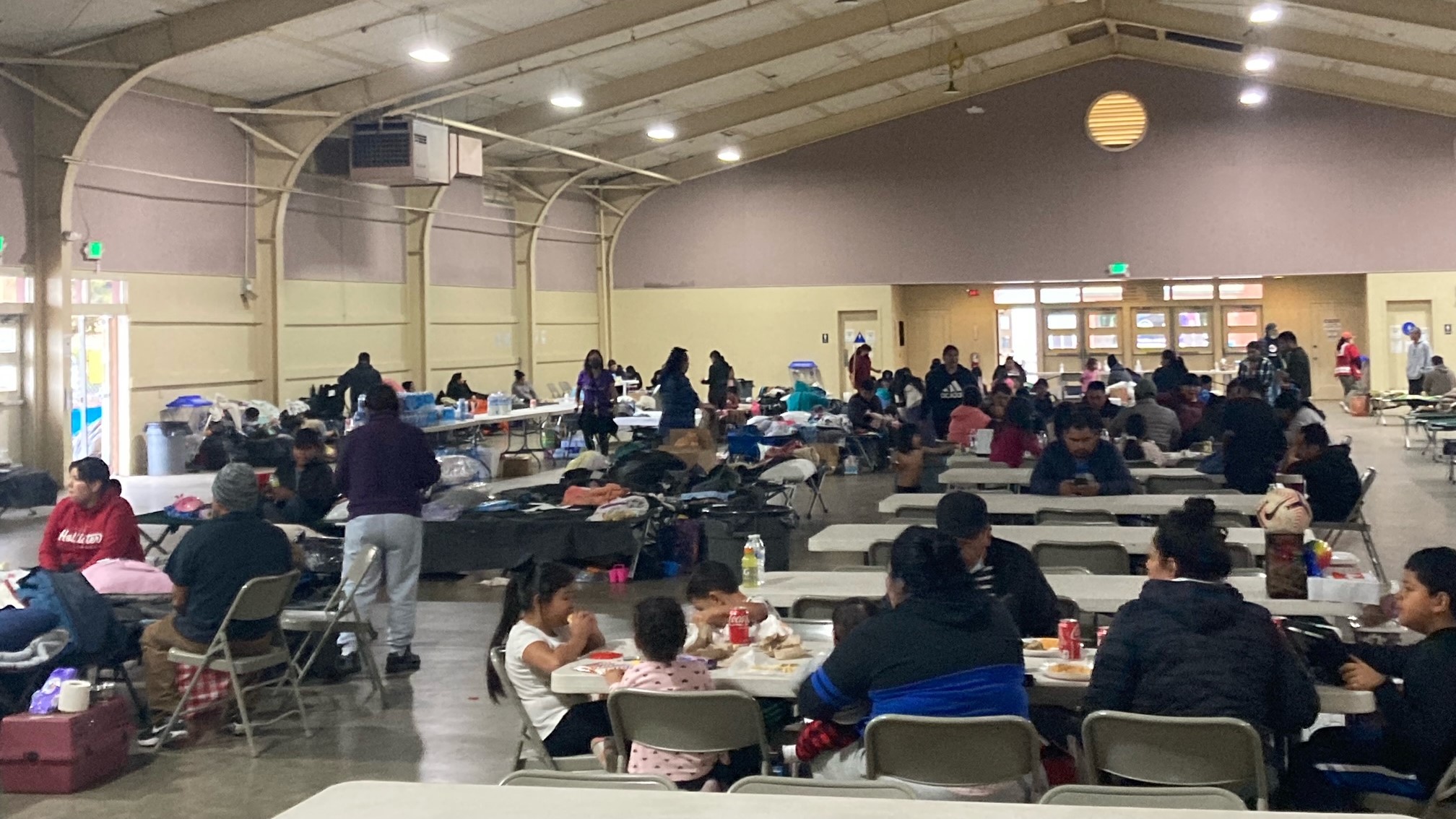 Flood victims find shelter at the Santa Cruz County Fairgrounds on Monday, March 13. (Tyler Maldonado — Santa Cruz Local)
Get informed
Read Santa Cruz Local's Winter Storms Resource Page
Learn about evacuation orders, shelter, road closures and how to help.
Get informed
WATSONVILLE >> Nearly 2,000 Pajaro residents have been displaced by flood waters in recent days, with more than 300 people taking shelter at the Santa Cruz County Fairgrounds. 
Kelly Reyes, 25, was at home with her mother in Pajaro about 1 a.m. Saturday when her mother opened the door to the National Guard. They told her to leave immediately. The swollen Pajaro River had broken through roughly 100 feet of the levee near River Mile 10 on the Monterey County side, sending water into agricultural fields and Pajaro.
Reyes said she received an evacuation warning for the last big series of storms in January. "For some reason, I suppose we just weren't really expecting the flood" Saturday, Reyes said. Reyes said they fled to her grandmother's home in Watsonville. She said she felt "so lucky" to be together with family in a dry, familiar place under one roof. 
Other families were less fortunate. Sirens wailed in Pajaro as authorities tried to evacuate residents. About 80 people stayed at the Santa Cruz County Fairgrounds shelter on Saturday, said volunteer Fabian Leonor.
"A lot of kids were telling me 'I was afraid. I heard the siren. I couldn't sleep last night,'" Leonor said. 
By Sunday afternoon, more than 300 people took refuge in three buildings at the fairgrounds. The Watsonville Veterans Hall at 15 E. Beach St. also offered beds, and county leaders set up a temporary evacuation point at Ramsay Park in Watsonville. As of Tuesday evening, the fairgrounds shelters were full and the Ramsay Park evacuation point was closed. Shelter space remained at the Watsonville Veterans Hall and the Cabrillo College gym at 6500 Soquel Drive in Aptos. 
More than 120 people also found shelter at the North County Recreation and Park District building at 11261 Crane St. in Castroville, as well as several dozen people Tuesday at churches in Greenfield and Salinas.
As of Tuesday evening, the shelters at the fairgrounds were full and the Ramsay Park evacuation point was closed. Shelter space remained at the Watsonville Veterans Hall and the Cabrillo College gym at 6500 Soquel Drive in Aptos.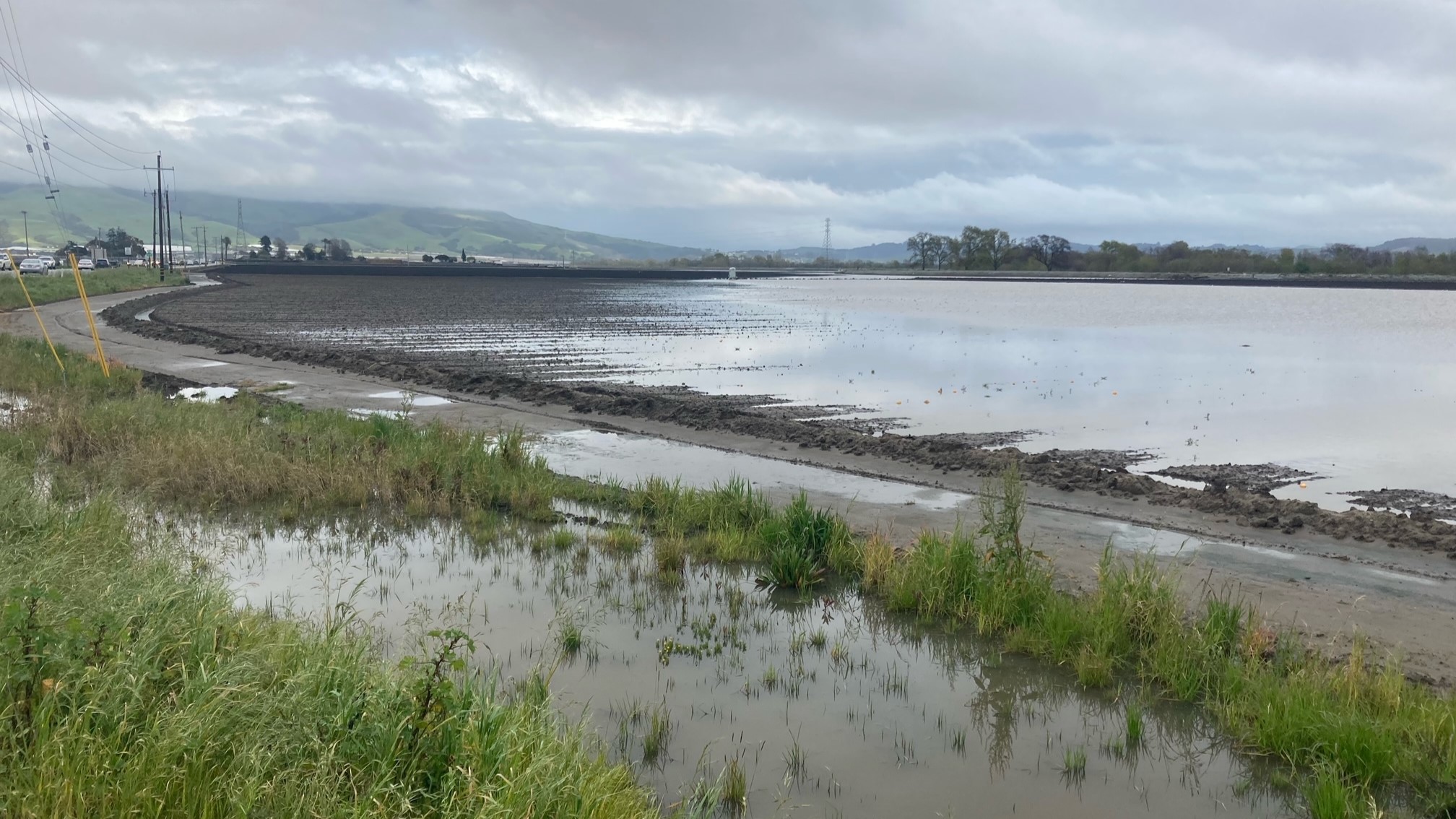 Part of the Pajaro River levee breached early Saturday, flooding Pajaro homes and farms on the Monterey County side of the river. (Tyler Maldonado — Santa Cruz Local)
Flood victim Alejandra Hernandez said her daughter, Fatima, was recovering from a leg operation when they were evacuated to the fairgrounds shelter Saturday afternoon. Fatima was carried in a chair from the home during the chaotic first moments of the flood.
"It was scary for me," Hernandez said. Hernandez said she and her daughter and son, Carlos, are originally from El Salvador. They have lived in Pajaro and Watsonville for the past four years. 
"It's good, they've been treating us well," Hernandez said of the shelter. She said she appreciated the shower.  "It's not the same as being with your own house," Hernandez said.
Daniel Rosales is a 30-year-old Pajaro resident who works in construction in Capitola. He said he wanted to go home to try to recover some of his belongings, but he wasn't sure whether his home would be habitable.
"It depends how the situation goes," Rosales said. "If not, I'll probably look for some other place."
Watsonville city officials said Monday that water remains safe to drink in Watsonville, though water remains unsafe to consume even if boiled in Pajaro. 
Some volunteers are collecting donations of bottled water, food and other items for flood victims through the Watsonville group Raíces y Cariño, or Roots and Love. Its co-founder, Ricardo Yerena, said they are looking for donations of refillable gallons of water in particular, and "a little bit of everything". Call or text Raíces at 831-288-3105 for information on how to give or receive donations of water, blankets and hygiene items.
"Put yourself in a situation where you're staying in a car or out of your home, and bring that," he said. Additionally, he advised everyone, not just survivors, to get onto social media and sign up for alerts for news on events.
A directory of money contributions can be found on the Raíces y Cariño website.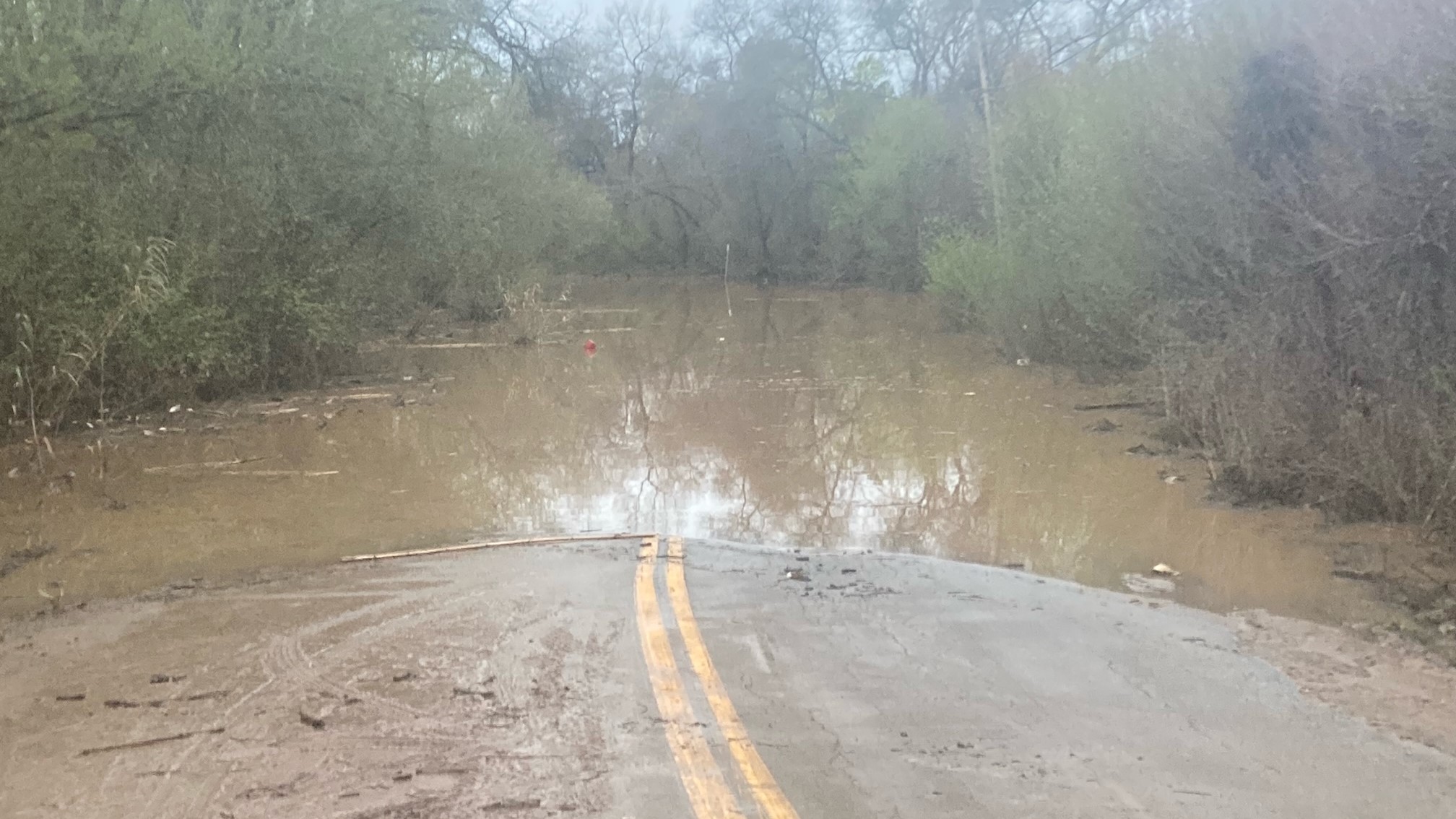 A flood prompted the closure of Highway 152 on Saturday. Highway 152 remained closed Tuesday night from Casserly to Holohan roads, according to the California Highway Patrol. Highway 1 also remains closed from Riverside Drive in Watsonville to Salinas Road in Monterey County as authorities determine bridge conditions over the Pajaro River, Caltrans officials said Tuesday. (Tyler Maldonado — Santa Cruz Local)
It's UNKNOWN when SR-1 between Salinas Rd. and SR-129 will reopen. A levee breach has eroded embankment around the Pajaro Bridge.The bridge is stable at this time. @CaltransD5 engineers are monitoring the bridge and it's integrity and will open the roadway when it's safe to do so pic.twitter.com/cXotz8DlN6

— CHP Santa Cruz (@CHPscrz) March 15, 2023
Levee breach and repairs
Before the levee breached Saturday, a flood near the same area in 1995 killed two people and caused about $95 million in damage, Santa Cruz County leaders said. Pajaro River levees nearly broke during storms in 2017. 
Although some state and county leaders had tried to find money to fortify the project for decades, "the federal levee system along these waterways only provides an eight-year level of flood protection, among the lowest of any federal system in California," wrote Kim Floyd, a representative of the Pajaro Flood Risk Management Project. 
The project is a joint powers authority of the counties of Santa Cruz and Monterey, City of Watsonville, the Monterey County Water Resources Agency and the Santa Cruz County Flood Control and Water Conservation District. It aims to plan, finance and implement projects to reduce flood risks on the lower Pajaro River and tributaries in Santa Cruz and Monterey counties.
In October, state, local and congressional representatives celebrated the full funding of a $400 million project to provide 100-year flood protection. Construction is slated to start in 2025.
Emergency repairs on the levee are expected to continue through at least March 21, Monterey County Supervisor Luis Alejo wrote on social media Tuesday.
🚨PAJARO LEVEE BREACH WORK UPDATE🚜
• Emergency repair work continues. Overnight, contractors worked to fill the 400 foot (est) gap with rocks and fill and as of 10:00am have only 30 feet to go until material is covering the width of the breach. This will stabilize the… https://t.co/svNz0pDvI3 pic.twitter.com/Z0SksztHCO

— Luis Alejo⚖️ (@SupervisorAlejo) March 14, 2023
Learn about membership
Santa Cruz Local's news is free. We believe that high-quality local news is crucial to democracy. We depend on locals like you to make a meaningful contribution so everyone can access our news.
Learn about membership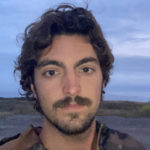 Tyler Maldonado holds a degree in English from the University of California, Berkeley. He writes about housing, homelessness and the environment. He lives in Santa Cruz County.