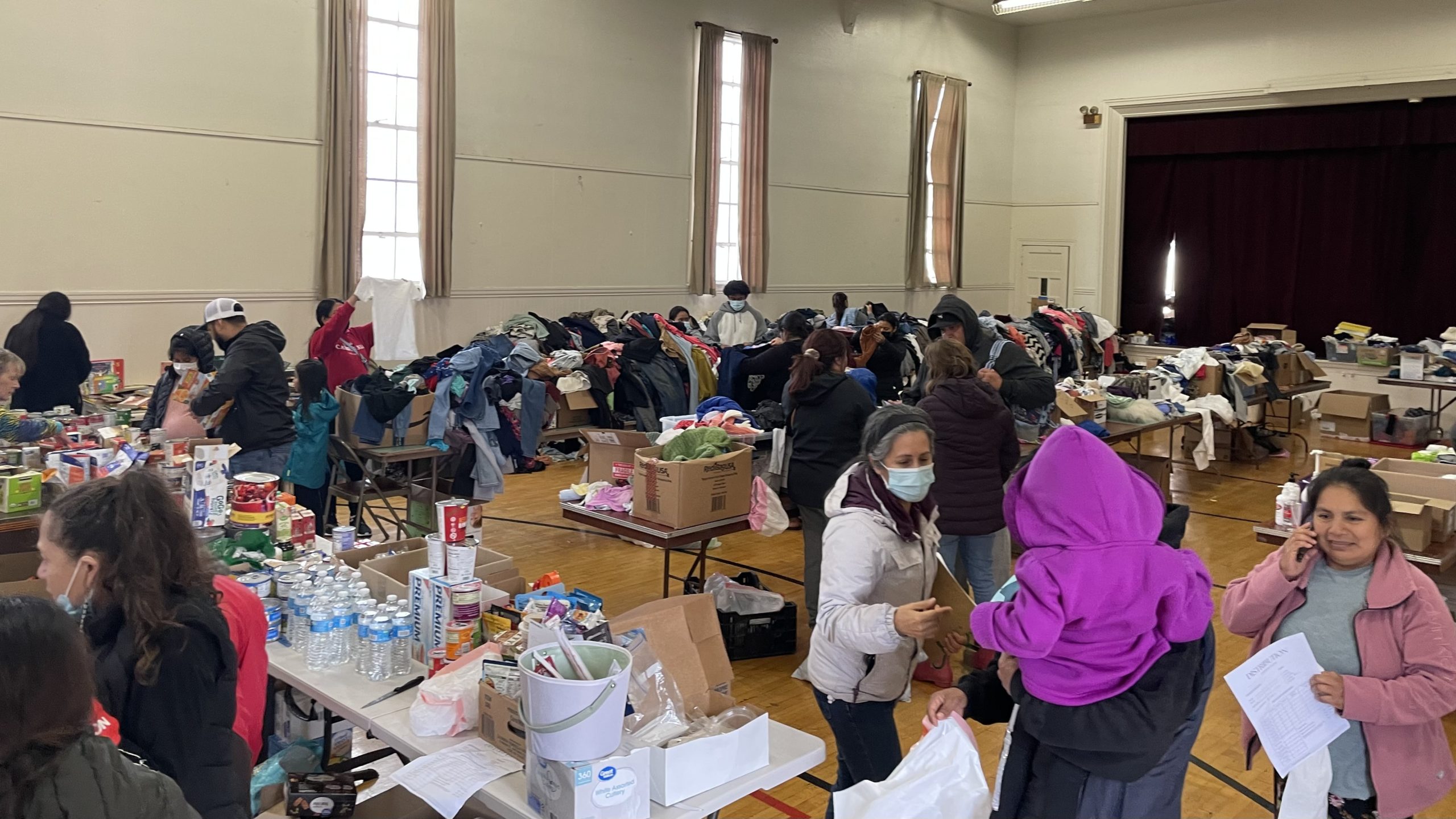 Volunteers provide food, supplies and clothing to Pajaro flood victims at Westview Presbyterian Church in Watsonville on Tuesday. (Natalya Dreszer — Santa Cruz Local)
WATSONVILLE >> Authorities allowed about 3,000 Pajaro flood victims back in their homes Thursday, marking the start of cleanup and repairs that could span months.
Many Pajaro homes had electricity, but toilets could not be flushed and water remained unsafe to drink or cook with, Monterey County officials said. Slippery, mud-caked sidewalks and driveways led to flooded cars and dozens of damaged homes.
"The need was desperate before the flood," said Nora Yerena, director of the community-based organization Raíces y Cariño. "The (Pajaro River) bridge being open means nothing in regards to those continued needs," Yerena said after the bridge opened Thursday. 
Pajaro is often associated with agriculture, but its residents work in many industries and earned a median annual household income of about $58,500 in 2021, according to the U.S. Census Bureau. Since storms have pummeled the area from late December to March, many Pajaro farmworkers have been out of work.
Raíces y Cariño has provided food, clothes and supplies to hundreds of flood victims this week at Westview Presbyterian Church at 118 First St. in Watsonville. 
For some, the Pajaro River levee breach just before 1 a.m. March 11 brought back awful memories of Pajaro's last major flood in 1995.
"I want to go home," said Rita Ramirez, 46. "I had a little breakdown because I just remember '95 and how muddy and dirty it was. We lost a lot," Ramirez said. "I had just turned 18, I was a senior in high school in Watsonville. And (now) it's my daughter's senior year. It's sad. And her birthday was on Thursday. And this happened." 
Ramirez said she remembered a lot of cleaning. She said she just got a new job at a school and she didn't want to lose it during the weeks or months it will take to put her home back in order.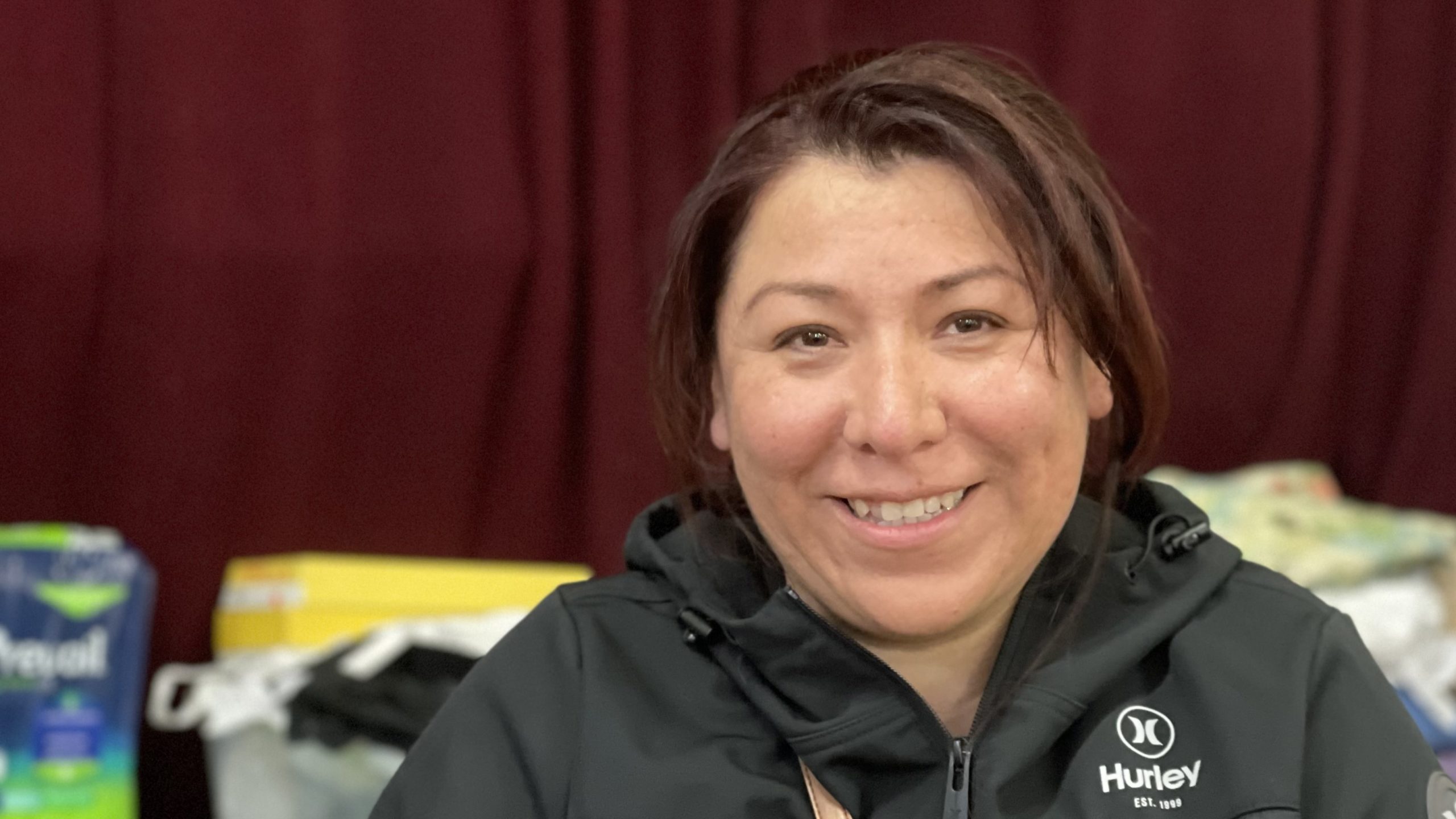 Pajaro resident Rita Ramirez remembers when Pajaro flooded in 1995 when she was 18. Her daughter is now 18 and also a flood victim. (Natalya Dreszer — Santa Cruz Local)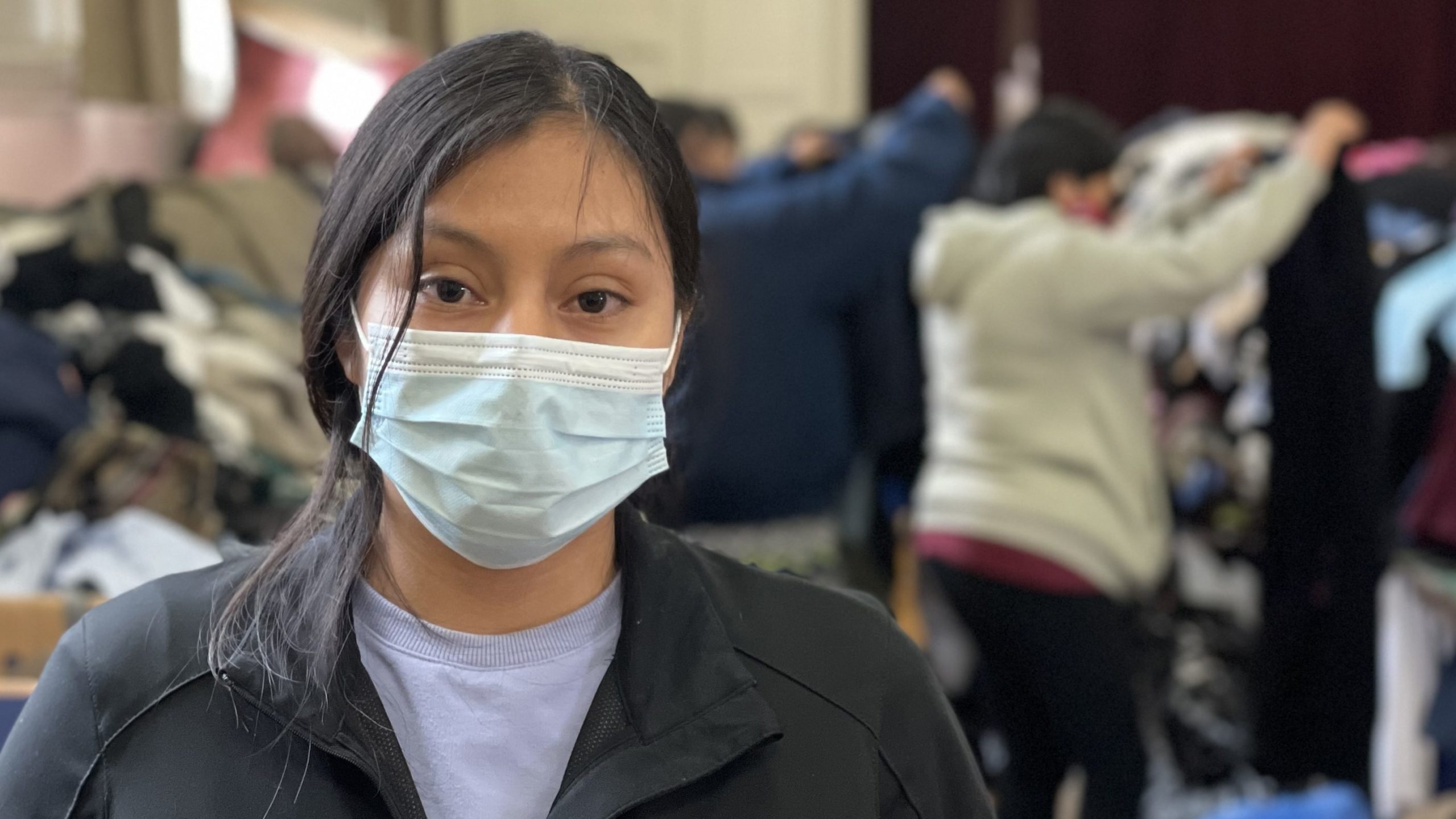 Maria Santiago, 27, fled her Pajaro home with her family in the early morning of March 11. A strawberry picker, Santiago stayed at the Santa Cruz County Fairgrounds this week. (Natalya Dreszer — Santa Cruz Local)
Maria Santiago, 27, was at home with her family in Pajaro when the levee broke. "Ambulances came, the river had broken, we had to leave," Santiago said in Spanish. "We were able to take just some of our jewelry because they told us to get out quickly. We could not take hardly anything — only about two shirts. We didn't think (the water) would get too high, so we didn't take a lot," Santiago said.
She said she needed soap, toothbrushes, toothpaste and underwear. "Any kind of help is welcome. Any help. This is what I would like to ask," Santiago said.
Unable to return to her home through Wednesday, Santiago stayed at the Santa Cruz County Fairgrounds shelter. About 450 people stayed at shelters in Watsonville and other areas this week, Monterey County authorities said.
Finding shelter
Many others stayed with family and friends in Watsonville. Some flood victims slept in their cars near the 100 block of Main Street in Watsonville and other areas because they said they were wary of dealing with shelters.
Authorities initially estimated 2,000 Pajaro flood victims, but Monterey County Administrative Officer Sonia De La Rosa said this week there were about 3,000 victims. Many residents were crammed into sparse housing. 
Before displaced Pajaro residents were officially allowed back in their homes, a Cal Fire disaster inspections team provided initial damage estimates of Pajaro homes and buildings and published an online map. Some of the worst damaged homes were on Railroad Avenue.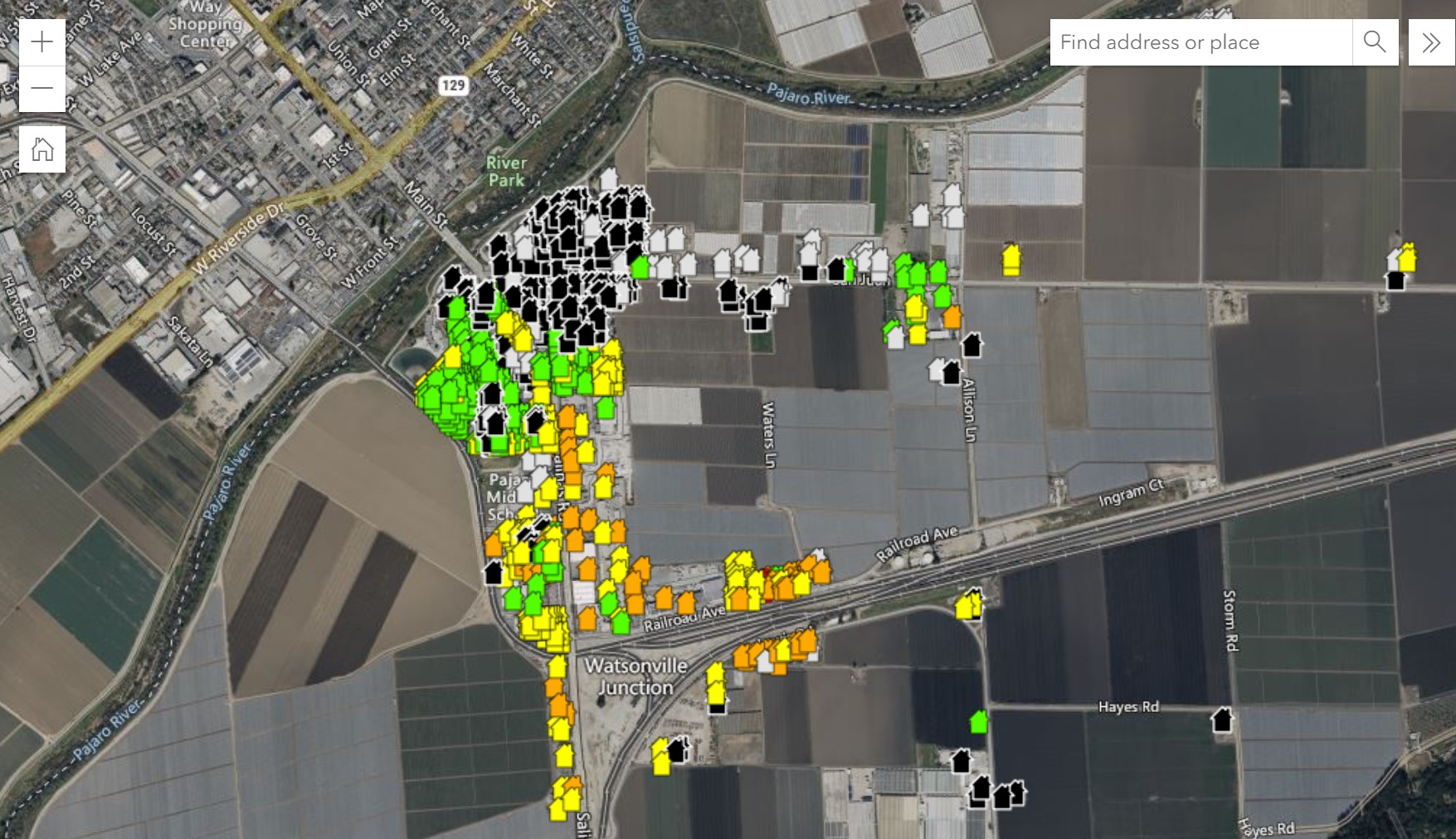 A Cal Fire damage inspections team categorized Pajaro buildings with major flood damage in orange, minor damage in yellow, "affected" structures in green and buildings with no damage in black. View the map and definitions. (Cal Fire)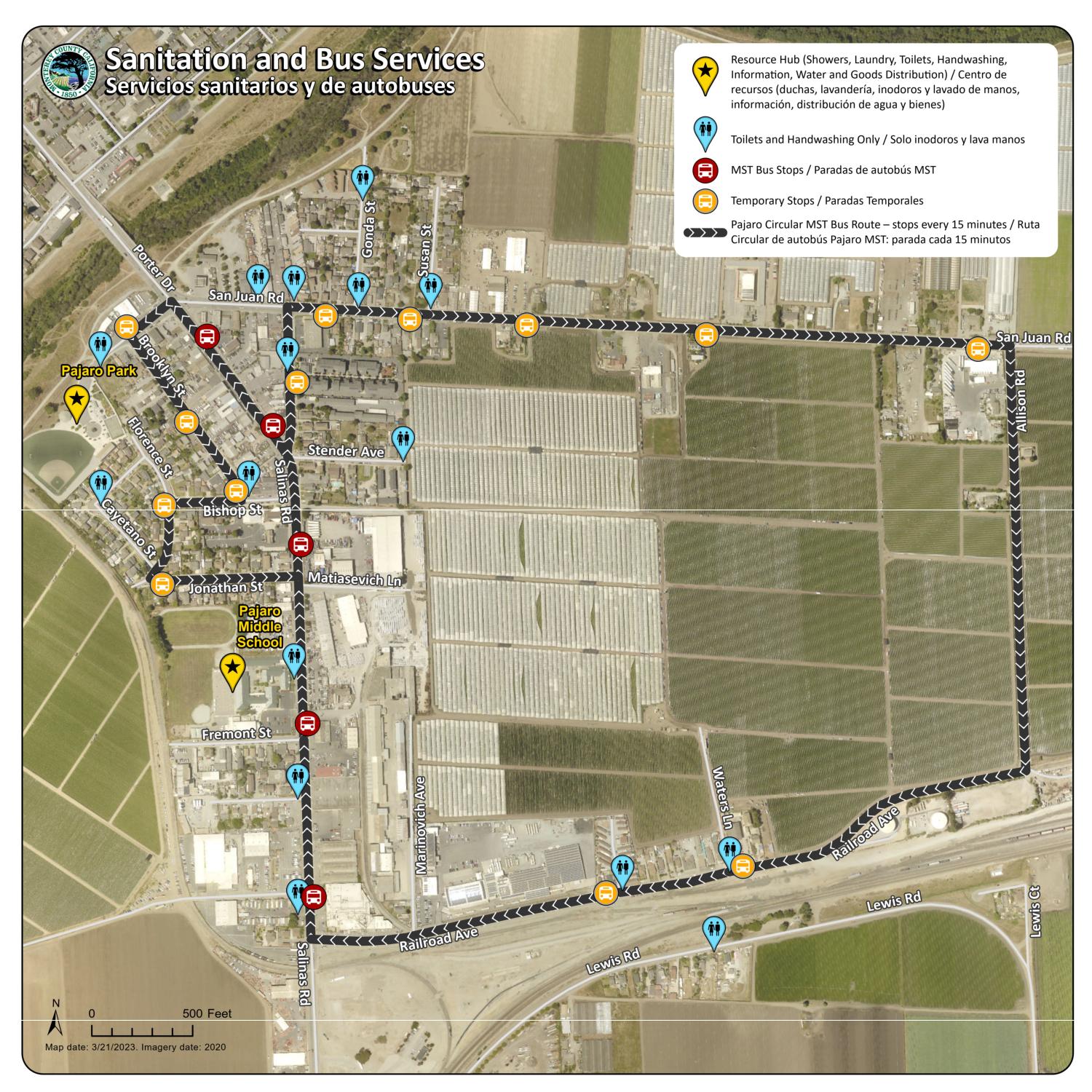 A map shows "resource hubs" at Pajaro Park and Pajaro Middle School with toilets, showers, handwashing, bottled water and laundry stations. Blue markers show toilets and handwashing stations. (County of Monterey)
In the past two weeks, many flood victims said they were confused about where to get help and what help was available. Rita Ramirez said she initially went to the Santa Cruz County Fairgrounds and got help. She left to eat and returned, then she was told she needed a county-issued bracelet to get help. She didn't have one. 
Sanitation resources
Tuesday night, dozens of residents packed a hall at the Santa Cruz County Fairgrounds described what to expect and outlined some sanitation resources.
Portable restrooms have been placed on some Pajaro streets because toilets can't be flushed.

Sixteen clothes washers and dryers are available for Pajaro residents for free at 250 Salinas Road, just south of Pajaro Middle School. 

Pacific Gas & Electric Co. representatives are expected to troubleshoot problems with power and natural gas.

The County of Monterey will offer free curbside debris removal for residents starting Monday, March 27. Rules for debris removal are on the

County of Monterey's website

. Debris must be on the curb, not in bags or waste bins. Debris must be sorted into piles for electronic waste, appliances, hazardous waste, vegetation, mud and construction waste. Business leaders must pay for their trash removal, said Marni Flagg, a Monterey County consumer health protection supervisor.
⚠️TREMENDOUS LOSS seen up close today in #Pajaro! Every family & small business was inviting me into their homes/business to witness their severe losses & damage. Mud is everywhere and you can smell the fowl odor of the water and mud in each home. Cars left behind are total… pic.twitter.com/ok6VBZPcml

— Luis Alejo⚖️ (@SupervisorAlejo) March 23, 2023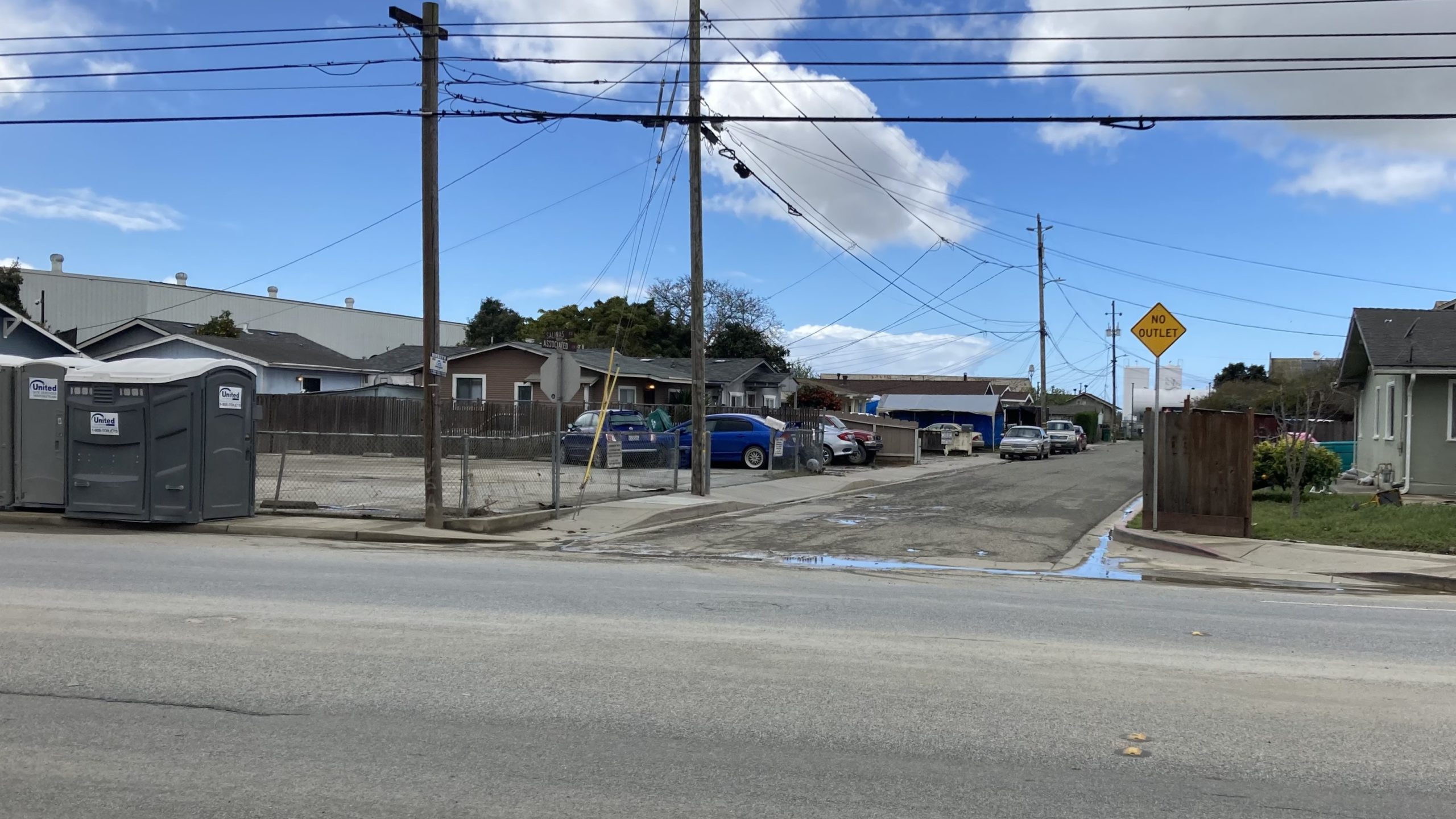 Portable toilets stand on Salinas Road near Associated Lane in Pajaro on Wednesday. Toilets in buildings cannot be flushed until sewer and water repairs are made, Monterey County authorities said. (Tyler Maldonado — Santa Cruz Local)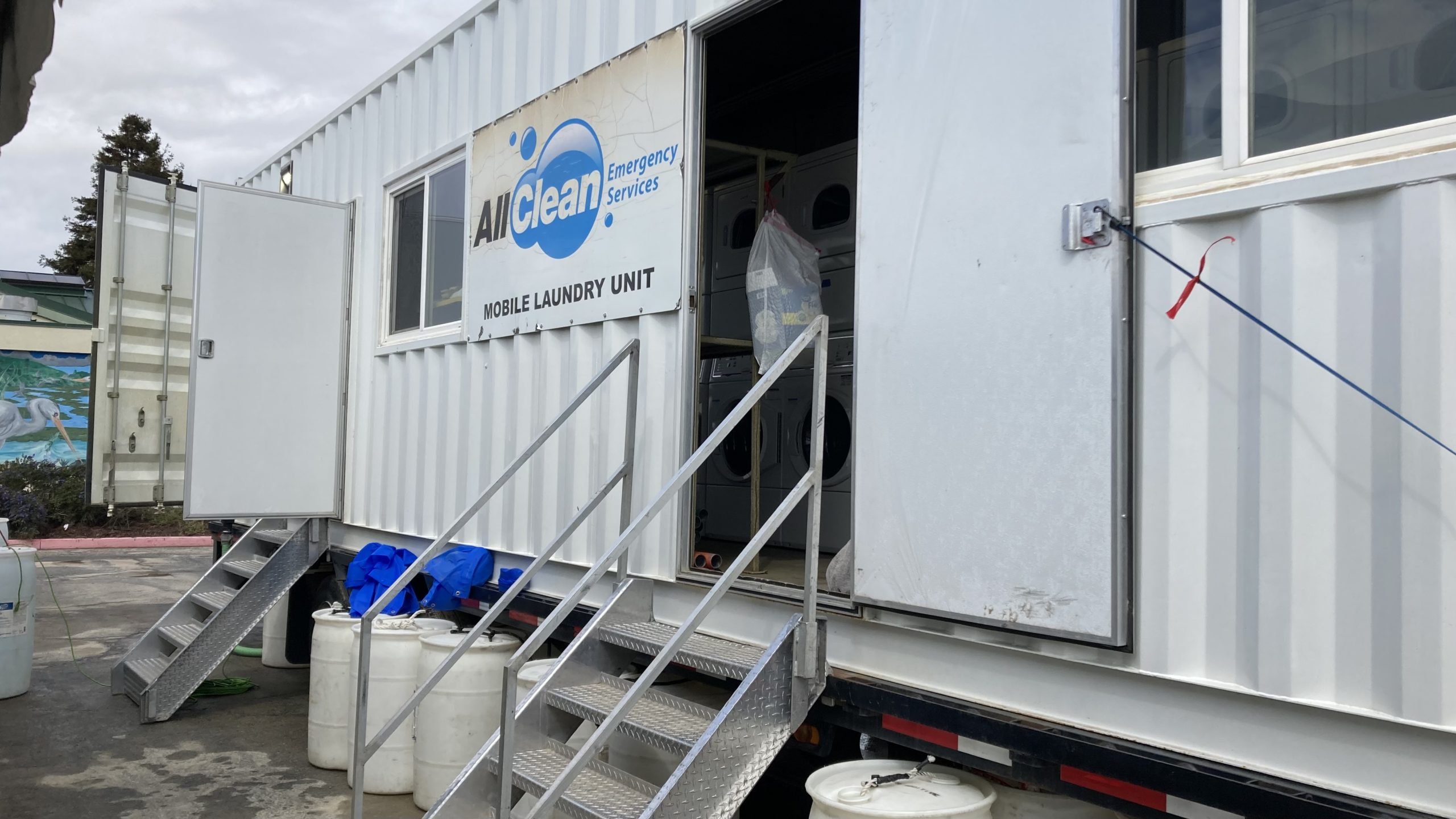 Pajaro flood victims have access to showers, clothes washers and dryers at 250 Salinas Road in Pajaro. (Tyler Maldonado — Santa Cruz Local)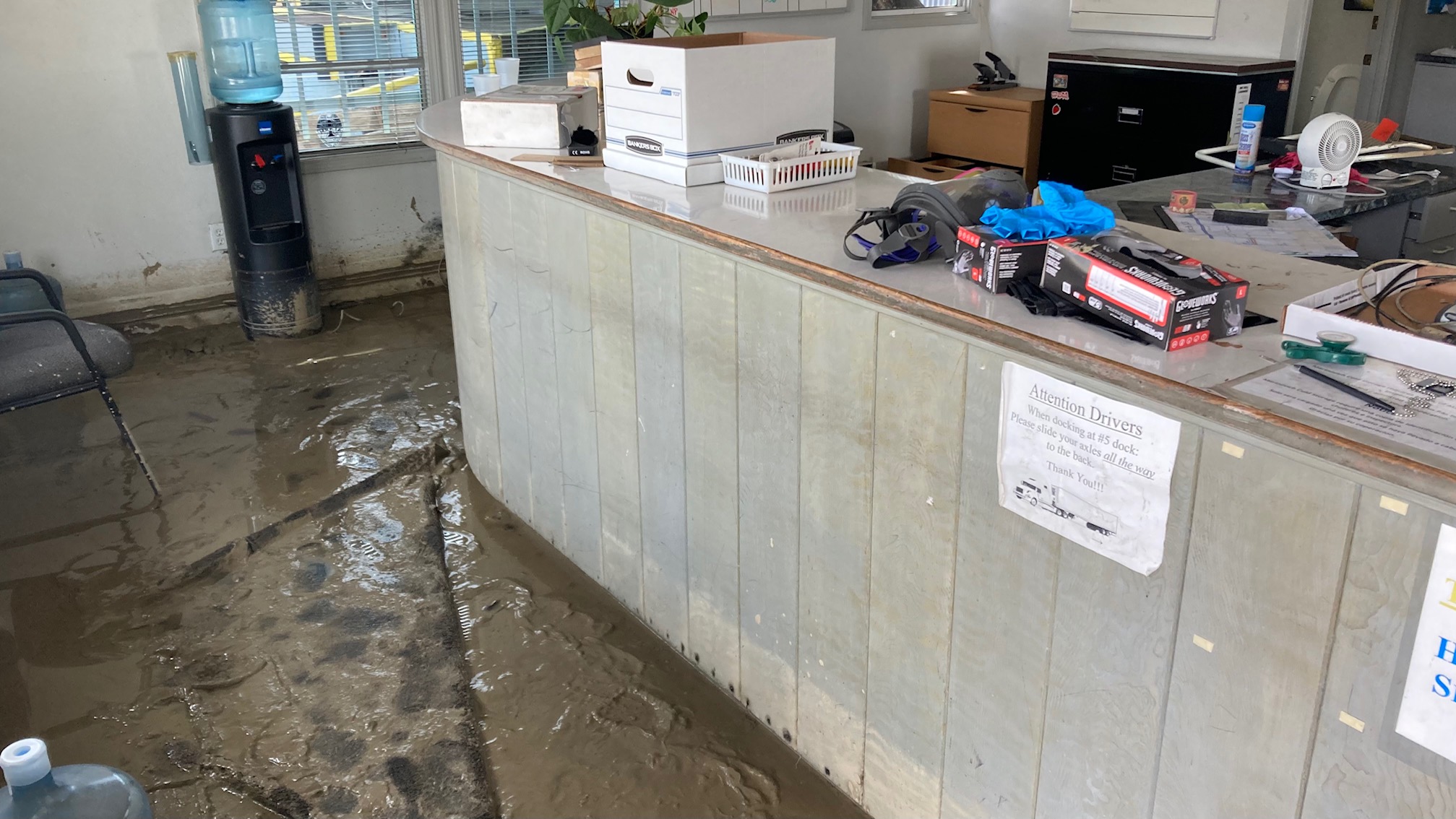 Mud cakes the office floor of Marinovich Cooling and Storage at 303 Salinas Road in Pajaro on Wednesday. Owners Joe and Sal Alvarez say that hundreds of thousands of dollars of products were lost in the March 11 flood. (Tyler Maldonado — Santa Cruz Local)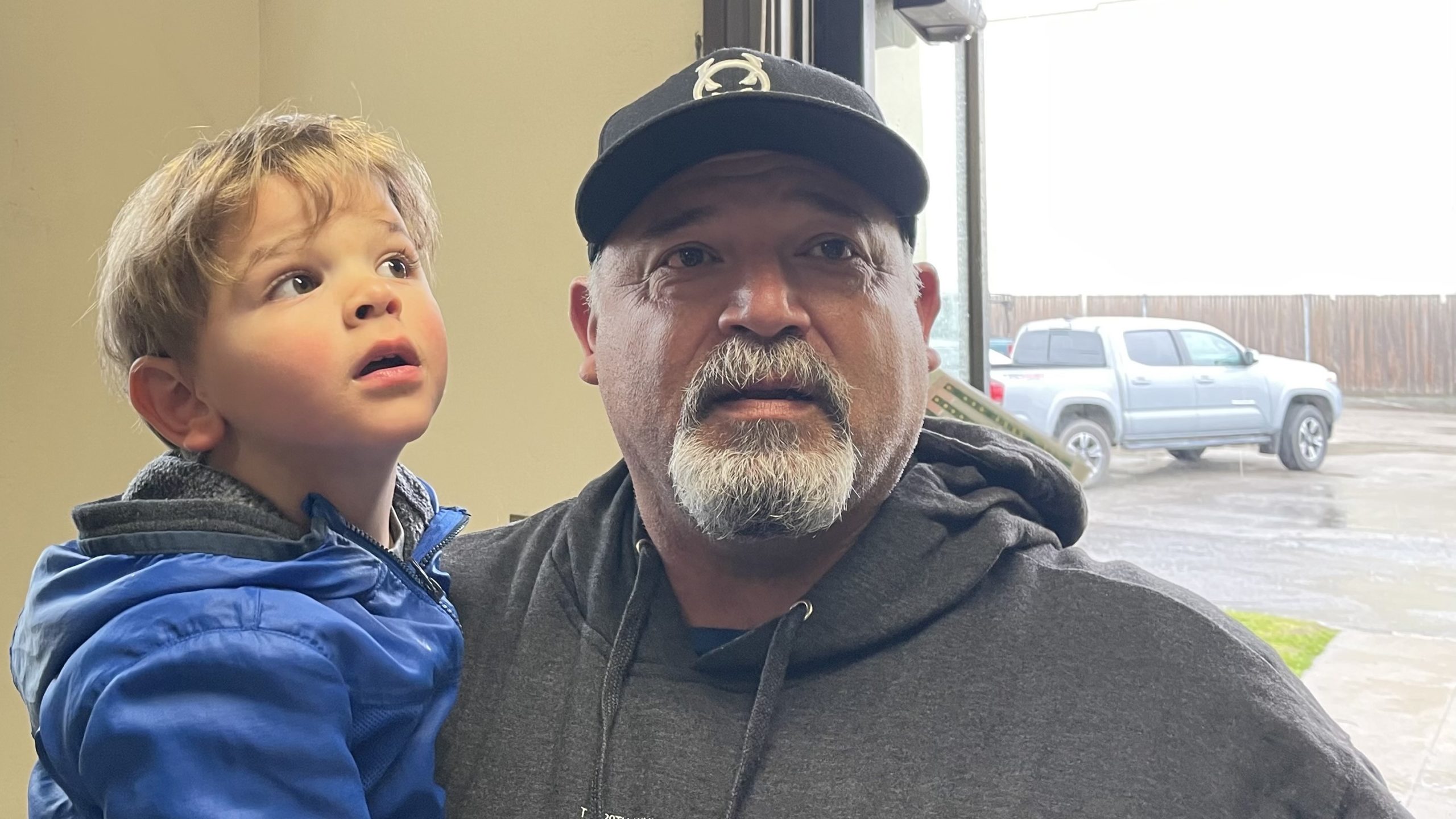 Pajaro homeowner Mario Medina, 53, holds his 3-year-old son, Malachi, at Westview Presbyterian Church on Tuesday. He said he was unsure how damaged his family's property was on Tuesday. His immediate need was to find food for his son. (Natalya Dreszer — Santa Cruz Local)
How to give and get help
Raíces y Cariño does not expect to continue its services at Westview Presbyterian Church after Friday, March 24. Now that the evacuation order has been lifted, it will transition to focus on "connecting directly to families wherever they are" at a smaller scale, Yerena said. 
Donations are being collected at Jacob's Heart Children's Cancer Association at 680 W. Beach St., Watsonville, Yerena said. Its hours are 10 a.m. to 4 p.m. March 27-30. Starting April 1, its hours are 10 a.m. to 4 p.m. Monday through Friday. 

Donations needed: All toiletries including menstrual pads, new socks, new underwear, new boxers and new sports bras. No other clothes will be accepted. Donations should not be left outside the building.

The Community Foundation of Santa Cruz County also has an online

storm and flood recovery fund.
Yerena also pointed out Pajaro families' need for money, food and health care. Though many were working in Monterey and Santa Cruz counties, many flood victims are not residing legally in the country and do not qualify for many federal programs such as Disaster Unemployment Assistance (DUA). 
"We always try to get that information out there so that people don't feel scared to apply even when they might qualify" for MediCal, said Clarisa Reyes-Becerra of the California Rural Legal Assistance Foundation, 
Leaders from the foundation and the Watsonville Law Center who spoke at the fairgrounds event Tuesday night said they are not federally funded and not restricted from working with people with illegal immigration status.
Get informed
Read Santa Cruz Local's Winter Storms Resource Page
Learn about evacuation orders, shelter, road closures and how to help.
Get informed
Learn about membership
Santa Cruz Local's news is free. We believe that high-quality local news is crucial to democracy. We depend on locals like you to make a meaningful contribution so everyone can access our news.
Learn about membership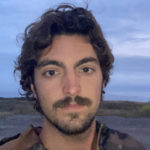 Tyler Maldonado holds a degree in English from the University of California, Berkeley. He writes about housing, homelessness and the environment. He lives in Santa Cruz County.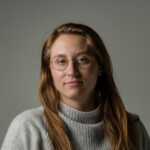 Natalya Dreszer is Santa Cruz Local's community engagement and business development coordinator.