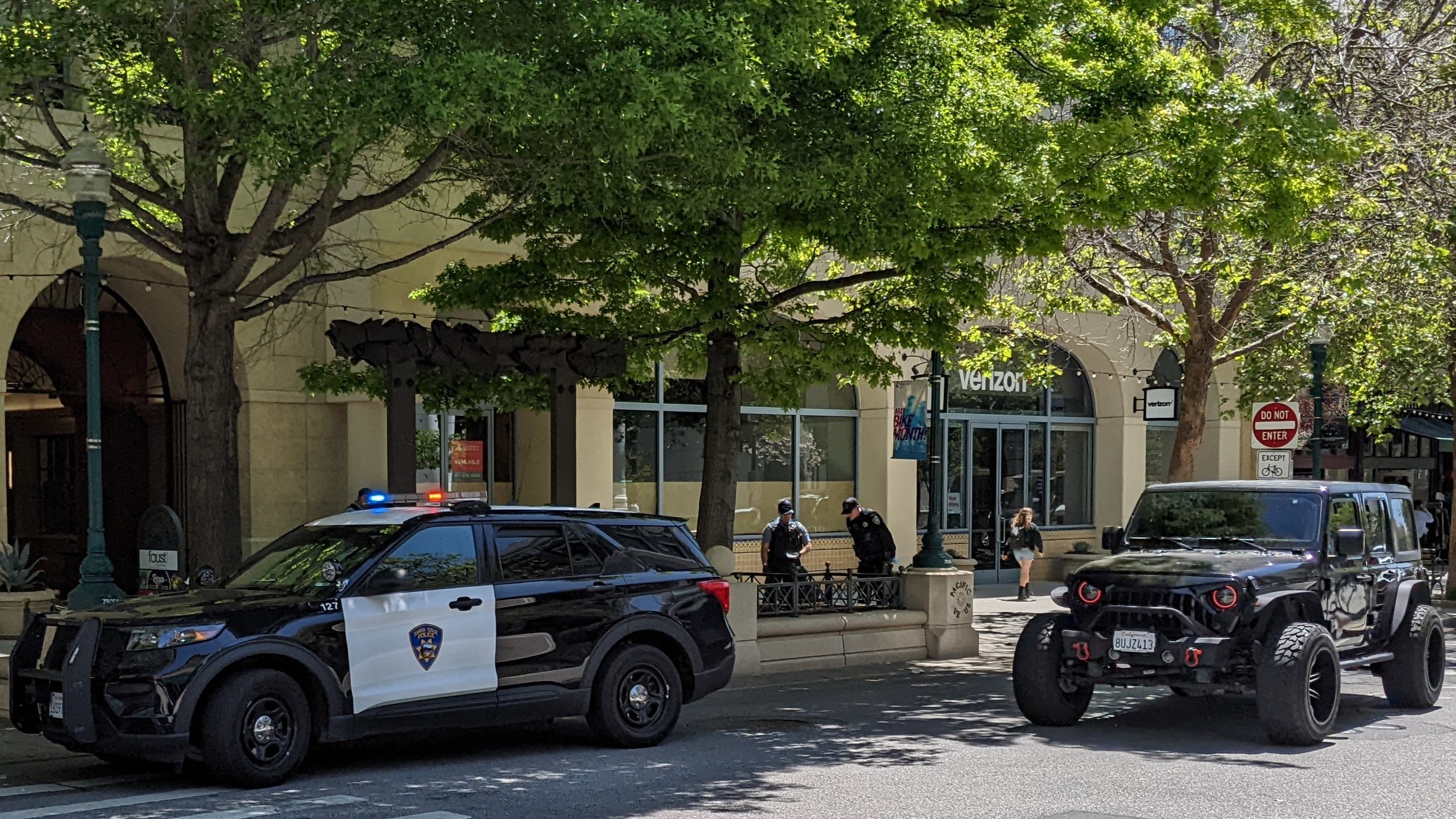 Santa Cruz police patrol Pacific Avenue in Santa Cruz in November. (Stephen Baxter — Santa Cruz Local file)
SANTA CRUZ >> In response to a police auditor's call for timely internal investigations of complaints, Santa Cruz Police Chief Bernie Escalante said Tuesday that he would follow most but not all of the recommendations. 
The calls for change came in response to several investigations, including a probe into the death of a 40-year-old man in Santa Cruz police custody in 2019. Escalate explained his reasons during a Santa Cruz City Council meeting Tuesday.
A March 2022 police auditor's report reviewed 13 incidents, including complaints against Santa Cruz police and the department's internal investigations. The auditor had 26 recommendations, including several related to a backlog of internal investigations:
Police should create a system to track the time, date and manner of personnel complaints and monitor the assignment and completion of complaint investigations.

The department should strengthen policies to ensure timely implementation of recommendations from internal investigations.

The department should require interviews of officers involved in or witness to a shooting or in-custody death before the end of a shift, "unless extenuating circumstances such as significant injury to an officer preclude this."
All 26 recommendations have been reviewed and responded to, according to a summary table in Tuesday's agenda packet. Five of the auditor's recommendations were already addressed by existing policy and did not require any changes, Escalante said during the meeting.
Escalante said he did not see the need to implement the auditor's recommendation to interview any officers who are involved in or witness a shooting or in-custody death before the end of their shift. Existing policy requires officer interviews without unreasonable delay, with care to ensure that officers' physical and psychological needs are addressed.
"I'm interested in a fair process for them, an accurate process for them," said Escalante during Tuesday's meeting. "I'm not interested in the officers going home to conjure up a different story." 
The auditor's recommendation came after a man in police custody died at a hospital after he was arrested on suspicion of being under the influence of drugs. Police incorrectly assumed that the man was feigning medical distress, according to the report. Police requested the District Attorney's office to investigate the incident. However, the District Attorney's office did not conduct the officer interviews until three days after the incident, the report stated. Escalante said of the delay, "We need to learn from that."
In response to the same incident, the auditor recommended that handcuffed individuals not wearing a seatbelt are constantly supervised while they are being transported, and that in-car cameras film while arrestees are being transported. The department updated its policy in line with the recommendations, Escalante said. 
The other auditor recommendations that did not result in changes to department policies were:
Recommendations 15 and 16

: The department should create policies and training to prevent "bias by proxy," which occurs when a person calls the police to report false or ill-informed claims about a person they dislike or have a bias against. Escalante said during Tuesday's meeting that officers already are required to take a five-hour training from the California Peace Officer Standards and Training when they graduate from the police academy, and must retake the training every five years. The department also offers other training courses which include curriculum on cultural diversity, he said. The recommendation came after a complaint of racial profiling and excessive force by a person detained on suspicion of brandishing a gun in a road rage incident. An investigation found that the person detained was the victim, not the perpetrator, of the incident.

Recommendation 23

: The department should conduct regular training on civil harassment restraining orders. Escalante said in an interview Friday that training is already in place.
The department is working with the independent auditor to design a use-of-force review board with experts, instructors and training managers. The review board would focus on examining the department's "training, tactics, equipment and communications," Escalante said. Any internal investigations or officer discipline would remain the responsibility of the department's professional standards unit, he said. 
During Tuesday's council meeting, Santa Cruz County resident Peter Gelblum said the auditor's recommendation for immediate interviews should be heeded. "The police officers should not get any more rights than the public has when they have been involved in killing or seriously wounding a resident of this county," Gelblum said.
Gelblum also objected to the department's stated policy of providing body camera footage to the public at the department's discretion. 
The department should have "very specific guidelines as to when they are not providing footage as required, and providing footage should be the default," he said.
Escalante responded that body camera footage would not be sent if it contains images of minors or if the person requesting is a third party uninvolved in the incident. "I think to say a blanket statement that everybody should be able to see all body cameras is irresponsible, to be honest," said Escalante. "I think that I should have the ability to have that discretion."
Councilmembers Sandy Brown and Sonja Brunner requested that the second draft of the responses include guidelines for when the department would deny requests for body camera footage. 
The council voted 7-0 to accept the report.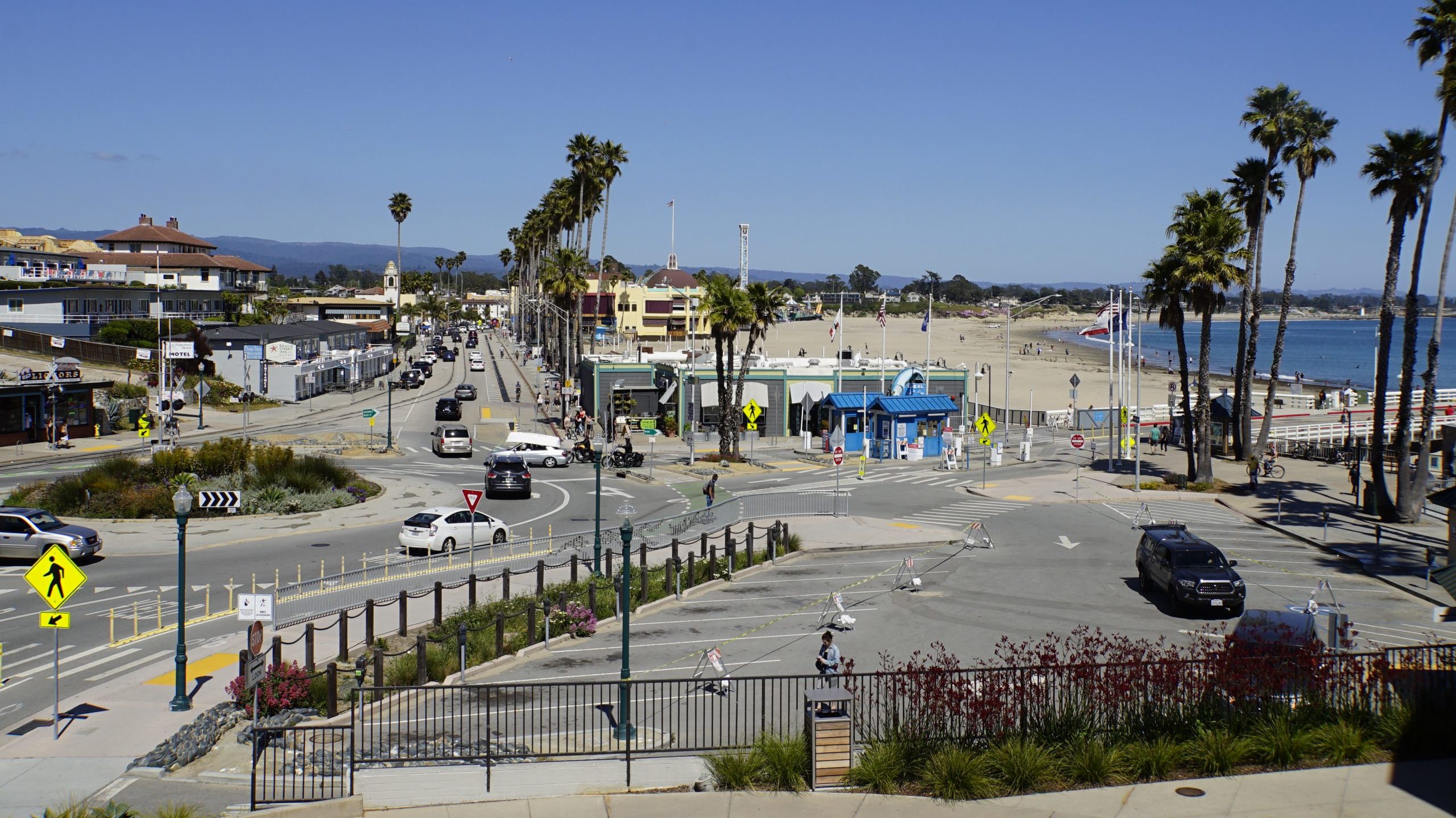 Beach Street in Santa Cruz in May 2020. A city permit program launched last year prohibits sidewalk vending from April through October on Beach Street from Third Street to the Santa Cruz Municipal Wharf. (Kara Meyberg Guzman — Santa Cruz Local file)
Updates to sidewalk vending program
The Santa Cruz City Council also approved updates to the city's sidewalk vending rules. In March, the council approved a law that required a $30 annual permit to vend on city sidewalks and beaches. The move came after two years of unrestricted public vending that followed a 2018 state law that prohibited cities from arresting unpermitted vendors.
City staff proposed several changes including:
A clarification that enforcement officers may impound property after a vendor's fourth citation. 

A broader definition of who can enforce the vending law, to include contracted officers.

A requirement that vendors with staff at multiple locations obtain a business license for each location.

A requirement that vendors renew permits each October. If vendors apply later in the year, they must pay the full fee. Prior rules allowed vendors to apply for a 12-month permit any time during the year. The new rules will streamline the application process, said ​​Viviane Nguyen, principal management analyst for the Department of Planning and Community Development.
Since May, city officials have issued 68 sidewalk-vending permits. 
Twenty-five citations have been issued, according to a staff report. Eight vendors had supplies impounded due to repeated violations. 

The permit program has cost about $243,500 from March 2022 to Feb. 1. Most of the cost stemmed from contracted enforcement officers.

City officials have issued 45 parks permits. The $50 permit allows vendors to sell on parts of Pacific Avenue and on Beach Street for part of the year. 

In December, city staff hired a code compliance supervisor to oversee the program. Staff also hired the code enforcement agency CSG Consultants to help enforce the rules from April to October. 

City staff have decided to use paper citations, rather than an electronic citation system, reducing the program's costs, Nguyen said.
Due to a budgeting error that omitted the permit program from the budget, city staff have requested that the council include $205,120 for the program in the fiscal year budget that began July 1. The estimated cost for the program is $264,000 for the next fiscal year. 
The council voted 7-0 to accept the report and adopt the new rules. The rules are slated for a second reading Feb. 28. If adopted, the law would take effect March 30. 
Editor's note: This story was updated to include the age of the man who died in police custody in 2019. 
Learn about membership
Santa Cruz Local's news is free. We believe that high-quality local news is crucial to democracy. We depend on locals like you to make a meaningful contribution so everyone can access our news.
Learn about membership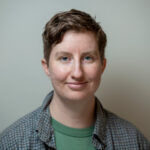 Jesse Kathan is a staff reporter for Santa Cruz Local through the California Local News Fellowship. Kathan holds a master's degree in science communications from UC Santa Cruz.