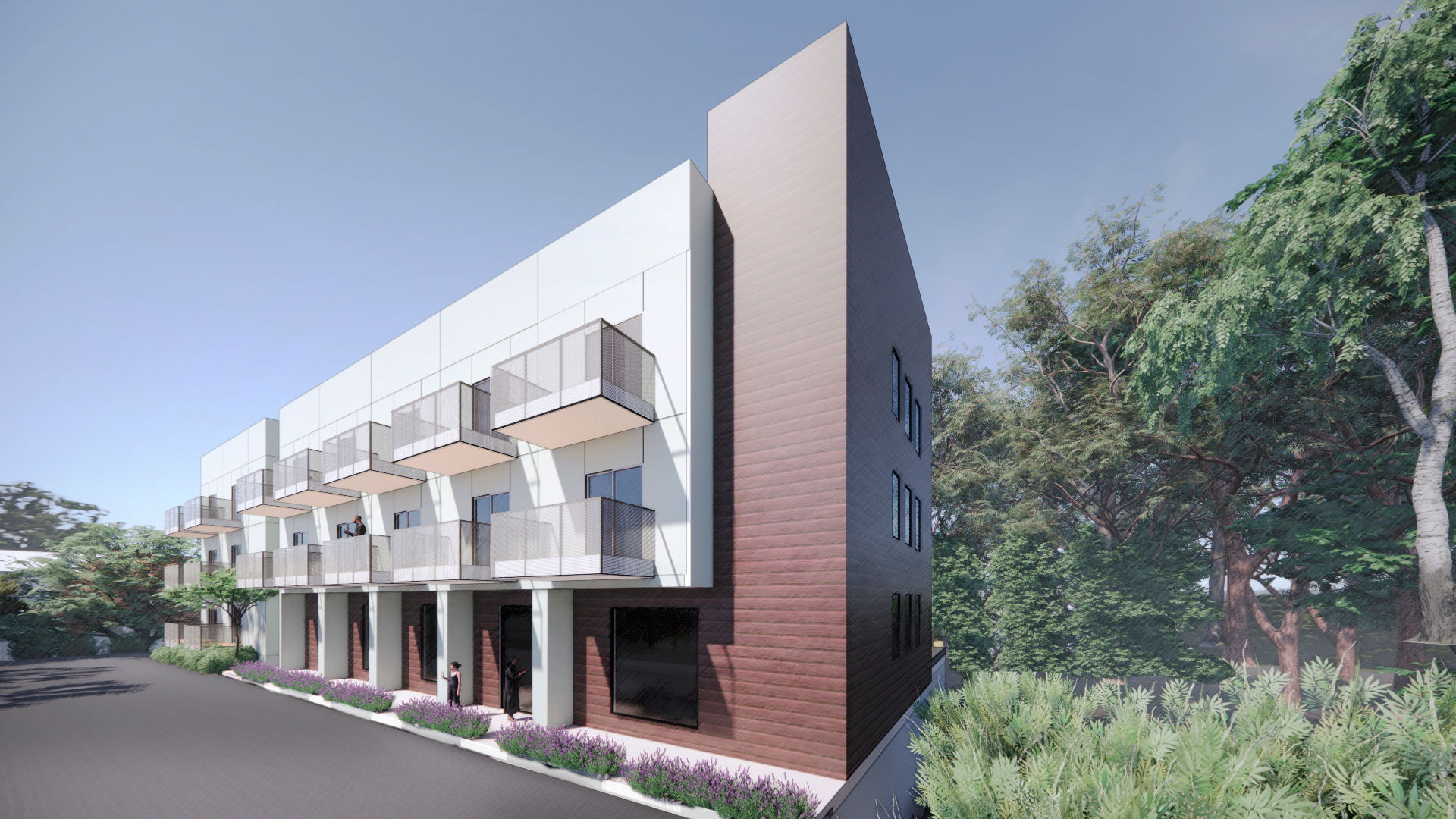 A 36-unit housing project is planned at 2838 Park Ave., Soquel. Veterans, former foster youth, and families at risk of homelessness are expected to live in the building. (Rendering by Novin Development)
SOQUEL >> A Soquel project to help house veterans, former foster children and families at risk of homelessness has received $10.7 million from the state. In the wake of some community pushback against the project, a meeting Monday aims to address concerns.
The Park Haven Plaza project at 2838 Park Ave. in Soquel is expected to include 32 one-bedroom apartments and four two-bedroom apartments.
The 36 units are expected to house 17 veterans, 14 former foster youth, four families at risk of homelessness and one onsite manager, county and development leaders said.

Residents with jobs will pay about 30% of their income for rent. Those without jobs will receive job counseling and other support to develop life skills.

Because the residents are expected to be eligible for assistance related to healthcare, education, food and money, Fremont-based nonprofit provider Abode Services will provide assistance with those programs.

Residents will be screened. Applicants who are registered sex offenders or have committed certain violent or drug-related offenses will not be admitted, county leaders have said.
At a community meeting online and at Cabrillo College on Monday, June 27, county and developer leaders plan to discuss the project with neighbors. People who work with veterans and former foster youth also plan to speak about the project.
Manu Koenig represents the first supervisorial district where the project is proposed. He said that the development of permanent supportive housing outside urban centers are essential to help solve the county's housing crisis. 
"Cities can't solve the problem alone. They can't possibly create enough housing — they just don't have enough sites," he said. "I think it's important that we all step up and help solve the problem."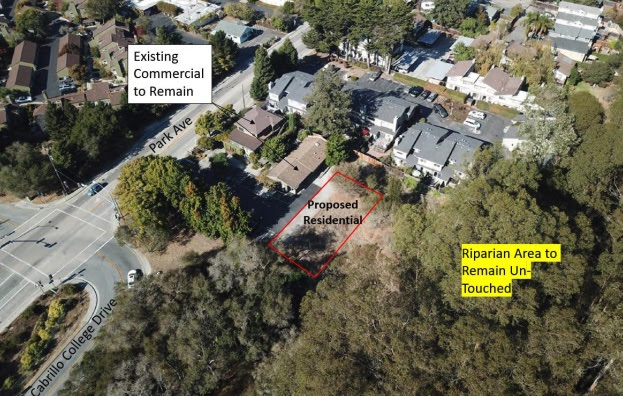 A map shows the location of a proposed apartment complex at 2838 Park Ave., Soquel. (County of Santa Cruz)
The site is being developed by 2838 Park Ave. LP, an affiliate of Walnut Creek-based firm Novin Development. Novin Development has helmed multiple housing projects in the county that include a planned development of homes and shops at 831 Water St. in Santa Cruz. 
The Park Avenue building is expected to be constructed off-site from modular units. Construction is expected to start between October and December, said developer Iman Novin. It is scheduled to be completed by June 2023. Novin said the modular building plan was chosen for a lower carbon footprint and faster build time.
The project is expected to cost $19 million with money from state, county and private sources.
Some neighbors' opposition
Opposition to the project has been "immediate and intense," Koenig said. During a town hall meeting in Soquel in March, Koenig was confronted by dozens of constituents who objected to the project on environmental and safety grounds.
Koenig said in mid-June that some of the opposition stemmed from misconceptions about the development. 
"People think of housing for people recovering from homelessness, and think of the visible symptoms of homeless that they see downtown or at San Lorenzo Park— tents and trash. But the reality is, this is not a shelter," Koenig said. "This is not a place that we're providing services to people who are homeless. This is permanent supportive housing." 
The Soquel Aptos Community Response Homekey Group formed as a neighborhood coalition opposed to the development. Some of its leaders said it's not the future residents they're opposed to, but rather the location of the building. The site is now an empty lot that is zoned for professional and administrative offices. A large portion of the property slopes down to a creek with animal habitat. That part of the property is not proposed to be developed.
The project is part of the state's Project Homekey. Homekey developments are allowed to bypass California's stringent environmental review process. 
Aptos homeowner CJ Jahr said he found the weaker environmental hurdles troubling considering that some rural areas of the county have stricter rules for construction.
"I have friends that still have not been able to rebuild from the CZU Fire. They're going through all this red tape," said Jahr. "This guy gets to come in and develop in environmentally sensitive areas where the whole community in the area stood up and told them, 'Hey, we don't want this. We don't want you to build here.' And he gets to shove it down everybody's throat."
Jahr is concerned that the three-story building will pose an environmental threat to the adjacent stream habitat. He also worries that the 16 parking spaces in the project plans won't be enough, and that the new residents will put further strain on the area's groundwater supply.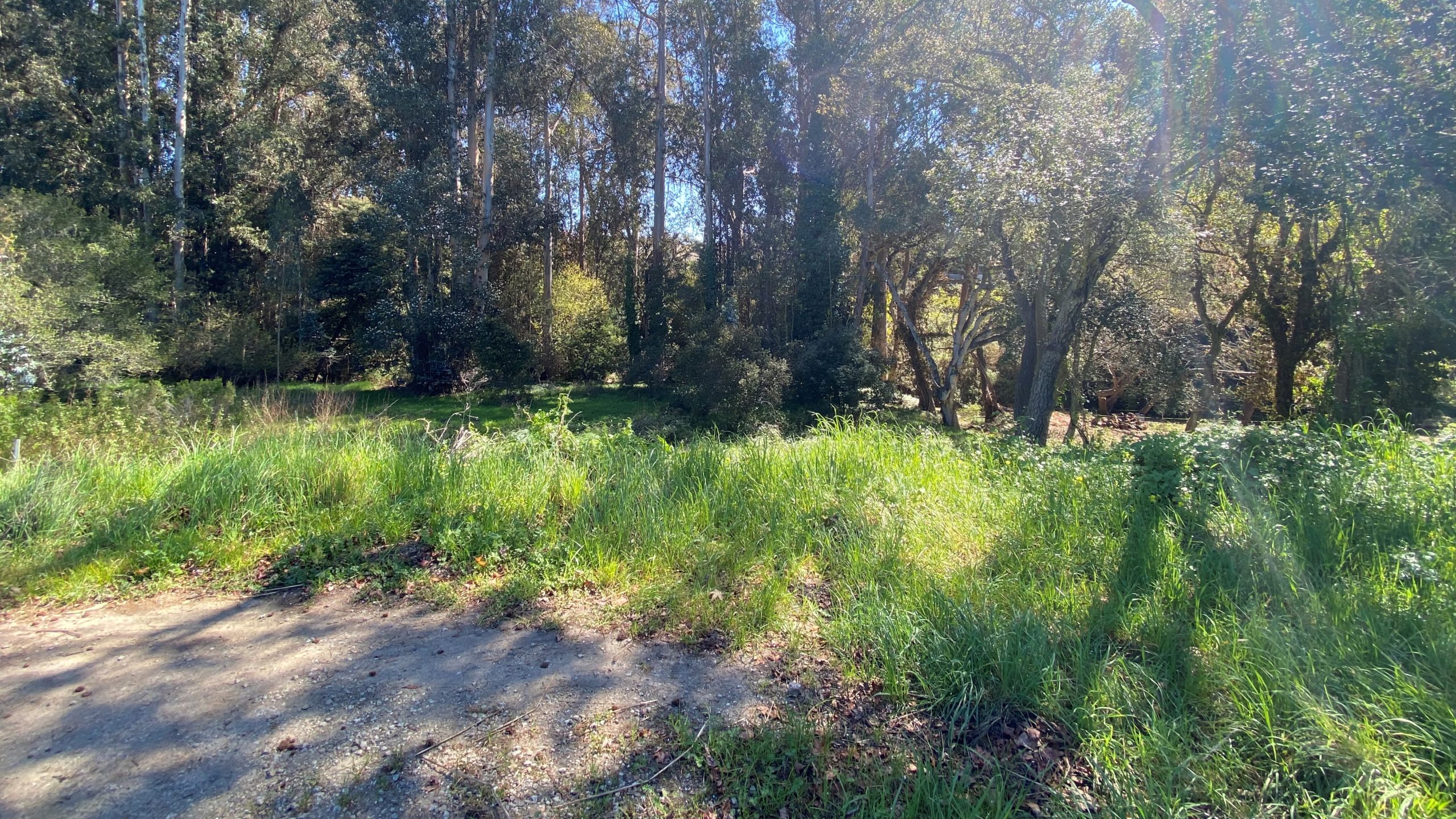 A vacant lot at 2838 Park Ave. is just off Highway 1 and within one mile of Cabrillo College. (Patrick Riley — Santa Cruz Local)
Although California's Homekey program allows projects to bypass the California Environmental Quality Act, the Park Avenue project underwent an environmental assessment to comply with federal environmental law, Novin said. 
The report, prepared for the county by consultant R.L. Hastings and Associates, determined that the project had "no significant environmental impacts." The building won't encroach on stream habitat or pose a high fire risk, the report stated. 
Because the future residents already live in the county, the development won't impact local water supplies, according to the report.
Novin said that because some of the residents will depend on public transportation, the parking spaces will be sufficient. The site is expected to be serviced by an on-demand county shuttle. A former bus stop in front of the site is planned to return to service, he said.
Alexia Martinez, an Aptos resident and member of the community group, said the group is planning to request that Novin fund measures to protect the surrounding buildings from fire and pay for other services for the neighborhoods surrounding the site. 
Some residents said they wanted a security service near the proposed building. "They should offer an extra level of security to the communities, at least initially until the project is more established," she said. "They should take on some of that responsibility if they're going to take on this kind of development." 
Koenig, the county supervisor, said the development will not pose a security risk to the surrounding neighborhood. 
"I'm confident it's not going to increase any undesirable foot traffic in the neighborhood, or really have other negative impacts on the area," Koenig said. 
"If you look at some of the other affordable housing projects that we've built throughout the county from places like Aptos Blue, these were pretty fiercely opposed when they were first proposed. And today most people don't even know about them, and the people that do view them as a success. So I just feel confident that in the long term, this project will also be viewed as a success and that they'll be good neighbors in the community," Koenig said. 
At the Monday, June 27 community meeting, people who work with veterans and former foster youth plan to speak about the importance of projects like Park Haven Plaza, Koenig said.
Housing struggles
For former foster youth Morgan Wilson, 23, the news of more affordable housing development is welcome. 
Wilson has lived in Santa Cruz County since age 10 and entered foster care at 16. After Wilson aged out of extended foster care at 21, she struggled to find a landlord who would accept a Housing Choice Voucher. The vouchers were known as Section 8 until a few years ago. 
With a voucher, families pay about 30% of their income toward the rent and the Housing Authority for the County of Santa Cruz pays the remainder of the rent directly to the landlord on the tenant's behalf.
"I would apply with good credit, a great job," Morgan said. "I was the poster child essentially for a lot of places to apply. But the second I mentioned Section 8, they were like, 'oh my gosh, I heard of this one tenant that was a nightmare. I can never rent to somebody with Section 8.'"
Although Wilson found housing near downtown Santa Cruz, many other former foster youth she knows continue to struggle to find a home. "There is definitely a shortage of housing that's available," she said. "We need to continuously be developing solutions for these problems." 
Community meeting
A community meeting for Park Haven Plaza will take place 6-8 p.m. Monday, June 27.  
Join by Zoom

or attend in person at Cabrillo College Erica Schilling Room in Building 450, 6500 Soquel Drive, Aptos. Free parking will be available in Lots A and B. 

More information about the project is on a

Novin Development website

.
Learn more about Santa Cruz Local and how it is funded. Santa Cruz Local is supported by members, major donors, sponsors and grants for the general support of our newsroom. News judgments are made independently and not on the basis of donor support.
Santa Cruz Local's news is free. We believe that high-quality local news is crucial to democracy. We depend on locals like you to make a meaningful contribution so everyone can access our news. Learn about membership.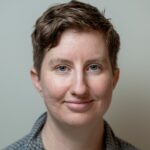 Jesse Kathan is a staff reporter for Santa Cruz Local through the California Local News Fellowship. Kathan holds a master's degree in science communications from UC Santa Cruz.