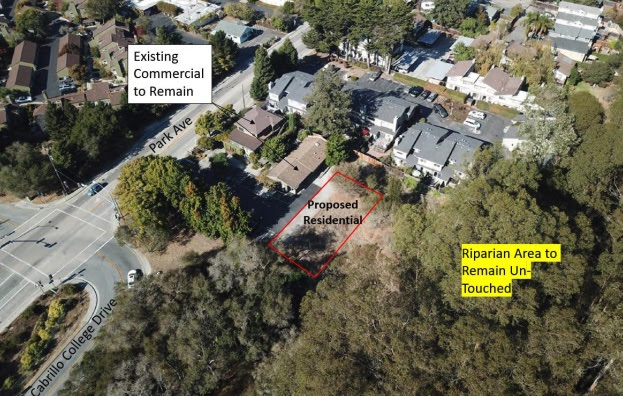 A map shows the location of a proposed apartment complex at 2838 Park Ave., Soquel. (County of Santa Cruz)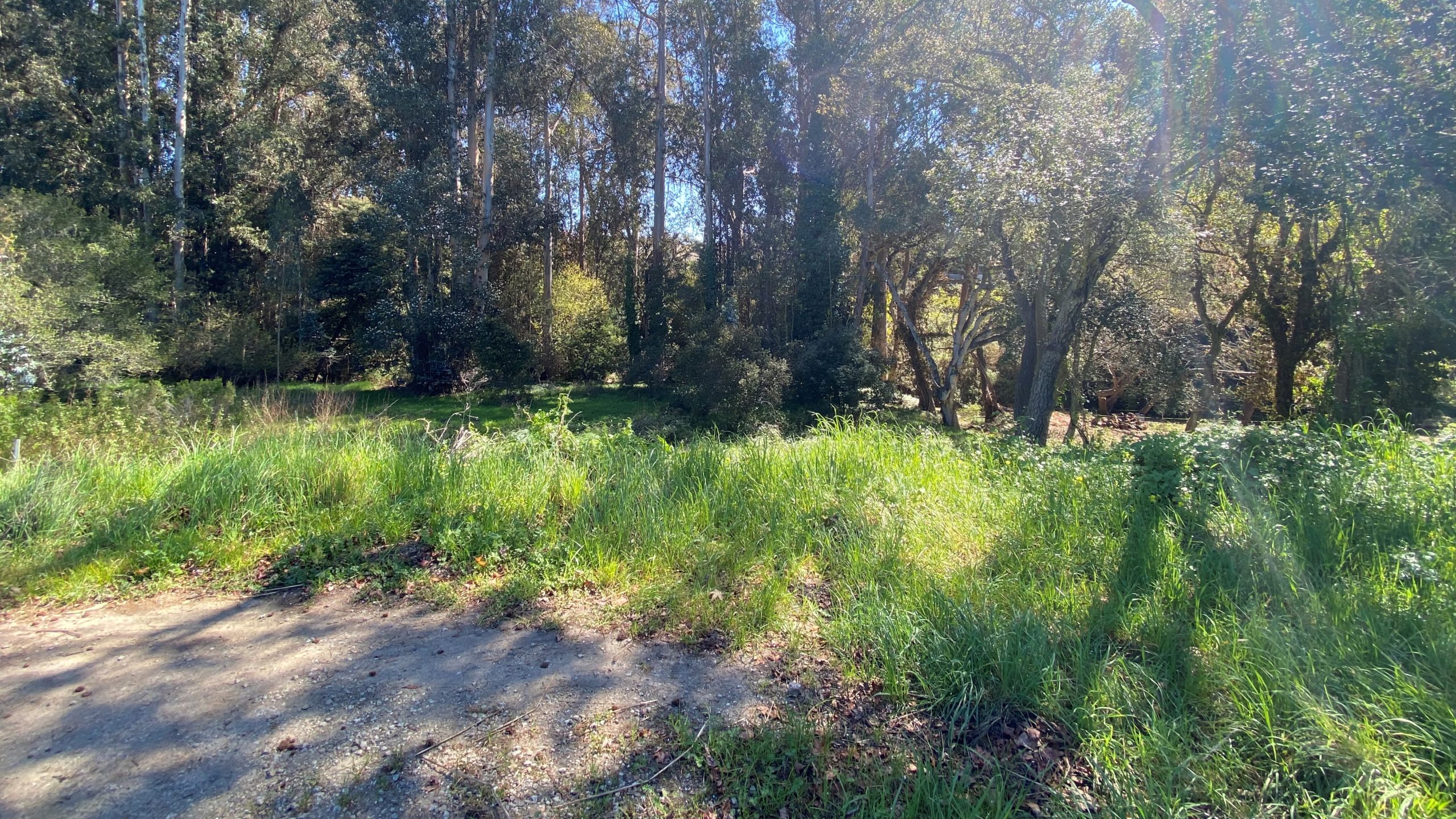 A vacant lot at 2838 Park Ave. is just off Highway 1 and within one mile of Cabrillo College. (Patrick Riley — Santa Cruz Local)
Last updated: Nov. 17, 2022
Project name: 2838 Park Ave.
Location: 2838 Park Ave., Soquel. The site is a vacant commercial lot next to a commercial office property near Highway 1 and Cabrillo College.
Status: Santa Cruz County was awarded a 10.7 million dollar grant through California's Project Homekey. Project Homekey is a $1.45 billion state funding program for the development of permanent housing for unhoused people. Construction began in October 2022.
Developer: The county's development partner is 2838 Park Ave, LP, an affiliate of Novin Development.
Project description:
Total units: Up to 35 permanent supportive housing units and one manager's unit.
Affordable units: Project Homekey requires the units to be deed restricted for 55 years to house "extremely low-income"

residents who are homeless or at risk of becoming homeless, according to county documents.

Height: Three stories.
Details: The proposal includes 35 permanent supportive housing units and one manager's unit "in a compact, three-story building along the rear of the existing parking lot, with some tuck-under and at-grade parking," according to a February

staff report to county supervisors

.

Construction and management: Because Homekey projects must finish construction within 12 months of funding, modular construction is proposed, county leaders have said. Abode Services will provide supportive services to tenants while FPI Property Management will manage the property. Abode operates programs for the unhoused and people at risk of becoming unhoused in Santa Cruz County and throughout the San Francisco Bay Area.
Costs: The application for state Project Homekey money is up to $13.5 million. The total project cost is estimated at $26 million. "Homekey funding will also help cover supportive services, property maintenance, and operating costs for the site," county staff wrote. County staff called the proposal "an extremely rare, historic opportunity, not likely to be repeated in the near term."
Potential residents: Staff of Santa Cruz County Supervisor Manu Koenig have said that the residents of the proposed building would include 17 veterans, 14 young adults who have aged out of the foster care system, four families with children and an onsite manager.
Other details: "For all intents and purposes, this will look and feel like a regular apartment building," according to a

statement from Koenig's office

. "This is not a proposal to build a nightly shelter. There will not be services provided for anyone other than residents. Individuals that have restrictions on where they can live relative to facilities with children will not be approved as tenants at the site." Koenig said the project will reduce homelessness. "The cure to homelessness is a home. This project proposes to build 35 of them," Koenig wrote. "If the project receives the state Homekey funding, I will work with the project developer and the community to hold a meeting as quickly as possible, likely in early April. I will work with residents to understand concerns and create a plan to address them early and often."
Read more:
How to make your voice heard: Submit comments and questions to Santa Cruz County Supervisor Manu Koenig's office.
Read about other notable housing and construction projects in Santa Cruz County.