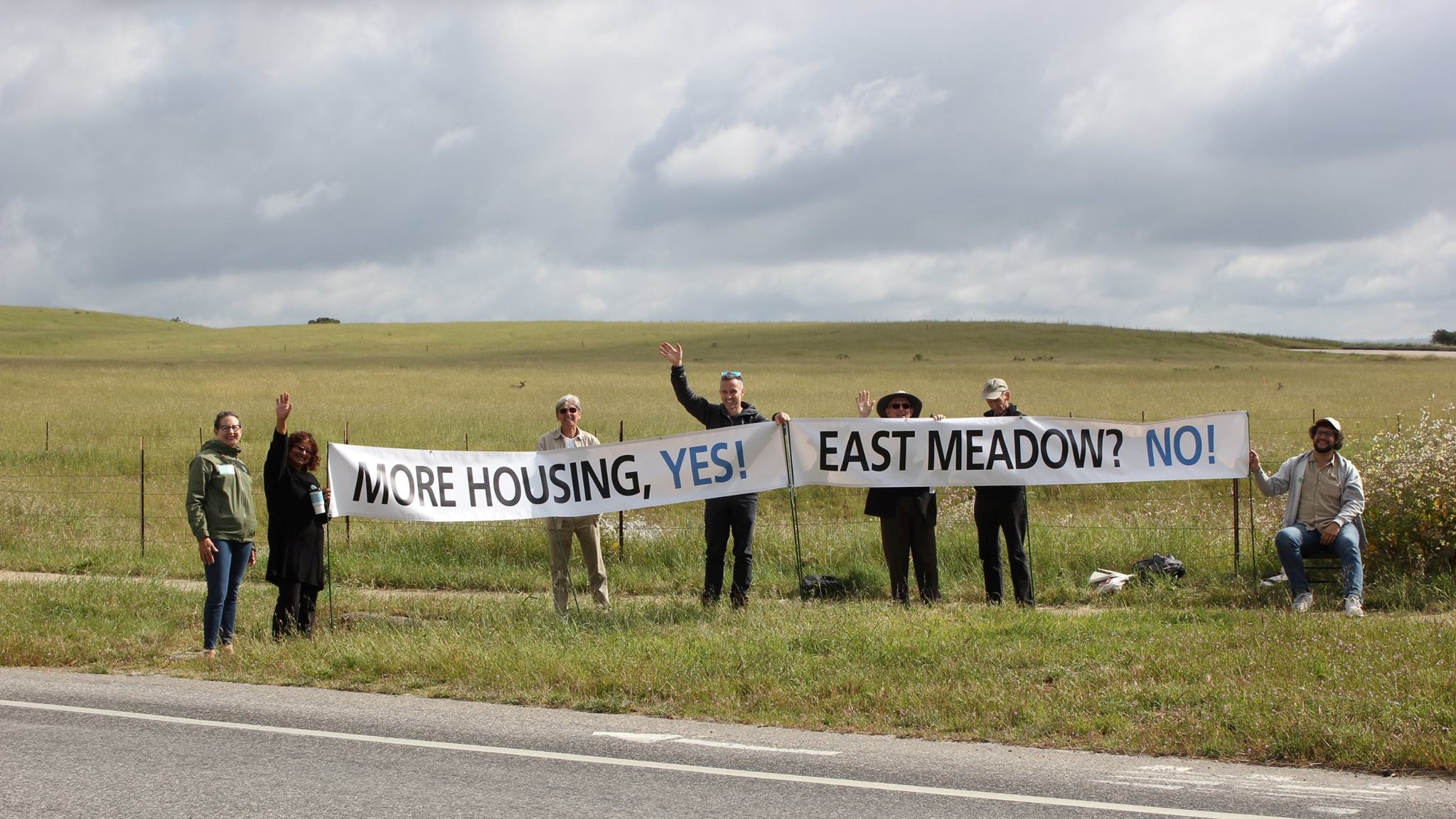 Members of the East Meadow Action Committee protest a proposed student housing project at UC Santa Cruz in 2018. Judges have dismissed the committee's lawsuits, but the Student Housing West project remains stalled because of separate litigation. (James Clifford — Contributed)
SANTA CRUZ >> A UC Santa Cruz plan to add 3,000 beds of on-campus housing for students and families remained stalled in June because of a lawsuit that alleges potential harm to bird and frog habitat.
Two of four lawsuits against UCSC's Student Housing West plan were dismissed in court this year, but two lawsuits remain that have delayed construction, a UCSC spokesman said in June. UCSC houses more than half of its roughly 17,000 undergraduates, which is the highest rate among UC schools. About 9% of UCSC students said they lacked safe, regular and adequate housing, according to student surveys in 2020 and 2021.
UCSC students have long competed for rental housing in Santa Cruz and elsewhere in the county, but a lack of housing now means that some students live in cars, commute 35 miles away from places like Marina, and last year accepted university vouchers to stay for months at a hotel on Ocean Street in Santa Cruz.
Dmitrius Rodriguez, 23, is one of the lucky ones. A transfer student since 2020, Rodriguez has lived in a trailer at UCSC's 42-space camper park near the northwest edge of campus and Kresge College. Rodriguez graduated this spring and will start work as a researcher at UCSC this summer. Now ineligible for campus housing, he said he plans to live in his car.
For a time, Rodriguez had lived with his mother. But two years ago, she moved to Nevada because she was priced out of Bay Area housing.
"I was born and raised in the (San Francisco) Bay Area. It's pretty hard out there, and going to Santa Cruz, it's not that much easier," Rodriguez said. "I myself have experienced the volatility of the housing market."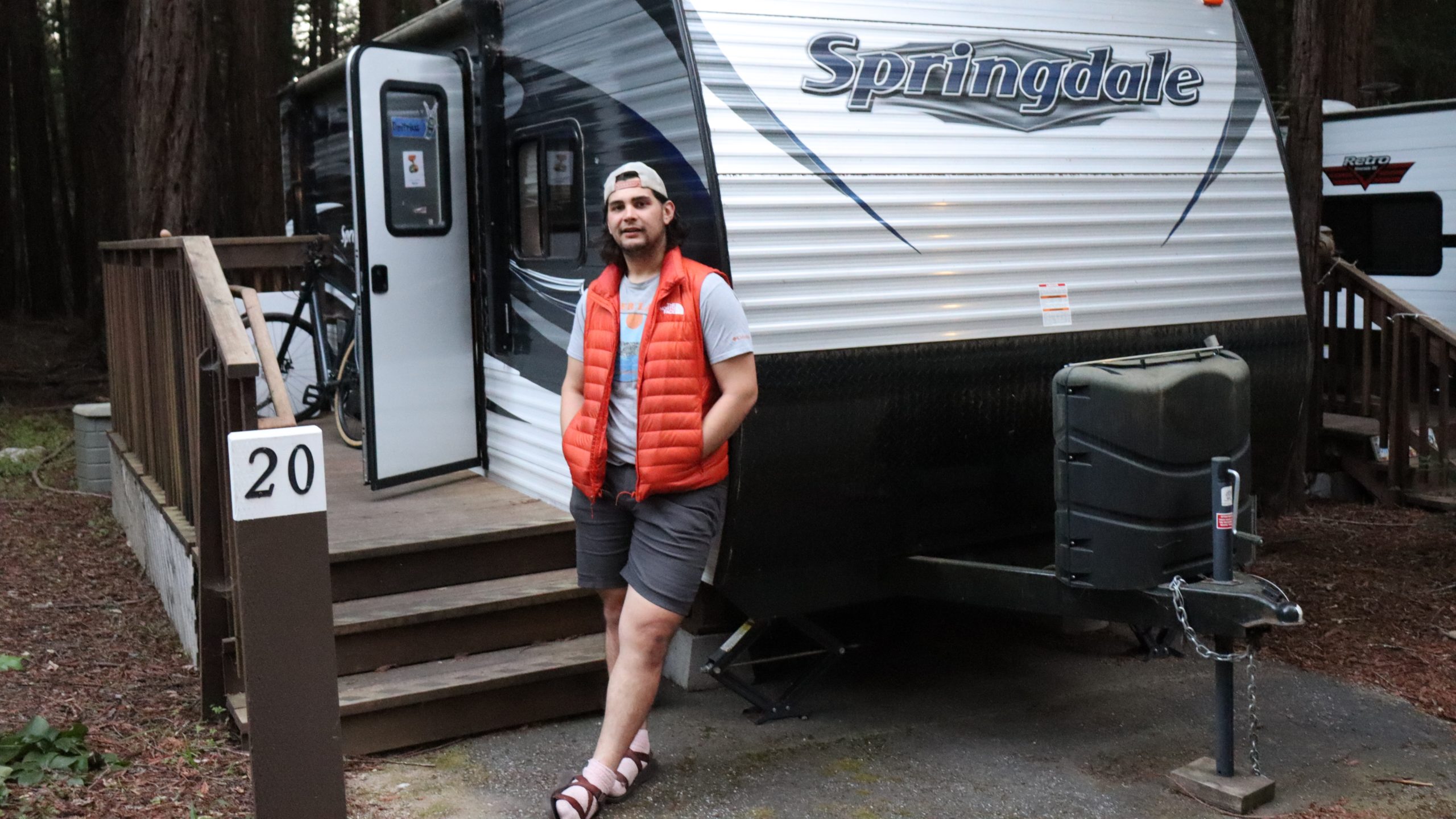 UC Santa Cruz student Dmitrius Rodriguez, 23, has lived in the campus trailer park near Kresge College. He plans to live in his car this summer while working as a researcher at the university. (Natasha Jessen-Petersen — Santa Cruz Local)
By the time Rodriguez transferred in 2020, he had attended five different community colleges. He worked and saved for almost five years so that he could enroll in UCSC's environmental studies and economics program. Entering the program was his dream, one that he hoped would set him up for a career in environmental activism. 
Rodriuez also knew that dream would be unattainable if he couldn't drop his rent to less than $1,000 a month. He knew he would not be able to afford his education if he couldn't secure housing in the university's camper park.

The trailers are single occupancy, with water tanks for the kitchen but mostly without bathroom or sewer connections. The university provides portable electric heaters and nearby bathroom and shower facilities.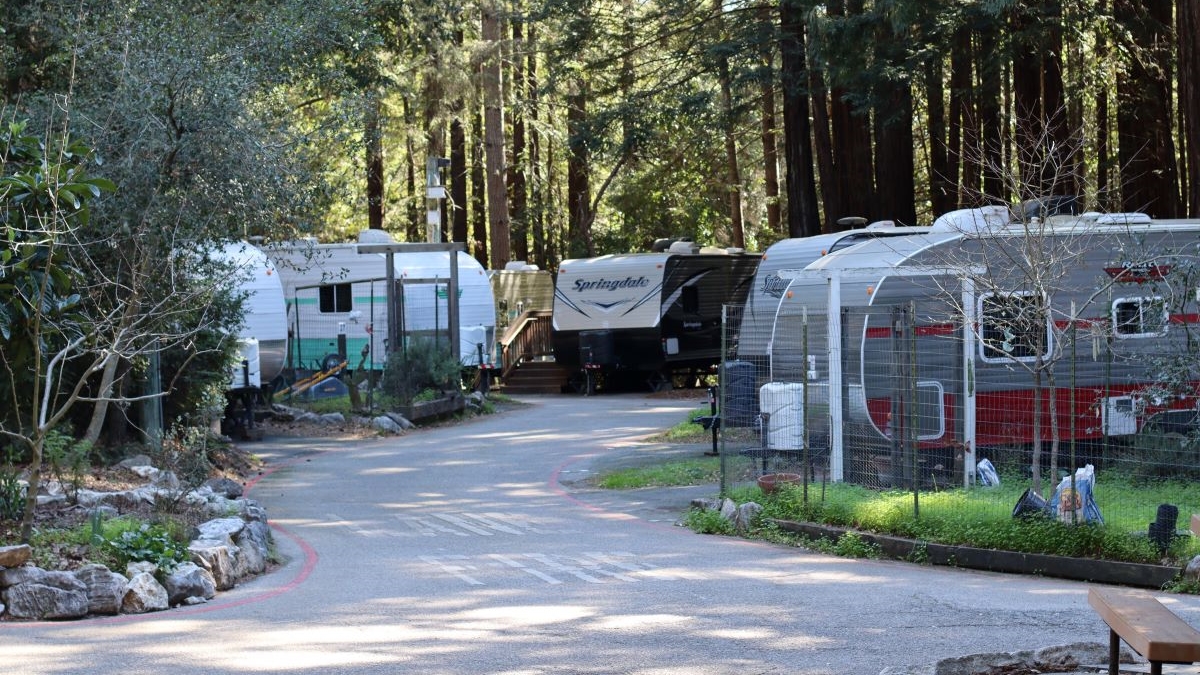 Students live in campers near the northwest edge of the UC Santa Cruz campus. (Natasha Jessen-Petersen — Santa Cruz Local)
For this, Rodriguez pays about $750 a month, well below the roughly $1,200 to $4,000 a student can expect to pay for a room on campus and less than the average $1,200 for a room in a house in Santa Cruz. One-bedroom apartments in Santa Cruz ranged from about $2,290 to $4,000 in the first quarter of this year, according to UCSC.
Rodriguez is trying to help others. He's the director of finance for Slug Shelter, a student-led organization that is trying to acquire property to house students who find themselves temporarily homeless. 
Similarly, when Zennon Ulyate-Crow moved from Los Angeles to study at UCSC, he was overwhelmed by students' stories about experiencing homelessness and trying to find places to live. Ulyate-Crow, a first-year political science major, was motivated to act. 
"They're just scrolling through Reddit and seeing the countless people posting two days before school starts. 'Oh my god, I need a house. Please help me.' It's just heartbreaking," Ulyate-Crow said. "And so out of that the Student Housing Coalition was born. There was a lot of desire to do something about it."
Separate from Slug Shelter, Ulyate-Crow helped create the Student Housing Coalition, a group of students, faculty and administrators that advocates for housing solutions. In the past year, the group has grown to more than 150 members. On May 20, the group led more than 200 people on a campus march to protest what they called a housing crisis.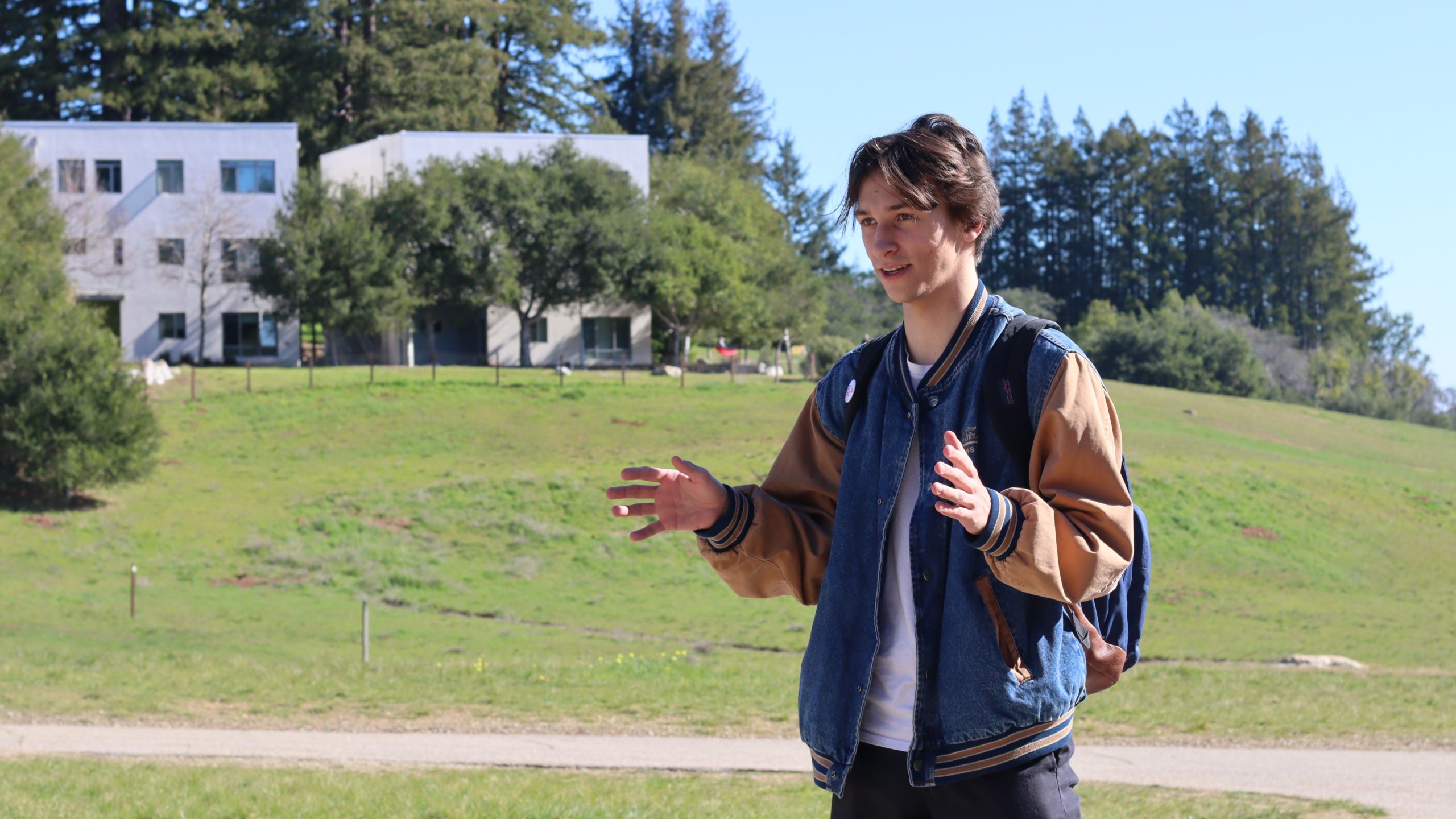 UCSC student Zennon Ulyate-Crow talks about housing in January. Ulyate-Crow is president of the UCSC Student Housing Coalition. (Natasha Jessen-Petersen — Santa Cruz Local)
Many students who had hoped for campus housing this spring were offered nothing. Angered, some students called for housing guarantees for the homeless students, and demanded that university leaders build housing. 
UCSC housing plans
Scott Hernandez-Jason, a UCSC spokesman, said UCSC leaders are doing all they can to expand housing opportunities for its students. Among the university's plans for expansion is the Student Housing West project. The 3,000-bed project near Heller Drive and the East Meadow has been stymied by lawsuits from some faculty and residents.
Student Housing West is a development originally outlined in the 2005 Long Range Development Plan. It includes: 
An upper-division undergraduate housing complex on the West Campus off Heller Drive would house about 2,700 students. 

A student family housing development on the East Meadow near Hagar and Coolidge drives would have about 140 units. 

Graduate student housing would increase by about 220 beds, university officials have said.
"If it had not been sued, we would have completed the first phase of that (Student Housing West) project and been well into the second phase by this point," Hernandez-Jason said in January. "It's deeply disappointing to see that happen to a project that is so badly needed by our students and our community."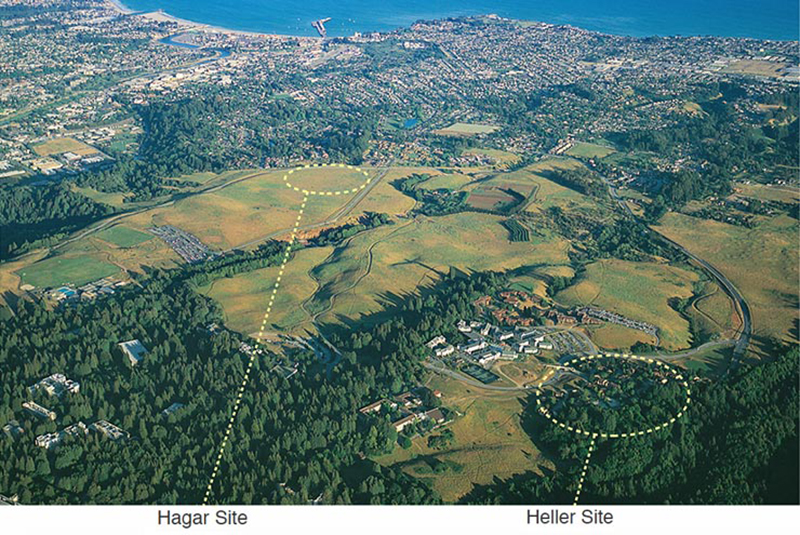 UC Santa Cruz campus housing is planned near Hagar Drive and off Heller Drive as part of Student Housing West. (UCSC)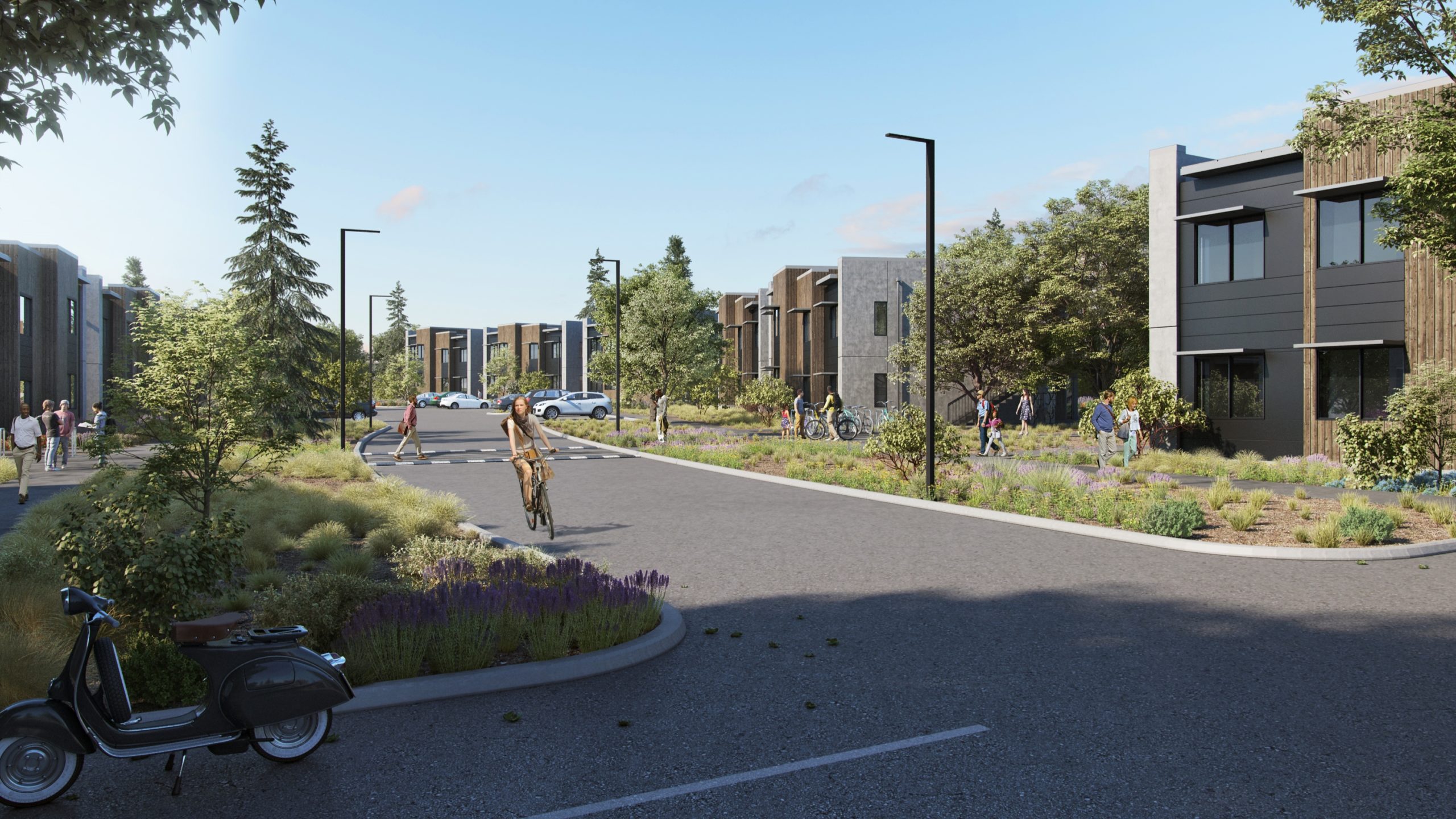 A rendering shows planned student-family housing on the East Meadow near Hagar and Coolidge drives at UC Santa Cruz. (UCSC)
Separate from the 2005 plans, a more recent Long Range Development Plan envisions an increase in undergraduate and graduate enrollment from about 18,980 this school year to 28,000 students by 2040. To accommodate this, the university hopes to build housing for 8,500 more students.
Update on lawsuits
The East Meadow Action Committee includes some UCSC faculty and staff. The committee filed two lawsuits that alleged that the environmental review for the project was insufficient.
In February, California's Sixth District Court of Appeals found that the environmental analysis was sufficient and ruled in the university's favor. 
A second lawsuit filed by East Meadow Action Committee was settled out of court and dismissed by Santa Cruz County Superior Judge Timothy Volkmann in May, according to court records. 
"We are now opposing outside of litigation, where you can oppose more broadly and on issues that are central to the problems of the project," said Paul Schoellhamer, a spokesman for the East Meadow Action Committee. "Litigation is also on the very narrow and arcane grounds of the California Environmental Quality Act, as opposed to being on the big issues here, which is that this is a really stupid and self-destructive way to build needed housing," Schoellhamer said.
UC Santa Cruz spokesman Scott Hernandez-Jason declined to comment on the litigation. 
"Student Housing West is a project meant to serve current students," Hernandez-Jason wrote in an email Friday. 
"UC Santa Cruz is also in the midst of creating a 10-year housing plan with a project ladder that at all times has projects in the planning, proposal or construction stage. This will allow UCSC to move on to another project if one is delayed and continuously deliver beds to meet its goals," Hernandez-Jason wrote. "We will share a construction timeline once we are past the legal challenges."
Another group also sued to block construction of Student Housing West is the Habitat and Watershed Caretakers.
Habitat lawsuits
Habitat and Watershed Caretakers filed suit upon the university's initial approval of the project. When university leaders again approved it in 2020, the Habitat group filed a second challenge in court. 
Both suits oppose the project based on the potential loss of sensitive animal habitat for burrowing owls and California red-legged frogs, as well as the development's potential impact on local water supplies, according to court documents and plaintiff Don Stevens. Stevens is a UCSC alumnus.
Although Student Housing West is intended to house current students, Stevens said he disagreed with the prospect of adding students. "We don't have the infrastructure. We don't have the water, the housing — just an incredible crisis — and traffic," Stevens said Friday. 
The case is due for a predisposition hearing in front of Santa Cruz County Superior Judge Paul Marigonda on June 27.
Despite growth and university expansion in the past 10 years, water demand has dropped in Santa Cruz in that time, according to city and county data. It's largely because of a culture of water conservation, water-saving technology in appliances and building codes, water district leaders have said. Multifamily housing like the kind proposed in Student Housing West also requires less water than single-family homes in part because there is less landscaping, water officials have said.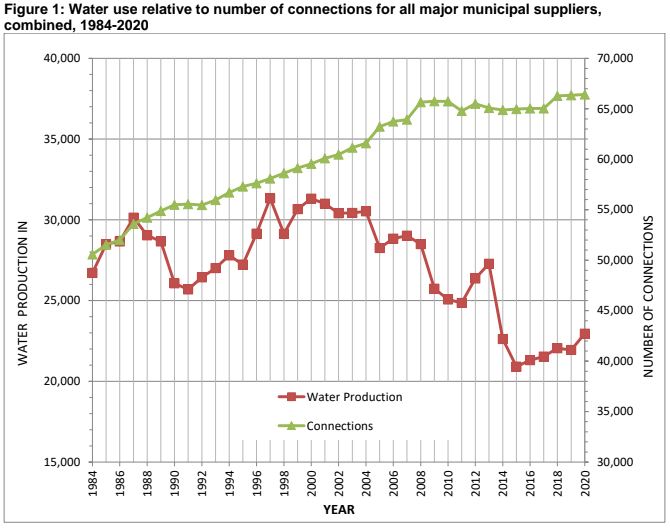 Water demand in Santa Cruz County peaked in the late 1990s despite population growth and more water connections, utility leaders have reported. Home appliance technology, water conservation and other factors have contributed. (County of Santa Cruz)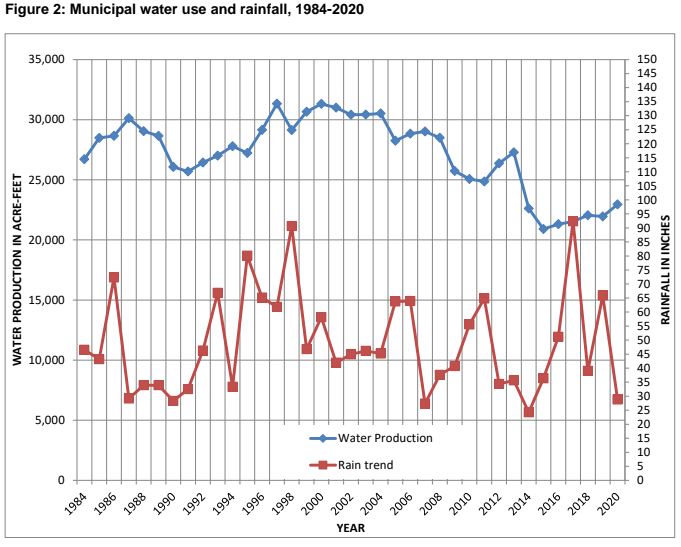 Annual rain varies, but water demand in recent years has been lower than in the mid-1980s in Santa Cruz County. (County of Santa Cruz)
The city of Santa Cruz's water situation is driven by inconsistent water supply, not increased demand, Santa Cruz Water Director Rosemary Menard has said.
Any construction on the Student Housing West, including construction on the East Meadow, remains on hold until the suit is resolved, said Hernandez-Jason, the UCSC spokesman. 
City, county leaders file lawsuits
As the Student Housing West projects are delayed, UCSC also faces a legal challenge from elected leaders of the city and county of Santa Cruz who want guarantees that more campus housing will be built before enrollment increases.
The 2021 Long Range Development Plan would increase today's roughly 19,800 undergraduate and graduate students to up to 28,000 by the year 2040. The plan "lays out our intention to provide housing for 100% of students above 19,500," said Hernandez-Jason. But city and county officials have pushed for a binding commitment to house the additional students.
After weeks of negotiations in December, "The university was unwilling to make that commitment," said Santa Cruz County Supervisor Ryan Coonerty. 
On Feb. 22, the city and county filed separate lawsuits to challenge the 2021 Long Range Development Plan. It alleged that the university's pledge to house the additional students was unlikely to be fulfilled. 
The city and county complaints essentially state that the development plan's environmental documents do not show how the university's enrollment can expand without negatively impacting the city's and the county's housing market, water supply and traffic.
"It's an unfortunate situation," said Santa Cruz County Supervisor Ryan Coonerty. Coonerty, who has taught law courses at UCSC, has been part of negotiations between the university and the county. 
"I think we understand the university's need to grow, but we want them to do it in a sustainable way, and in a way that not only would serve the community but would also, frankly, serve future students, faculty and staff," Coonerty said. "We're still hopeful that someday we'll be able to reach that agreement, but unfortunately it will probably take a while to get there."
In 2007, the city and county sued the university over aspects of the 2005 version of its Long Range Development Plan. As part of a 2008 settlement agreement, the university capped undergraduate enrollment at 17,500. The university also housed two-thirds of new students and paid for upgrades to city water and transportation systems.
Hernandez-Jason said the university's enrollment will not increase until more housing has been constructed. 
"We want students to be able to come to UC Santa Cruz and be positioned to succeed, and housing is a really fundamental piece of student success," he said.
Read more
Some current lawsuits against UCSC
Santa Cruz Local's news is free. We believe that high-quality local news is crucial to democracy. We depend on locals like you to make a meaningful contribution so everyone can access our news. Learn about membership.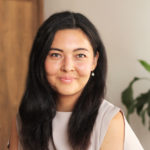 Natasha Jessen-Petersen is a graduate of Stanford University's Data Journalism program and the recipient of the Steven Steinberg scholarship for reporting.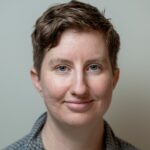 Jesse Kathan is a staff reporter for Santa Cruz Local through the California Local News Fellowship. Kathan holds a master's degree in science communications from UC Santa Cruz.