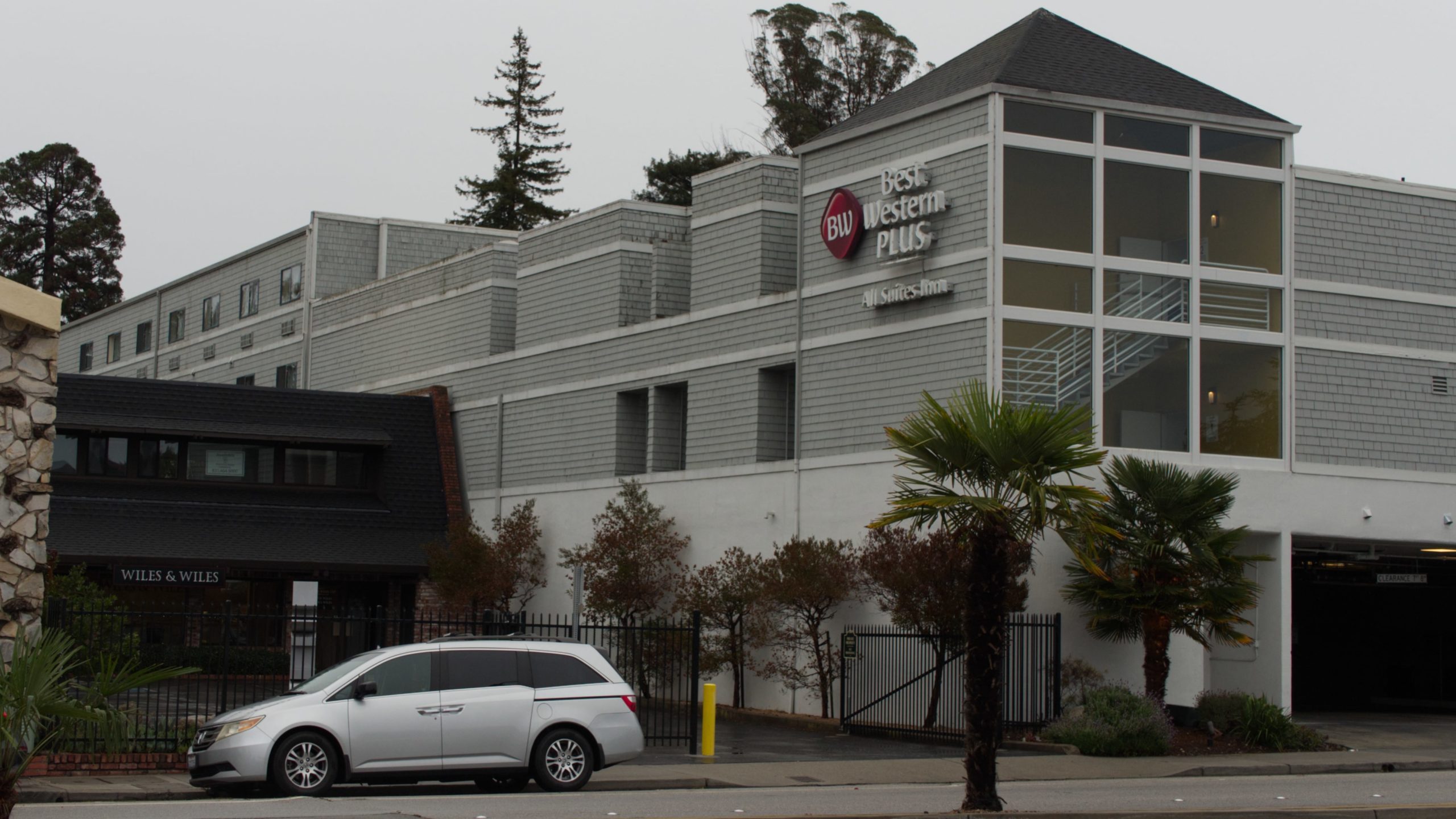 About 48 UC Santa Cruz graduate students are housed with a university subsidy at Best Western Plus All Suites Inn at 500 Ocean St. in Santa Cruz this fall. (Graycen Wheeler — Santa Cruz Local)
SANTA CRUZ >> Displaced wildfire victims and a return to in-person college classes this fall have contributed to one of the tightest rental markets in years in Santa Cruz County, university administrators and county authorities said this week.
When in-person classes at UC Santa Cruz were suspended because of the coronavirus in 2020, many students chose to leave the county and not rent homes off campus, county housing authorities said. Then the CZU Lightning Complex Fire broke out in August and left 911 households without a place to live. At least some of those displaced by the fire rented homes in Santa Cruz County, county housing authorities said.
Fast forward to this fall, and about 18,600 UCSC undergraduate and graduate students have returned to classes, said UCSC spokesman Scott Hernandez-Jason. Students found a rearranged housing market and often struggled to secure housing.
"A lot of graduate students fled the rent burden here during the pandemic while we were working remotely," said Jack Davies, a UCSC graduate student. "Not everyone's had to move back just yet, but the administration is signaling that more and more will have to do so by the winter quarter," Davies said. Davies is also chairman of the UCSC unit of UAW 2865 that represents student academic employees in the University of California system.
Many homes that were rented to college students before 2020 were sold and are now owner occupied, said Peter Cook, a real estate agent at Lighthouse Realty in Santa Cruz. Cook estimated that more than 50 houses that were student rentals sold in 2020 and are now owner-occupied units. 
Many of the rentals that remained are now occupied by non-student renters. "A lot of them moved here from San Francisco, San Jose, the whole greater Bay Area," Cook said. "If you can live in Santa Cruz and telecommute, this is just an awesome place to be."
Carissa Nations of Portola Property Management in Live Oak said she believes the rental market in Santa Cruz is tighter than ever. She suggested another set of new renters: homeowners who sold while home prices are high. Some of them became renters elsewhere in the county.
Lack of rentals
On Oct. 15, 2020, there were 394 listings on Craigslist for "apartments and housing for rent" in Santa Cruz County. In mid-October this year, there were about 188 listings — or fewer than half the listings that were available on the site a year ago. 
Similarly, rental listings on Zillow in October are down roughly one-third from October 2020 and almost two-thirds from October 2019. Leaders from the City of Santa Cruz and Santa Cruz County said they do not continuously track residential rental vacancies.
Suzanne Isé, a principal planner for the housing division of the Santa Cruz County Planning Department, said rental listings on websites don't paint a complete picture of the rental market. Still, she said she heard anecdotally from housing seekers that the rental market has tightened — especially in northern Santa Cruz County.
"I had my eyeballs on a lot of the data last year because I was part of the CZU Fire recovery," Isé said. 
Isé said she observed an unusual uptick in rental vacancies in 2020. She attributed it to UCSC students who chose not to rent homes in Santa Cruz County while classes were not held in person. "We were sharing all kinds of housing market data with FEMA to try to show them, 'Hey, we need you to open up these different aid programs to the folks affected by this fire,'" Isé said.
Ultimately, FEMA identified enough nearby rental vacancies that it didn't need to erect temporary structures to house displaced residents. Instead, FEMA provided assistance for fire victims to rent or buy on the housing market, Isé said.
Hotel mainly houses grad students
This fall, about 120 graduate students remained on a waitlist for on-campus housing, said Dave Keller, the executive director of Housing Services at UCSC. 
So the university brokered a deal with the Best Western Plus All Suites Inn on Ocean Street in Santa Cruz to provide university-subsidized housing to graduate students. The hotel has allocated 60 of its 77 suites for UCSC graduate students, according to a front desk operations manager there. Forty-eight graduate students currently occupy those rooms, said Keller. 
They will be joined by at least seven more students for the winter quarter, and rooms are still available for graduate students in need of housing.
The university subsidizes rent for graduate students staying at the hotel so that it's equivalent to renting a room in on-campus housing. This costs the university $1,900 per room each month, which is more than what it costs to house a student on campus, said Keller.
Abdulaziz Alatawi, a second-year UCSC doctoral student said he chose the hotel option after an unfruitful search for other rentals.
"To be honest, it was the only option," Alatawi said. "I was thinking of staying in San Jose and commuting from there. The hotel was like a gift."
Like many UCSC students, Alatawi studied remotely during the 2020-21 academic year. Now that many students are back on campus, they're finding that the rental vacancies created by the pandemic were filled in their absence.
Davies, the academic employee union leader, said graduate students were priced out of many rentals in Santa Cruz even before the pandemic. Now, the average rent for a room in a shared house is up more than 50% compared to 2019, according to rental data from UCSC.
Graduate students have historically worried about rental prices, graduate student leaders said. But they also need to be concerned about availability.
"I'm getting increasingly worried that if we just talk about addressing the price for graduate students, we're really just talking about who we're displacing," said Dan Copulsky, vice president of shared governance for the Graduate Student Association at UCSC.
UCSC students constitute a sizable chunk of the rental market in Santa Cruz, but they are only one component of the rental ecosystem. Solutions like the hotel subsidy can remove renters from the crowded rental pool. The agreement between UCSC and the Best Western lasts until June 2022, but both Keller and a sales director for the hotel said that similar arrangements are possible in the future.
Davies said that a new graduate student in his program ended up in the hotel after struggling to find a rental.
"He'd lived in New York before and thought this would be fine," Davies said. "Little did he know, Santa Cruz would be much, much worse than New York or Boston."
Become a member of Santa Cruz Local, an independent, community-supported newsroom that's owned and led by local journalists. Our stories are free and always will be, but we rely on your support.
Already a member? Support Santa Cruz Local with a one-time gift.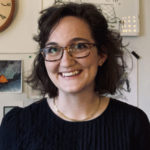 Graycen Wheeler is a freelance journalist and a master's student in UC Santa Cruz's science communication program. She lives in Santa Cruz.