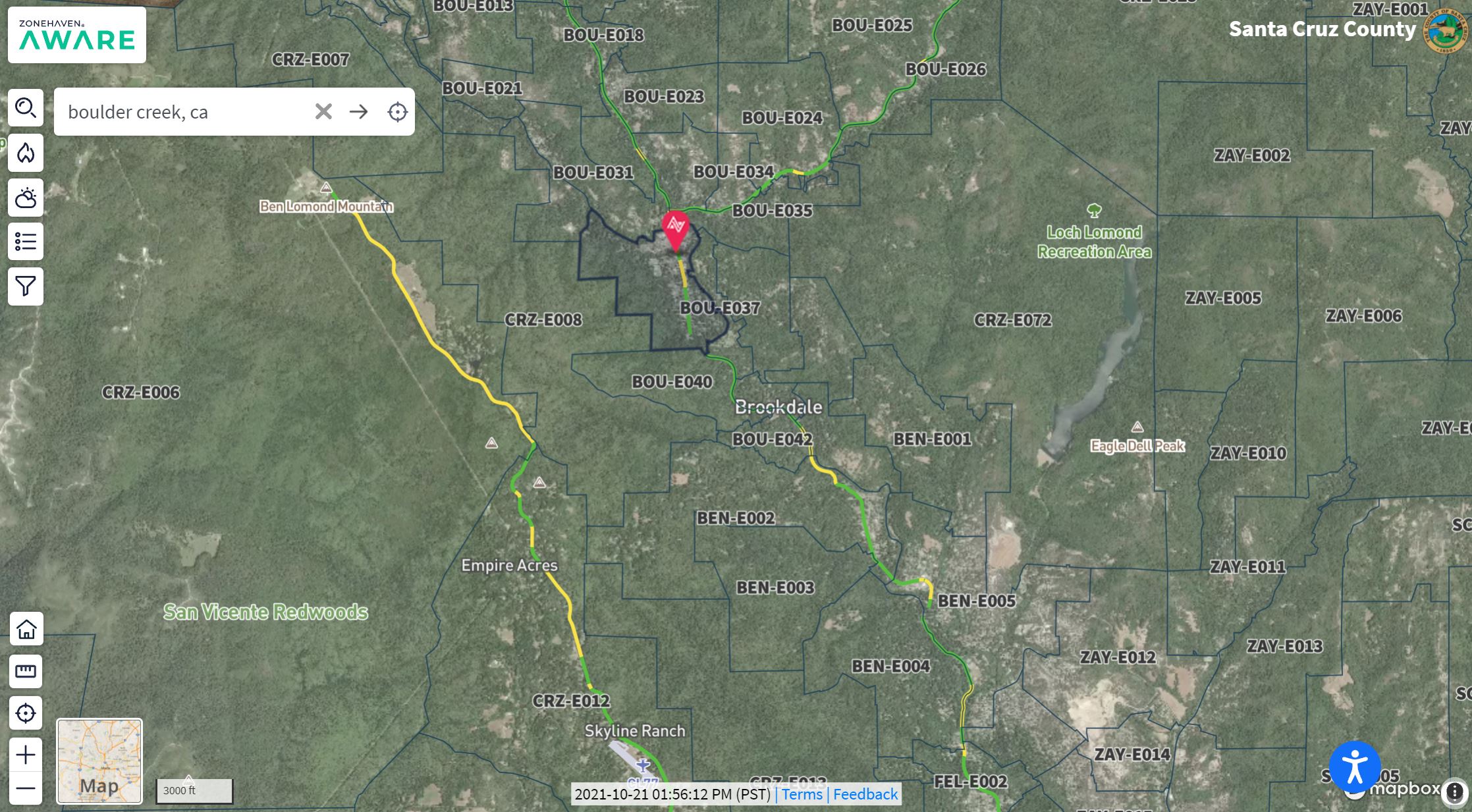 Santa Cruz County's evacuation zones were updated in September. Authorities ask residents in places like Boulder Creek and Ben Lomond, shown here, to know their zone before an evacuation is ordered for potential debris flow. (Zonehaven)
FELTON >> With 3 to 4 inches of rain expected in the Santa Cruz Mountains from Sunday Oct. 24 through Monday Oct. 25, county authorities have asked residents to look up new evacuation zones and be ready to leave if an evacuation is ordered for potential landslides.
The evacuation zones were updated in September after the county released new debris-flow modeling maps created by engineering firm Atkins North America Inc. 
"If people looked up their zone last winter, we're asking them to do it again," Santa Cruz County spokesman Jason Hoppin said this week.
The risk is highest in areas burned by the CZU Lightning Complex Fire in 2020, especially the east-facing slopes of the San Lorenzo Valley, Hoppin said. The new maps have allowed the county to "refine" the zones at greatest risk of debris flows, he said. That means "evacuations will likely be tighter and affect fewer people."
The greatest danger of debris flows arises if a large amount of rain falls in a short period of time. Slopes can take several inches of rain "over the course of the day" without triggering debris flows, Hoppin said. "If it all comes at once, that's more dangerous."
After a major wildfire like the CZU blaze, ash "seals off" the soil to water for years, Hoppin said. When water can't seep into soil, heavy rain can erode burned slopes. Without plants to stabilize the soil, mud and rock can be caught up in the flow and create a destructive debris flow.
Debris flows can cause even more damage than the wildfires preceding them, Hoppin said. "If a debris flow starts, there's nothing you can do to outrun it," he said. "You have walls of mud and rock and debris moving at a rapid speed. The only thing you can do is get out of the way beforehand." 
In January 2018, post-wildfire debris flows killed more than 20 people in Santa Barbara County. 
In January 2021, more than 5,000 Santa Cruz County residents were ordered to evacuate due to the risk of debris flow from an atmospheric river. 
Unusually strong storm
From Sunday through Monday, 3 to 4 inches of rain is expected in the Santa Cruz Mountains, weather forecasters said. Mountain areas could receive up to five inches of rain from Wednesday Oct. 20 through Monday Oct. 25, weather forecasters said.
"We don't usually see systems like this this strong in October," said National Weather Service meteorologist Sarah McCorkle. Santa Cruz County's average precipitation for October is less than 1.5 inches, she said.
Sunday's storm is fueled by an atmospheric river, McCorkle said. That's a band of water moisture more than 200 miles wide that acts like a river in the sky. It can unleash massive amounts of precipitation. 
McCorkle said it's difficult to predict how concentrated the storm will be until the system moves closer.
Another risk for residents
For residents whose houses were damaged or destroyed by the CZU Fire, debris flow presents another risk of catastrophic property damage. 
Diantha and Daryl Lowery are Boulder Creek residents whose home was destroyed. They are still staying in San Jose while they await permits to begin new construction. They worry that what progress they have made with the construction of new water tanks could be undone. "If the rains are torrential enough, it could all slide down," Diantha Lowrey said. 
She said she worried more for her neighbors whose homes were also destroyed. Some are living out of mobile homes on their properties. "I really hope that's going to be safe for them," Diantha Lowrey said. "It's very concerning." 
Evacuation zones updated
Even if no evacuations are ordered during the storm Sunday and Monday, the risk of debris flows will remain throughout the rainy season, said Hoppin, the county spokesman. 
Santa Cruz County sheriff's Sgt. Daniel Robbins said he recommended that residents prepare for potential evacuations before they occur. 
"The best thing for people to know is what evacuation zone they are in," he said. Residents can check their zone at Zonehaven. 
Other safety tips from county officials include:
Become a member of Santa Cruz Local, an independent, community-supported newsroom that's owned and led by local journalists. Our stories are free and always will be, but we rely on your support.
Already a member? Support Santa Cruz Local with a one-time gift.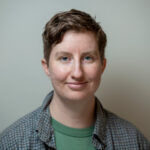 Jesse Kathan is a staff reporter for Santa Cruz Local through the California Local News Fellowship. Kathan holds a master's degree in science communications from UC Santa Cruz.