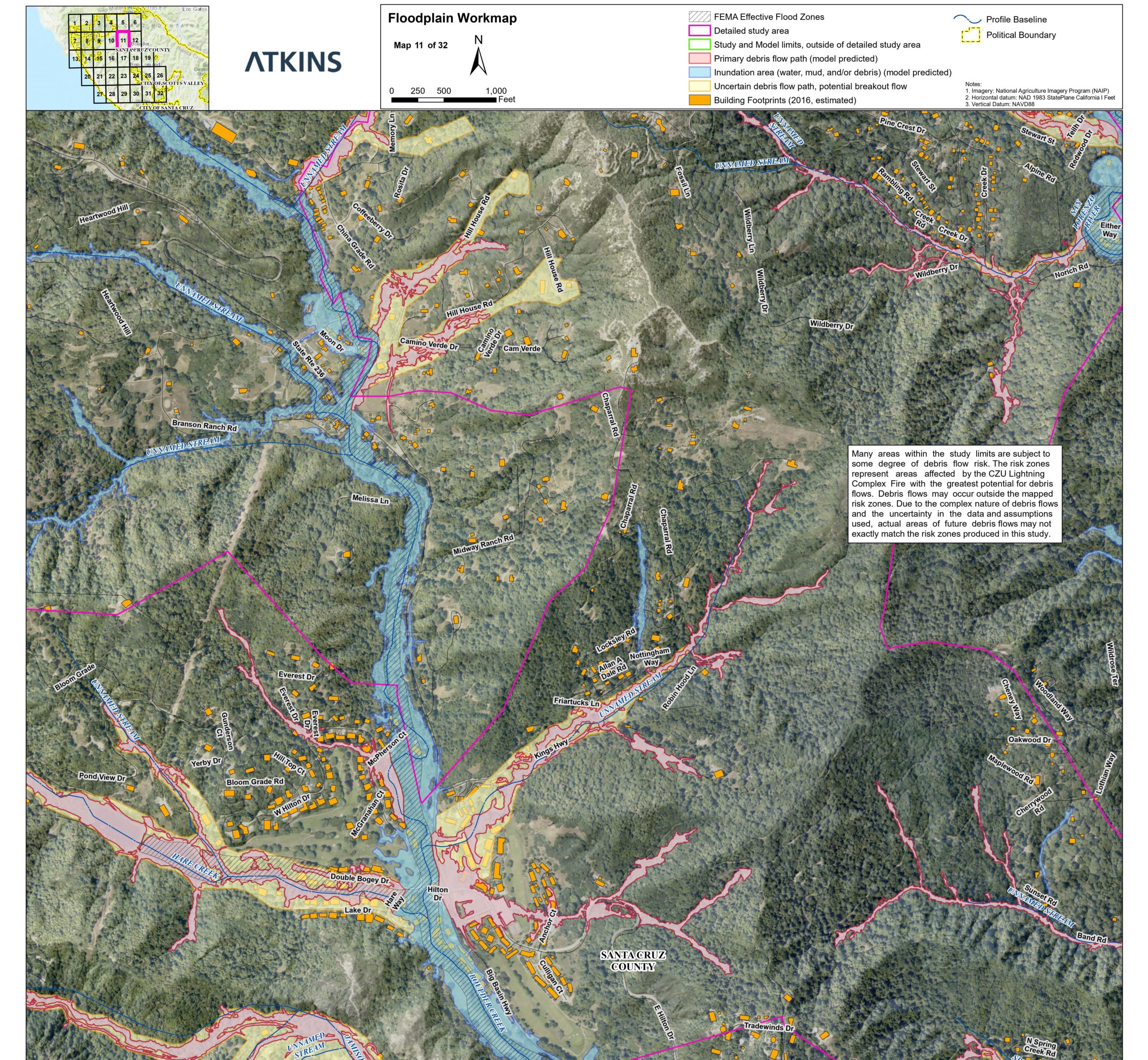 Recently released maps detail debris-flow risks near properties in the CZU Fire zone. This map shows areas near Boulder Creek Golf and Country Club. (County of Santa Cruz, Atkins North America Inc.)
SANTA CRUZ >> Amid continued complaints about the slow pace of rebuilding permits in the CZU Lighting Complex Fire zone, Santa Cruz County supervisors on Tuesday loosened rules on the risks that landowners must acknowledge on property titles in the fire zone.
The supervisors decided earlier this month that property owners who do not perform geologic evaluations acceptable to the county must accept the risk of landslides with a formal statement on their property title. Many residents bristled at the requirement in part because they feared a loss in their property value.
Tuesday, the supervisors said the formal acknowledgement did not need to be the same for each property. Instead, a template could be used and details specific to the property could be included in it.
"We eased the covenant," Santa Cruz County Board Chairman Bruce McPherson said after the 5-0 vote in favor of the rule change.
Supervisor Ryan Coonerty said county leaders have a duty to protect future homeowners and renters in the burn zone. They also have a duty to protect county taxpayers if the county is sued repeatedly related to potential landslides or debris flow events. "It's been 13 months since this county has suffered the largest natural disaster in its history," Coonerty said at Tuesday's meeting. "We have a duty to get people in their homes as soon as possible."
Coonerty's district includes the North Coast where much of the 134-square-mile CZU Lightning Complex Fire burned in 2020. Coonerty said his coworkers, loved ones, friends and people he grew up with were among the people who lived in the 911 homes destroyed.
New maps
Separately at Tuesday's meetings, an engineer from Atkins North America Inc. described 32 pages of the most detailed debris-flow modeling maps released so far of the burn zone. Atkins did similar work in Santa Barbara County in the wake of post-wildfire slides that killed 23 people in 2018.
The new maps include:
Overlaid information on watersheds, topography, debris flow models and home locations.

Color-coded "primary" debris flow paths and "uncertain" debris flow paths. Uncertain areas are flatter, wider, lower in elevation or at the base of drainage areas. They are generally less likely than the other areas to have debris flow.

Areas of risk are narrower than described in earlier maps.
The maps are intended as a base of information for "geotechnical engineers to evaluate the magnitude of the hazard at individual sites and to design foundations or mitigations accordingly," wrote Paia Levine, Santa Cruz County's acting planning director, in a county document.
The data can be used to help site new homes, inform design decisions, and give geologists a reference of where mud is expected to flow, county leaders said. The new maps also are intended to help county officials apply for grants to improve safety in whole neighborhoods in the burn zone.
View the maps and more information on the Santa Cruz County website.
Residents upset
Two residents from the Swanton area of the North Coast said the maps were inconsistent or missing data near Scott Creek. Coonerty said his staff would field their concerns. 
Real estate agent Carol Payne told the supervisors that she had worked in the Santa Cruz Mountains since 1984. Payne said that a deed note that indemnifies the county in a mudslide "would definitely affect property values." 
Real estate agents at the meeting said that mortgage lenders, home insurers and real estate attorneys should be consulted before indemnification covenants are attached to deeds. Some noted that state law during rural home sales already requires a geologic disclosure that includes debris flow areas.
Antonia Bradford said she lost her home in the wildfire and has not been allowed to rebuild. Bradford said, "We just want to rebuild our homes and hopefully we are getting closer to doing just that."
Become a member of Santa Cruz Local, an independent, community-supported newsroom that's owned and led by local journalists. Our stories are free and always will be, but we rely on your support.
Already a member? Support Santa Cruz Local with a one-time gift.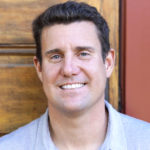 Stephen Baxter is a co-founder and editor of Santa Cruz Local. He covers Santa Cruz County government.