SANTA CRUZ >> A proposal for a farm in a Pogonip meadow advanced Tuesday as city leaders began a roughly two-year process to gather public input and study potential environmental effects. 
The Homeless Garden Project has planned a farm in a Pogonip meadow near Golf Club Drive for years. Pogonip is a city-owned wildland area with trails adjacent to UC Santa Cruz. Shortly after the Santa Cruz City Council approved the project in 2018, city workers discovered lead and other contaminants related to skeet shooting in that lower meadow. 
Now, Homeless Garden Project leaders want to relocate the proposed farm to a meadow uphill and closer to the defunct Pogonip Clubhouse. The plan calls for a 9-acre farm, two buildings and two greenhouses. The move would require a change to the Pogonip Master Plan with public hearings and environmental review. The Homeless Garden Project is a nonprofit group that trains and employs homeless people in farm work.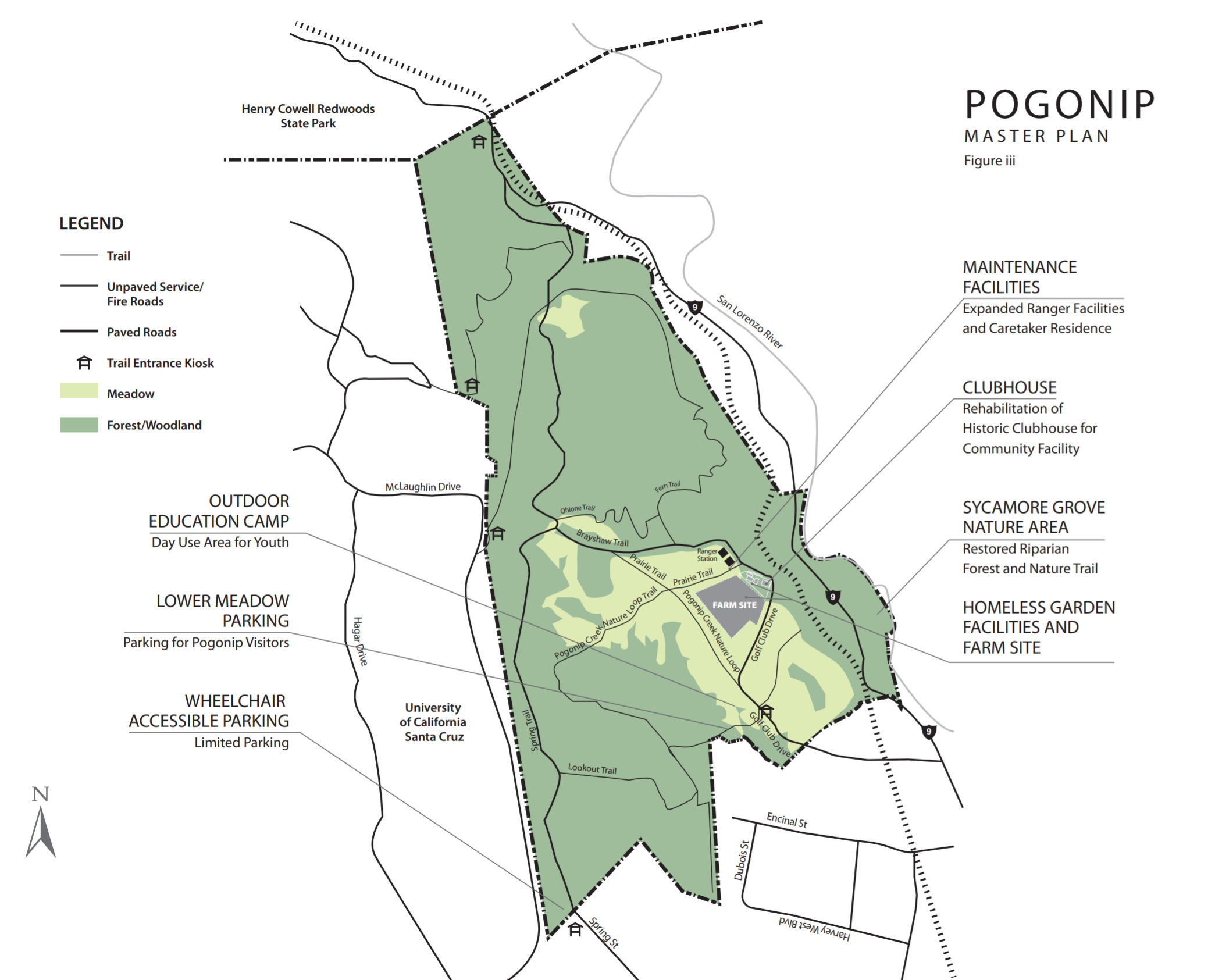 A map shows a new location for a proposed farm next to the Pogonip Clubhouse. (Homeless Garden Project)
In a unanimous vote Tuesday, the Santa Cruz City Council:
Confirmed a schedule and process to potentially change the Pogonip Master Plan to allow the relocation

Approved a $102,500 cost for environmental review and related consultant fees  

Told staff to estimate costs and timeline to clean up the lead contamination in the lower meadow. The approved motion by Councilmember Sandy Brown focused on a high standard of cleanup that would allow residential or agricultural use. 
Regardless of the proposed farm's location, the city is expected to clean up the contamination. The costs and plan are still unclear. If the meadow were used for agriculture, the city would need to scrape and haul away the top foot of soil. That process could cost more than $1 million, according to a staff report. 
If the lower meadow remained as recreational open space, the soil will need "some level of remediation," said Santa Cruz Parks and Recreation Director Tony Elliot, in an interview. He said he does not yet have a cost estimate.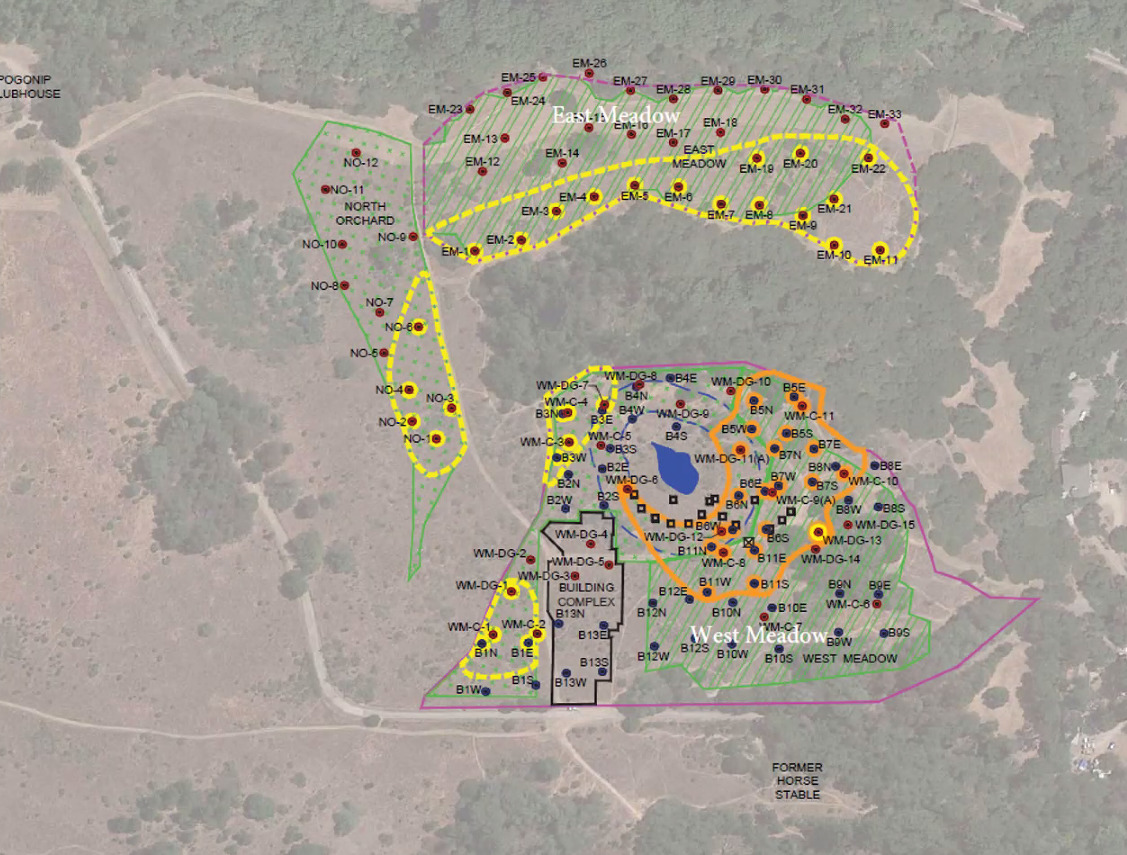 Yellow and orange boundaries show contaminated areas of the lower meadow in Pogonip. Green boundaries show areas deemed safe for farming in the lower meadow. (RMD Environmental Solutions)
Timeline and process
The current 1998 Pogonip Master Plan calls for the upper meadow to be used for habitat restoration for sensitive species. It also calls for the Pogonip Clubhouse to be renovated for education and special events.
The process and timeline to change the master plan to allow for the farm includes:
Community meetings in the next few months to get public input. Elliot, the parks and recreation director, said city staff will research

residents' questions

.

The city bought Pogonip in 1989 with money from a state voter-approved bond meant for the acquisition, development, rehabilitation and protection of natural land.

One question is whether the bond funds with which Pogonip was purchased require that the land be used for conservation. 

In early 2022, the council is expected to discuss feedback from those meetings and decide whether to pursue environmental review. City staff also expect to have costs and timelines related to contamination cleanup by that time.

The process to change the Pogonip Master Plan is expected to take two years. It is expected to include meetings to discuss draft changes, environmental analysis and plan reviews. If the farm relocation is approved, then city leaders would negotiate a lease with the Homeless Garden Project. The city would retain ownership of the land. 
Elliot said that due to limited staff bandwidth, the project forces parks and recreation staff to  delay other planned projects including:
Redesign of San Lorenzo Park

A Harvey West swimming pool feasibility study to create a business plan to allow expanded operations
Housing planned at current farm
The Homeless Garden Project has a farm on Shaffer Road at Delaware Avenue and a store on Pacific Avenue. The project leases the farm from Ron Swenson, a developer who plans to build housing on that lot.
Darrie Ganzhorn, Homeless Garden Project's executive director, wrote in an email to Santa Cruz Local that "there is no possibility that (Homeless Garden Project) can permanently stay at our current location."
Ganzhorn wrote that in a "best-case" scenario, in the planned housing development the developer may allow Homeless Garden Project to farm "half of the land needed for our operation and no place for our farm buildings or administrative space." 
Swenson was not available for comment this week. The housing proposal is in an early phase and plans have not been submitted to city staff.
A project website shows that site plans for "EcoVillage" housing on Shaffer Road were drafted in 2002. 
Residents weigh in
More than 30 people spoke during public comment Tuesday. Several of them were Homeless Garden Project volunteers, staff and graduates in favor of the proposed farm relocation. 
Many of the supporters spoke of the program's impact on giving people jobs and life skills to get out of homelessness. They said the move would allow the project a permanent home and an ability to serve more people.
Several residents also spoke in opposition to change, including members of Friends of the Greenbelt. The group recently hired a San Luis Obispo-based lawyer to advocate against developing the upper meadow.
"This site is not an appropriate site for that type of project," said Deborah Malkin, a Friends of the Greenbelt member, in an interview. Malkin is also a former Santa Cruz parks and recreation commissioner. Malkin served on the commission when the Pogonip Master Plan was approved in 1998. Malkin said she was concerned about the farm's impact on the meadow which hosts many native species possibly including the endangered Ohlone tiger beetle. 
She said her concerns don't stem from opposition to the Homeless Garden Project's mission or expansion. "I'm coming from a desire to keep it as open space for all the people who go there," she said. Moving the project to the upper meadow, she said, would be "taking public open space and changing it to a private use. That does not seem right." 
Council members' response
The council members were supportive of starting a public process to look into the farm's possible relocation and cleanup of the lower meadow. Councilmember Shebreh Kalantari-Johnson urged city staff to look into sharing the $102,500 cost of a consultant and environmental review with the Homeless Garden Project.
Become a member of Santa Cruz Local, an independent, community-supported newsroom that's owned and led by local journalists. Our stories are free and always will be, but we rely on your support.
Already a member? Support Santa Cruz Local with a one-time gift.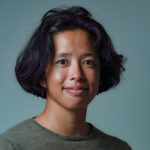 Kara Meyberg Guzman is the CEO and co-founder of Santa Cruz Local. ​Prior to Santa Cruz Local, she served as the Santa Cruz Sentinel's managing editor. She has a biology degree from Stanford University and lives in Santa Cruz.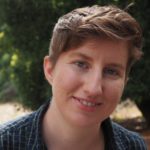 Jesse Kathan is an environmental journalist and a graduate of UC Santa Cruz's science communications program. Kathan has contributed to the Mercury News, Monterey County Weekly and KSQD-FM.