Meet Yvette Lopez Brooks
Residence:

Cliffwood Heights, near New Brighton Middle School

Age:

38

Occupation:

Executive director of the Santa Cruz-based nonprofit group Your Future is Our Business

Local government experience:

Brooks has been on the Capitola City Council for the past four years. Brooks worked for the Santa Cruz County Office of Education in monitoring compliance in the Special Education Local Plan Area.

Important local issues: Brooks said she wants to support families and children. "I really believe that it's important to have a minority voice, a woman's voice, a woman of color, a mom, someone who works full time, all of those things. It's important to be able to offer that insight while serving," Brooks said. "My other priorities are preserving our environment and looking at our housing issues, as well as just making and maintaining Capitola a really special town," Brooks said.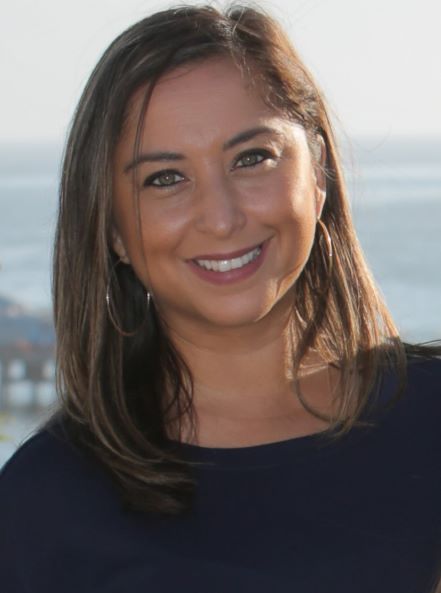 Yvette Lopez Brooks (Contributed)
What is your dream for the Capitola community?

Brooks said she wanted a "healthy, thriving lifestyle" for everyone in Capitola. Brooks said she moved to Santa Cruz County more than 20 years ago. She said she is married with an 8-year-old daughter and they own an 800-square-foot condominium. "

When I first moved here, I never imagined that this would be, what I like to call, my forever home," Brooks said. "I only wish that — it would be my dream for everyone else: The hard-working full-time parents, the folks who just don't see that as a reality. I hope to try to create those opportunities for everybody, including my daughter," Brooks said.

Fun fact: "I was the first Latina to hold office in the city of Capitola."
Several Capitola voters told us they do not feel safe cycling because of unsafe drivers. What will you do to improve bike safety?
Yvette Lopez Brooks: I appreciate that question because that's been on our minds as well on city council. Just this year on city council, we allocated $100,000 for pedestrian and bike safety projects. We've been working with (city) staff on identifying a number of opportunities to use those funds to improve bike safety, which included fixing the storm grate on Park Avenue at Highway 1, which we actually just completed. And we're going to begin construction to complete the Clares Street traffic calming project which will improve bike safety over on Clares Road. So we're working hard. It's something that I've made a priority, and I hope to be able to continue to work on those projects in the next coming years.
Several Capitola voters said they fight traffic around the village and 41st Avenue. What's your plan to improve traffic flow? 
Yvette Lopez Brooks: As long as the highway's jammed up every day, Capitola surface streets are going to be impacted. So the most impactful thing we can do is to fix the highways. I know there's been some conversations about highway widening, and I'm not sure, I need more information on the impacts of highway widening before committing to whether that's an actual solution. About creating safer streets for bicycles and pedestrians, I think we're moving in the right direction and creating different opportunities. Like I said, my work overall on (Central Coast Community Energy) creates funding for constituents to purchase and get rebates for electric bikes. And we just installed several (charging stations) for cars that you can plug in. The truth is, we only are a city of 2 mile radius practically, and our options are limited. But it's a regional conversation. And so I'm looking forward to learning more about the highway widening project and seeing what options are that could help offset some of these problems we see on our streets.
What are your priorities for the rail-trail project through Capitola? 
Yvette Lopez Brooks: I think that it'll be interesting to see what the new report, the new analysis coming from the (Santa Cruz County Regional Transportation Commission) is of our options. I think that it's really important to see more walkways, more bikeways, more trails created through the city of Capitola. We know, I've heard from our constituents, that creating a train or something like that is, even at a high level, it's really hard to think about going over our trestle. It is in deep need of repair. So it'll be really interesting to see the outcomes of that analysis, as well as like up to date, state-of-the-art opportunities are for different modes of transportation. I mentioned the highway widening as an option. It'll be a learning process for me to see what sort of things that are out there and that we could implement in our city. Capitola is unique because we are right in the thick of it, we're right in the middle of it. We're going to be the most impacted by any sort of change. And it's really important for me to preserve what the city has and to ensure that we are not impacted in ways that affect the lifestyles of our community members.
The Capitola City Council decided not to pursue an empty home tax on the November ballot. What's your stance on an empty home tax for Capitola?
Yvette Lopez Brooks: I think it's really important to recognize that the City of Capitola is going to be in deficit spending in about five years. We're really going to need to think about different ways to bridge that financial gap rather than having to cut things like our employees — or not giving out raises, or our community grant programs or our programs for youth. And so I think when this idea came to fruition, it seemed like a feasible option. The reason council, or that I, didn't approve it at that time that was presented to city council, is that it didn't seem legally defensible at the time. It seemed like an idea, and that we needed to do a lot more work into creating a balance for homeowners and for community members and for the work that it essentially would create for staff in the long haul. 
There are several other cities talking about it and looking at it as an option for their community. And I think we need to look at what they're creating as a strong policy and a defensible policy so that the city isn't running into any potential litigation. We need to look at other ways to create funding or opportunities to fill that financial gap. There's real challenges coming upon us with the CalPERS retirement system and how that affects our employees and all of that sort of stuff. If we can see something come out of it in a different way that works for all, I would be open to revisiting that conversation.
State leaders have set a target for Capitola to build 1,336 new homes by the end of 2031, mainly affordable units. The city has not met its current goals. Where in Capitola would you support denser housing? What zoning changes would you support?
Yvette Lopez Brooks: Opportunities for more housing exist within our regional commercial and community commercial zoning districts. We actually recently adopted new incentives for increased height and floor area for properties in and around the (Capitola) Mall. We also have mixed-use as allowed in our commercial zone. So we actually anticipate redevelopment introducing mixed use projects in these areas as an option. We also need to look into our existing multifamily zones and possibly increasing their density. Recently we've created a successful (Accessory Dwelling Unit) policy as well. We're trying really hard but it's a bit it's a balance about what's realistic and feasible in creating smart development and housing in such a small, small community. I'm absolutely pro housing. And I also need to be mindful about smart growth in such a small area. These are things that council thought about when we updated our zoning code just a year ago, and so I had the privilege of meeting with (state) Sen. (John) Laird and other cities who are small like us and discuss this with them. So it's definitely on the mind of our electeds at the state level. In the meantime, we have all these other opportunities to look at these things and try to meet our goals as best we can.
In the Nov. 8 election, Capitola residents will choose three city council members from five candidates.
Read Santa Cruz Local's Election Guide for the other candidates:
— Alyssa Shook
Correction: The number of years that Yvette Lopez Brooks has lived in Santa Cruz County has been updated.
Questions or comments? Email in[email protected]. Santa Cruz Local is funded by members, major donors, sponsors and grants for the general support of our newsroom. Our news judgments are made independently and not on the basis of donor support. Learn more about Santa Cruz Local and how it is funded.