Meet Alexander Pedersen
Residence:

Near Capitola Mall

Age:

32

Occupation:

Owner of a home repair and maintenance business. Pedersen also works at the Santa Cruz County Small Business Development Center.

Work and local government experience:

Pedersen serves on Capitola's Finance Advisory Committee, which advises city council members on financial matters including the city budget. Pedersen serves on Second Harvest Food Bank's board of trustees and as an ambassador for the Santa Cruz County Chamber of Commerce. At the Santa Cruz County Small Business Development Center, Pedersen said he administered more than $800,000 in COVID relief grants to small businesses in the county.

What local issues affect you that make you want to run for this office?

"Housing is a huge one. I mean, that's probably my biggest focus," Pedersen said. "Capitola and  Santa Cruz County have one of the worst ratios of income-to-housing costs in the nation. So that's a huge issue. And that's a big reason that I'm running is to hopefully have some positive effect on that issue. I'm a renter. I have been my whole life. Eventually, it would be great if I could own a house and (have) something, somewhere to raise a family and pass down to my children. That's the American dream. It's less and less of a reality to more and more Americans, which is pretty sad. The other big focus of mine is economic development. I mean, being a small business owner and living through the economic recession in 2008 and then again through COVID, it just made it very clear how important it is to have economic development organizations and make sure our businesses are thriving as much as they possibly can," Pedersen said.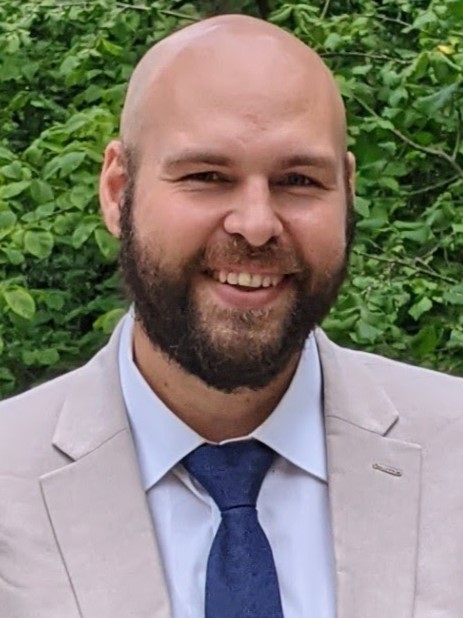 Alexander Pedersen (Contributed)
What is your dream for the Capitola community?

"The biggest thing that I think we could do is to redevelop the Capitola Mall and get a bunch of housing in there. Have it just revitalized with the businesses and as a community hub, and even a community hub for the whole county, and then a retail hub," Pedersen said. "We could do some more proactive measures by protecting the environment — that's big — ensuring that the economy is strong, and I'd like to see a more bicycle-, pedestrian- and public transportation-centric society in Capitola."

Fun fact:

"I like outdoor sports. I mean, I guess that's probably not too uncommon around here. But just last week, I did Mount Whitney, which is the tallest mountain in the continental United States. It's really just a really long hike going up 14,000 feet. So yeah, anybody who likes hiking and, you know, exhausting themselves, I would highly recommend it."
Several Capitola voters told us they do not feel safe cycling because of unsafe drivers. What will you do to improve bike safety?
Alexander Pedersen: "Bike safety is something I'm really passionate about. I just got my new bike and I'm excited to take it around town, go shopping and go to the beach. I am actually from Davis, California originally — which is at least known in Davis as the bike capital of the United States. I don't know if anybody else calls it that. But I think I really took for granted how many bike lanes and protected bike lanes there are connecting the city of Davis throughout. And I'd like to see more of that in Santa Cruz County. 
I'm really excited for the rail trail to be built. I've used section one of it a lot over on the Westside. It's great. I'd love to see a lot more protected bike lanes. One thing we can do, in addition to that to slow traffic a little bit, would be to narrow the traffic lane. And that encourages drivers to drive slower just like as a sort of psychological effect. And how you can do that is by increasing the width of bike lanes or adding a little buffer zone between the road and the bike lane. So that's kind of a win-win situation for certain roads where you have speeding issues in Capitola. I'd say the main thing we can do to make cycling and bicycling around safer is to have protected bike lanes, which means having physical barriers, like plastic poles in between the bike lanes and the roads. So I'd love to see as many of those as we realistically can have without having any negative impacts on traffic and parking.
Several Capitola voters said they fight traffic around the village and 41st Avenue. What's your plan to improve traffic flow? 
Alexander Pedersen: More protected bike lanes is a big part of that, just in more pedestrian and bicycle friendly infrastructure, which I think can have a huge impact on traffic, especially in Capitola. I mean, there's not many places in Capitola where it wouldn't be relatively easy to bike or walk. It's such a small place. But again, people need to drive. People need to work. I'd like to see more work and emphasis put into having public-transportation-friendly infrastructure, more bus stops, maybe covered bus stops, whatever you can do to encourage people to use more public transportation would be great. There's also on 41st (Avenue) somewhat artificial traffic because they control the traffic lights on 41st nearing Highway 1. And that's because they're trying to ease the traffic going onto Highway 1. And that screening backup on 41st. And I live right there. So I see this all the time.
In regards to the village, I'd like to see more reliance on shuttle services, more frequent shuttle services and shuttle services even coming from the Capitola Mall where people could park and leave their cars, or park there and take bikes down to the village. I think that would help ease traffic and hopefully try to change the culture of driving your car down to the village when it's not necessary. Because there's always traffic down there and nobody likes that.
What are your priorities for the rail-trail project through Capitola? 
Alexander Pedersen: My priority is to get the trail going as soon as possible. I don't want to see any more obstructions to the trail here in Capitola. I want to see us all be able to use it as soon as possible. And hopefully for those people who are commuting to work in Santa Cruz or Live Oak, hopefully we can see more bikes or e-bikes going on that. Using it for all sorts of things and easing the traffic. 
I can't say much about the train, we'll see what they come up with. I think that's more long-term, distant future. A lot of work and planning will need to go into that. to see if there is I think currently the plan would be either potentially to bypass the current train bridge in Capitola with the bike path, or build a new one right next to it for bikes and pedestrians. I'm excited to see what the (Santa Cruz County Regional Transportation Commission) comes up with. But I just hope we can do it as soon as possible and get people out and enjoying this beautiful city and county that we live in.
The Capitola City Council decided not to pursue an empty home tax on the November ballot. What's your stance on an empty home tax for Capitola?
Alexander Pedersen: I was on the Capitola Finance Advisory Committee. When we were talking about that, they conducted a poll of our residents for the empty home tax. It didn't get enough support for it to make sense to move forward with it. So that's kind of what killed it. But I think it's definitely an interesting idea. And I think we're fortunate that the city of Santa Cruz is potentially moving forward with it. So we can see if it fails in the polls after this big push in Santa Cruz, I think it's probably fair to assume it wouldn't do any better here. And if it does pass in Santa Cruz, it will be great to be able to see what our neighbor with so many similarities to Capitola will have. How it will develop there and what we can learn from their issues: what they did right and what they did wrong. I've heard some concerns from Capitola residents about the city of Santa Cruz empty home tax that it's too overbearing by requiring residents to self report. So it's definitely interesting and we could definitely use it to diversify our tax base. I'm sure we could use that for all sorts of good stuff, especially to create more affordable housing options for Capitola residents. I'm excited to see how that turns out in Santa Cruz and fortunate that we can learn from their experience.
Bring those people in to hear those stories, because that's our history in Capitola. And then bring in people from a different perspective who can't find affordable housing here. And so we can work together for that.
State leaders have set a target for Capitola to build 1,336 new homes by the end of 2031, mainly affordable units. The city has not met its current goals. Where in Capitola would you support denser housing? What zoning changes would you support?
Alexander Pedersen: Capitola is a very small place, but we have a really fortunate opportunity currently with the redevelopment of the Capitola Mall. So I think we could see many units. I think the current plan was 600 units, maybe we could go up to you know 1,000 or something like that at Capitola Mall. It's a huge area. And just about the perfect location. I mean, I don't think a lot of people want to see us building taller, more dense housing structures in residential neighborhoods. So there's not a lot of good places to put high-density housing in Capitola. But the mall is one of them. The mall would be a perfect location. And its redevelopment is great timing to take this a very significant chunk out of the new (Regional Housing Needs Assessment) goal for the sixth cycle here that's coming up. In addition to that, I think we have a couple or handful of aging apartment complexes throughout Capitola. And I think those would be potentially good opportunities to rebuild with a little bit higher density, maybe a little bit taller. I think we can incentivize some of the owners and developers of our apartment complexes to redevelop with more units by changing the requirements for floor/area ratio, building height and the unit density. So I think between redeveloping some of the aging apartment complexes and squeezing in as many houses as we realistically can, without too much negative effects on traffic or any other infrastructure in Capitola and the Capitola Mall. Those two things would, in my mind, have the best chance of meeting our goals without disrupting the city of Capitola and our residents, or negatively affecting them.
In the Nov. 8 election, Capitola residents will choose three city council members from five candidates.
Read Santa Cruz Local's Election Guide for the other candidates:
— Alyssa Shook and Stephen Baxter
Correction: Pedersen said he administered more than $800,000 in COVID relief grants to small businesses in the county. An earlier version of this page reported another amount.
Questions or comments? Email [email protected]. Santa Cruz Local is funded by members, major donors, sponsors and grants for the general support of our newsroom. Our news judgments are made independently and not on the basis of donor support. Learn more about Santa Cruz Local and how it is funded.