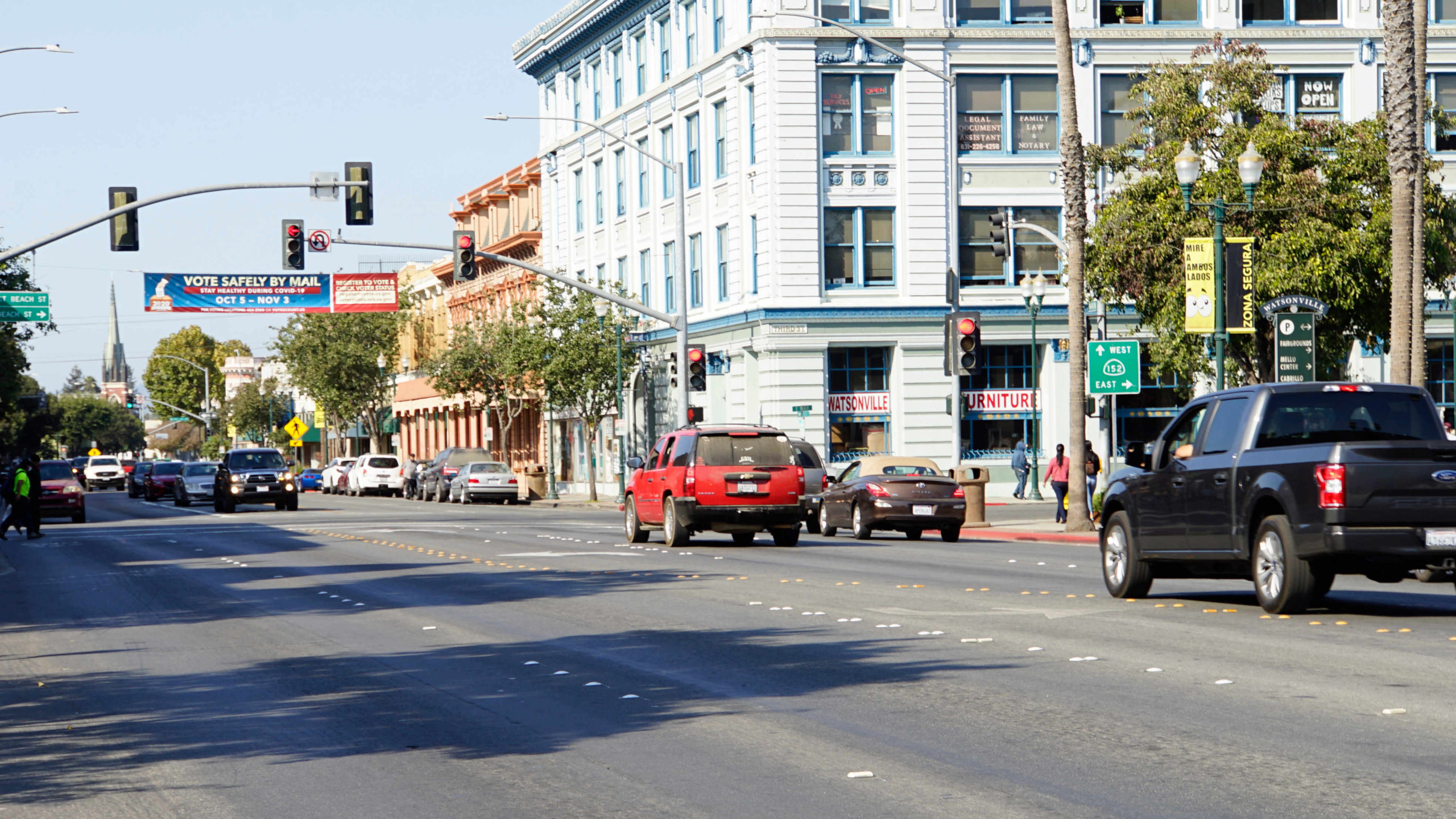 Opportunity Sites on Main Street and other areas in Watsonville's Downtown Specific Plan aim to invite new housing and shops. (Kara Meyberg Guzman — Santa Cruz Local file)
WATSONVILLE >> The Watsonville City Council on Tuesday adopted a plan to add housing, improve walkability and attract new shops and development to Downtown Watsonville. 
An 18-person advisory committee, community workshops and public surveys led to the final version of the Downtown Watsonville Specific Plan. The document serves as a supplement to the entire city's General Plan, which is being updated.
Watsonville City Manager René Mendez said the Downtown plan is the first step to making Watsonville a "destination experience" like Santa Cruz or cities in Monterey County.  
"There's no guarantee, but I think it puts us in the right direction," Mendez said at Tuesday's meeting.
Because the plan makes changes to zoning, redevelopment plans are still mainly up to private developers and entrepreneurs.
The Downtown Watsonville Specific Plan includes:
More "mixed-use" housing developments with shops, offices or other commercial space, especially near bus stops and bike trails.

Plans to create an "18-hour Downtown" that stays active in the evening, with more restaurants, entertainment, shops, offices and businesses.

Improvements to sidewalks, crosswalks, bike lanes and bus shelters to encourage alternatives to driving.

Traffic flow changes on some streets to improve connectivity and make streets safer for walkers.
Housing additions
The Downtown Plan changes zoning laws to allow for denser multi-use buildings in the Downtown core surrounding Main Street. Smaller multifamily housing could be built on the edge of Downtown near single-family neighborhoods. 
The zoning changes allow for 3,886 new homes Downtown over the next 25 years, the plan stated.
As part of the plan, city staff are completing an environmental review for all potential new buildings. That could save developers hundreds of thousands of dollars and be a "significant incentive for owners to develop," said Suzi Merriam, Watsonville's community development director.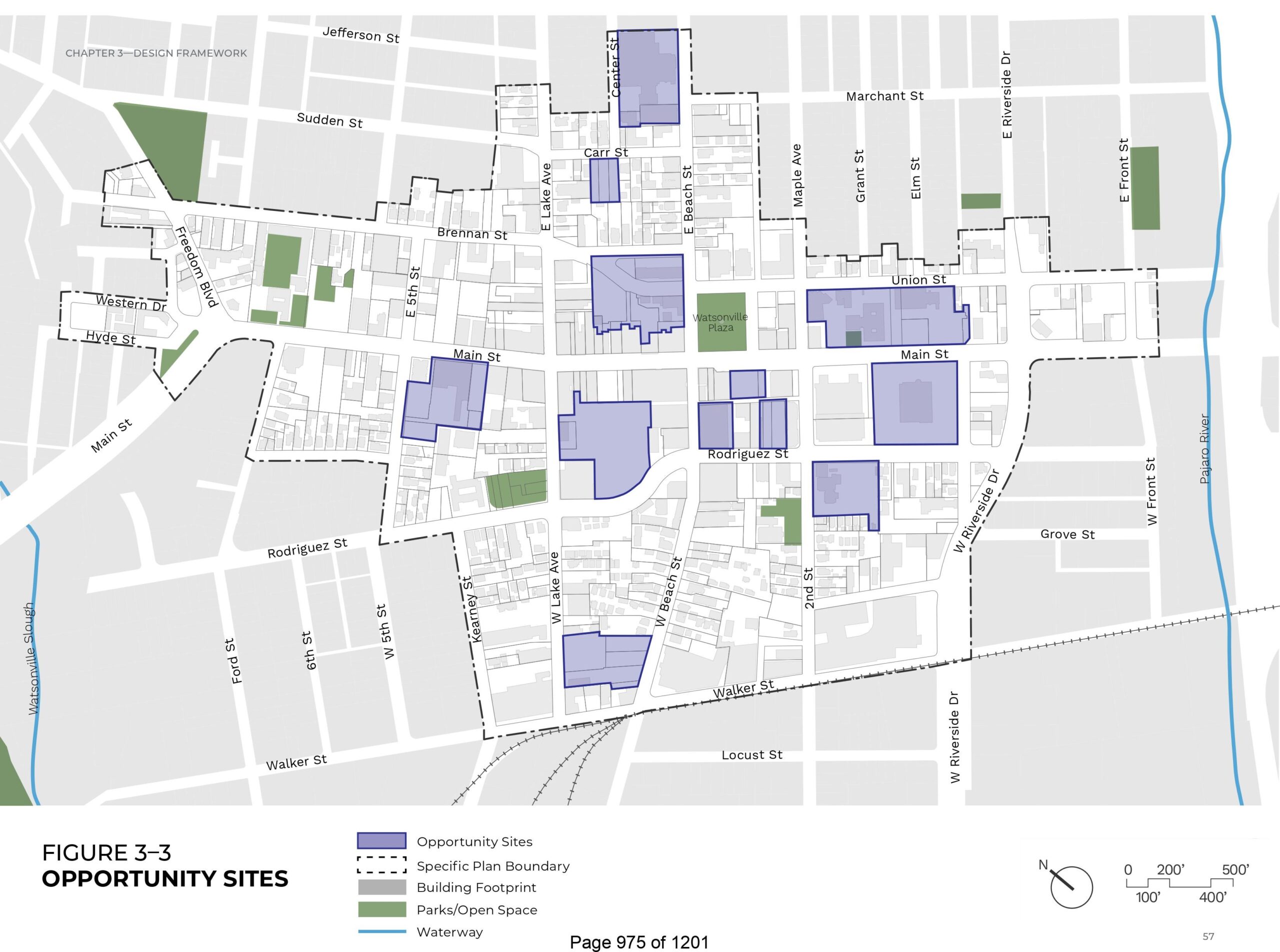 Opportunity Sites in blue include areas where housing and shops could be developed in Downtown Watsonville. (City of Watsonville) 
The Downtown plan identifies 12 "opportunity sites" that could be developed in the coming years, including:
The Mansion House block is bounded by East Lake Avenue and Main, Beach and Alexander streets across from Watsonville City Plaza. The development could include a shared parking structure, buildings with housing and shops, and public courtyards.

Main Street – including the police and fire stations, the former City Hall and a post office – could be redeveloped. City services would be relocated. 

The area of Main and Fifth  streets could include a three- or four-story mixed-use building on Main Street and a smaller multifamily development in the parking lot south of Bank of America at 567 Main Street.

The former Martinelli's production facility on Center Street is 2 acres that could have housing, retail and office space, and perhaps a museum or art gallery. Martinelli's has moved production to another facility in Watsonville, the plan stated.
'Road diet' for Main Street and other street changes
In a state project slated for 2031, Main Street in Downtown Watsonville will have less space for drivers and more room for walkers, cyclists and outdoor dining parklets. 
A $25 million California Department of Transportation project there includes:
Narrowing Main Street to three lanes from four lanes from Freedom Boulevard to East Beach Street.

A protected bike lane from Freedom Boulevard to Green Valley Road.

Curb extensions at crosswalks on Main Street.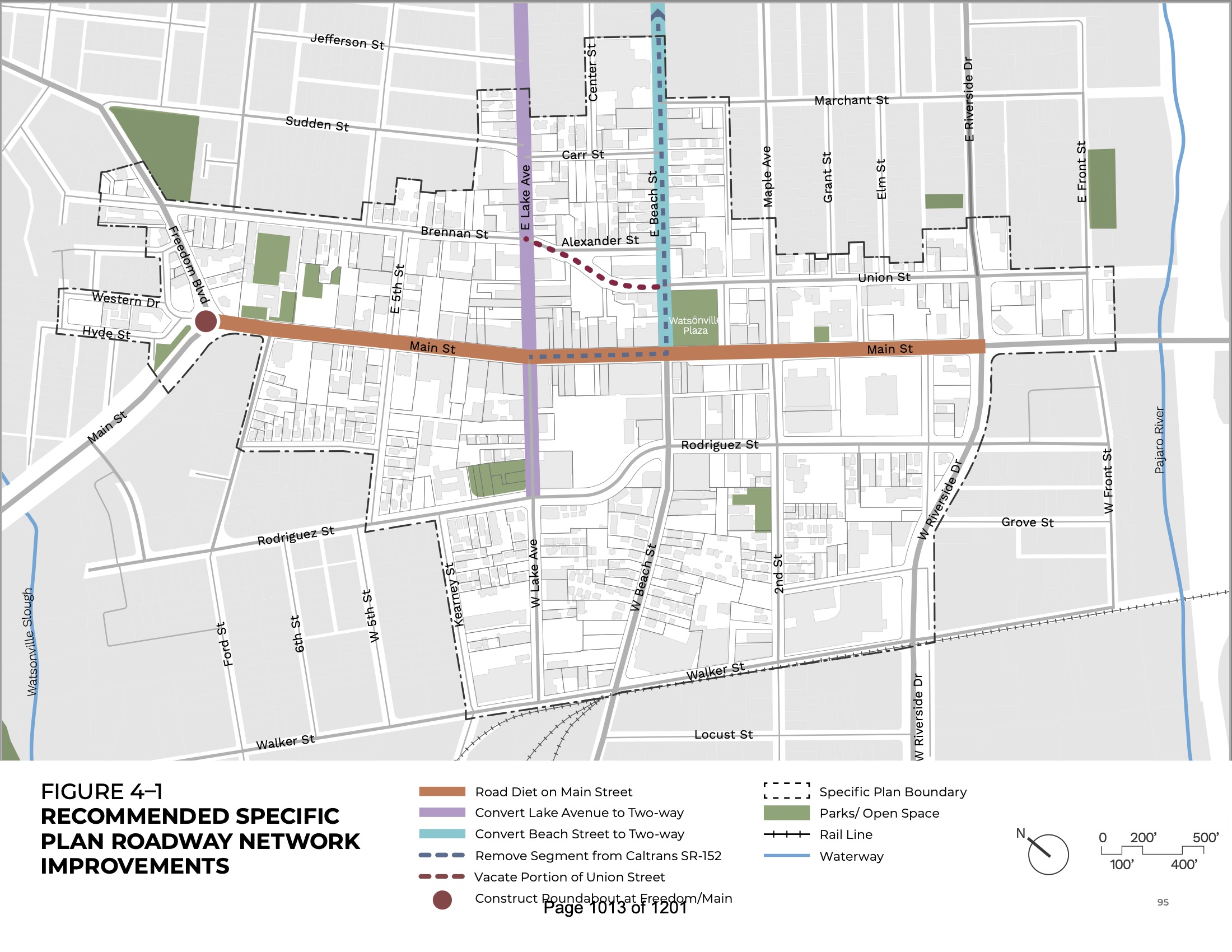 State transportation plans for 2031 are expected to narrow Main Street in Downtown Watsonville to three lanes in a "road diet." Increased safety and walking are part of the goals. (City of Watsonville)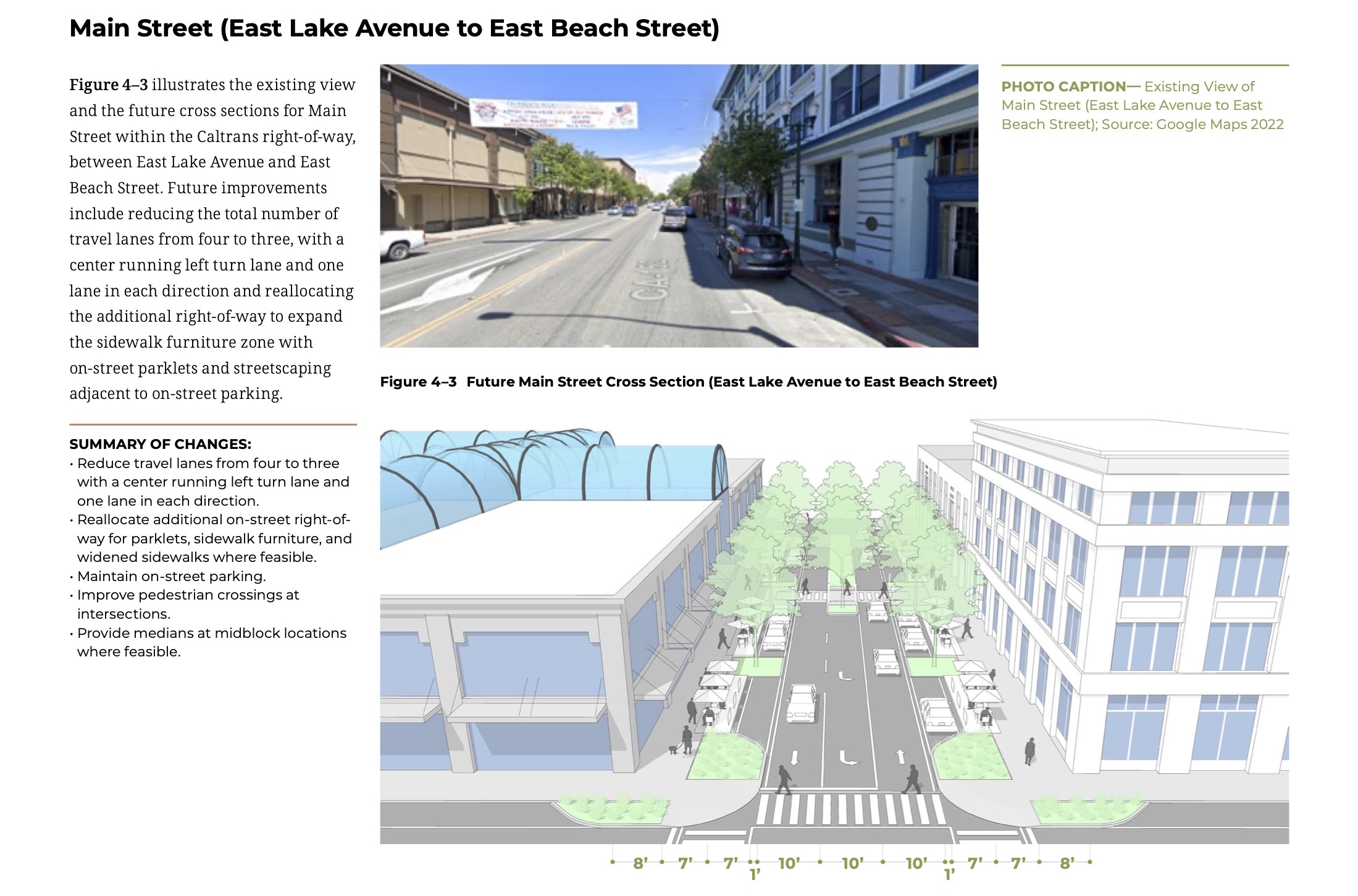 Plans for Main Street aim to slow traffic and improve safety for walkers and cyclists. (City of Watsonville) 
The Downtown plan also includes other projects that do not yet have funding or start dates: 
State Route 152, which is Main Street through Downtown Watsonville, could be redesigned for more pedestrian safety. That may involve removing its designation as a truck route within Downtown. "We will be looking comprehensively at truck routes, not just on Main Street, but all roadways," said Watsonville Principal Planner Justin Meek. Trucks could be rerouted to streets that don't cut through commercial or residential areas, she said. 

One-way sections of East Lake Avenue and East Beach Street could be converted into two-way streets. 

The intersection of Union Street and Alexander Street could be squared off to give more land to corner lots and improve safety.
The Downtown Plan also includes improvements to encourage alternatives to driving including:
Wider sidewalks and new and upgraded crosswalks. Some spaces between buildings could become pedestrian "paseos."

New bike lanes and improvements to existing bike lanes. The plan also calls for new bike repair stations and more bike parking.

More frequent bus service and improved bus stops with shelters, seating and digital schedule displays. In December, Santa Cruz Metro is expected to start

routes between Watsonville and Santa Cruz every 15 minutes

. Metro is

seeking input on potential changes

.

The plan also calls for city staff to explore a transit station at the historic Watsonville railroad depot and the conversion of some street lanes into dedicated bus lanes. 
Building out the entire Downtown Plan would cost $48.8 million, including:
$10.5 million for road projects including sidewalks, crosswalks and bike lanes.

$8.3 million for streetscape improvements, including parklets, street trees and lighting.

$30 million for upgrades to water and sewer systems. The proposed upgrades include deferred maintenance, Meek said.
"I don't want to give you sticker shock," Meek said. "This is a long-range plan." Spending would stretch across multiple years, he said. Sources of money could involve developer fees, city money and state grants, according to the plan.
Feedback from council, community
At Tuesday's meeting, former Watsonville Mayor Lowell Hurst said the plan would help bring new businesses and visitors to Downtown. 
"It's been said here many times — let's make a place that we can come to, not just drive through," he said during public comment.
Nancy Bilicich, also a former mayor, questioned the plan's emphasis on pedestrian and cyclist facilities, and said it could worsen congestion. "We have the largest senior community in the county," she said. "Seniors get around in cars."
Watsonville City Councilmembers Jimmy Dutra and Ari Parker said they were also concerned about traffic impacts from the lane reduction on Main Street. "Is it going to be a hot mess down here? It is," said Dutra.
Redirected traffic could also negatively impact adjacent residential streets, Parker said. She and Dutra both said the prospect of a revitalized Downtown was worth the potential traffic impacts.
"I look at what we have Downtown right now and how long it's been that way, and I'm willing to take that chance," Parker said.
Downtown never fully recovered from the 1989 Loma Prieta earthquake, Parker and other council members said. "It was a wonderful place to grow up and walk around," Parker said. "I'd like to see that vitality return."
The council voted unanimously to:
Adopt the Downtown Specific Plan.

Change the city zoning code and the 2005 General Plan to align with the specific plan.

Adopt an environmental report approving the specific plan.
Read more
Watsonville residents' input wanted on housing plans – April 28, 2023
Learn about membership
Santa Cruz Local's news is free. We believe that high-quality local news is crucial to democracy. We depend on locals like you to make a meaningful contribution so everyone can access our news.
Learn about membership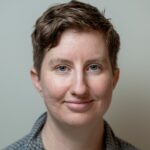 Jesse Kathan is a staff reporter for Santa Cruz Local through the California Local News Fellowship. Kathan holds a master's degree in science communications from UC Santa Cruz.