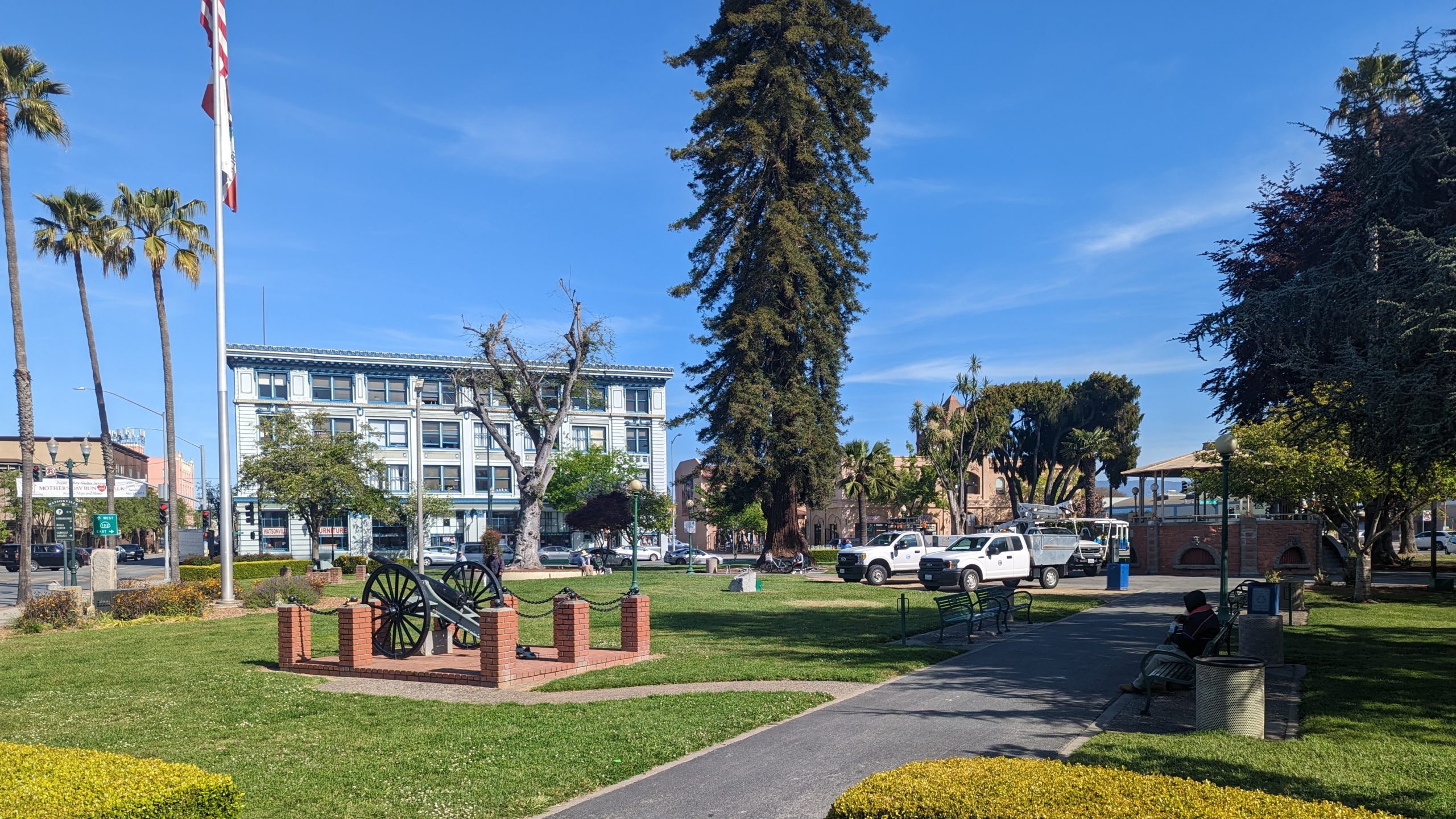 Watsonville City Plaza. (Tyler Maldonado – Santa Cruz Local file)
WATSONVILLE >> The Watsonville City Council on Tuesday agreed to spend more than $10.8 million to upgrade parks, streets, libraries and youth and senior programs over the next two years.
The money is expected to come from Measure R, a half-cent sales tax hike approved by Watsonville voters in November 2022. The tax hike started April 1.
The tax raised $267,000 from April 2023 to June 2023. It is expected to generate nearly $11 million by July 2025, according to a city staff report. The sales tax money aims to address the council's top priorities, which Assistant City Manager Tamara Vides described as "roads, reading, recreation and resilience."
The city council voted to:
Approve the spending plan for the next two years.

Fund four new positions in the Parks and Community Services Department.

Add

$267,000 raised from April to June to be spent in the current fiscal year that ends June 30, 2024.
Staff should begin the improvements as soon as possible, said Watsonville Mayor Eduardo Montesino. "People want investment, and people want it yesterday," Montesino said.
City staff also plan to use some of the sales tax revenue to issue bonds for larger city projects. Bond money "would allow us to do some very significant large investments," Vides said at Tuesday's meeting.
Streets, trails, library
Separate from the bonds, city leaders' Measure R spending plan allocates $5.02 million for improvements to city streets and trails during the next two years. Some projects include: 
Reconstruction of a closed portion of the Pennsylvania Drive trail.

Road repairs that include reconstruction, pothole filling and striping.

More trash cans on city trails.
"You will see a lot more work being done on our streets," Vides said. Plans for road projects are scheduled to come to the city council in spring 2024 and construction is slated for summer 2024, she said.
The two-year plan also includes $740,000 for Watsonville Public Library to:
Offer additional programs and cultural events at city libraries and at other locations.

Add Saturday hours.

Create a laptop lending library with 25 laptops.

Add two self-serve checkout kiosks.

Buy a new bookmobile for mobile library services.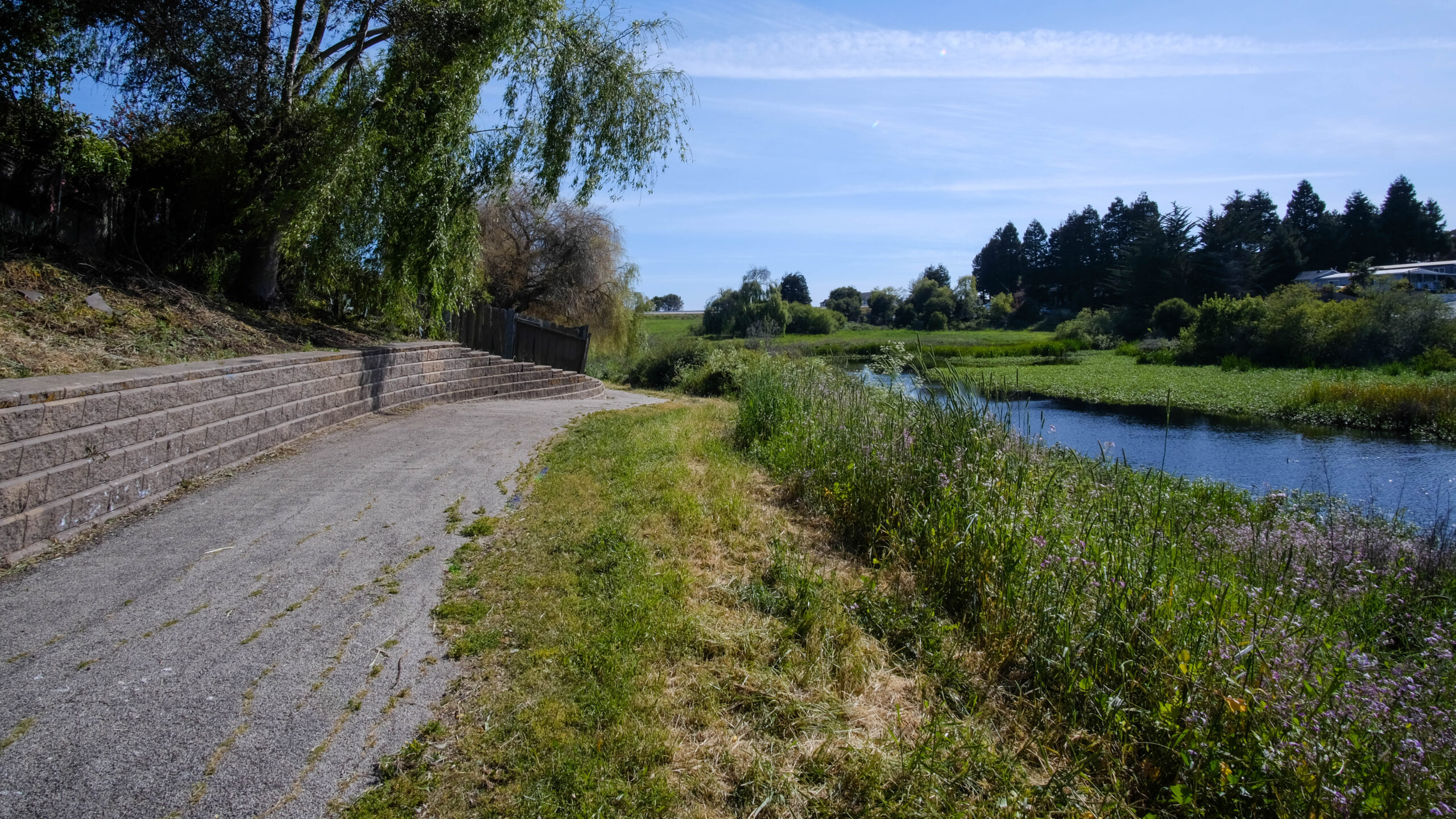 A path borders Struve Slough in Watsonville in May 2022. Maintenance of the city's 12 miles of trails is included in the approved spending plan of Measure R money. (Nik Altenberg — Santa Cruz Local)
Park upgrades
The two-year plan also includes $4.27 million for the parks department to:
Expand recreation programs and lower program costs.

Add youth programs and support programs offered by local nonprofits.

Add senior services at the

Watsonville Senior Center at 114 E. Fifth St. and other locations.

Provide additional funding for special events like the Watsonville Strawberry Festival.

Hire four new staff members to manage the proposed improvements.
A separate $500,000 is slated to fund park facility improvements. In a recent assessment of Watsonville parks, consultants identified $93 million in deferred maintenance costs, said Parks and Community Services Director Nick Calubaquib, at Tuesday's meeting. The department will prioritize repairs to facilities with the most severe problems and the areas with the least access to parks, he said. 
City leaders plan to use $1.5 to $2 million of the money allocated to parks to issue bonds for larger city projects.The bonds are slated to raise $24 to $33 million to: 
Redevelop

Ramsay Park

and construct a new

nature center

. These projects have not been fully funded and will need other sources of money, according to the staff report.

Create additional parks, including a potential track and field at Rolling Hills Middle School. The city and Pajaro Valley Unified School District would share the facility and both pay for its development.

Retrofit an outdoor space on the second floor of the main library to accommodate outdoor seating.

Improve pavement conditions on streets citywide and expedite planned road projects. Bonds could provide up to $11 million to fund the effort, Vides said. 

Maintain the city's 12 miles of trails.
A 2021 report from Watsonville's Ad Hoc Committee on Policing and Social Equity helped shape the spending plan, as well as a February 2022 poll of likely voters and two meetings of the Measure R Oversight Committee, according to a city staff report. 
Watsonville Mayor Eduardo Montesino appointed the Measure R Oversight committee to help determine how the funds are spent. The committee has eight members including a non-voting youth member.
Abel Sanchez, the Measure R committee chair, said the committee supports the staff's spending plan. Lack of funding has long limited city projects, "which is why we're super excited about Measure R and everything that that entails," Sanchez said. "The reality is that this is just the beginning."
Watsonville Mayor Eduardo Montesino, Mayor Pro Tempore Vanessa Quiroz-Carter and Councilmemebrs Kristal Salcido, Maria Orozco, Jimmy Dutra and Ari Parker voted in favor of the two-year Measure R spending plan. Councilmember Casey Clark was absent.
"This is super exciting, because this is reflective of what people who voted for this wanted to see," said Salcido. "It's a great start."
Learn about membership
Santa Cruz Local's news is free. We believe that high-quality local news is crucial to democracy. We depend on locals like you to make a meaningful contribution so everyone can access our news.
Learn about membership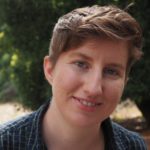 Jesse Kathan is an environmental journalist and a graduate of UC Santa Cruz's science communications program. Kathan has contributed to the Mercury News, Monterey County Weekly and KSQD-FM.