Marilyn Lopez-Zamora, a Watsonville police service specialist, documents a crime scene. (Watsonville police)
WATSONVILLE >> Watsonville city council members praised a report from Watsonville's Ad Hoc Committee on Policing and Social Equity at a council meeting Tuesday night, but they stopped short of implementing new policies until a new police chief is named.
The 35-page report from Watsonville's Ad Hoc Committee on Policing and Social Equity represented more than 10 months of work from 12 committee members as well as city staff. 
Its recommendations ranged from the potential introduction of a police auditor, a clearer system to file complaints against police, and possibly less police involvement in calls that involve mental health crises. 
David Honda was Watsonville's police chief until he retired this summer. Watsonville City Manager Matt Huffaker said he expects to hire a new police chief by the end of the year. 
"Having the police chief to champion this (report) is important," said Watsonville Assistant City Manager Tamara Vides, in an interview. "The conversation needs to continue," Watsonville Mayor Jimmy Dutra said at Tuesday night's council meeting. 
"This document should be given to our new police chief and say 'get this done,'" said Eric Sturm, a committee member and former Santa Cruz County Parks superintendent.
Tom Sims, Watsonville police's interim chief, participated in the ad hoc committee since its inception nearly a year ago. "Our department has always supported change and embraced community input on how we can improve — at least we try to," Sims said at Tuesday's meeting. "We'll continue to build and strengthen our relationship with the community that we serve. We do that because at the end of the day, we know how important it is to have our community support us and to trust us." 
Sims said that after the council accepted the report at Tuesday's meeting, "We will then begin to work with the council and city management on a plan for moving these recommendations forward."
Kristal Salcido, an assistant district attorney who was part of the ad hoc committee, praised the work of the committee members and city leaders at Tuesday's meeting. "We're the only ones in this county and in this region doing this difficult work," Salcido said. 
Recommendations
Some major recommendations in the report include: 
A potential new police auditor.

City leaders should hire a consultant in 2022 to evaluate best practices for a potential new independent police auditor or other "oversight structure." Committee members said they wanted a transparent process for officer complaints and disciplinary actions and a clear process to file community complaints against police.

Mental health and police involvement.

Some of the mental health recommendations included an assessment of whether more mental health staff should be added to work with Watsonville police. There also could be consideration of partnerships to respond to mental health crises without police. The committee recommended that city leaders commit to collaboration with Santa Cruz County Behavioral Health or other partners to "develop a shared, comprehensive, multi-jurisdictional, mental health services plan to enhance the coordination and quality of care and response."

Development and addition of programs for youth and families.

A "recurring theme" from survey respondents was a lack of youth programs, opportunities, resources and activities. A potential action step was for city leaders to explore a November 2022 sales tax measure to help fund the city's parks and community services programs. Watsonville police has had programs to try to keep youths out of the criminal justice system such as

Caminos Hacia El Exito

. The new report suggests youth programs that do not necessarily involve police.  

Training and hiring of police officers.

The committee recommended that police continue its training regimen beyond state minimums. It suggested further training on "managing the needs of those who are mentally ill," "de-escalation training" and managing stress. It also recommends annual professional development and training on diversity including "LGBTQ+, immigrants, indigenous and non-English speakers. "Training should be available for all police department staff, not just officers," the report states. The report also recommends annual training and testing on ethics and a code of conduct.
Roughly 40% of Watsonville's roughly $40 million General Fund goes to the police department, the ad hoc report states. Watsonville police's share of the General Fund grew from the fiscal year that started July 1, 2020 compared with the year prior.
Watsonville's population is about 53,000 and there are typically three to five police officers on duty during each shift, the report states.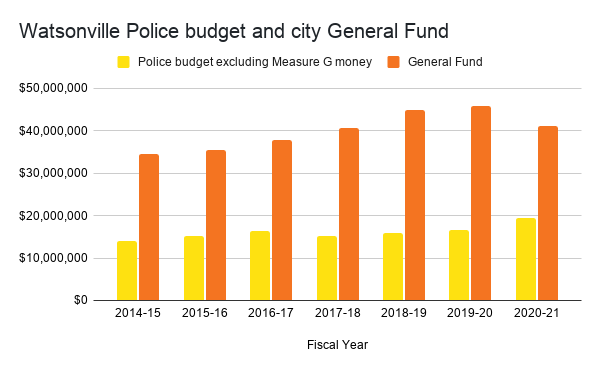 Measure G was a seven-year, 0.5% sales tax hike approved by city voters in 2014. Its revenue was split 60% to Watsonville police and 40% to the fire department. Sources: City of Watsonville, Santa Cruz
Community input
Surveys were conducted to gather input about residents' relationships with police and potential areas of improvement. Surveys were mailed to every household in the city and 482 mailers were returned, Vides said. Leaders from the Community Action Board and COPA also conducted several meetings to gather input about people's interactions with police and their priorities for change. 
A community input report found that 50% of people who identified as Hispanic or Latinx believed that Watsonville police management held officers accountable for "wrong or inappropriate conduct in the community," the final report states. About 54% of white respondents believed police officers were held accountable by their superiors.
Most people said they did not want reduced services from police, said Susan Brutschy, president of Watsonville-based Applied Survey Research that compiled survey results.
Many said they wanted money and programs to reduce the root causes of crime, Brutschy said.
Some respondents said they did not have "positive interactions" with Watsonville police, especially Latinx respondents, the report states.
Some residents who spoke at Tuesday's meeting said they wanted to further explore non-police responses to mental health calls. Others said they wanted to weigh in on whether law enforcement officers should be in schools. Pajaro Valley Unified School District removed law enforcement from its campuses this school year to fund a mental health staff clinician. It then rescinded the action after a gang-motivated fatal stabbing at a high school in August, authorities said.
Recommendations for police
The Ad Hoc Committee's final report also included recommendations and action steps in several categories. 
Ensuring that the police and city budgets align with community needs

Traffic stops and traffic safety

Partnerships and collaboration

Community engagement

Social equity
Sims called the recommendations "a great building block for us to move forward." Sims said, "Overall our officers — your officers — they do a great job of interacting with our community in a fair and professional manner. But that doesn't mean we can't do better, and we recognize that. I'm confident these recommendations are going to help us do just that." 
Other recommendations included: 
"Encourage officers or administrative staff to retire if they still hold on to old and racist attitudes and beliefs."

"Develop an emergency phone number for mental health crisis." The state is transitioning to a

988 emergency number

that potentially can provide behavioral health services independent of police. 

"Create an office of violence prevention and trauma recovery."

"Provide counseling and psychological support for officers."

"Place civilians in charge of community relations for Watsonville police."

"Stop posting images or videos of people being arrested on all social media platforms." 

"If the intent is to post images of police officers across the country who were killed, also post pictures of those killed by the police." 

"Stop sending armed police officers to calls involving minors." 

"Stop arresting people for sex work, using or being in possession of controlled substances."
Related stories
Become a member of Santa Cruz Local, an independent, community-supported newsroom that's owned and led by local journalists. Our stories are free and always will be, but we rely on your support.
Already a member? Support Santa Cruz Local with a one-time gift.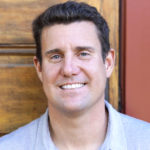 Stephen Baxter is a co-founder and editor of Santa Cruz Local. He covers Santa Cruz County government.