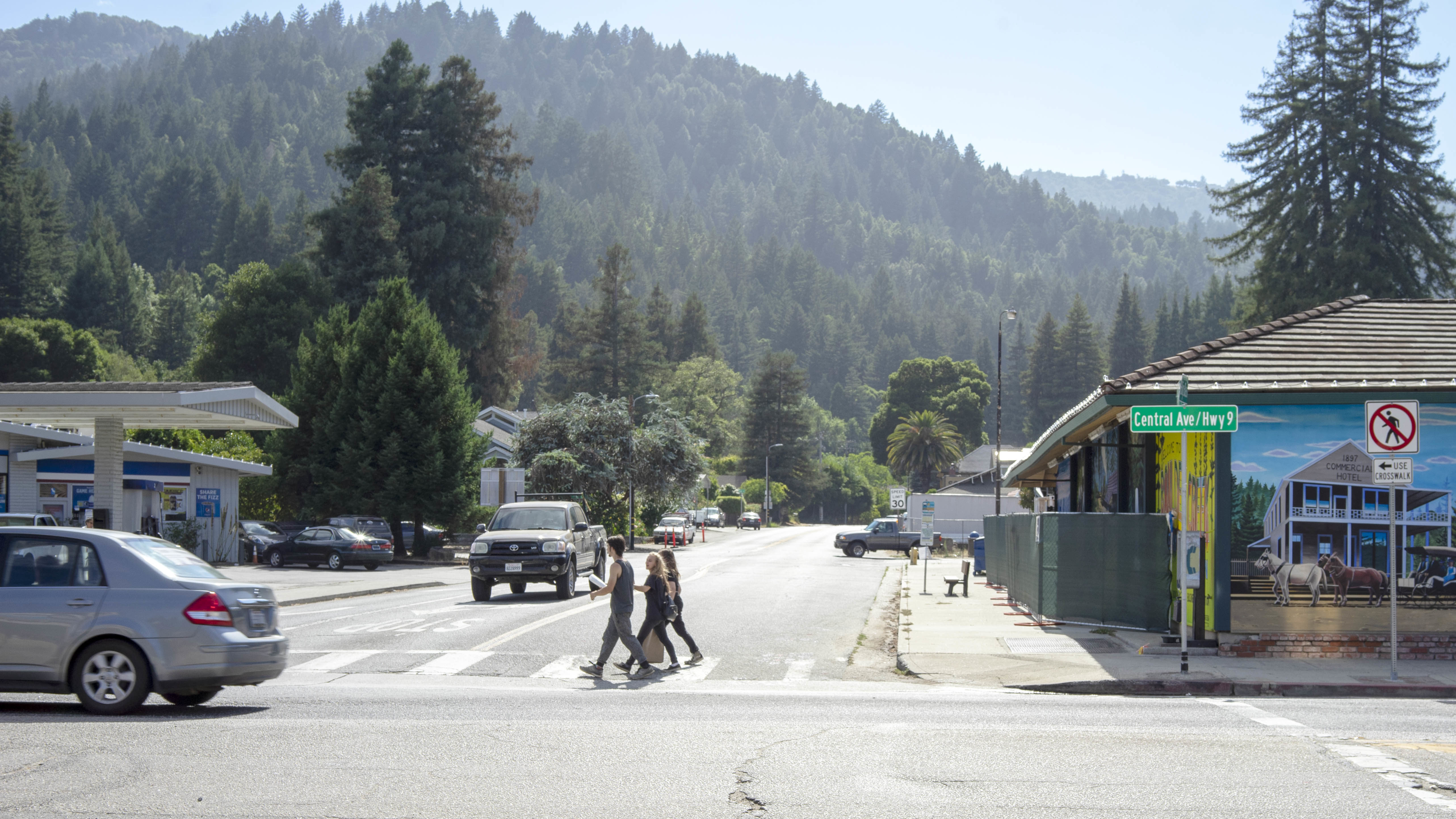 Fallen trees from this winter's severe storms could fuel future wildfires, Cal Fire leaders said Tuesday. (Kara Meyberg Guzman – Santa Cruz Local file) 
SANTA CRUZ >> A wet winter has given Santa Cruz County a reprieve from large wildfires, but downed trees from winter storms could fuel future wildfires, Cal Fire leaders said Tuesday.
Firefighters are working to reduce fire fuels like brush and toppled trees, but "don't have the person power" to tackle the whole county, said Nate Armstrong, chief of Cal Fire's Santa Cruz-San Mateo Unit. Armstrong presented a wildfire season outlook to Santa Cruz County Supervisors during an Aug. 8 meeting.
Dwindling numbers of volunteer and incarcerated firefighters have led to more reliance on Cal Fire staff and National Guard crews for emergency firefighting, Armstrong said. 

A report from a state agency slated for release this fall will examine the possibility of reorganizing the county's 13 fire departments.
Fire conditions
Though the wet winter kept large wildfires at bay for much of the state, it has also thickened grasses which are now starting to dry out, Armstrong said. That could lead to more fire risk in south Santa Cruz County, he said. He expects this year's fire season to peak in September or October.
The trees downed by this year's winter storms could fuel next year's fires, Armstrong said. Cal Fire is still working to clear trees that are blocking fire roads. The agency purchased a mobile chipper with tank-like treads that can drive through areas with difficult access. The unit is also hiring for a new position focused on coordinating fuel reduction efforts, Armstrong said.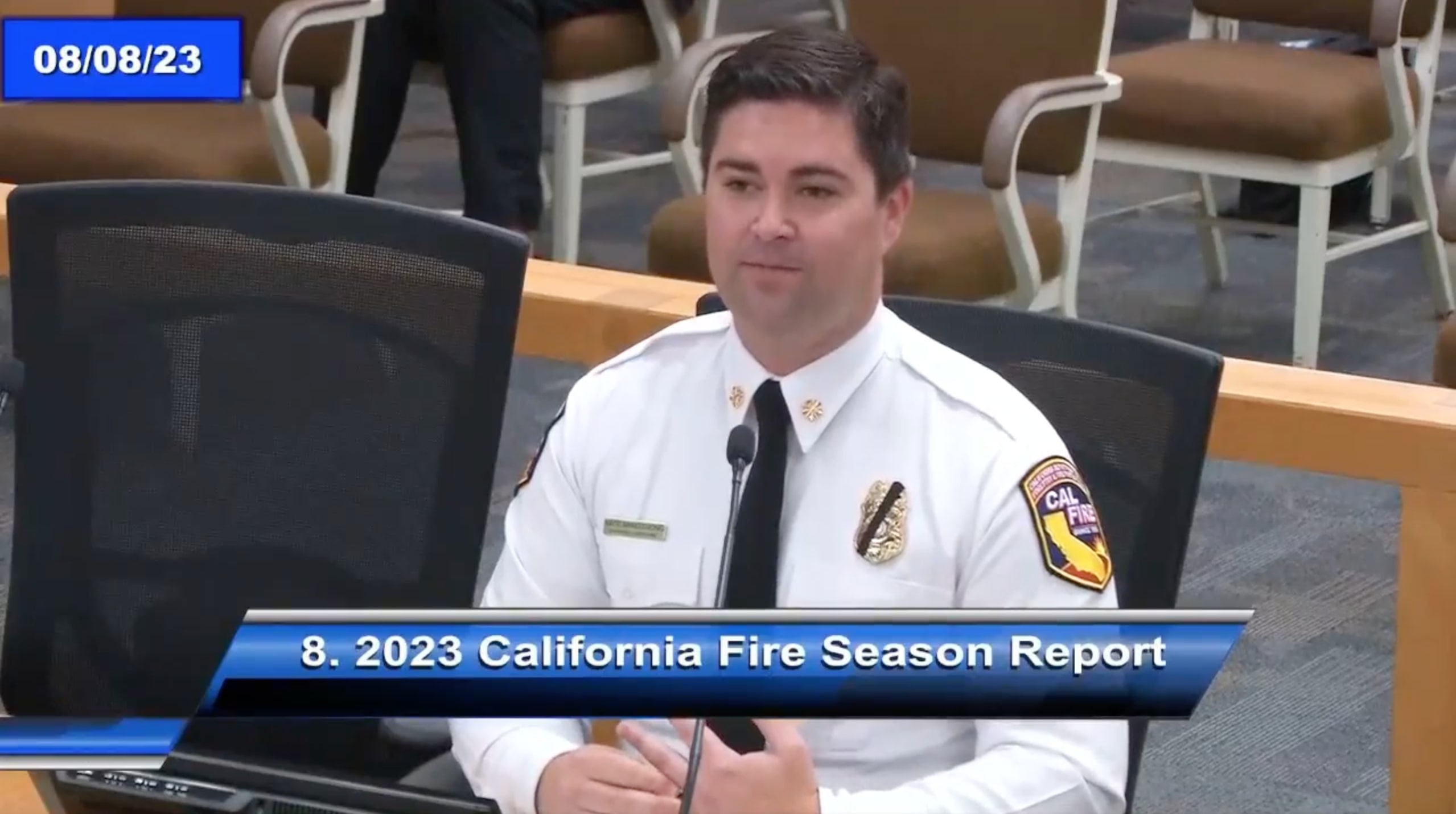 Nate Armstrong, chief of Cal Fire's Santa Cruz-San Mateo Unit, warns Santa Cruz County Supervisors on Tuesday about winter storm debris that could become fuel for wildfires next summer. (County of Santa Cruz screenshot) 
The agency doesn't have the capacity to remove all of the downed wood, Armstrong said. "We don't have the person power to go out and take care of all of that material." 
Armstrong added, "The same folks that are on the fire engines, fighting the fires and everything and doing defensible space inspections around homes are the same bodies that we have to do the fire prevention projects," Armstrong said. "That's why it's so important to involve the communities and try to get those other partners involved in fuel reduction."
In 2022, Cal Fire awarded more than $3 million in Wildfire Prevention Grants for projects in Santa Cruz County. The projects included an effort from the Peninsula Open Space Trust to thin undergrowth along roads and ridgelines and a UC Santa Cruz push to use goats to graze on overgrown grasses and shrubs.
Volunteer shortage
In 2021, the county's usual 100 volunteer firefighters had dropped to about 70 volunteers, the Cal Fire unit chief said at the time. Now, Santa Cruz County's five volunteer companies have 65 firefighters, Armstrong said. 
"We've spent a long time hoping to get that number up," Armstrong said. "It seems like those numbers continue to wane."
In 2021, Santa Cruz County Supervisor Ryan Coonerty attributed the falling numbers to the area's rising cost of living. "The combination of everyone having to work full time to be able to afford to live in Santa Cruz, and the pretty stringent state requirements on firefighter training, have made it a challenge to have a robust volunteer force," Coonerty said. in a 2011 interview.
Though Cal Fire has considered reducing requirements for volunteer firefighters to increase participation, inadequately prepared volunteers would not be able to safely fight fires, Armstrong said. "It's an extremely hazardous job," Armstrong said Tuesday.
The Santa Cruz County Fire Department has volunteer firefighter companies in South Skyline, Bonny Doon, Loma Prieta, Davenport and Corralitos. For information on volunteer firefighting, contact the Santa Cruz County Fire Department. Cal Fire leaders said they might partner with the Volunteer Center of Santa Cruz County to recruit volunteers for non-firefighting roles like clearing brush or chipping wood.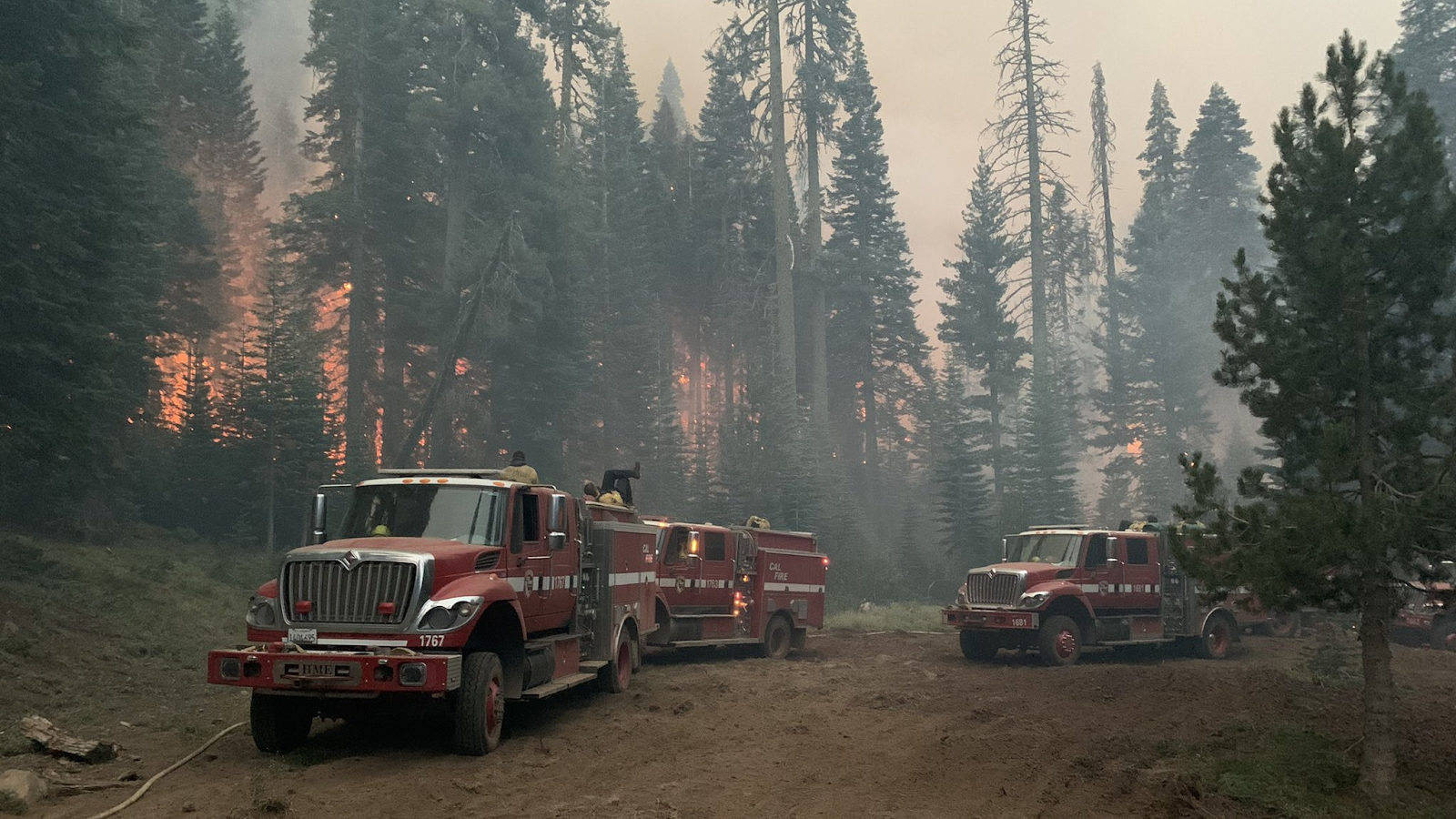 Cal Fire CZU engines help fight the Dixie Fire in Butte and Plumas counties in July 2021. Fewer incarcerated fire crews across the state have meant more dependence on Cal Fire staff. (Cal Fire)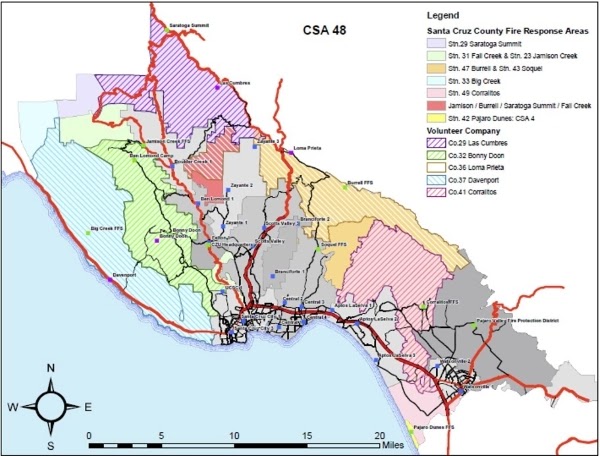 Santa Cruz County Fire Department includes several volunteer and Cal Fire stations. (Cal Fire)
The state has also long depended on incarcerated firefighters who work from 35 conservation camps across the state, including one in Ben Lomond. The camps are a collaboration between Cal Fire and the California Department of Corrections and Rehabilitation. Conservation camp crews remove trees and shrubs at the borders of wildfires, creating fuel breaks that help slow the spread of fire.
The number of incarcerated firefighters has plummeted over the past decade. In 2021, conservation camps hosted one-third of the incarcerated firefighters they had in 2012. Ben Lomond Conservation Camp has enough money from the state to host up to five firefighting crews, but the facility hasn't been full since 2020, Armstrong said. The camp now has two crews, he said.
Cal Fire leaders have attributed the shortfall to the AB 109 prison overhaul, a 2011 effort to shift many state prison inmates to county jails and other policies intended to reduce prison crowding. Another reason the camps aren't fully staffed are conservation camps' strict eligibility requirements, according to a 2022 UC Berkeley report.
To help meet the shortfall in incarcerated firefighters, the state has relied more heavily on crews staffed with Cal Fire firefighters and members of the National Guard, Armstrong said. Local firefighting efforts also use crews from the Watsonville-based Monterey Bay Center of the California Conservation Corps. 
In 2018, Cal Fire and state prison leaders launched a training center in Ventura County to prepare formerly-incarcerated firefighters for entry-level positions in public fire agencies. Similar facilities are sorely needed elsewhere in the state, Armstrong said. "I would hope to see anything that can bolster our numbers," he said.
Planning for the future
Cal Fire's Santa Cruz-San Mateo Unit is preparing a new master plan, a document last updated in 2012. 
The report will analyze training standards, staffing and emergency response times, Armstrong said. Consultant AP Triton is working with the Fire Department Advisory Commission to complete the report likely by early fall, he said. 
While the county prepares its master plan, the Local Agency Formation Commission of Santa Cruz County is studying the feasibility of reorganizing the county's 13 fire districts. The commission, responsible for regulating the boundaries of local government agencies like fire districts, found that several fire districts were insufficiently staffed and served small populations.
In the face of ongoing financial struggles, leaders of the Branciforte Fire Protection District merged with Scotts Valley Fire Protection District this year. The commission voted Aug. 2 to approve the merger. A report slated for October is expected to explore whether other fire districts could afford to merge or expand their service areas. 
Examining both reports will be "an important step in seeing whether or not we're best prepared to respond in our current structure," said Santa Cruz County Supervisor Zach Friend.
Learn about membership
Santa Cruz Local's news is free. We believe that high-quality local news is crucial to democracy. We depend on locals like you to make a meaningful contribution so everyone can access our news.
Learn about membership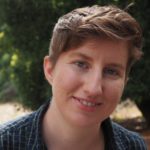 Jesse Kathan is an environmental journalist and a graduate of UC Santa Cruz's science communications program. Kathan has contributed to the Mercury News, Monterey County Weekly and KSQD-FM.