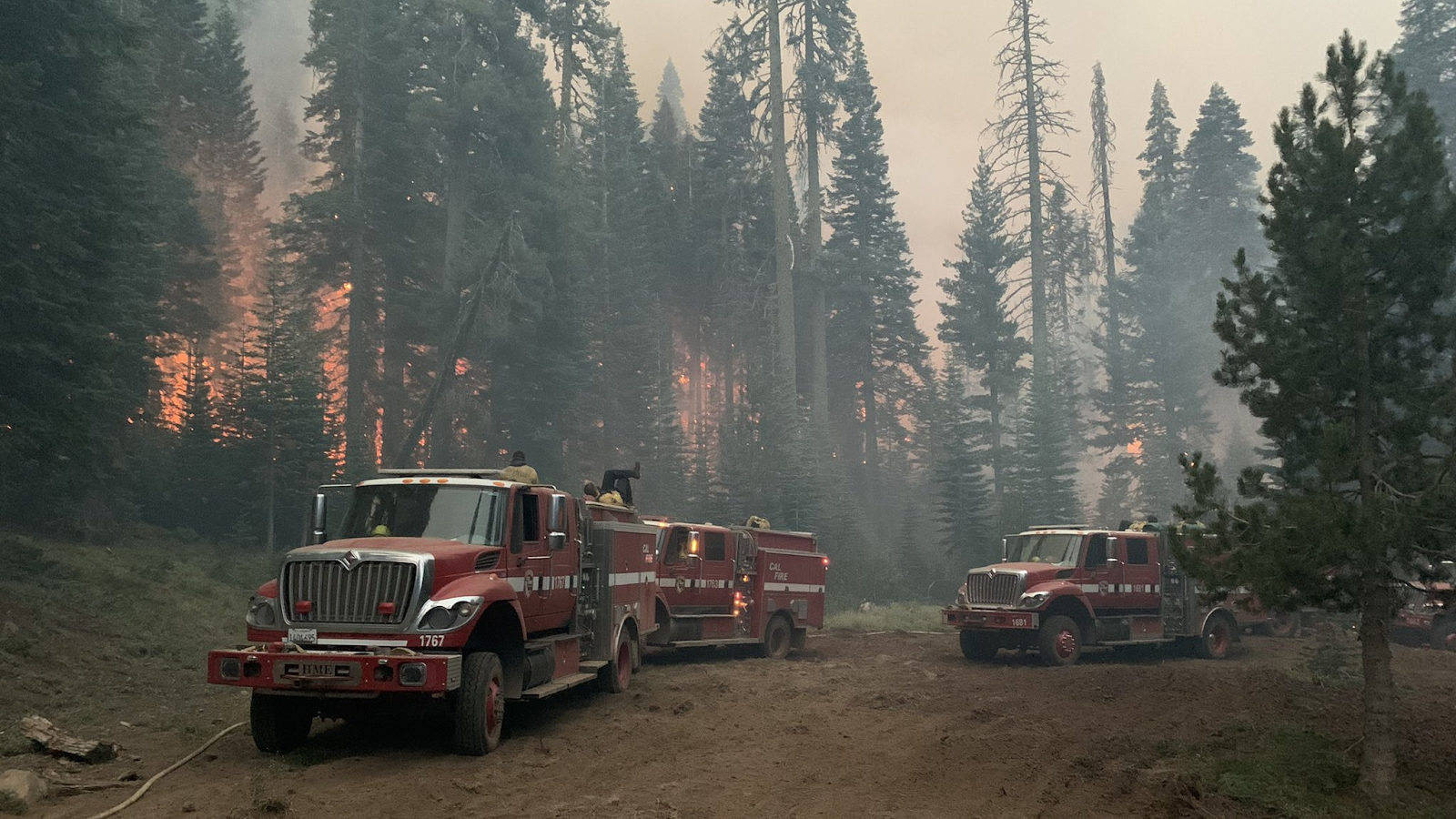 Cal Fire CZU engines help fight the Dixie Fire in Butte and Plumas counties in late July. Sharp decreases in incarcerated fire crews across the state mean more dependence on Cal Fire staff. (Cal Fire)
FELTON >> Nearly a year after one of the most destructive wildfires in Santa Cruz County history, Cal Fire is fully staffed in Santa Cruz County and stands poised for the next disaster. But with fewer than half the usual amount of inmate firefighters and a shortage of volunteer firefighters, the next big blaze could find the county's Cal Fire staff stretched thin.
Fire departments across the state rely on crews of firefighters from the state's prison system. But COVID-19 and early release efforts in California prisons have severely reduced the amount of incarcerated crews available across the state.
Santa Cruz County Fire Department has been supported by five crews of 14 to 17 incarcerated firefighters. Last year, state prisons sent three crews. This year, two crews remain available, fire leaders said.
Inmate firefighters work at the borders of active wildfires, cutting vegetation to limit a blaze's spread. These fuel breaks are "instrumental in our containment and suppression of wildland fires," said Ian Larkin, Cal Fire's Santa Cruz-San Mateo unit chief. "Those numbers are drastically reduced statewide this year, so we're struggling with those numbers."
Larkin said without those crews available, Cal Fire staff firefighters will need to cut fuel breaks themselves. That hampers their efforts to suppress wildfires. Given the time necessary to recruit and train the inmates, Larkin anticipates the firefighter shortage to extend "into the next couple seasons."
Cal Fire staff in Santa Cruz County are also supported by volunteer firefighters. But Larkin said the normal 100 volunteer firefighters have dropped to about 70 volunteers. With similar shortages across the state, Larkin said, "We're looking at different alternatives constantly" to fill the gap. 
In Santa Clara County, about 50 California National Guard troops have been stationed to help in regional fuel reduction efforts and respond to fires. A 14-person crew from the Watsonville California Conservation Corps will also be available to assist in firefighting efforts during working hours, Larkin said. 
Volunteer firefighters needed
Some Santa Cruz County residents fear the National Guard and Conservation Corps won't be sufficient to replace the reduction in incarcerated and volunteer firefighters. 
Abby Young, leader of a community wildfire preparedness Fire Wise group in Prospect Heights and board member of Santa Cruz County Fire Safe Council, learned of the reduced number of crews during Larkin's presentation to the board of supervisors on June 8. 
In a letter to the county Board of Supervisors, Young wrote, "I was seriously concerned that Chief Larkin did not make an urgent appeal to the board to fund these serious gaps in staffing and training for fire crews immediately."
She urged the board to prioritize recruiting and training more volunteer firefighters. Santa Cruz County Supervisor Ryan Coonerty, whose district includes the North Coast and parts of Santa Cruz, said finding more volunteers is not easily accomplished. 
"The combination of everyone having to work full-time to be able to afford to live in Santa Cruz, and the pretty stringent state requirements on firefighter training, have made it a challenge to have a robust volunteer force," Coonerty said in an interview.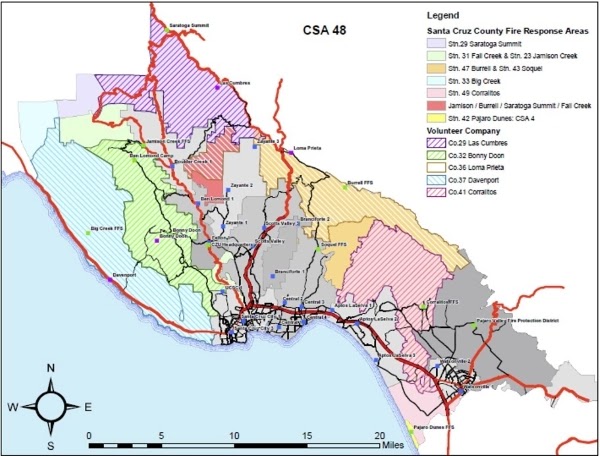 Santa Cruz County Fire Department includes several volunteer and Cal Fire stations. (Cal Fire)
Larkin said the department plans to create a new battalion chief position to recruit volunteer firefighters. Right now, he said, "We rely on volunteers to do a lot of the recruitment." The new chief also is expected to coordinate volunteer training and equipment. "It's not a perfect solution," to the county's staffing woes, Larkin said. "But it's the solution we have." 
Abby Young, the Fire Wise leader, said she hopes the new position will encourage more volunteers to join. "That's not going to help with this season," she added. 
The Santa Cruz County Fire Department has five volunteer firefighter companies in South Skyline, Bonny Doon, Loma Prieta, Davenport and Corralitos. For information on volunteer firefighting, contact the Santa Cruz County Fire Department. 
Boulder Creek Fire Protection District also is accepting new volunteer firefighters. 
Land management trends
Another way Cal Fire has tried to lower the risk of forest fire has been to reduce fuel levels across the county by burning piles of vegetation. It also has supported wood chipping programs and performed more than 2,000 property inspections. 
Preparations this year were limited by the demands of cleaning up the CZU burn zone, Larkin said. A dry winter meant remnants of the fire have survived into this year. Flare-ups sometimes morphed into "sweeper fires" that further cut into prevention efforts, Larkin said. 
Perhaps the biggest change in fire preparation efforts from previous years is in mindset. Firefighters now understand how much destruction is possible in Santa Cruz County's redwood forests. Much of the forest is near the coast and is typically not as dry as more inland areas of the state, fire leaders said during the CZU Lighting Complex Fire. But fuel moistures this year have been low, Larkin said.
"Nobody anticipated our fuels to burn like they have in the last year or two," Larkin said. "We're taking a little bit of a higher level of precaution."
Climate change has altered the way fire moves through California's forests, federal scientists have said. That makes coastal redwood forests, historically at low fire risk, increasingly vulnerable.
Already, 2021 has been hot enough and dry enough to be dangerous, Cal Fire leaders said. 
The only missing ingredient has been wind to whip minor ignitions into fires. "Hot and dry is bad. But hot, dry, and windy is extremely bad," Larkin said. Especially vulnerable are high elevation communities not cooled by the coastal marine layer.
Be prepared to evacuate
If a fire does develop, "you can see potential evacuation warnings in orders go into effect much earlier than you would see it in the past," Larkin said. 
He urged residents to have a personal evacuation plan and to know their evacuation zone. Evacuation zones, as well as all current wildfires and evacuation orders, are available through the website Zonehaven. 
For more information about wildfire preparation, visit Santa Cruz Local's Wildfire resource page. 
Become a member of Santa Cruz Local, an independent, community-supported newsroom that's owned and led by local journalists. Our stories are free and always will be, but we rely on your support.
Already a member? Support Santa Cruz Local with a one-time gift.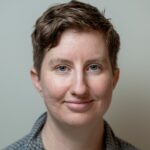 Jesse Kathan is a staff reporter for Santa Cruz Local through the California Local News Fellowship. Kathan holds a master's degree in science communications from UC Santa Cruz.