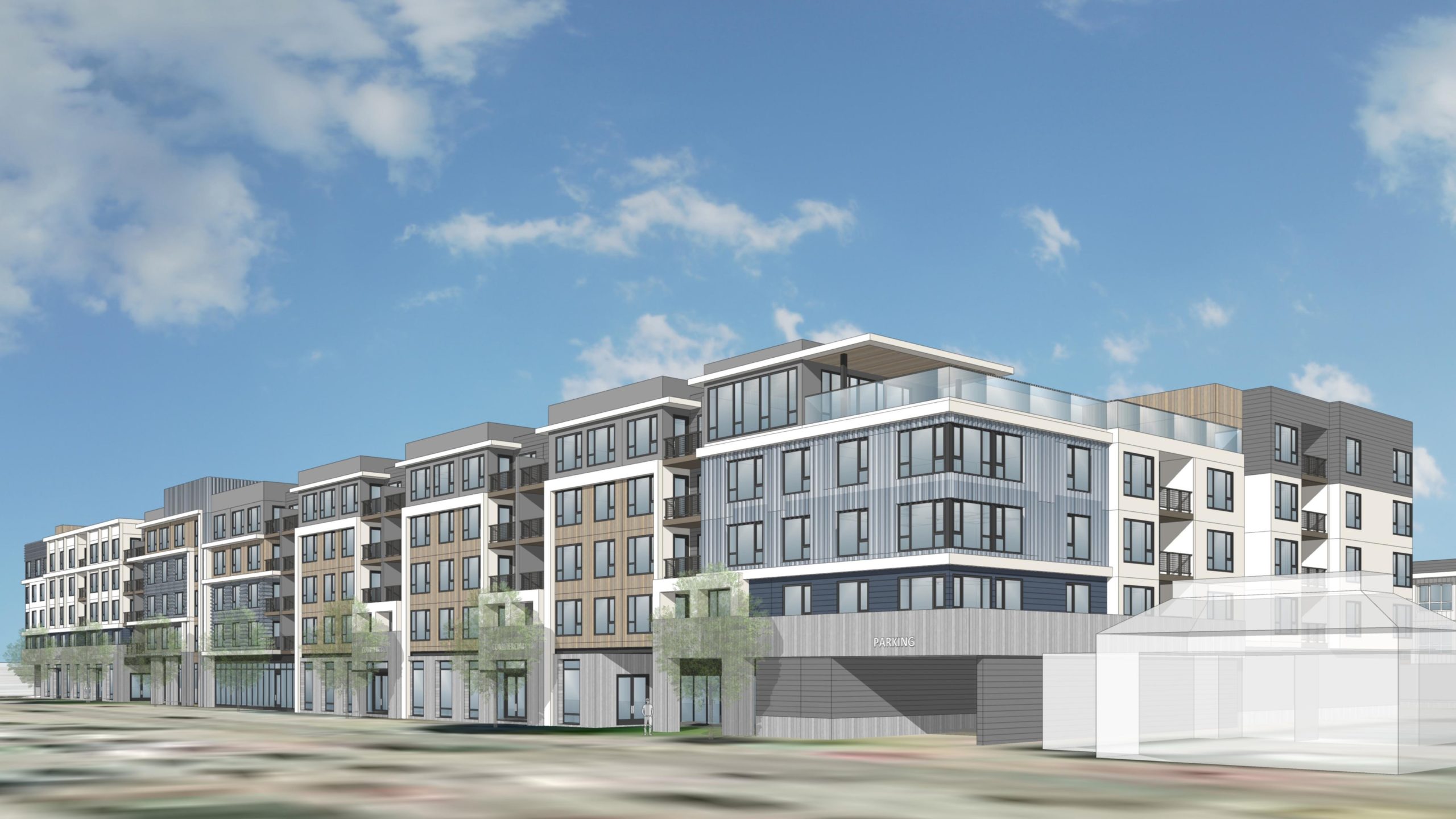 A rendering shows a revised plan for a five-story, 351-unit housing complex on the 900 block of Ocean Street in Santa Cruz. (BDE Architecture)
SANTA CRUZ >> Developers of one of the largest recent housing proposals in Santa Cruz have revised plans for 908 Ocean St. to include 351 apartments in three- and five-story buildings. A plan from 2018 included 390 homes, four stories and mainly one-bedroom units and studios.
Though the new plans try to address additional traffic at the rear of the project on May Avenue, some neighbors said they remain concerned about a proposed five-story building next to Marianne's Ice Cream at Ocean and Hubbard streets. 
Developer High Street Residential and Santa Cruz city staff plan to have a community meeting on the project at 6:30 p.m. Thursday, Feb. 9. The meeting will be held online and in person at the Resource Center for Nonviolence at 612 Ocean St., Santa Cruz.
The plans presented at the community meeting are expected to differ slightly from those submitted in the developer's pre-application to the city because of some feedback from city planners and community members, said Brian Pianca, a representative of the developer. 
"We're kind of working through some of the final details, and planning to unveil them on Thursday," Pianca said.
Fewer units, more family homes
Two pre-application plan sets have been submitted to the city for the new development: a "density bonus" plan and a "base" plan. Because the development includes income-restricted apartments, it is expected to qualify for the state's density bonus and can exceed the city's height limit for the area.The density bonus plan set includes:
Studios to four-bedroom apartments across 351 units that include 52 affordable units for low-income renters.

Income limits are set by the state yearly.

Eighty-five two-bedroom units are proposed.

Near Ocean and Hubbard streets, a five-story, 57-foot-high apartment building is planned with businesses on the ground floor above a one-level underground parking garage.  Parking garage access is slated for Ocean Street.

On May Avenue and Hubbard Street, two three-story, 34-foot-high apartment buildings are planned.

A surface parking lot is expected to have entrances and exits on May Avenue, accessible only to residents of the proposed complex.
The developer floated the new plans to city planning staff in the fall. On Oct. 18, city planners wrote to the developer with proposed changes to the building's design in line with the city's objective standards. The changes included:
More pedestrian walkways through the property.

Space for an additional commercial space on Ocean Street in addition to the planned lobby and two businesses.

More design detail and accent colors on building facades to visually break up large, flat building fronts. 
SE-Santa Cruz LLC., a subsidiary of Los Gatos-based Sridhar Equities, owns the property. The company previously submitted plans for the property with architect Sal Caruso in 2018. That plan included one three- and four-story building with businesses on the first floor. Caruso held community meetings from 2018 to 2020 with slightly altered designs.
The prior plan prompted many neighbors' concerns with building heights, traffic and parking. Some neighbors also wanted more three- and four-bedroom units. 
The new plans include "a very nice mix of different sizes" for apartments, said Brad Angell, leader of a resident group called Grant Park Neighbors. "That was something everyone wanted was a multitude of sizes so that families can live there," Angell said.
The plans now include 15 three-bedroom units and two four-bedroom units.
Grant Park Neighbors formed in 2018 in response to the temporary closure of Grant Park about four blocks from the proposed project.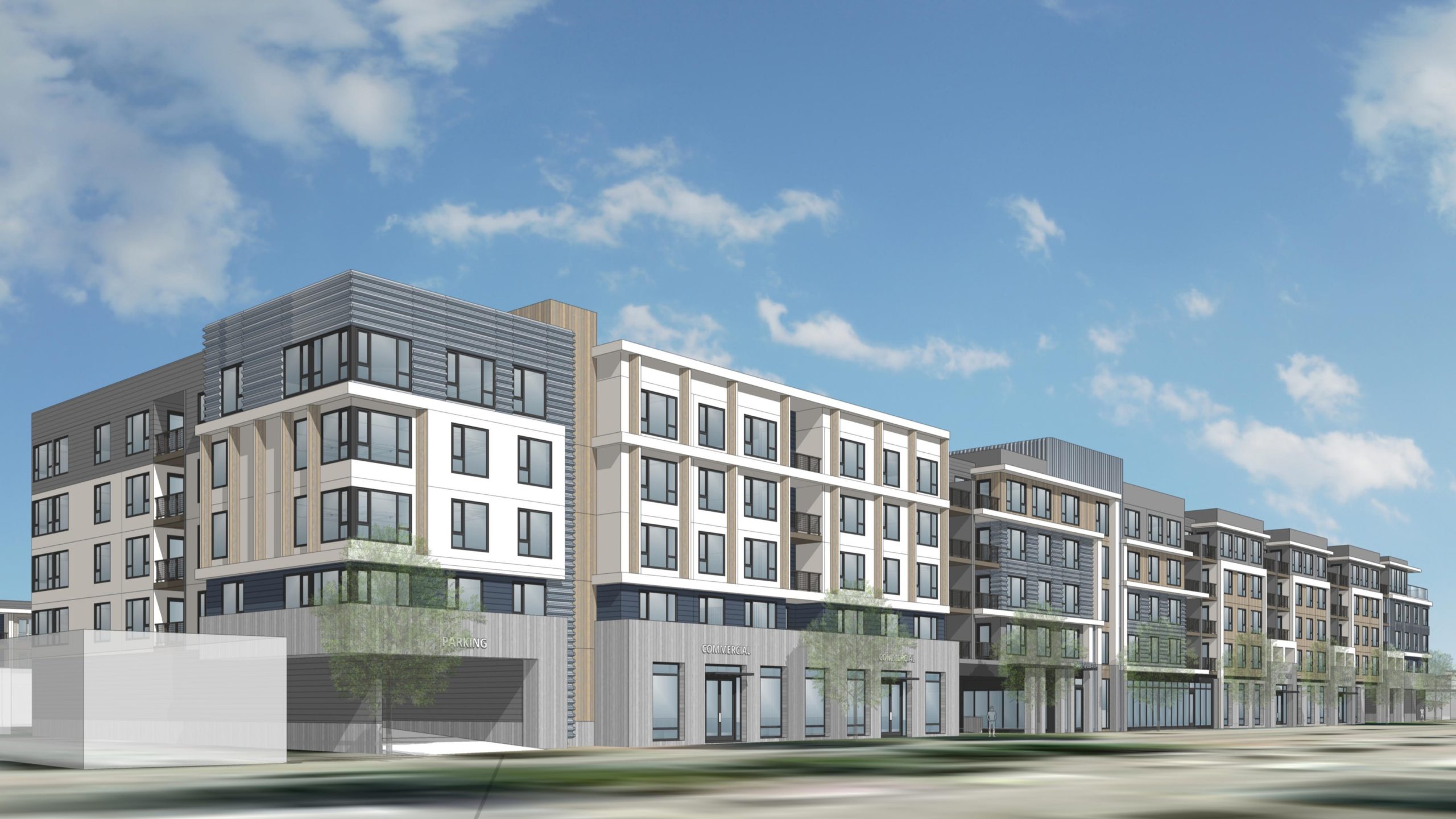 A five-story housing complex is proposed for Ocean Street near Hubbard Street. A rendering shows a perspective from Ocean Street looking west. (BDE Architecture)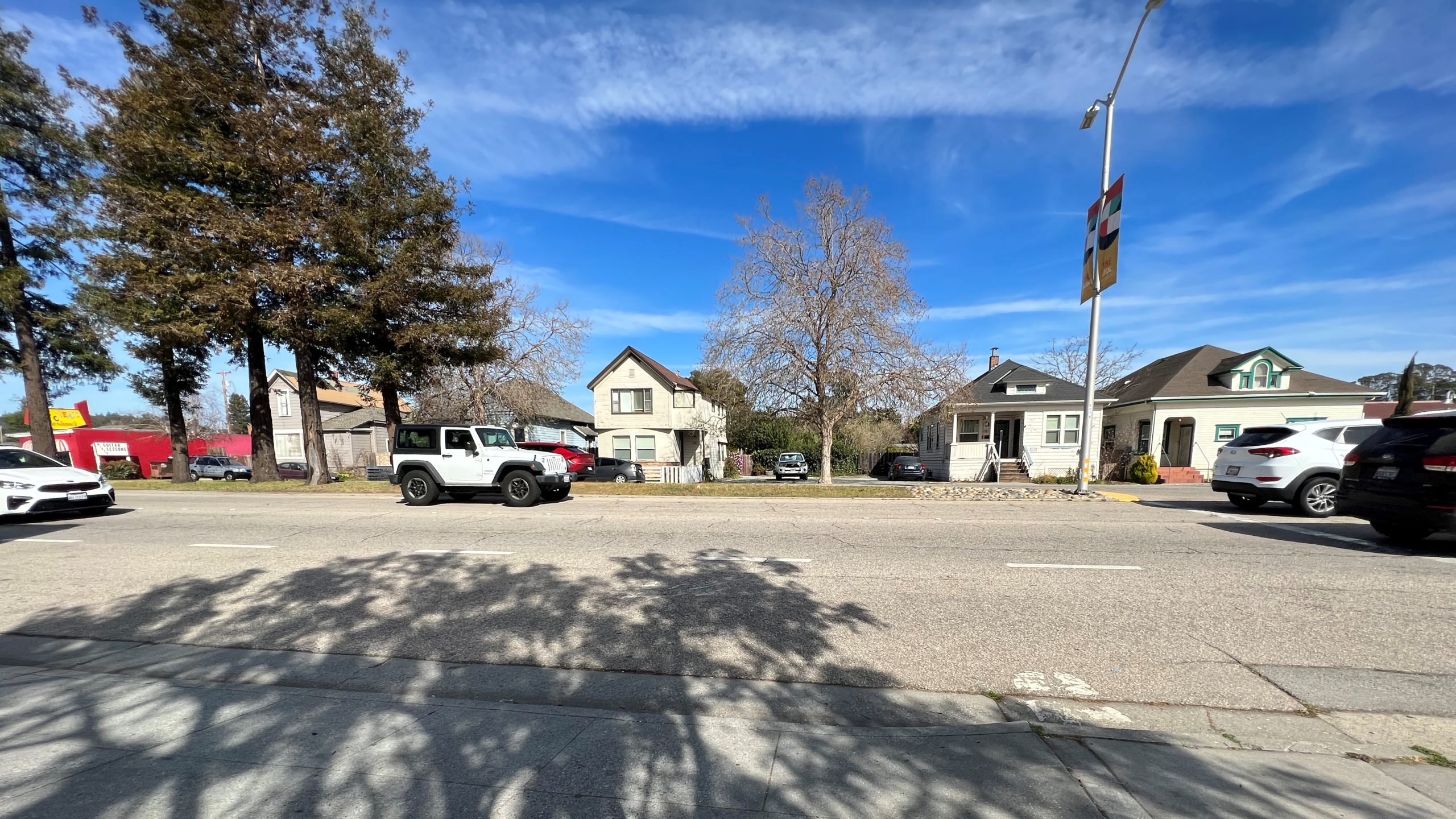 The 900 block of Ocean Street in early 2022. About 20 parcels are slated for redevelopment. (Brian Phan — Santa Cruz Local file)
The greater diversity of apartment sizes is due in part to a change in the city's housing laws, Pianca said. Most of the units in the previous project were Small Ownership Units, a type of housing the city incentivized that must be small and available for ownership as condominiums.
In 2021, the Santa Cruz City Council changed the city's building code to remove the Small Ownership Unit designation in favor of a new type of housing called Flexible Density Units. The new designation allows a greater range of sizes, and the apartments can be owned or rented. Under the new plans for 908 Ocean St., all of the apartments will be rented, Pianca said.
Though Angell said he appreciates some of the changes to the project's design, he anticipates some neighbors will still take umbrage with the height and uniform face of the Ocean Street building. He said he is also concerned that the basement parking garage could face issues with the area's high water table.
The garage has been scaled back from previous designs, Pianca said. Pianca said he expects his group to adjust the project based on community feedback.
The site of the proposed development has 12 homes and eight businesses. While previous project plans stalled, neighbors have been frustrated by broken sidewalks and RVs that have been parked on the property, Angell said. 
"It feels like they're actively misusing that property and making it so that anything there would be better than what we have," Angell said. "It was blighted before, but now it's at a tipping point where we're kind of trapped. We either have to say 'yes' to this project or who knows how much longer it will be blighted."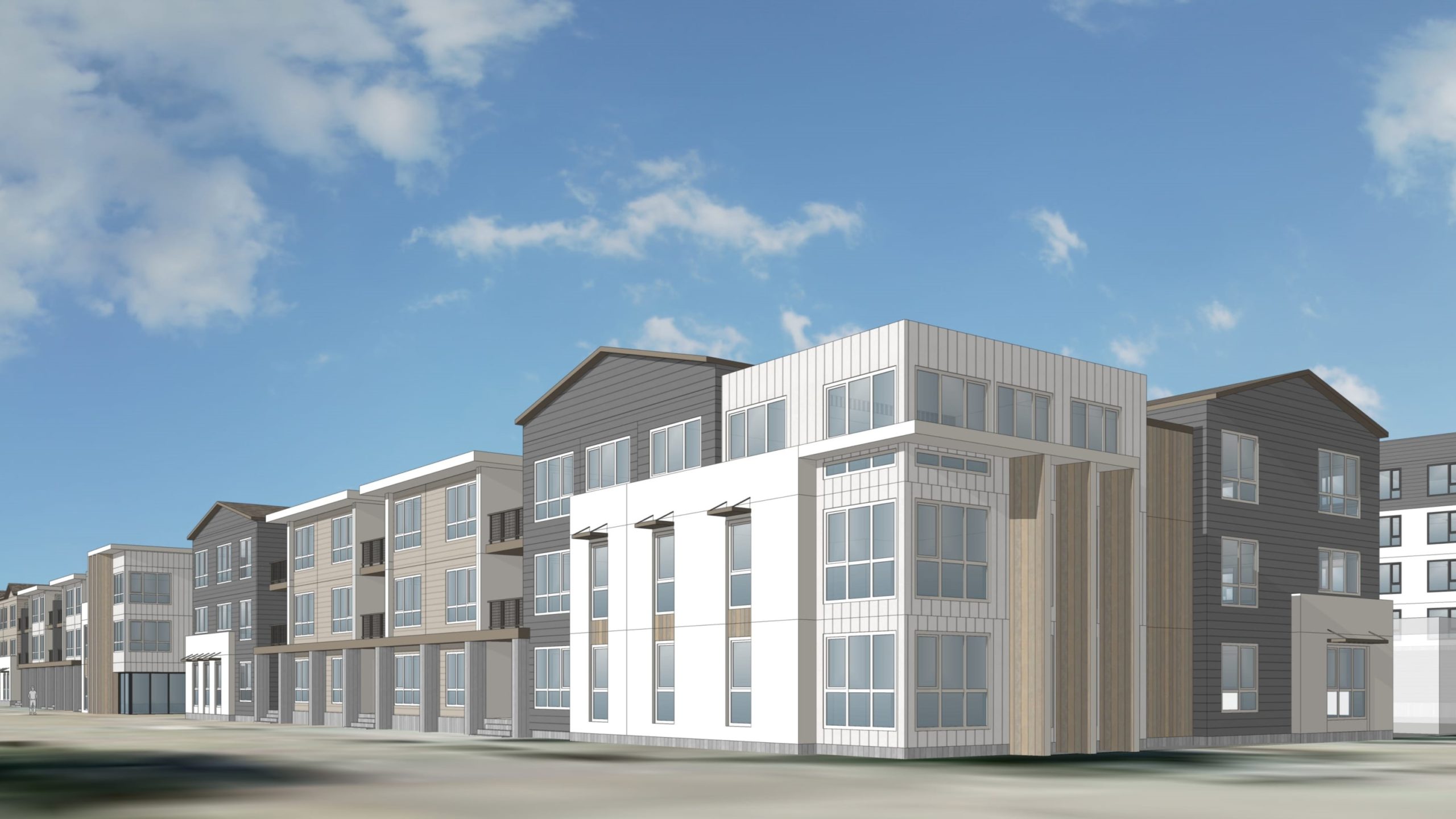 A three-story apartment building is proposed on May Avenue and Hubbard Street as part of the project. (BDE Architecture) 
Next Steps
After the Feb. 9 community meeting, the developer may return with an altered plan which would require another community meeting. 
Once some of the details of the plan are finalized, the developer will submit a complete application. 

Then, the city will commission an environmental review under the California Environmental Quality Act, or CEQA. That process could take up to one year, said Santa Cruz Senior Planner Clara Stanger. 

After environmental review, the Santa Cruz Planning Commission is expected to review the plans. If the planning commission accepts the plans, they will be sent to the city council for final approval, Stanger wrote in the Oct. 18 letter to the developer.
State housing laws have narrowed the reasons that city leaders can reject housing proposals. The planning commission and city council essentially can only deny the project if it does not meet the city's objective design standards.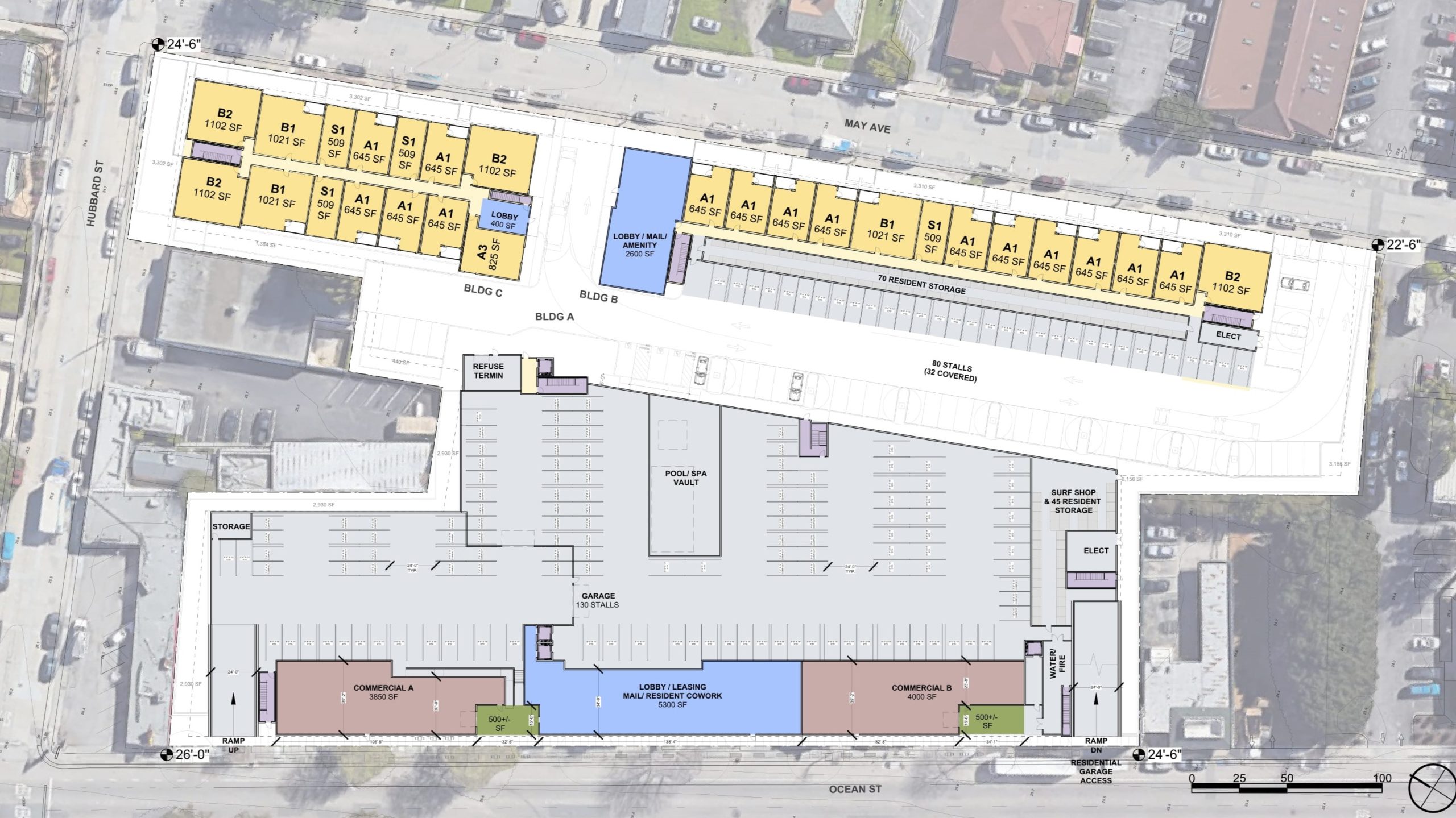 The ground floor of a proposed housing complex on Ocean Street is expected to include commercial space and parking. The ground floor on May Avenue would include homes. (BDE Architecture)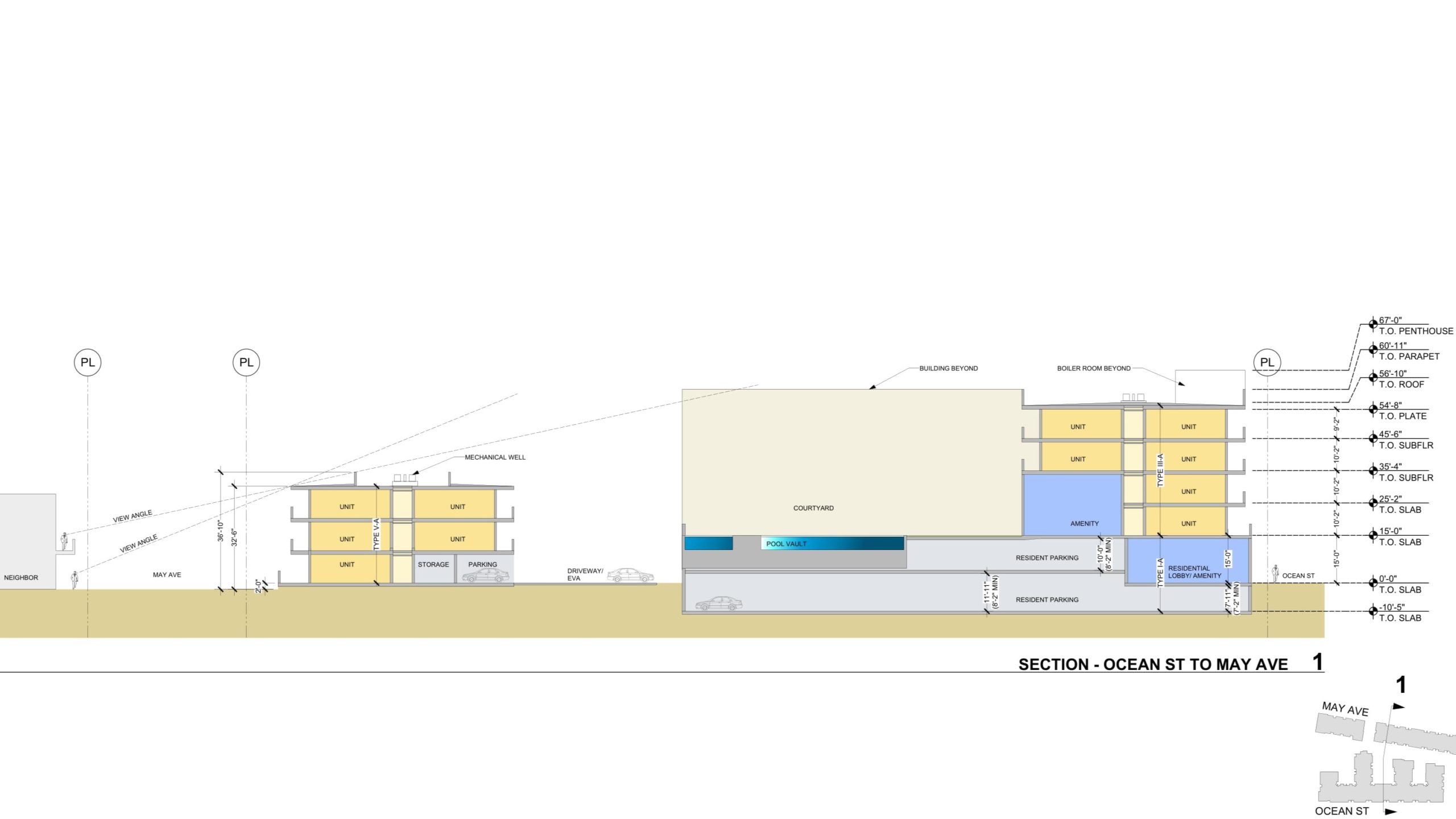 A three-story complex is proposed for May Avenue and a five-story complex is proposed for Ocean Street at Hubbard Street. (BDE Architecture)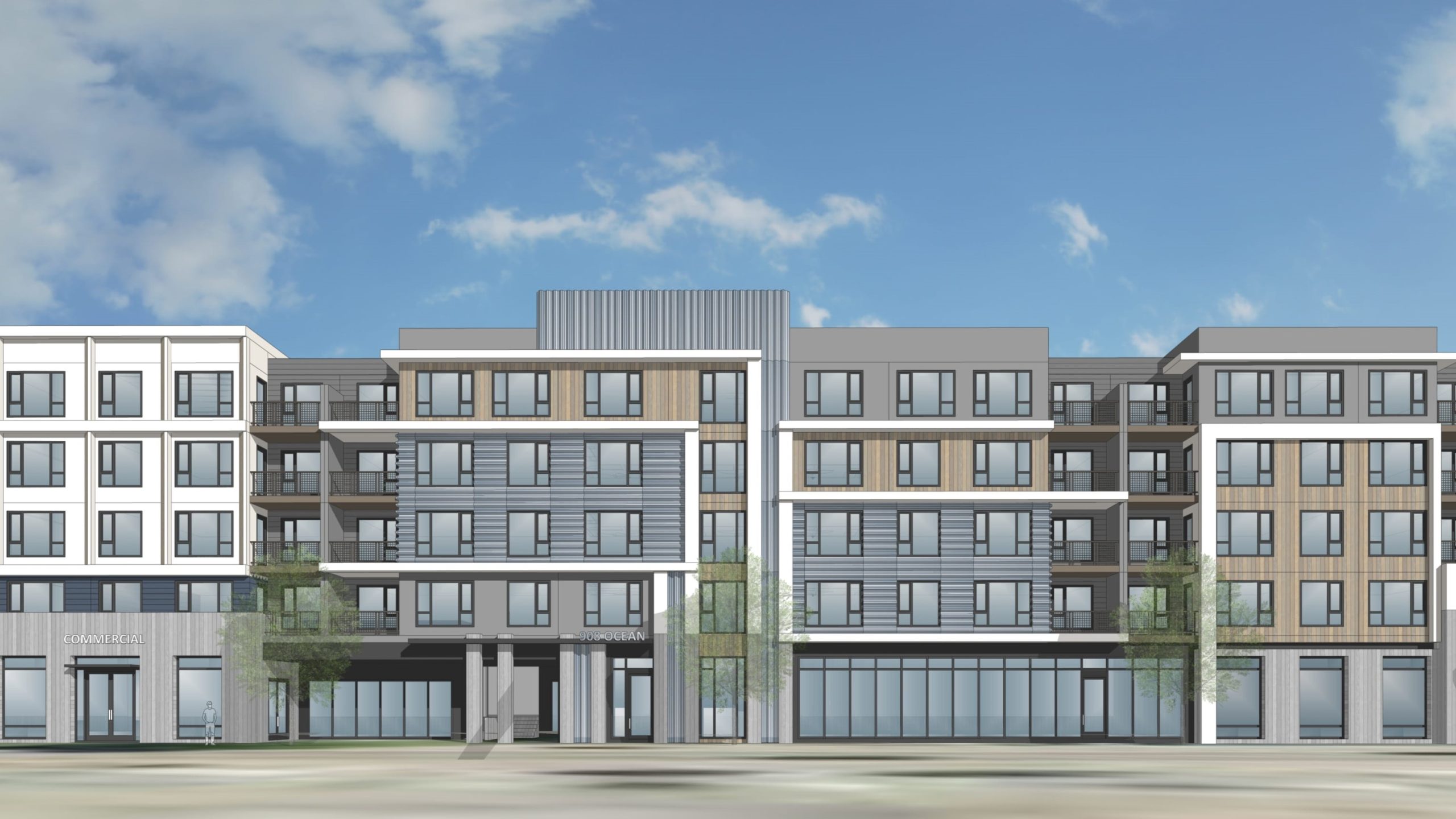 Commercial space is slated for the ground floor of a proposed five-story housing complex on Ocean Street in Santa Cruz. (BDE Architecture)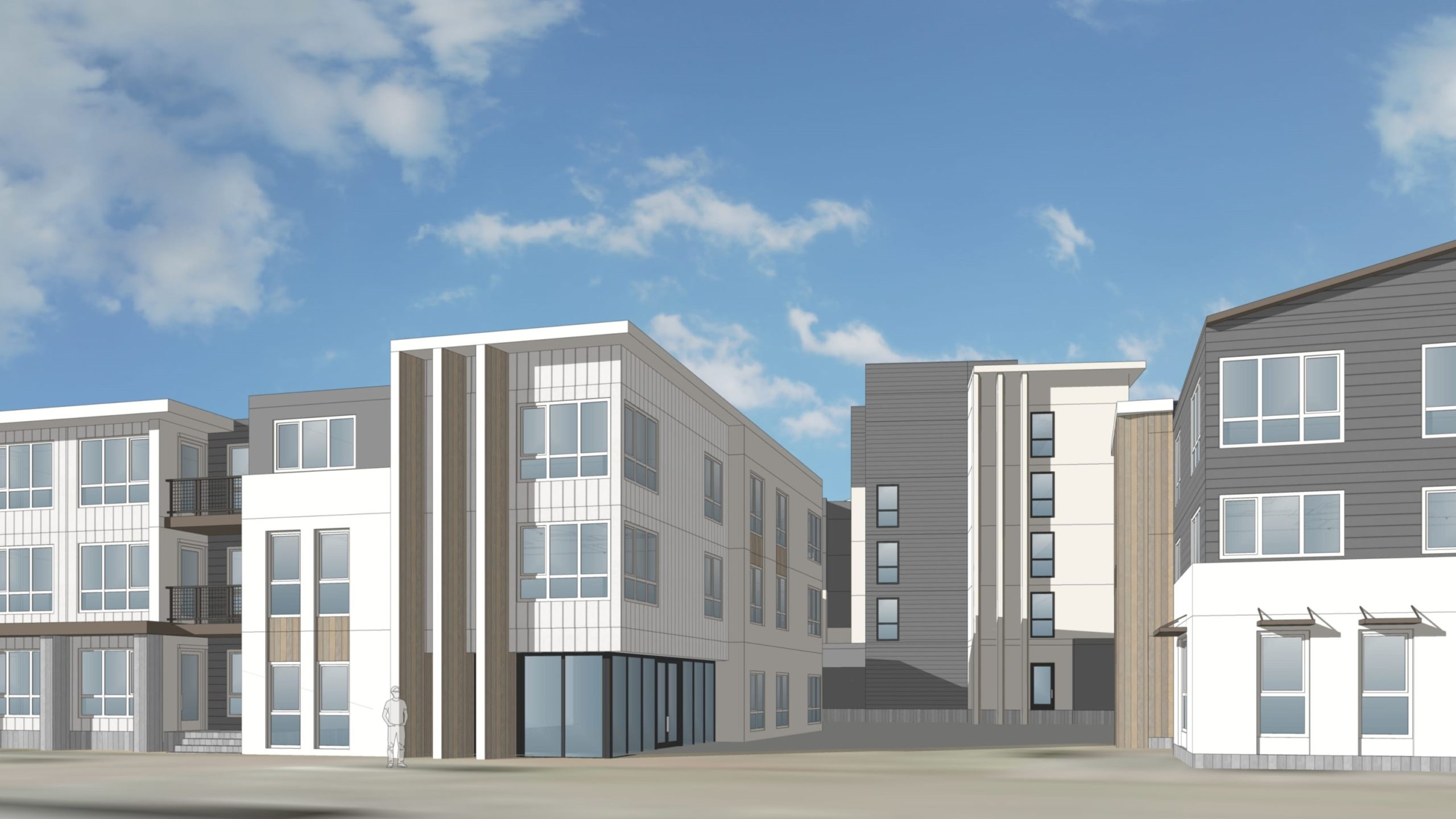 A rendering shows the middle of the block on May Avenue where a three-story housing complex is proposed. (BDE Architecture)
Learn about membership
Santa Cruz Local's news is free. We believe that high-quality local news is crucial to democracy. We depend on locals like you to make a meaningful contribution so everyone can access our news.
Learn about membership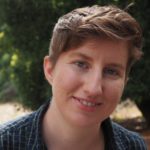 Jesse Kathan is an environmental journalist and a graduate of UC Santa Cruz's science communications program. Kathan has contributed to the Mercury News, Monterey County Weekly and KSQD-FM.