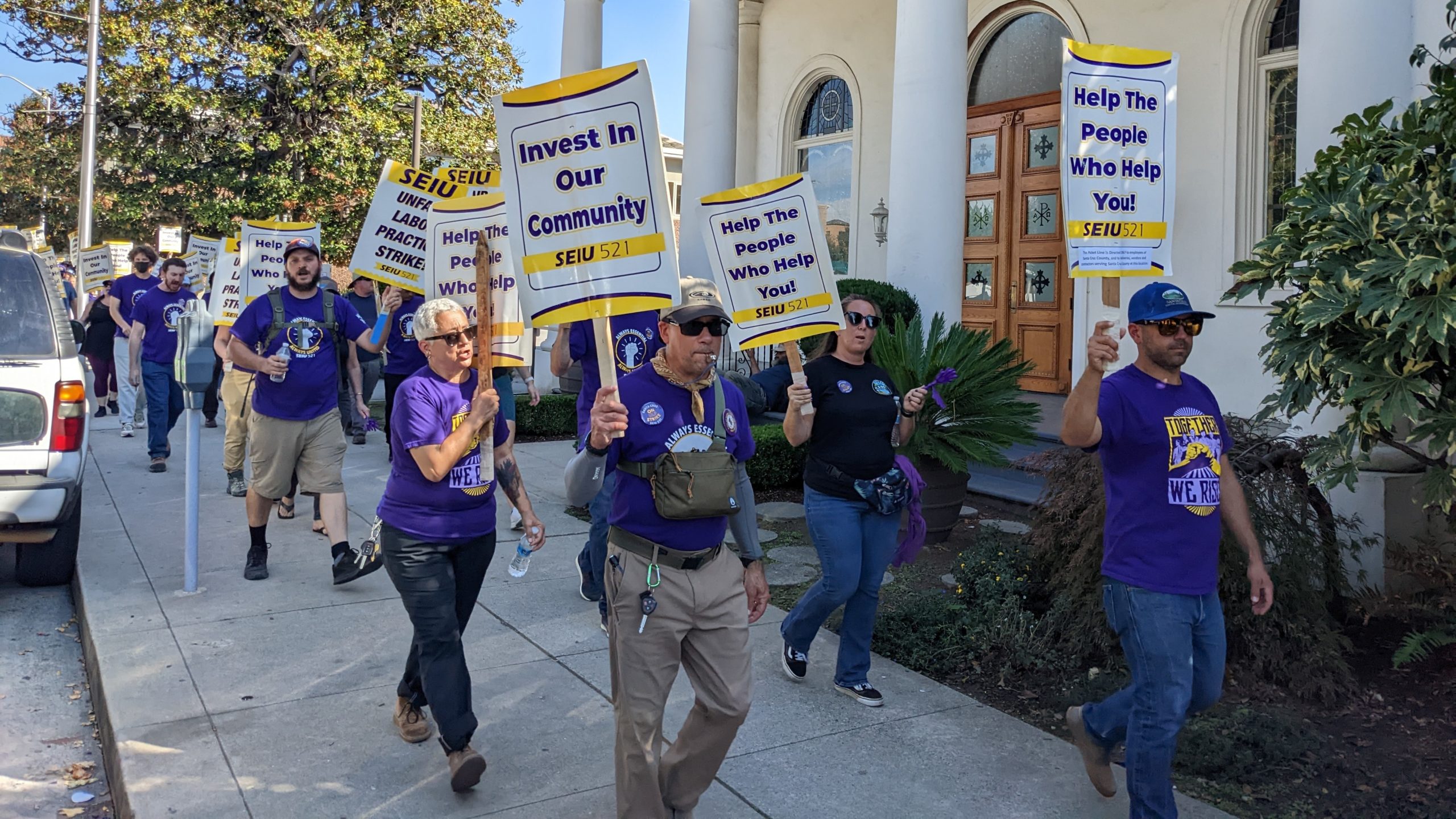 Santa Cruz city workers carry pickets during a strike that stopped garbage collection and some other city services Oct. 17 to 19. (Stephen Baxter — Santa Cruz Local file)
SANTA CRUZ >> Santa Cruz's city budget has shown some signs of recovery from pandemic-related problems in recent months, city leaders said, but rising employee pension costs and other problems loom in the long term.
Santa Cruz Finance Director Elizabeth Cabell — who started the position in July — said that a recent uptick in sales tax and hotel tax revenue has helped buoy the city's near-term budget.
"Our largest expenses are people," Cabell said. "We need to be sure that we're accounting for and making decisions that will allow us to continue providing services, keep people and maintain those costs as well."
Cabell said Santa Cruz's money problems are not unique. City workers are the primary providers of services for residents; recent inflation and the area's high cost of living are challenges for those workers as they are for everyone.
In October, a three-day strike halted garbage collection and some other Santa Cruz city services. For more than 400 city employees, city and union leaders negotiated a one-time $1,800 bonus and a 12% raise over three years, union leaders said. The city budget authorizes 907 full-time employees.
Some big challenges remain for the city budget in the long term:
City employee pension costs remain about 12% of the city's General Fund expenditures, Cabell said.

Since 2013

, new city employees have accepted a lower-cost pension plan with higher employee contributions than employees hired before then.

To bring the city more revenue, city leaders put a sales tax hike on the June 7 ballot. City leaders said that without the tax hike, the city's reserves would be

drained by 2028

. The measure failed with 49.85% of the vote. The measure was expected to bring about $6 million per year.

In the Nov. 8 election, city voters approved a Santa Cruz city hotel tax hike that is expected to

bring $1.4 million annually

to the city.
Santa Cruz city budget trends
The city's General Fund is expected to be $126.8 million for the fiscal year that started July 1. It was about $112.5 million in the fiscal year prior, according to city documents.
The largest expense in the General Fund is the police and fire departments. Those departments are expected to get 40% of the General Fund, compared with 43% the year prior.

The city manager's office, administrative services and other support is expected to get about 22% of the General Fund this fiscal year, compared with 18% of the fund in the year prior.

The city budgeted for 907 employees this fiscal year, up from about 896 in the prior year.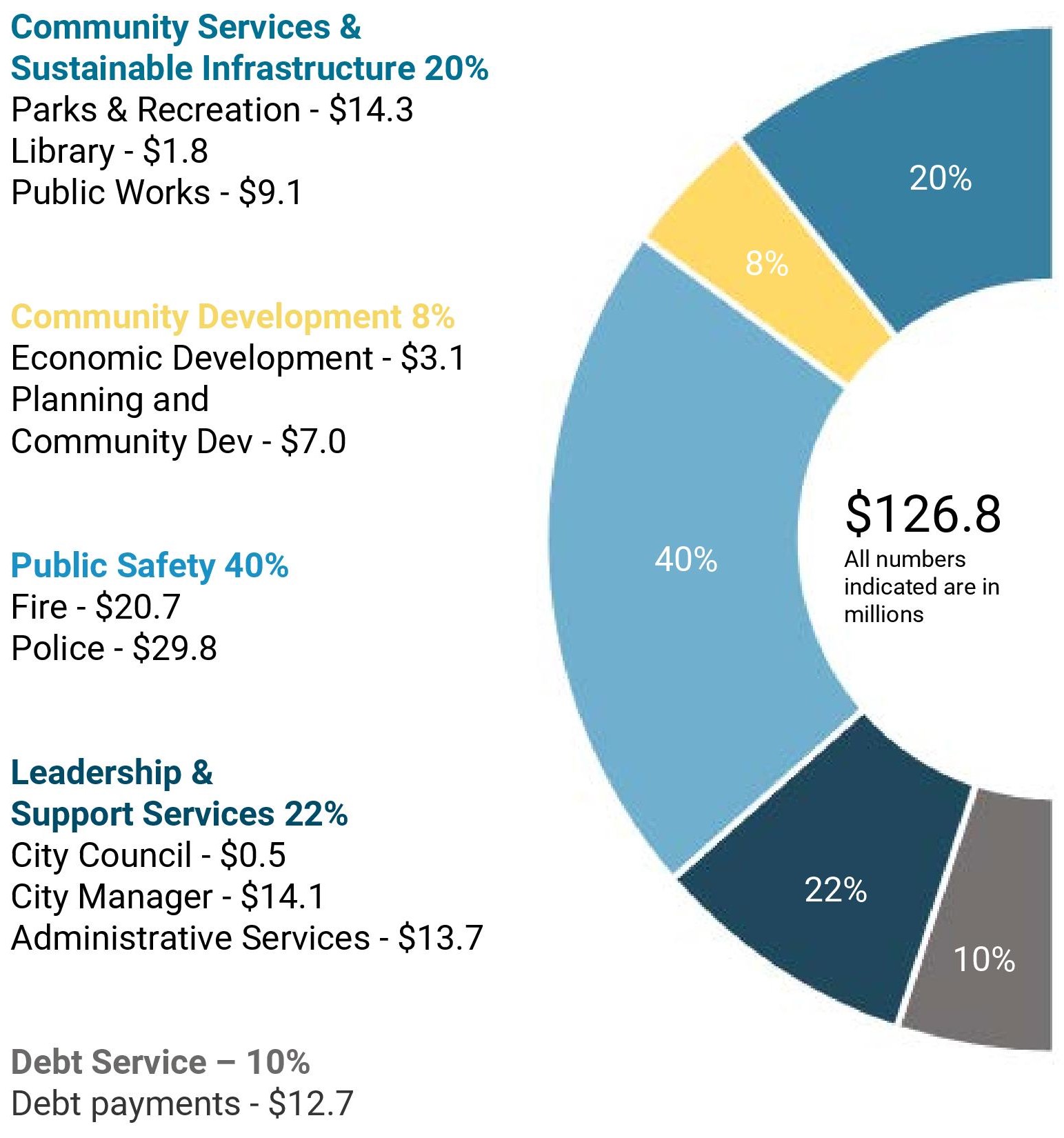 The City of Santa Cruz's General Fund was about $126.8 million in the fiscal year that started in July 2022. It includes more money for the city manager's office, police, public works, debt and other services compared with the prior year.
The City of Santa Cruz's General Fund was about $112.5 million in the fiscal year that started in July 2021. (City of Santa Cruz)
Like many cities, Santa Cruz lost revenue during the COVID-19 pandemic. 
In the fiscal year that started in July 2020, the

city lost $11 million in revenue

.

Hotel tax revenue dropped by more than 33%. 

Tax revenue from city facilities like the Santa Cruz Municipal Wharf dropped by 97%. Before the pandemic, those admission taxes accounted for about 3%, or $2.7 million, of the city's budget. 
During the pandemic, city leaders froze hiring and encouraged early retirements. Most employee groups were furloughed for what amounted to a 10% salary reduction. Those measures ultimately saved the city $7 million.
Like many cities across the state, Santa Cruz's financial problems predate the pandemic. Former city finance directors said they tried to deal with rising pension costs and health care costs before 2020.
In 2018, city voters approved a sales tax hike with 71% of the vote. The measure raised the sales tax to 9.25% and was expected to bring in about $3 million annually. 
Still, it wasn't enough to address annual deficits partly caused by the pandemic and pension costs. In June 2021, city leaders estimated that the cost of Santa Cruz employee pensions would grow from $14 million in 2022 to $22 million by 2030.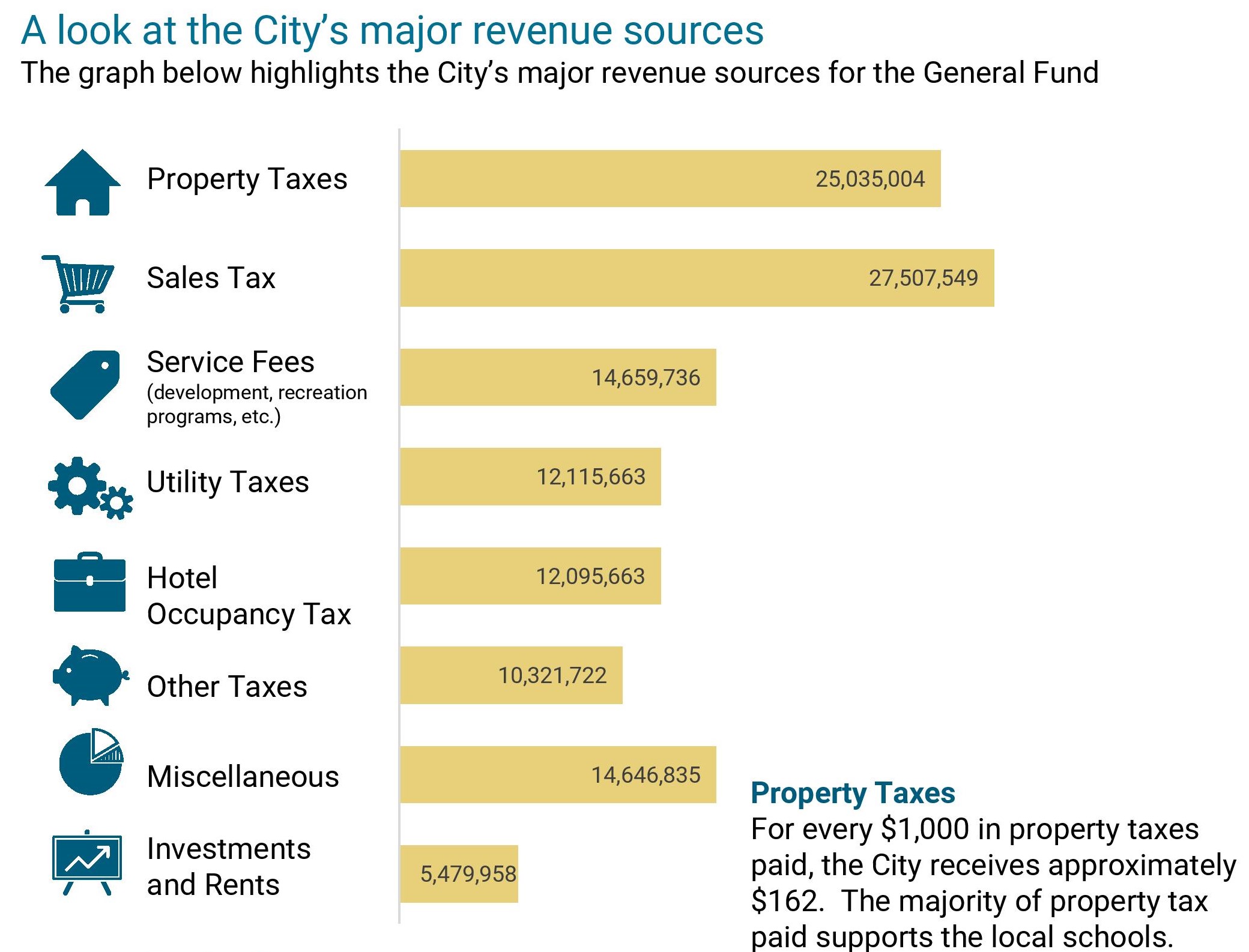 Major revenue sources for the fiscal year that started in July 2022. (City of Santa Cruz)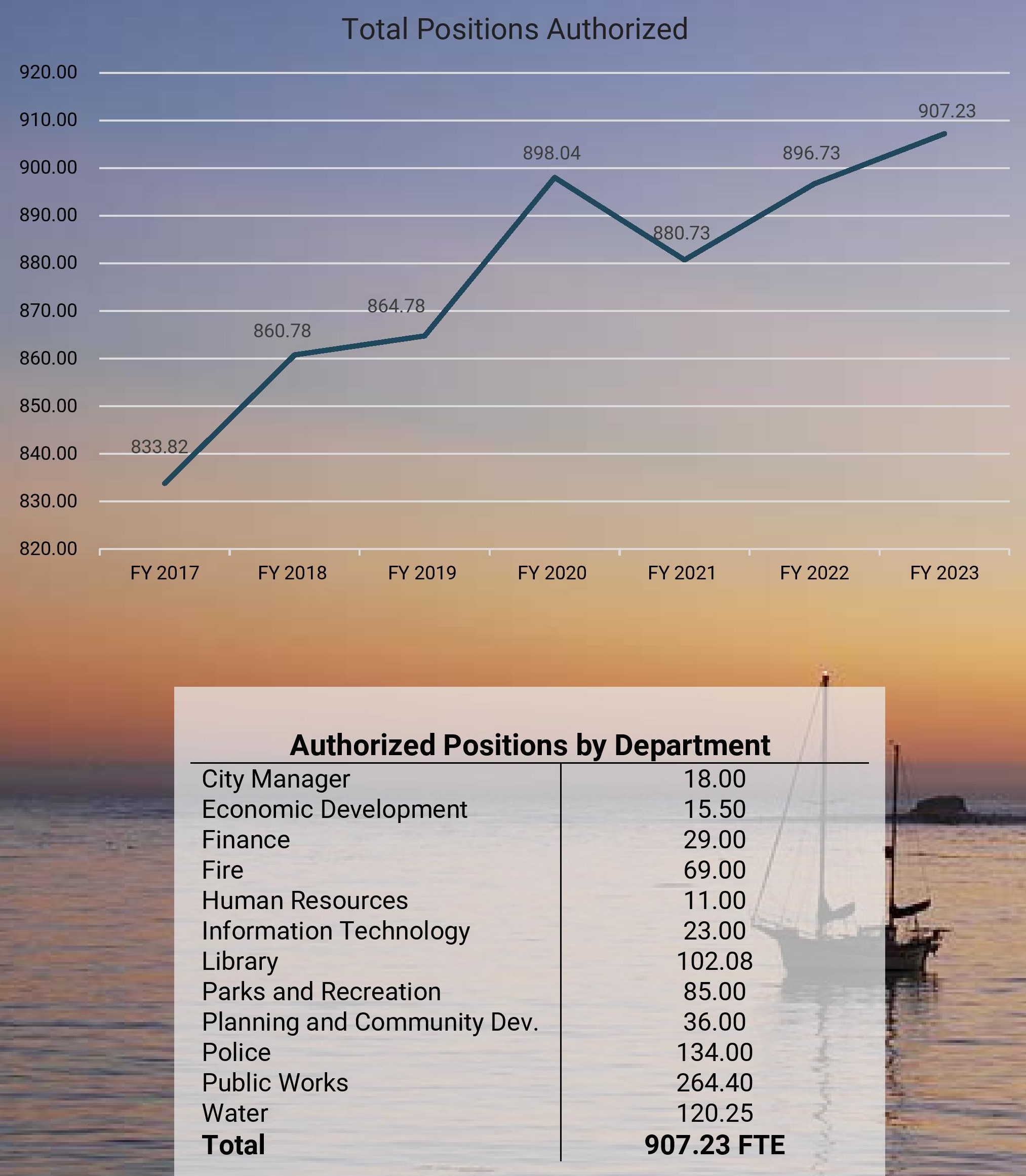 City leaders budgeted for more employees this fiscal year compared with last year. (City of Santa Cruz)
A sales tax measure
To help the city's budget picture, this year city leaders proposed Measure F on the June 7 ballot. 
It aimed to raise the city sales tax to 9.75% from 9.25%, with the added revenue put toward the city's General Fund. If passed, the new tax would have started Oct. 1. City leaders estimated it would bring in $5.5 million from October 2022 to July 2023 and $8 million annually thereafter.
Although Cabell worked in Napa previously, she has lived much of her life in Santa Cruz. Cabell said, "Even though a lot of the sales tax does come from the tourists, it still impacts those of us who live here and it does add up," Cabell said. "When it was put on the ballot, I think that the idea was, we want to continue to provide the services and we're worried about the future — it was more of a long-term plan."
Cabell feels as though the measure could have been better marketed to community members, to really expand on how that money would help the city as a whole.
"When you're a citizen, sometimes it's not always clear what the city does. Part of it is we need to do a better job of showcasing what we do," she said. "We've got all the parks, maintaining the streets, the trash and all these things. We need to explain to people why we need this extra half a cent, what it is really going toward."
Cabell said the city's overall budget picture has improved since this summer.
"I think for people who are looking at the financials in February and March, you can't just project through the end of the quarter — so much happens in the end of the year," Cabell said. "I think that allowed us to come back to the table with some more confident plans."
A strike and a new contract
Part of those plans, Cabell said, related to city workers represented by the local Service Employees International Union Local 521.
The chapter represents more than 400 employees. Its leaders said they have tried to bring members to a livable wage since late 2021.
Ken Bare is president of the local SEIU chapter and a city parking control maintenance worker. He said he's worked to bring some employees from $15 an hour to $20 an hour.
Those efforts — along with an expired union contract in April with no foreseeable resolution — led the union to strike Oct. 17-19. Bare said the new contract is "a start," but more work remains.
The new contract includes a "cost-of-living adjustment," or raise, of 12% spread out over three years, a one-time payment of $1,800 and a modified implementation of the 2021 compensation plan effective on April 1, 2023. The contract also allows for a quarterly meeting between the SEIU workers and Cabell and her team, which will begin in February 2023.
"I have to hand it to Sandy Brown and Justin Cummings — they carried that torch of contract negotiations by eliminating the bottom two steps in the payscale," said Bare, the union leader.
Bare said he hoped that the city would hire more employees. 
A successful hotel tax measure
While the sales tax measure was not adopted by voters in June, there was still a possibility of passing another type of tax: a transient occupancy tax.
Measure P was introduced in August, with the intent to raise taxes on hotel rooms, motel rooms and short-term rentals in the city of Santa Cruz. The tax for hotel and motel rooms would increase to 12% from 11%. The tax on short-term rentals would increase to 14% from 11%. The changes were nearly identical to increased transient occupancy taxes approved by Santa Cruz County voters in June for unincorporated areas. 
The tax hikes are estimated to bring in about $1.4 million annually to be used as flexible funding to support city services such as wildfire prevention, public safety and affordable housing, according to the ballot question and text. However, the money will actually go into the city's General Fund and could be used for many purposes including pension costs. 
The hotel tax hike received more than 80% of the vote in the Nov. 8 election, according to the Nov. 29 vote tally.
"It gets us on par with the county, and makes us consistent, but it also does give us a little bump in revenue as well," Cabell said. "It does help cover some of the costs of having tourists here…it's keeping us on the same level."
Looking forward, Cabell said she believes the hotel tax hike is just one step toward planning for a better financial future for the city. Cabell said that Fiscal Year 2021-2022 brought in more money than projected from sales taxes and hotel taxes. 
She said city leaders continue to search for ways to generate more revenue.
"In the long term, it comes down to we need to find new revenue streams — there are ways to generate revenue, but we need to make sure we're planning for that," Cabell said. "It's all about being conservatively optimistic. I think we're on a good trajectory." 
Learn about membership
Santa Cruz Local's news is free. We believe that high-quality local news is crucial to democracy. We depend on locals like you to make a meaningful contribution so everyone can access our news.
Learn about membership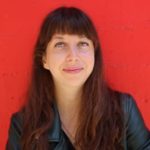 Grace Stetson is a Santa Cruz County freelance journalist who covers housing, homelessness and development. Stetson is a graduate of the Medill School of Journalism master's program. Stetson has worked for Dateline NBC, Walt Disney Publishing Worldwide, Metro Silicon Valley, the Six Fifty, Good Times and Lookout Santa Cruz.