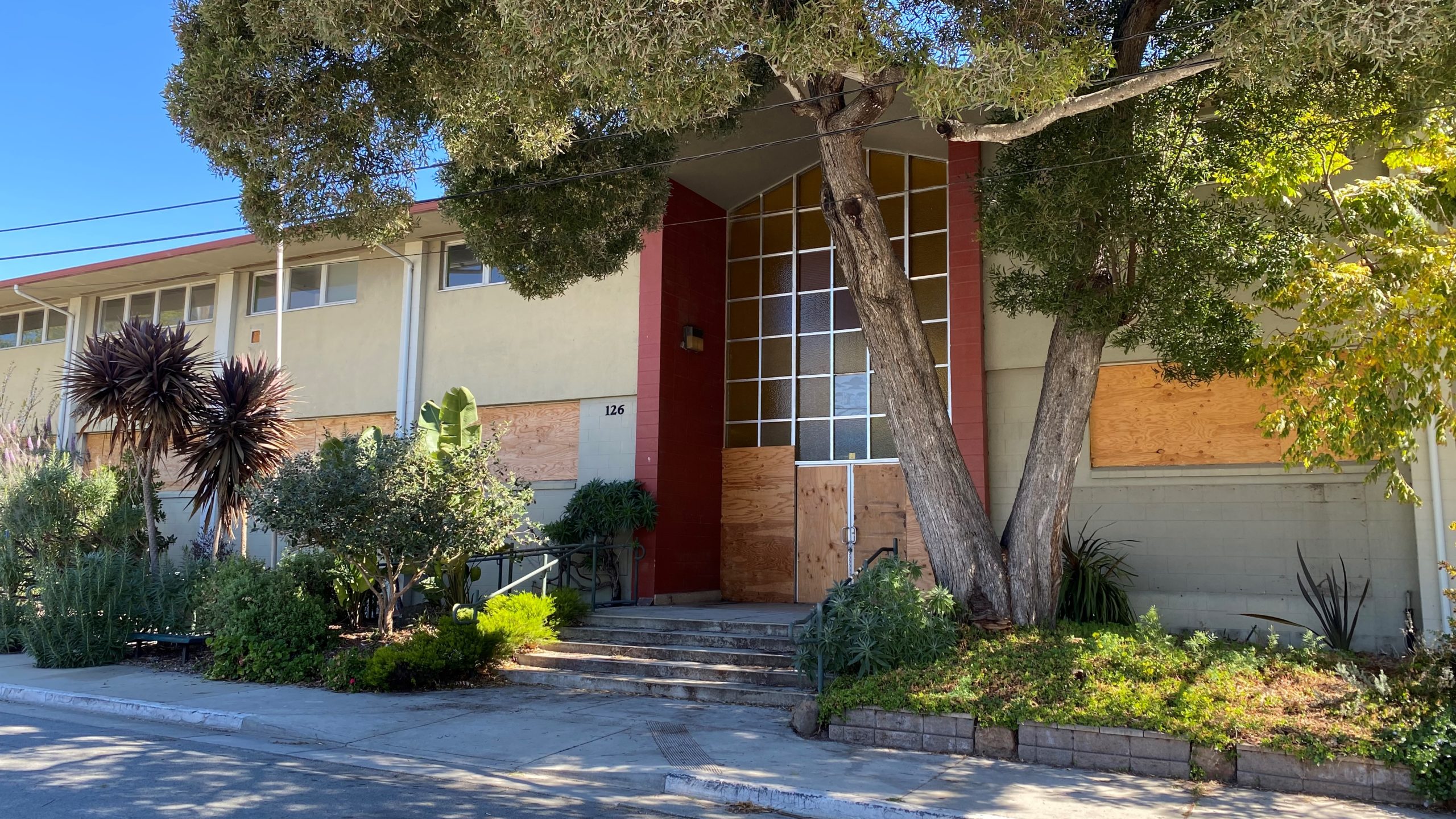 The former Gateway School campus at 126 Eucalyptus Ave. in Santa Cruz has been closed since 2019. (Stephen Baxter — Santa Cruz Local file)
SANTA CRUZ >> A 76-unit senior housing proposal cleared a hurdle for approval at a Santa Cruz City Council meeting Tuesday night, but it could face a new appeal to the California Coastal Commission. 
If the project at 126 Eucalyptus Ave. is built, it will be with fewer than the nine affordable units than the Santa Cruz Planning Commission required in its Oct. 6 meeting, the city council decided Tuesday night. 
The site at the corner of Pelton Avenue and West Cliff Drive is the former campus of Gateway School. The project would: 
Demolish the former school buildings.

Construct a two-story, 76-unit senior care facility and other buildings.

Remove six heritage trees that are 14 inches or more in diameter.
On Oct. 6, the Santa Cruz Planning Commission approved the project and required that nine affordable units be built in the project rather than the developer's proposal to build two affordable units. Affordability is based on income limits determined by the state. 
The commission did not ask the developer at that meeting whether that requirement would make the project financially feasible. 
Since that meeting, developer representative Roger Bernstein appealed the planning commission's decision. At Tuesday night's meeting, Bernstein told the council that the project would not be financially feasible with nine affordable units in part because of funding requirements. 
"I think we can do three (affordable) units," Bernstein told the council. "That's probably the limit of what we can do," he said.
Bernstein is the vice president of construction at Oppidan Investment Co. He also lives near the site.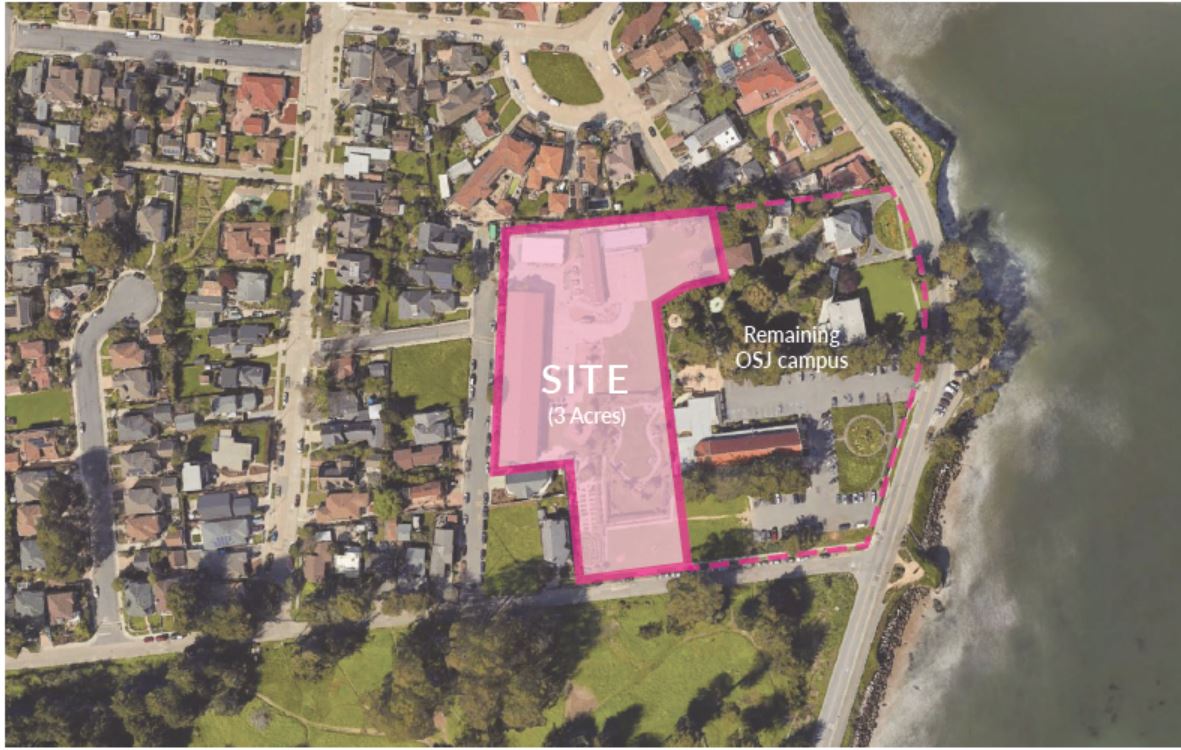 A senior housing project is planned at the former Gateway School near Pelton Avenue and West Cliff Drive in Santa Cruz. (Oppidan Investment Co.)
Developer appeals affordability requirement
The planning commission required that 15% of the project's 59 assisted living units should be made affordable. When Oppidan appealed that requirement, city staff asked the city attorney's office to weigh in on it. The city attorney's office disagreed with the planning commission's decision, according to a Nov. 14 document written by deputy city attorneys Cassie Bronson and Monica Hammer. 
If a lawsuit is filed, a judge would likely disagree with the planning commission's requirement, Bronson said at Tuesday's meeting. 
The planning commission's requirement of nine affordable units would make the project too expensive to make a profit, Bernstein said at Tuesday night's meeting. "We need a project that's going to give us a decent return," Bernstein said.
Santa Cruz City Council members Sandy Brown and Justin Cummings voted against the developer's appeal. Brown said the city should require the higher number of affordable units decided by the Planning Commission. "I just fundamentally disagree with the way our inclusionary housing rules have been interpreted in this case and others," she said. 
In a 5-2 vote, the council decided to require three affordable units in the new facility and uphold the developer's appeal. Brown and Cummings voted against it, and Santa Cruz Mayor Sonja Brunner, Vice Mayor Martine Watkins and council members Donna Meyers, Shebreh Kalantari-Johnson and Renee Golder voted in favor.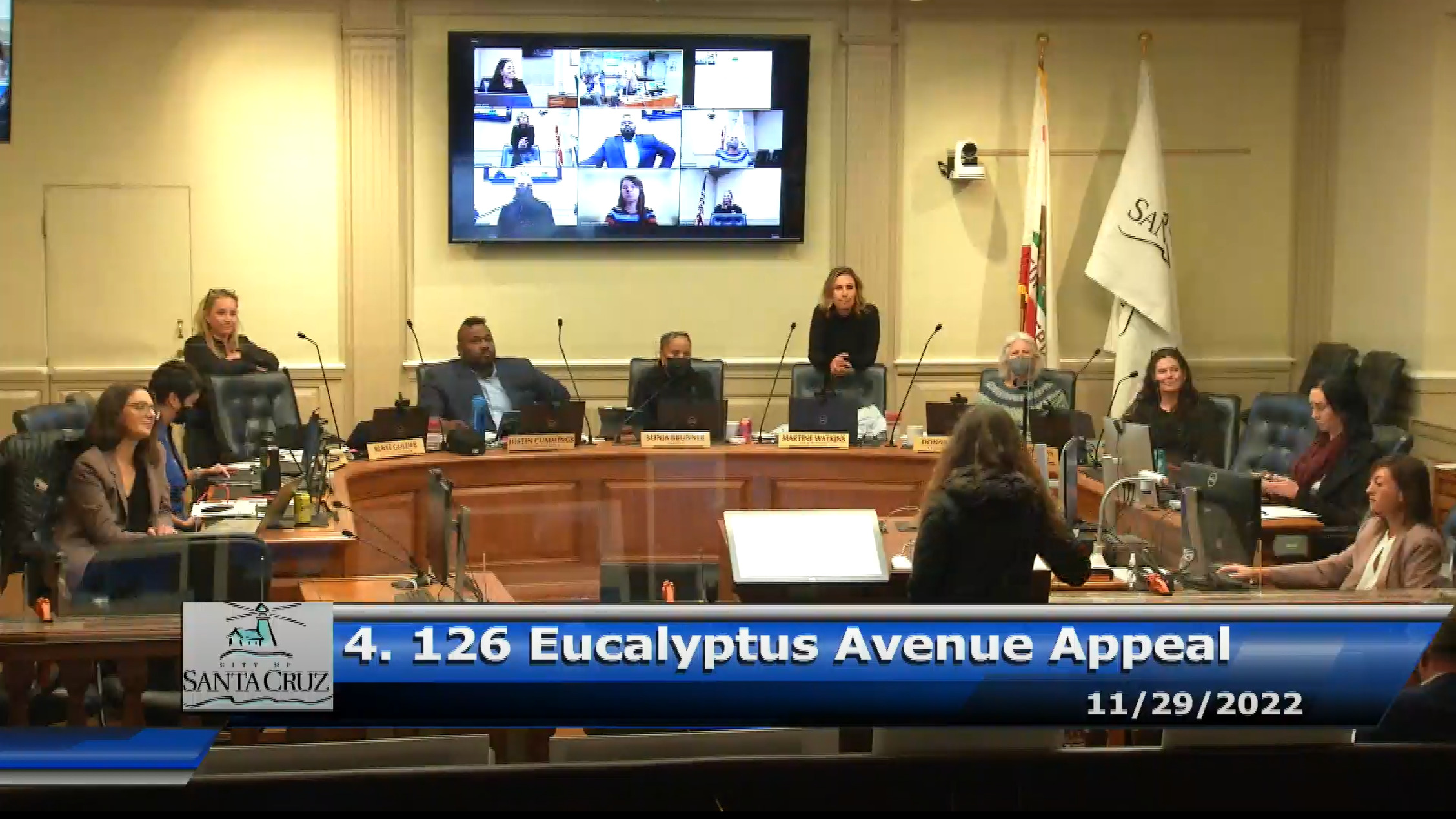 Santa Cruz City Councilmember Renee Golder, left, and Vice Mayor Martine Watkins stand as a resident speaks against a senior housing proposal on Eucalyptus Avenue on Tuesday night. (City of Santa Cruz screenshot)
The project is in the Coastal Zone. Residents can file an appeal to the California Coastal Commission by Dec. 13, according to a city staff report.
The city council also denied a separate appeal from some neighbors near the proposed project. 
Neighbors also appeal
A second appeal, filed by Anne and Robert Segal, argued that the development will create traffic and endanger a nearby grove of trees that biologists have mapped as habitat for monarch butterflies. The appeal argues for an environmental impact report and for the removal of a driveway on Pelton Avenue.
Santa Cruz Senior Planner Clara Stanger said the Pelton Avenue driveway is necessary for firefighters' access.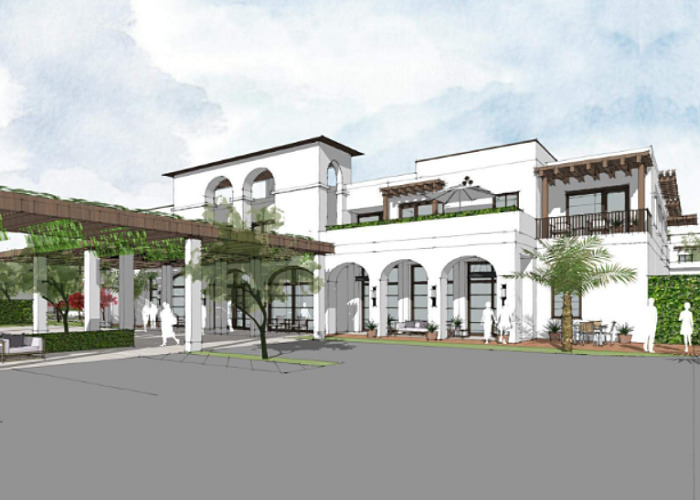 An artist's rendering shows two-story buildings and an outdoor common area at a senior housing proposal on Eucalyptus Avenue in Santa Cruz. (Oppidan Investment Co.)
Stanger said that that based on biologist reports, the city has created protections for the monarchs including:
Starting daily construction after temperatures reach above 55 degrees Fahrenheit, when butterflies are able to fly.

Requiring trucks and equipment to enter and exit the site along Pelton Avenue to minimize vibrations and exhaust.

Prohibiting turns out of the Pelton Avenue driveway to prevent vehicle headlights from sweeping across the monarch grove at night.

Shielding exterior lighting downward to avoid glare and illumination of a monarch butterfly grove.

Prohibiting the use of pesticides that are known to be harmful to butterflies. 
During public comment at Tuesday night's meeting, several residents said the project would attract traffic that would severely impact the neighborhood. 
Resident Dennis Hagen said the project would disrupt the neighborhood less than the Gateway School that previously used the site.  "This project is going to have so much less of an impact," Hagen said.
Several residents argued against the size of the project. "It's not that we're totally against it," said resident Russell Weisz. "But it's, I think, oversized and just not the way it needs to be."
Other commenters said the project helped fill Santa Cruz's need for more senior housing.
Learn about membership
Santa Cruz Local's news is free. We believe that high-quality local news is crucial to democracy. We depend on locals like you to make a meaningful contribution so everyone can access our news.
Learn about membership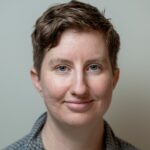 Jesse Kathan is a staff reporter for Santa Cruz Local through the California Local News Fellowship. Kathan holds a master's degree in science communications from UC Santa Cruz.