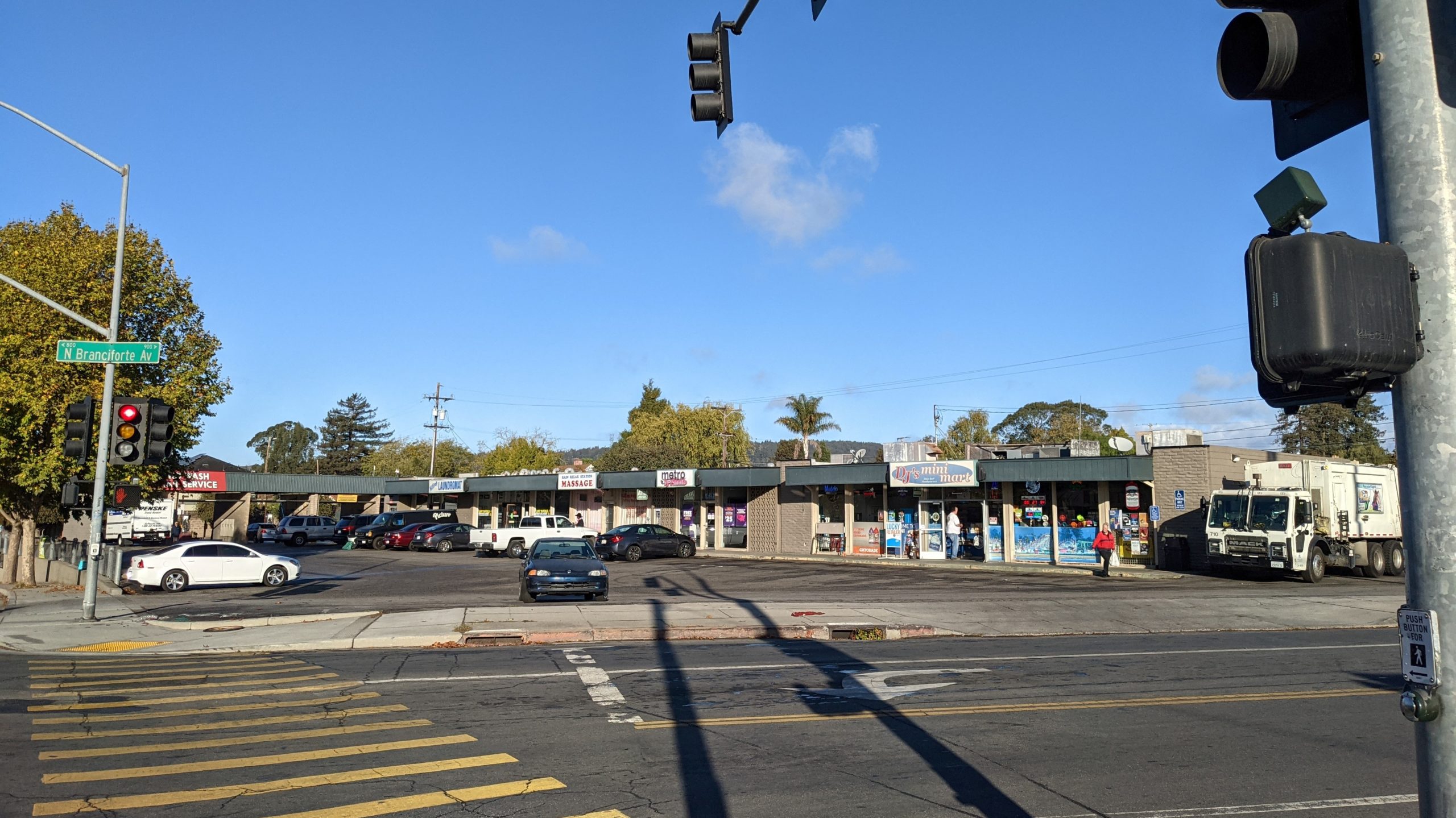 Santa Cruz city staff has proposed six new mixed-use zones that would allow shops below new housing. Water Street at North Branciforte Avenue is among the proposed zones. (Stephen Baxter — Santa Cruz Local)
SANTA CRUZ >> After a mixed response from the Santa Cruz Planning Commission, a public meeting on Wednesday, Nov. 10 is expected to explain some proposed housing design standards and a separate plan to allow more homes above shops on busy Santa Cruz streets.
At a Nov. 4 Santa Cruz Planning Commission meeting, city planning staff presented some of the proposed objective design standards for multi-family homes outside of downtown. Separately, the staff also described a proposal for six new mixed-use zone districts along parts of Soquel Avenue and Mission, Ocean and Water streets. Both plans are meant to guide future housing developments and adhere to community values and the city's design aesthetic. 
While the proposed objective design standards and mixed-use zones aim to increase affordable housing, some complaints already have arisen because of similarities to the Corridor Plan. Years in the making, city leaders scrapped the Corridor Plan in 2019 after many Midtown Santa Cruz residents' opposition to more potential traffic and parking problems. 
City planners' online meeting takes place 7-8 p.m. Wednesday Nov. 10. City planners plan to present proposed objective design standards and gather public feedback.
Why the need for objective design standards?
To help address the state's housing shortage, a recent state law called SB 330 limits cities from using subjective standards to evaluate housing proposals. For example, a city council cannot require fewer units in a project because the council says the project doesn't fit neighborhood aesthetics.

Another recent state law, SB 35, allows projects which meet objective standards to get fast-tracked approval without environmental review. Proposals must designate at least half of the units as below market-rate rentals, among other requirements. To deny these proposals, the city must demonstrate that the project does not meet objective standards.

Many of the city's current design standards, codified in the General Plan, zoning codes and other laws, aren't considered objective. For about a year, city staff and consultants from Urban Planning Partners Inc. have combed through housing rules to make them objective and bring them into alignment with the city's 2030 General Plan adopted in 2012.
Residents say they want affordability
Community feedback included a survey of 819 residents across demographic backgrounds, as well as focus groups with communities including students, Latino residents and low-income households.
"Overall, what we heard from our focus groups was that we should, in these standards, we want to prioritize affordability. We want to be looking to create livable and newer housing," said Sarah Neuse, a city of Santa Cruz senior planner.
The majority of participants favored a diversity of architectural styles.

Of those surveyed, 51% were willing to consider higher buildings if they resulted in more affordable housing.

Residents wanted private outdoor areas, such as balconies and backyards, more than more public outdoor areas like parks.
For buildings higher than four stories or 45 feet, the top floor would be 15% smaller in area than the floor beneath it to address "concerns about shadow and privacy," Neuse said.

To incentivize the construction of denser buildings in primarily residential areas, buildings in residential areas that are at least 75 feet wide would have half the parking requirement. The rule aims to promote buildings with more units, which can provide rental housing or more affordable condominiums. By cutting the parking requirement, Neuse said, developers "are not building housing for cars, they're building housing for people." 

Projects applying under SB 35 that meet these and other requirements and do not involve a density bonus would receive approval from staff, without a public hearing by city council. The large number of current projects with density bonuses, "is an indication that something in our standards or our process doesn't facilitate development, and some people pursue a density bonus in order to have a feasible development," Neuse said. Responding to commissioner and public concern about developments with density bonuses, Neuse said expedited approval could "shift the incentives" to make smaller projects more feasible.
The new designations bring the zoning code into alignment with the 2030 General Plan and the Ocean Street Area Plan. 
Zones for shops and housing
Separate from the proposed objective design standards, city staff has proposed some mixed-use zones that would allow businesses and housing. "We want to make sure that there's space for businesses moving forward and that as redevelopment happens, there are places for businesses to go," Neuse said.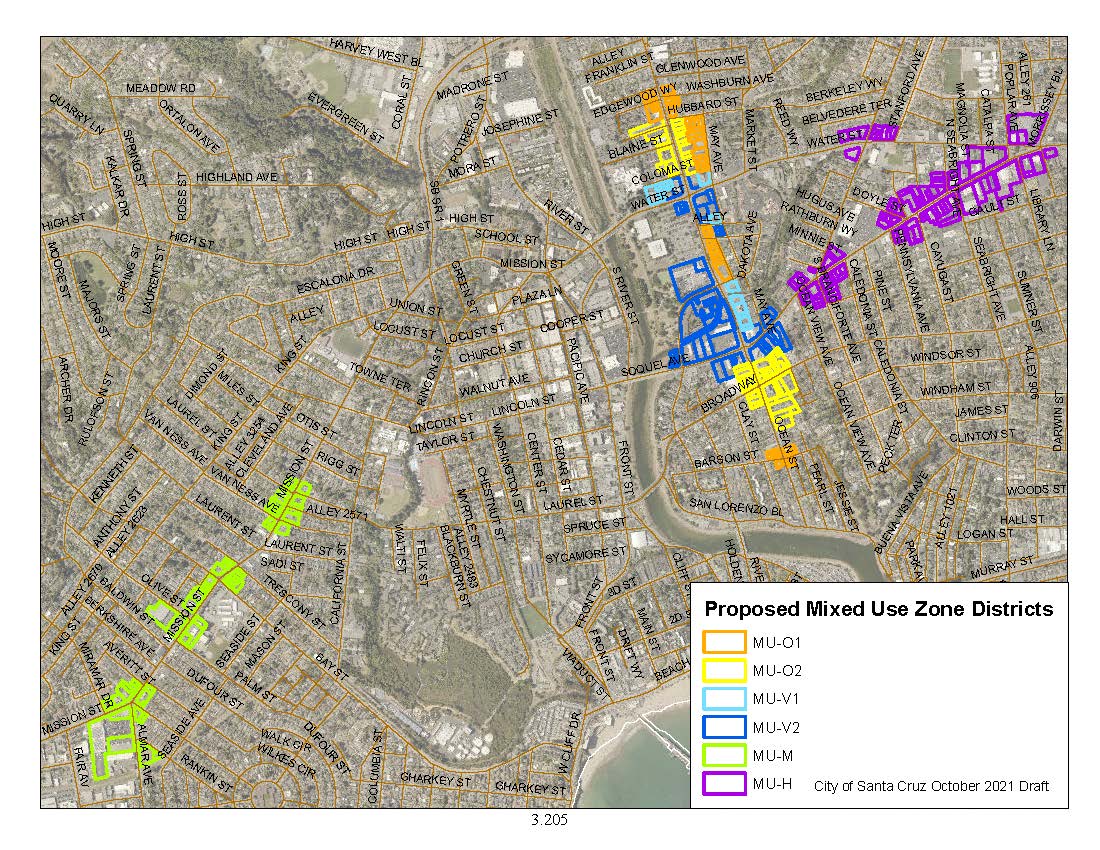 A map shows six proposed mixed-use zones along major city streets. The proposed zones would increase the allowed density of future housing developments. (City of Santa Cruz)
The new zones are nearly identical to ones proposed in 2015 as part of the Corridor Plan, an earlier effort to reconcile zoning codes with the higher density called for in the General Plan. In August 2019, the plan was killed after years of pushback from Midtown residents.
Commissioners suggest additional standards
Planning Commission Vice Chairman Peter Spellman, an architect, agreed that the new standards and zoning were "definitely a continuation," of the Corridor Plan. "We've lost quite a bit of time in the interim from squelching that process, and we're having to pick up and sort of be forced, based on state law, to address many issues," he said. 
Spellman also stressed the need for more public outreach for community feedback. "Understanding who is not represented allows us to go out and make those voices heard," Spellman said.
Commission Chairman Andy Schiffrin said the proposed standards are not comprehensive enough. He presented additional suggestions for design standards related to affordability and environmental standards. Neuse said some of those suggestions are already covered by existing laws.
Schiffrin wanted to make the standards restrictive enough to provide the public "some assurance that new development is not going to overwhelm the community." 
Residents respond to proposals
Several residents said that although survey questions implied that increased building height could allow for more affordable housing, the tradeoff isn't always so simple. 
Resident Lira Filippini called the implication "misleading," saying that projects which qualify for the state's density bonus law allow more market-rate housing to be built. She said it would decrease the percentage of the city's housing stock which is affordable. 
"We've really come full circle to where we were with the Corridor Plan," said Candace Brown, a member of the city's Transportation and Public Works Commission. Increasing housing density on corridor roads without sufficient parking and shops could create "commercial dead zones" and negatively impact walkers and cyclists, she said. Brown said hundreds of residents and business owners signed a petition that opposed higher density construction on Water and Soquel avenues. "Now we're dealing with a plan that's even more impactful than the original plan," Brown said. 
Planning Commissioner Miriam Greenberg said she agreed with several public commenters that "focusing on production does not ensure that affordability is going to be accompanying that."
"If we were operating in an environment in which much more state and federal funding for affordable housing, and larger trust funds for the Affordable Housing Trust Fund, it's more conceivable that we would have more dense, affordable development," she said. Greenberg suggested imposing a higher inclusionary rate of affordable housing in new developments of 25%. 
Dena Belzer, a city consultant with Strategic Economics, Inc. hired to assist with the objective standards, responded to Greenberg's concerns, saying that the construction of new market-rate units provide a "filtering effect" by relieving market pressure on the rest of the housing market. "There's a lot of indirect affordability that gets created across the spectrum," Belzer said. 
City staff plan to host more community focus groups before returning to the Planning Commission with a revised set of standards in early 2022. Once approved by the commission, the rules will advance to Santa Cruz City Council for approval.
More information about the proposed objective standards is on the city's website. 
Read Santa Cruz Local's related stories
Editor's note: This story has been updated to correct the spelling of Lira Filippini's name.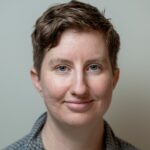 Jesse Kathan is a staff reporter for Santa Cruz Local through the California Local News Fellowship. Kathan holds a master's degree in science communications from UC Santa Cruz.