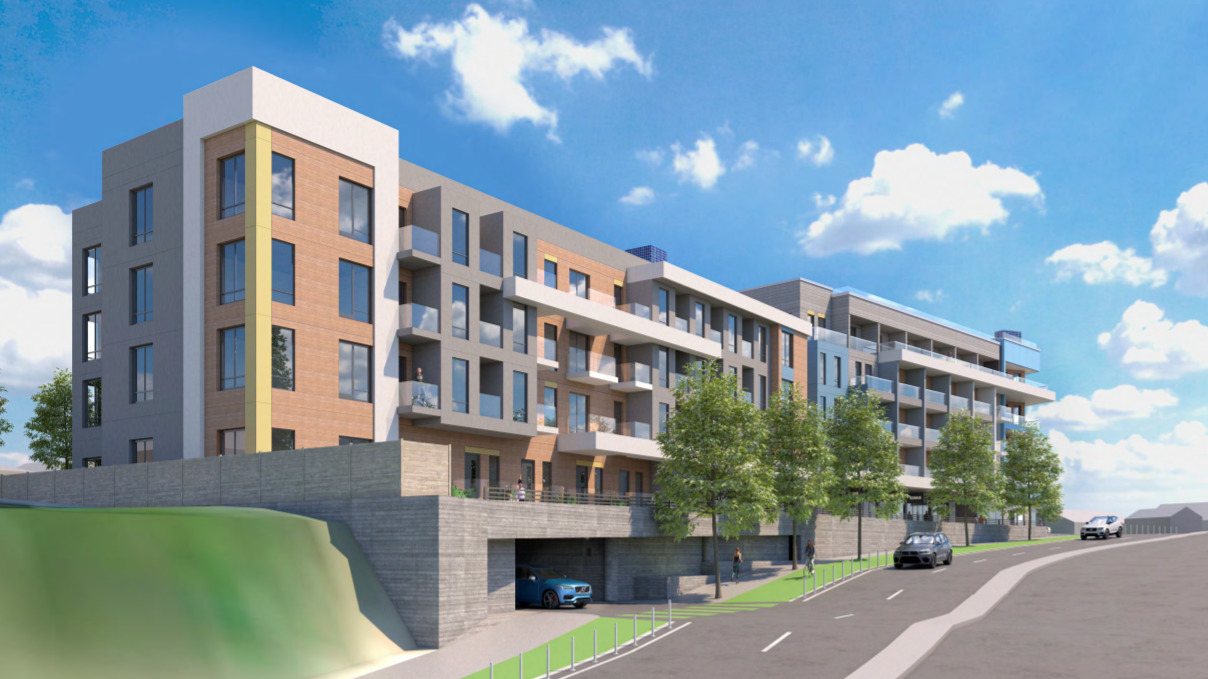 Plans for an apartment complex at 831 Water St. in Santa Cruz call for two buildings at four and five stories. (Rendering: Novin Development, Lowney Architecture)
SANTA CRUZ >> The Santa Cruz City Council on Tuesday delayed a decision on a controversial apartment complex proposed at 831 Water St. due to new details submitted by the developer last week. The council also approved an architect for a planned downtown library and discussed possible safe sleeping sites for homeless people.
Jump to a brief report:
831 Water St. decision expected Oct. 12
The two-building, four- and five-story complex would replace a one-story strip mall at Branciforte Avenue and Water Street. The project includes 145 units, 71 of which would be affordable at rents based on area median income. Many neighbors are critical of the project's size. Others support the project's affordable units.
Last week, city staff recommended that the council deny the project in part because it did not meet the city's objective design standards and the application had missing parts. 

Thursday, the developer Novin Development

submitted a 109-page update

that included details requested by city staff, such as new "density bonus" calculations. State density bonus law allows a development to be taller than normally allowed, and bypass other city rules, if the project contains a number of affordable housing units. The developer's previous calculations did not comply with city rules, city staff said.
The council voted 5-2 to delay a public hearing on the project to Oct. 12 to give city staff time to evaluate the new details. 
Councilmembers Martine Watkins, Shebreh Kalantari-Johnson, Renee Golder, Mayor Donna Meyers and Vice Mayor Sonja Brunner were in favor. Councilmembers Sandy Brown and Justin Cummings were against. Cummings wanted to deny the project.

Brown and Cummings wanted to delay the hearing but also indicate an intent to deny the project.

The council did not take public comment on the project Tuesday.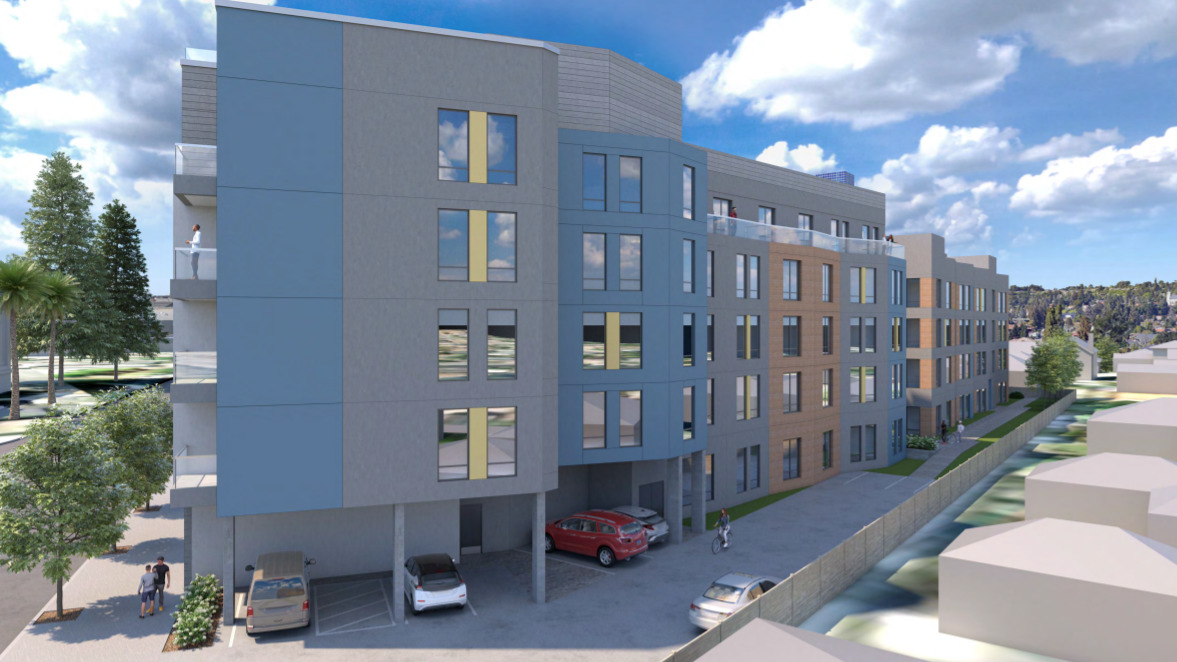 The 831 Water St. proposed apartment complex would replace a one-story strip mall where DJ's Mini Mart and other businesses now stand. (Rendering: Novin Development, Lowney Architecture)
A staff analysis of the previous plans showed more than 100 instances in which the project did not meet the city's objective standards. In an interview Thursday, Santa Cruz Principal Planner Samantha Haschert said that city staff had not fully evaluated the new plans and details submitted Thursday. Haschert said it was likely that the developer could meet most of those city standards.
One standard that may be more difficult, Haschert said, was a requirement related to street widths. City staff want the project to include a right-turn lane from Branciforte Avenue onto Water Street which would change the site design.
"I didn't see that in this revised (plan) set yet," Haschert said. The developer "could also come back and say they don't agree that some of these are objective standards."
New downtown library update
Separately, the council on Tuesday approved a $2.2 million contract to hire San Francisco-based Jayson Architecture as the master architect for the new downtown library planned at Cedar and Cathcart streets.
The council voted 6-1 with Councilmember Sandy Brown against. Brown said she supported Jayson Architecture but sided with residents opposed to the size and location of the project.
In June 2020, the council approved the concept of a one-story library with affordable housing above and a maximum 400-space parking garage adjacent. About 50 to 107 affordable units are planned for people who earn less than 50% of area median income.
The cost of the architect mostly would be covered by the Measure S parcel tax approved by Santa Cruz County voters in 2016. City funds also would be used to cover some architecture costs related to areas near the garage and housing, city staff said.
Jayson Architecture previously designed the Measure S-funded remodels of the Garfield and Branciforte libraries in Santa Cruz and the Live Oak, La Selva Beach and Boulder Creek libraries. 
Several downtown library meetings are ahead:
Six focus groups and three community workshops are planned in October, November and December to get residents' input on broad site concepts, library elements, and the look and feel. These meetings will be posted on

the city's website

.

A city council public hearing in December will discuss a proposed site design.

Two community workshops on the schematic design are planned in 2022. Design and permitting are expected to be completed by December 2022. 

Construction is expected to start in early 2023 and last two years. It is expected to open  in mid-2025.
In early 2023, city leaders expect to begin work on a new vision for the city's current downtown library site at 224 Church St. In June, consultants recommended a ground-floor community or commercial space with affordable housing above and a plaza that could be used for a farmers market. The council has not yet voted on the issue.
Armory could be used for safe sleeping site
City leaders are considering the National Guard Armory in DeLaveaga Park as a possible overnight sleeping site for homeless people. A new city law requires city leaders to open a safe sleeping site for at least 150 people and a storage center before limits on camping can be enforced.
The armory has been used on and off for years as a winter shelter. During the pandemic, the site has been used as a homeless shelter. The site, along with most other COVID-related homeless shelters in the county, is expected to close next month as state funds expire.
Tuesday, Deputy City Manager and Planning Director Lee Butler said that city staff could open a shelter at the armory in December and are trying to avoid displacement of shelter residents.
Butler said at least one other site is being considered as a safe sleeping site. The council is expected to discuss that site in October.

A yard at 1220 River St. also could be used as a managed camp, storage or a combination, Butler said. The site was previously used for a managed camp until a city water construction project forced leaders to close the site. Construction is finished.

Butler also said city staff are planning to create storage centers near shuttle sites for the armory.
The council did not take action related to safe sleeping or storage sites Tuesday.
Transition to district elections
City leaders will host a public hearing on the transition to district elections at 10 a.m. Saturday on Zoom. Spanish translation will be available. Join the meeting online.
Santa Cruz and many other cities have at-large elections, where residents from anywhere in the city can vote for any candidate. With district elections, the city is divided into geographical districts and voters in each district choose a council member that lives in their district.
The proposed change was spurred by the threat of lawsuit from a Santa Barbara-based law firm that alleged that Santa Cruz violated the California Voting Rights Act by not adequately representing Latinos in the city.
Related stories:
Become a member of Santa Cruz Local, an independent, community-supported newsroom that's owned and led by local journalists. Our stories are free and always will be, but we rely on your support.
Already a member? Support Santa Cruz Local with a one-time gift.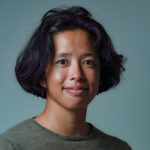 Kara Meyberg Guzman is the CEO and co-founder of Santa Cruz Local. ​Prior to Santa Cruz Local, she served as the Santa Cruz Sentinel's managing editor. She has a biology degree from Stanford University and lives in Santa Cruz.