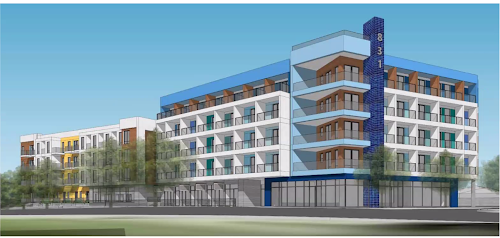 A revised plan for 831 Water St., Santa Cruz includes 145 homes and shortens one building from five stories to four stories. (Rendering: Novin Development and Lowney Architecture)
SANTA CRUZ >> The Santa Cruz City Council this week aimed to be transparent with residents as it deals with a new state law that speeds approval of some affordable-housing projects.
A council study session on Tuesday, Sept. 7 hashed out procedures for the approval of developments eligible for Senate Bill 35. 

Senate Bill 35 essentially restricts local governments' abilities to block housing projects with units set aside for

income-based affordable housing

. 

Additional state laws grant some projects a "density bonus." It allows a development to be larger than normally allowed, and bypass other city regulations, if the project contains a number of affordable housing units.

Although Tuesday's meeting did not specifically discuss the proposed

831 Water St.

development, the project loomed large in public concerns and council deliberations. The 145-unit project, half of which will be rented at below-market rates, has generated

pushback from many residents near the project.

A hearing on 831 Water St. is expected at a Santa Cruz City Council meeting Tuesday, Sept. 14. 
Council tries to add transparency
The council adopted two motions Tuesday that outlined the process of housing projects that use SB 35 and density bonus applications. 
The council will determine if a project meets objective standards during a public oversight meeting. That meeting will take place within 60 days of receiving an application for a project with 150 or fewer units, and within 90 days for larger projects. The motion passed with a 7-0 vote.

Projects eligible for SB 35 must also meet

the city's requirement

that 20% of units in a new development of more than five units be affordable. 
Currently, SB 35 projects within Santa Cruz must provide at least 50% affordable housing because the city has not met its housing targets set by the state. The city is not far behind, but the state's requirements for the number of homes built in Santa Cruz and Monterey counties will more than triple from 2023 to 2031. Regional authorities are determining how much housing the city will need to add over the next ten years. 
If Santa Cruz falls further behind its housing goals, projects with at least 10% of affordable housing will become eligible for SB 35. In that case, the city's 20% requirement will override the state rule, Santa Cruz City Attorney Tony Condotti said in an interview.
Mayor Donna Meyers was the sole vote against the motion. She said the 20% requirement creates an incentive for very large projects. The motion passed with a 6-1 vote.
Objective design standards
Because of the state's housing shortage, housing proposals that meet requirements for SB 35 get fast-tracked approval without going through city council approval or full environmental review. 
Most cities let city staff grant ministerial approval without city council involvement, said Barbara Kautz of Goldfarb Lipman Attorneys. Santa Cruz city leaders hired Kautz to consult on the SB 35 process. While the city council can legally review SB 35 and density bonus applications, council members are severely limited in their ability to alter or deny the projects, Kautz said. 
In previous meetings, residents have requested more oversight from the public and city council for the 831 Water St. project. However, state law "trumps the local requirements for a public hearing," said Santa Cruz Planning Director Lee Butler.
A project may only be denied if it doesn't meet the city's objective standards. Many of the city's regulations, including most design standards, currently qualify as non-objective standards. 
For example, a regulation that requires new construction to "reflect the look and feel of the community" would not be an objective standard, said Santa Cruz Principal Planner Samantha Haschert.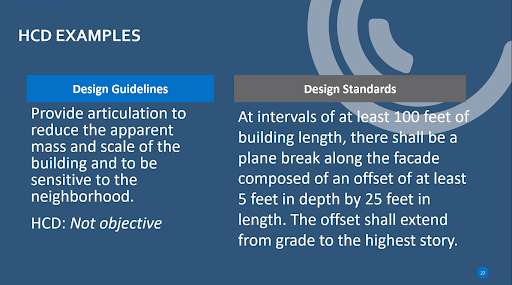 Santa Cruz city staff and consultants said only "objective standards" may be used to judge whether developments subject to Senate Bill 35 comply with city law. Many design guidelines now used by the city are not considered objective. (City of Santa Cruz)
Haschert said her team has combed through all regulations and laws from all city departments to create a centralized list of standards. "We went through every single standard to see whether it was objective or not objective," she said.
In the case of subjective design standards, Haschert said staff are working to rewrite regulations to become more specific and objective. Updated versions of those standards will be available for public review sometime in winter.
YIMBYs, developer urge compliance with state law
Although many commenters at previous meetings related to the 831 Water St. have urged city council members to exert more oversight in SB 35 proceedings, Tuesday's meeting was dominated by commenters aligned with the city's YIMBY movement to promote housing construction. YIMBY stands for yes in my backyard.
Santa Cruz resident Kristina Covall urged the council to let staff — rather than council members — determine whether projects are eligible for expedited approval. "Any decisions you make have political consequences for yourself or your supporters, and should not be a factor in a ministerial process," Covall wrote in a letter to the council.
Anne Paulson, a member of Los Altos Affordable Housing Alliance, also described a lawsuit faced by her city after the city council blocked the development of a project eligible for SB 35. "They lost, and it cost residents of Los Altos literally millions of dollars — money that could have been used for much better purposes than repairing city council blunders." said Paulson. "Don't follow our example. Hire good people and let them do their jobs."
An attorney for the applicant in the 831 Water St. project said that density bonus requests should not be subject to council discretion.
"We object to the city's apparent attempt to circumvent the clear intent of SB 35 to approve qualifying projects through a streamlined ministerial approval process by shoehorning density bonus requests into a public oversight process," wrote attorney Amara Rosen, in a letter to the council. 
During Tuesday's meeting, Rosen said the law prohibits a change in procedure after an SB 35 and density bonus application has already been submitted. 
Council member stress need for transparency
Many council members stressed the balance between the need to comply with state law and the desire to include constituents in the process of project approval. 
Councilmember Justin Cummings said, "Our role as we've heard tonight from members of the public is to represent the electorate, and to weigh in, especially in developments which may impact residents in the community."
Councilmember Shebreh Kalantari-Johnson said though she "personally went back and forth" about whether to let staff or the council handle ministerial review. She ultimately agreed with Cummings. "This is the first time our community and so many other communities are looking at SB 35. Looking at approving this proposal, it seems to be really important for us to be involved and engaged," she said.
While city staff said the approval of SB 35 projects is designed to be apolitical, Councilmember Sandy Brown said land use is inherently politicized. "State law is driven by politics, just as much as local rules and local decision making," said Brown. "[SB 35 and similar laws] are not about low income housing. These are driven by developers who are interested in making money." 
Council will discuss Water Street proposal
On Sept. 14, the council will conduct a public oversight meeting to determine whether the 831 Water St. project is compliant with the city's objective standards. 
Before the meeting, staff will provide the public all existing review standards that apply to the proposed project and identify which of these standards staff considers to be objective. Staff will also provide any financial documentation supporting the application for a density bonus.
Become a member of Santa Cruz Local, an independent, community-supported newsroom that's owned and led by local journalists. Our stories are free and always will be, but we rely on your support.
Already a member? Support Santa Cruz Local with a one-time gift.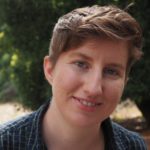 Jesse Kathan is an environmental journalist and a graduate of UC Santa Cruz's science communications program. Kathan has contributed to the Mercury News, Monterey County Weekly and KSQD-FM.