Santa Cruz Local offers its news stories free as a public service.
We depend on people like you — we call them our Santa Cruz Local members — to chip in $9 a month or $99 a year to make sure vital information can be available to all. Can we count on your help?
SANTA CRUZ >> The Santa Cruz City Council early Wednesday adopted a new law that aims to prevent large homeless camps by limiting where and when people can camp and requiring most tents to be removed each morning. Enforcement of the law is not expected until May at the soonest.
The council voted 5-2 to adopt the version of the law approved Feb. 23. Councilmembers Justin Cummings and Sandy Brown voted no.
In a separate motion, approved 6-1 with Brown against, the council decided to delay the law's enforcement until changes are made. The changes will be discussed at the council's April 13 meeting, then in a second hearing likely April 27. Both hearings will have opportunities for public comment. The decision came at 12:40 a.m. Wednesday after hours of deliberation.
"It's a complete do-over," City Attorney Tony Condotti said.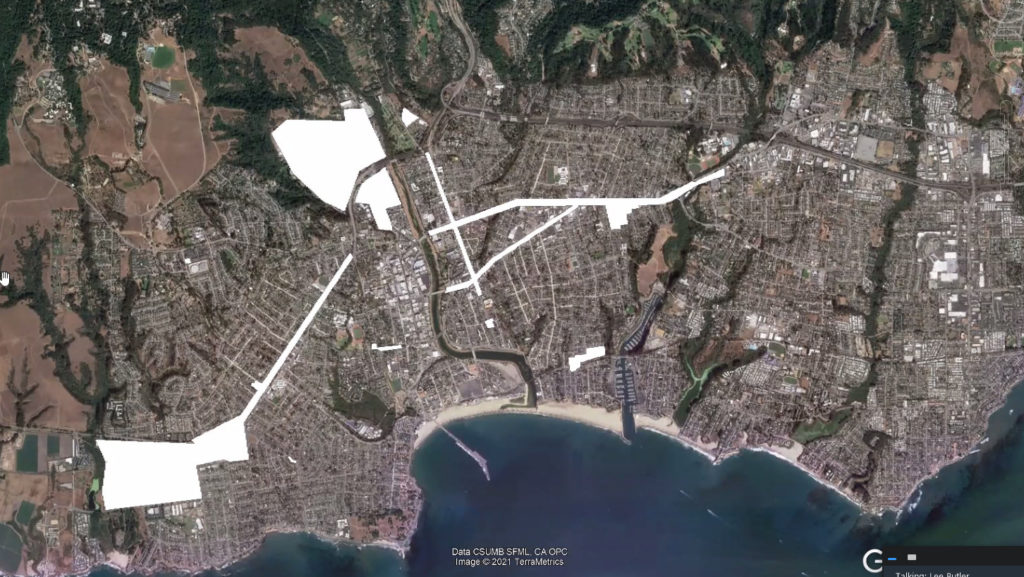 The proposed law to be discussed in April would:
Allow camping in areas zoned commercial industrial — on the far Westside, Harvey West and a small area of Seabright — and along Mission, Ocean and Water streets and Soquel Avenue. Camping would be allowed an hour before sunset to an hour after sunrise but no later than 8 a.m.
Designate illegal places to camp, including:

Four open spaces in the city: Arana Gulch, Delaveaga Park, Moore Creek and Pogonip
Residential zoned areas. The Beach Flats and Beach Hill neighborhoods were included in the most recent proposal.
Swanton Boulevard
Public property in a residential area next to a state park, such as Pelton Avenue
Parks, city-owned beaches, downtown, the river side of the San Lorenzo Riverwalk, Neary Lagoon, Jessie Street Marsh, Arroyo Seco Canyon, areas prone to fire or flood and areas that block access to emergency responders.

Create a managed homeless camp at 1220 River St. A previous managed camp at that location was relocated in March 2020 for water pipeline repairs.
Create a daytime storage program and a safe sleeping program. The city manager would be authorized to establish those programs anywhere in the city.
Violators would receive a warning followed by infraction tickets and $20 fines. Misdemeanor arrest would be "used only as a last resort" and only when violations are "exacerbated by other illegal behaviors" or if the person refuses to move or interferes with a camp closure, according to the motion.
Create a restorative justice program such as a homelessness court for people who get cited or arrested.
The law would not be enforced until the county is in the state's least restrictive yellow tier for economic reopening or Centers for Disease Control and Prevention guidelines on homeless camps change. Those guidelines state that dismantling camps during the pandemic could spread the virus. A daytime storage program and a safe sleeping program also must be operational for the law to be enforced. The county entered the state's red tier Wednesday.
Develop a semi-annual audit of the proposed law "to ensure public transparency of enforcement," according to the motion.
Families with children would not be subject to arrest or citation. The proposed law would require city staff to work with county and state staff to "attempt to find families temporary shelter or housing unless and until" homeless people in the city have reasonable access to a free COVID vaccine.
As proposed, the city also would not enforce limits on camping in San Lorenzo Park or the Benchlands area until an injunction is lifted in a pending lawsuit.
A joint status report on the lawsuit is due Friday, March 12 and a court hearing is set for March 17, according to court records.
Residents' views
In Tuesday's online meeting, more than 70 people spoke during public comment limited to one minute per person. The council received more than 1,000 emails about the proposal in recent weeks.
Sabrina Lopez was one of more than 50 people strongly opposed to the proposal.
"The ordinance is inhumane, as criminalizing poverty is an unintelligent solution to getting people housed," said Lopez. "At the end of the day it's clear that the motivation behind this ordinance is to simply get these people out of your backyard."
Lopez said she wanted to see "more innovative problem solving."
"Your staff repeatedly acknowledge that this is not a long-term solution. So why would any of you vote yes? Mind boggling. But the fact of the matter is, we know that you are going to vote yes, because that's what the city does. It aims for short-term solutions, prioritizing aesthetics and tourist income over human needs," Lopez said.
Rachel Chavez, a Lower Ocean resident and nurse, said the law "lacks humanity" and logic and city staff time would have been better spent writing grants for homeless services.
Rafa Sonnenfeld, who served on the city's Community Advisory Committee on Homelessness, said the law was "counterproductive" and exposed the city to potential lawsuits.
Several other residents opposed parts of the original proposal that allowed camping in open spaces such as Arana Gulch. Their reasons included fire risk and environmental protection. Councilmembers agreed to outlaw camping in open spaces in the proposal that will be heard in April.
Beth Prentiss, who lives along the San Lorenzo River levee, was one of several residents who supported the law and its ban on camping in residential areas.
"I have an encampment basically right by my house and I'm calling in support of the ordinance just so that I can start feeling safe again," Prentiss said. "All day long there's shouting, really obvious drug use and drug sales."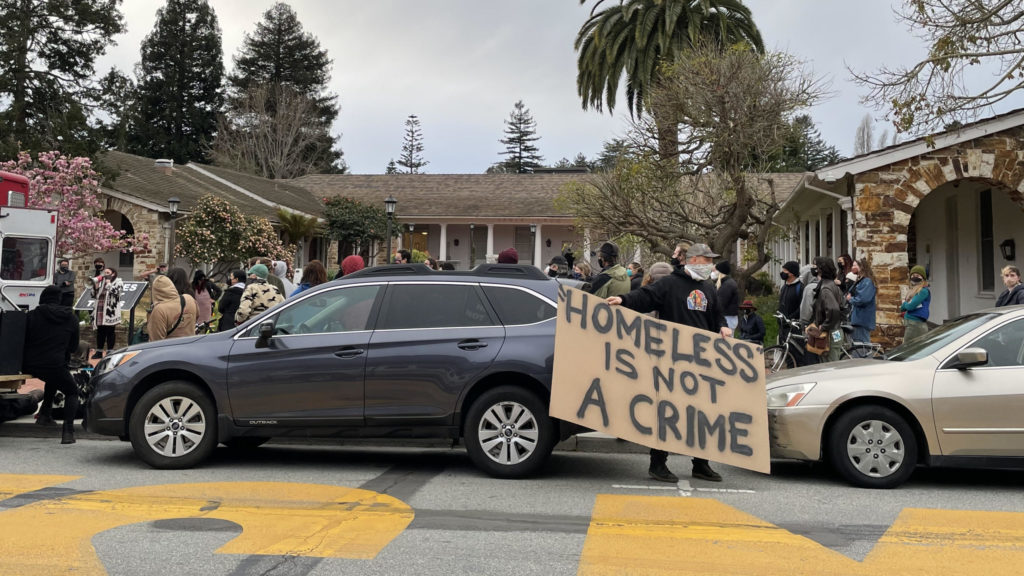 Legal risk
In response to questions from Councilmember Cummings, City Attorney Condotti acknowledged that the law does come with the risk of lawsuits.
"The litigation risk-free option is not on the table tonight, including maintaining the status quo," Condotti said. "And we're already in litigation on this topic. And I think there are a number of ways to look at this, but whatever ordinance the council ultimately ends up approving, I think that there's a reasonable likelihood that we'll be defending it in court. And I'm not suggesting that that's a reason not to do it. It's just the reality."
Councilmember Renee Golder made the main motion with many changes that were ultimately approved by the council Wednesday.
"When someone's homeless, if they're a grown adult, I don't see why they can't follow rules," Golder said. "Like how we're expected to stop at stop signs and things like that. I don't think the rules that we're trying to throw out there are that harsh. I'm also curious if some of the callers even read the ordinance or if they just kind of found a call to action from Instagram or a flyer. But I just think that the intention of this council is to address complex needs of the homeless individuals and make our city safe and clean for everyone."
Golder added, "I'm so sick of the narrative that just because someone is homeless that they're the most vulnerable person in our community. You'll never convince me of that. The most vulnerable people in our community are our children. And whether they're housed or not, we have to do everything with that in mind."
Mayor Meyers said the city's homeless problem was a "societal failure" and she felt strongly that the council needed to get something on the books Tuesday night to be amended in April.
"I think we're all trying to push something forward," Meyers said. "We're trying to make the inertia stop and make something happen.
Related stories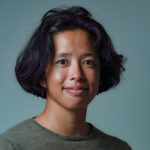 Kara Meyberg Guzman is the CEO and co-founder of Santa Cruz Local. ​Prior to Santa Cruz Local, she served as the Santa Cruz Sentinel's managing editor. She has a biology degree from Stanford University and lives in Santa Cruz.