Santa Cruz Local offers its news stories free as a public service.
We depend on people like you — we call them our Santa Cruz Local members — to chip in $9 a month or $99 a year to make sure vital information can be available to all. Can we count on your help?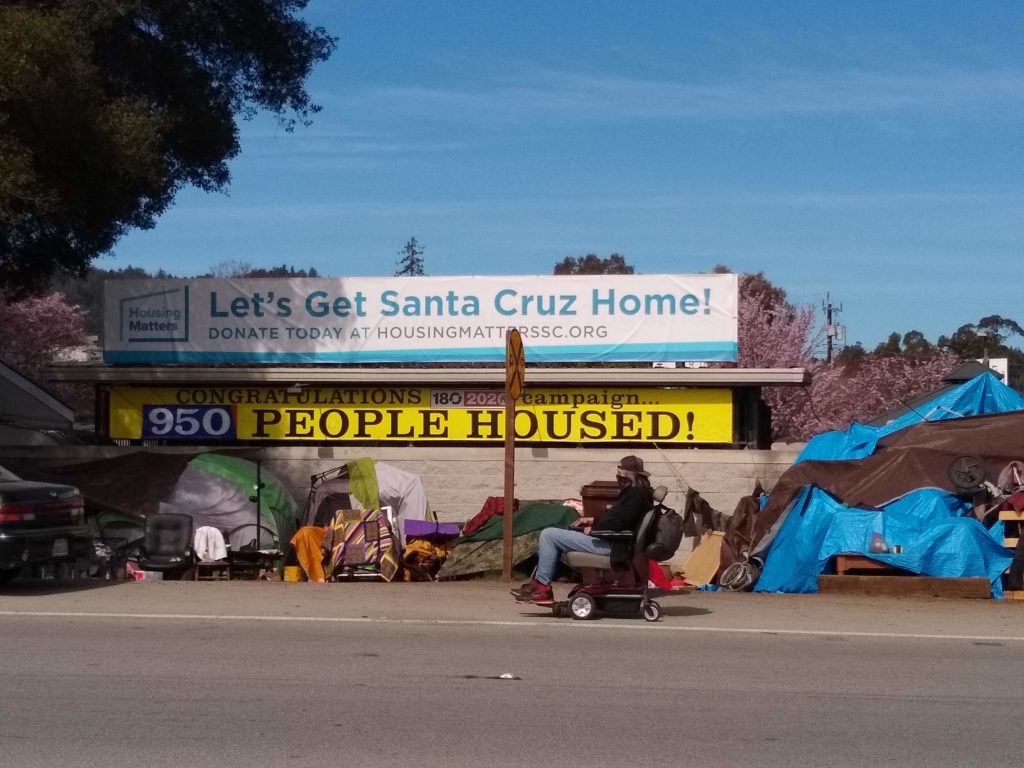 Editor's note: This story was corrected to reflect a 7 a.m. end to legal camping and a public comment time of roughly 90 minutes. A "safe sleeping" program is expected to be overnight only.
SANTA CRUZ >> The Santa Cruz City Council early Wednesday advanced a new law that spells out where and when homeless people can camp in the city, as well as many other rules that aim to deter large camps by requiring that people break down tents each morning.
The decision came at 1:11 a.m. Wednesday, after more than six hours of council deliberation and public comment that was limited to roughly 90 minutes.
The proposal was an update to the city's camping law that was floated in 2019 but the city council did not enact. Mayor Donna Meyers and Councilmembers Martine Watkins and Renee Golder co-sponsored the proposed law. Santa Cruz Police Chief Andy Mills, Parks and Recreations Director Tony Elliot and Planning, Community Development and Homelessness Response Director Lee Butler presented the plan Tuesday.
The proposed law would:
Designate legal and illegal places to camp in the city of Santa Cruz from an hour before sunset to 7 a.m. Areas illegal for camping include public property in residential-zoned areas, parks, city-owned beaches, downtown, the river side of the San Lorenzo Riverwalk, Neary Lagoon, Jessie Street Marsh, Arroyo Seco Canyon, areas prone to fire or flood and areas that block access to emergency responders.
Allow camping in four open spaces — Moore Creek, Pogonip, Arana Gulch and DeLaveaga Park. Tents must be at least 75 feet from trails.
Allow camps of up to 12 feet by 12 feet. Open fires are not allowed, nor is litter, according to the draft law.
Increase "safe sleeping areas" in parking lots of designated businesses and houses of worship such as churches.
Violators would receive a warning followed by infraction tickets and $20 fines. Two tickets in one month could prompt a misdemeanor arrest. Mills said Tuesday that police are ready to enforce the proposal, and would be paid overtime to patrol areas.
The rules wouldn't start until a safe storage program for the homeless started and until homeless people in the city "have reasonably available access to a free COVID-19 vaccine," according to the draft law. The Centers for Disease Control and Prevention has said that dismantling camps during the pandemic could spread the virus.
The rules also don't apply during rain, sleet, snow or when the National Weather Service predicts a high of 50 degrees or colder.
The rules would not apply to families with children, people with mental or physical disabilities, or caregivers of people with disabilities. A disability "prevents that person from being able to, on a daily basis, construct, de-construct, and put away an outdoor living encampment," according to the draft law.
In a motion by Councilmember Shebreh Kalantari-Johnson, supported by Vice Mayor Sonja Brunner, the council also directed city staff to:
Launch an overnight-only "safe sleeping program" within 60 days of the law's passage or by June 30.
Report on progress toward the construction of a homeless navigation center, in partnership with the County of Santa Cruz.
Create pamphlets that state the law in English and Spanish.
The council advanced the law in a 5-2 vote, with Meyers, Watkins, Golder, Brunner and Kalantari-Johnson in favor. Councilmembers Sandy Brown and Justin Cummings voted against. The council is scheduled to consider the proposed law again at its March 9 meeting.
Cummings said he worried about potential lawsuits, given that the city was recently sued for its attempt to clear a camp in San Lorenzo Park. He said he supports the proposal's intent, but the process was not transparent and did not have enough community input.
Brown said the council should focus on paths out of homelessness rather than restrictions.
"It doesn't feel ethical and it doesn't feel efficacious, even if it seems to satisfy some with the optics," Brown said. Brown did not participate in the two hours of council deliberation that followed to refine the proposal's language. "I can't do it," Brown said.
Kalantari-Johnson said she and Brunner tried to incorporate the work of the Community Advisory Committee on Homelessness and the prior city Homelessness Coordinating Committee in their motion.
In response to Cummings, Kalantari-Johnson said, "I hear your comments that this seems to be sprung on us, but we've been having this dialogue a long time. It's an imperfect solution."
Kalantari-Johnson added, "I don't think anyone's going to walk away extremely happy tonight."
Residents weigh in
Forty-four people spoke during public comment, which Meyers limited to 90 seconds each and about 90 minutes total. More than 20 people in line to speak at the online meeting were not given the chance. The council also received more than 1,000 pages of emailed comments in the days before the meeting.
Josh Pederson, president of the Ghostryders Watermen Club, an ocean sports nonprofit, was one of about 11 people who spoke in favor of the proposal Tuesday. He referred to tons of trash found along the San Lorenzo River.
"By letting these homeless camps persist, the city is complicit in that massive level of pollution," Pederson said. Others who spoke in favor cited reasons including not feeling safe in parks, risk of fires in homeless camps, crime and noise related to camps.
Speakers who opposed the proposal called for the council to prioritize affordable housing and homeless services instead. Resident Kelsey Hill said that dispersal of the homeless pushes them to the margins and makes it harder to recover. Joy Schendledecker called for the council to invest in sanitation facilities such as toilets, laundry and handwashing stations. One caller pointed out that homeless people were unlikely to participate in Tuesday's meeting since it was online.
"This ordinance is just one tool that the city is using to help address some of the issues that arise from unsheltered individuals, particularly when large groups of unsheltered become entrenched in an area for extended periods," said Butler, the homelessness response director, in an email to Santa Cruz Local.
"Homelessness is not illegal in the city of Santa Cruz," city leaders wrote in a frequently asked questions document on the original version of the law. "As with any law — all residents of Santa Cruz must adhere to a set of community standards, and the ordinance more clearly defines those standards."
There are about 2,000 homeless in Santa Cruz County, according to a point-in-time count in 2019. Of about 400 people surveyed that year, nearly 1 in 4 came out of the foster care system, according to the survey. Nearly 1 in 3 unhoused people here have a job, the survey found. About 7 in 10 said their last address was in Santa Cruz County before they became homeless.
Some critics of the city proposal have said that tickets have not changed behaviors, but instead have created more barriers to housing.
Many of the homeless already have years of court fines for violations like trespassing, smoking in a park or having a dog in a park, said Serg Kagno, who served on the city's Community Advisory Committee on Homelessness. Thousands of dollars in fines then go to collections and can show up on landlords' background checks.
"What the city doesn't want to accept is that the way they deal with homeless people makes it harder to house them," Kagno said in an interview Monday. "Just because the city doesn't have a camping ordinance doesn't mean they're not hassling homeless people now. The tickets make people not want to deal with the system. It's harder for people to accept services when police are harassing them all the time."
Kagno acknowledged that there is a "criminal element," among some of the homeless. He said he doesn't want to see trash, human feces or syringes around town either. Tuesday, during public comment, he urged the council to account for proximity to public restrooms in their decision on legal places to camp.
It's not clear how the city's enforcement proposal fits in with Santa Cruz County's recent far-reaching plans to reduce homelessness.
County homeless plans
Santa Cruz County's Three-Year Strategic Framework to Address Homelessness has taken strides in the past year with goals that include:
Develop or purchase housing for the homeless
Expand and improve the effectiveness of "rapid rehousing" rental assistance programs
Develop relationships with landlords and property managers to help house the homeless
Improve "coordinated entry" to track data on the homeless
Focus Strategies, a consultant that specializes in homeless issues, is set to present final recommendations to the county this spring.
County staff received notice of the city's camping enforcement proposal before this Tuesday but "did not provide any specific feedback," said Robert Ratner, director of the county's Housing for Health Division.
"Enforcement policy and operating procedures are local city decisions within incorporated areas and county decisions in unincorporated parts of the county," Ratner wrote in an email to Santa Cruz Local on Tuesday. "Policies and procedures that help individuals experiencing homelessness get connected to appropriate services, supports, and housing resources must be balanced against health and safety issues where enforcement activities may be required."
Ratner also said homelessness "primarily reflects a widening gap between the costs of housing and the incomes of people living in a community. It's important that we work together to address this core contributor to homelessness while we also address the health and safety issues that arise with so many unhoused neighbors."
In other news
Tuesday, the city council also unanimously approved a new strategy and rules to deal with water shortages during droughts.
The city's Water Shortage Contingency Plan was last updated in 2009, when water demand was greater and conservation rules had a larger impact. State guidelines for these plans also have changed. The new interim plan includes:
"Considerably lower" amounts of water that customers are allowed to use during shortages
A new tool for customers to access their water use details
"Water conservation alone will only aid the city to a certain degree," according to the plan. New water supplies "such as aquifer storage and recovery, water transfers, advanced treated recycled water and others have the potential to alleviate the supply gap, reduce the frequency and severity of shortage experienced, and limit the need to implement this plan," the authors wrote.
On its consent agenda, the council also unanimously approved a proposal to return the California Avenue and Bay Street intersection to a three-way stop.
In December, city workers moved a three-way stop on Bay Street from California Avenue to California Street to align with the new rail trail. City staff will add permanent stop signs back at the original location — and keep the California Street stop signs.
The project costs $2,000. The council also approved a study of replacing the two three-way stop intersections with roundabouts or a traffic signal system.
Additional reporting by Stephen Baxter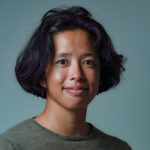 Kara Meyberg Guzman is the CEO and co-founder of Santa Cruz Local. ​Prior to Santa Cruz Local, she served as the Santa Cruz Sentinel's managing editor. She has a biology degree from Stanford University and lives in Santa Cruz.