Last updated: 5 p.m. July 9, 2021
Project name: 831 Water
Location: At the intersection of Water Street and Branciforte Ave, the parking lot where DJ's Mini Mart now stands. 

The proposal at 831 Water St. would replace a strip mall with two buildings.

Status:

The Santa Cruz planning department received an application from the developer July 1, 2021. The project has not been considered by the Santa Cruz City Council.

Developer: Walnut Creek-based developer Novin Development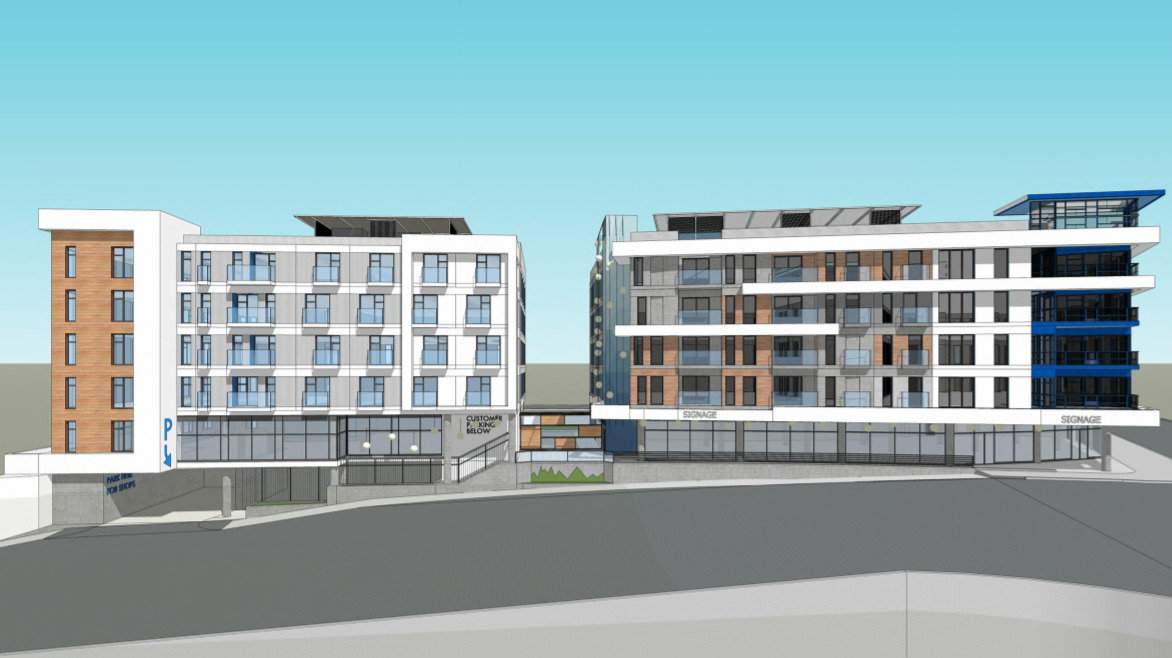 An artist's rendering of a proposed apartment complex shows two buildings at 831 Water St. in Santa Cruz. (Novin Development)
Project description
Total units:

This proposal calls for a "workforce housing" building and a second "affordable housing" building. Each building would be five stories. The project in total would include 149 rental units: 72 market-rate units and 77 deed-restricted affordable units.

"Workforce Housing:"

The "workforce housing" building would include 72 units, according to a

plan submitted July 1, 2021

to the city planning department.

28 studios at 391 square feet

44 one-bedrooms at 584-687 square feet

Prices based on 80% to 120% of area median income

Affordable housing: The "affordable housing" building would include 77 units.

68 studios at 334 square feet

8 one-bedrooms at 610 square feet

1 two-bedroom manager's unit at 1,058 square feet

Prices based on 30% to 80% of area median income

Proponents and Opponents: Some r

esidents expressed concern about the project's proposed density, height, lack of parking, increased traffic and shade on Belvedere Terrace homes behind the site, in a January 2021 online meeting hosted by the developer

Santa Cruz City Council meeting

. City leaders have received many letters from Eastside residents who oppose this project.

"A building of this size is not compatible with our neighborhood and with the character of the existing buildings," said Monica Meyer, a resident of Magnolia Street a few blocks from the site.

Some residents who supported the project said housing is needed in Santa Cruz.

Details:

The proposal has a total 141 underground parking spaces, with 114 spaces reserved for residents. These spaces are "unbundled," meaning that residents would pay for them separately. There would be fewer parking spaces than units because the developers anticipate that some residents would not own cars.
Read more:
How to make your voice heard: submit comments and questions on the City of Santa Cruz project application page.
Read about other notable housing and construction projects in Santa Cruz County.