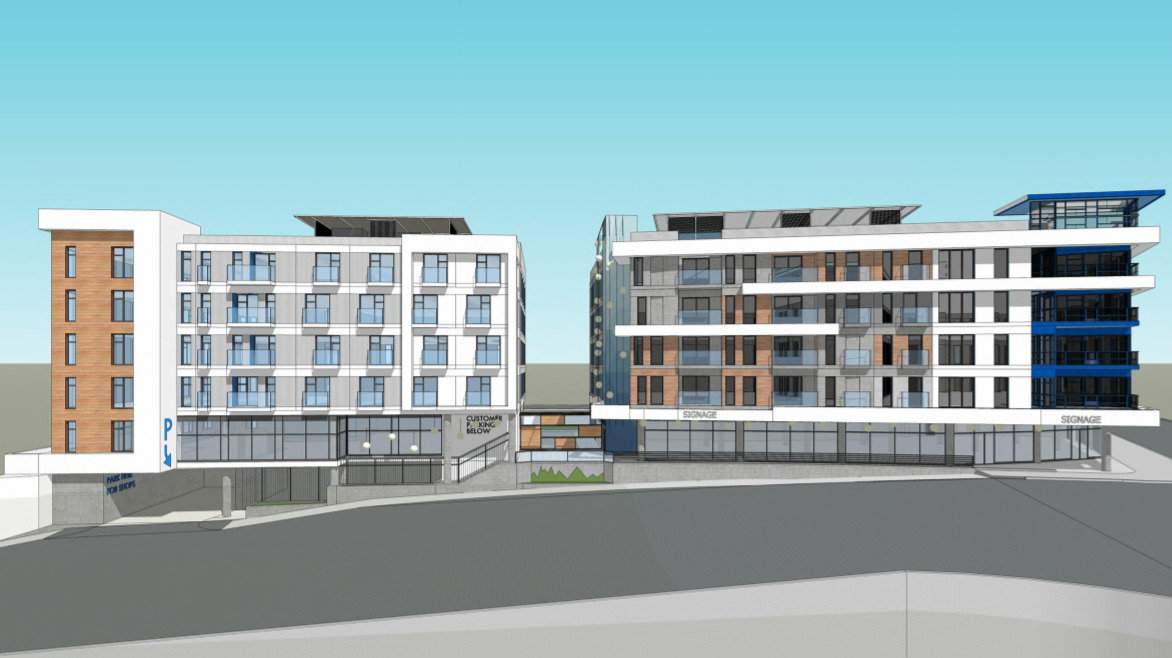 Last updated: Feb. 17, 2022
Project name: 831 Water
Location: At the intersection of Water Street and Branciforte Ave, the parking lot where DJ's Mini Mart now stands. 

The proposal at 831 Water St. would replace a strip mall with two buildings.

Status: Santa Cruz planning department received the latest revised application from the developer July 27, 2021. The project was advanced by the Santa Cruz City Council in December 2021. The developer must apply for and obtain building and demolition permits before construction can begin.
Developer: Walnut Creek-based developer Novin Development
An artist's rendering of a proposed apartment complex shows two buildings at 831 Water St. in Santa Cruz. (Novin Development)
Project description
Total units: This proposal calls two buildings, at five stories and four stories. The project in total would include 140 rental units. 55-82 of those units would be rented to people who earn 80% or less of area median income.
Proponents and Opponents: Some r

esidents expressed concern about the project's proposed density, height, lack of parking, increased traffic and shade on Belvedere Terrace homes behind the site, in a January 2021 online meeting hosted by the developer

Santa Cruz City Council meeting

. City leaders have received many letters from Eastside residents who oppose this project.

Details:  The proposal includes a garage with 141 spaces. It also includes a rooftop community garden and putting green not open to the public.
Read more:
How to make your voice heard: submit comments and questions on the City of Santa Cruz project application page.
Editor's note: This story was updated to correct the heights of the buildings and clarify the city council's action in December 2021.
Learn about membership
Santa Cruz Local's news is free. We believe that high-quality local news is crucial to democracy. We depend on locals like you to make a meaningful contribution so everyone can access our news.
Learn about membership