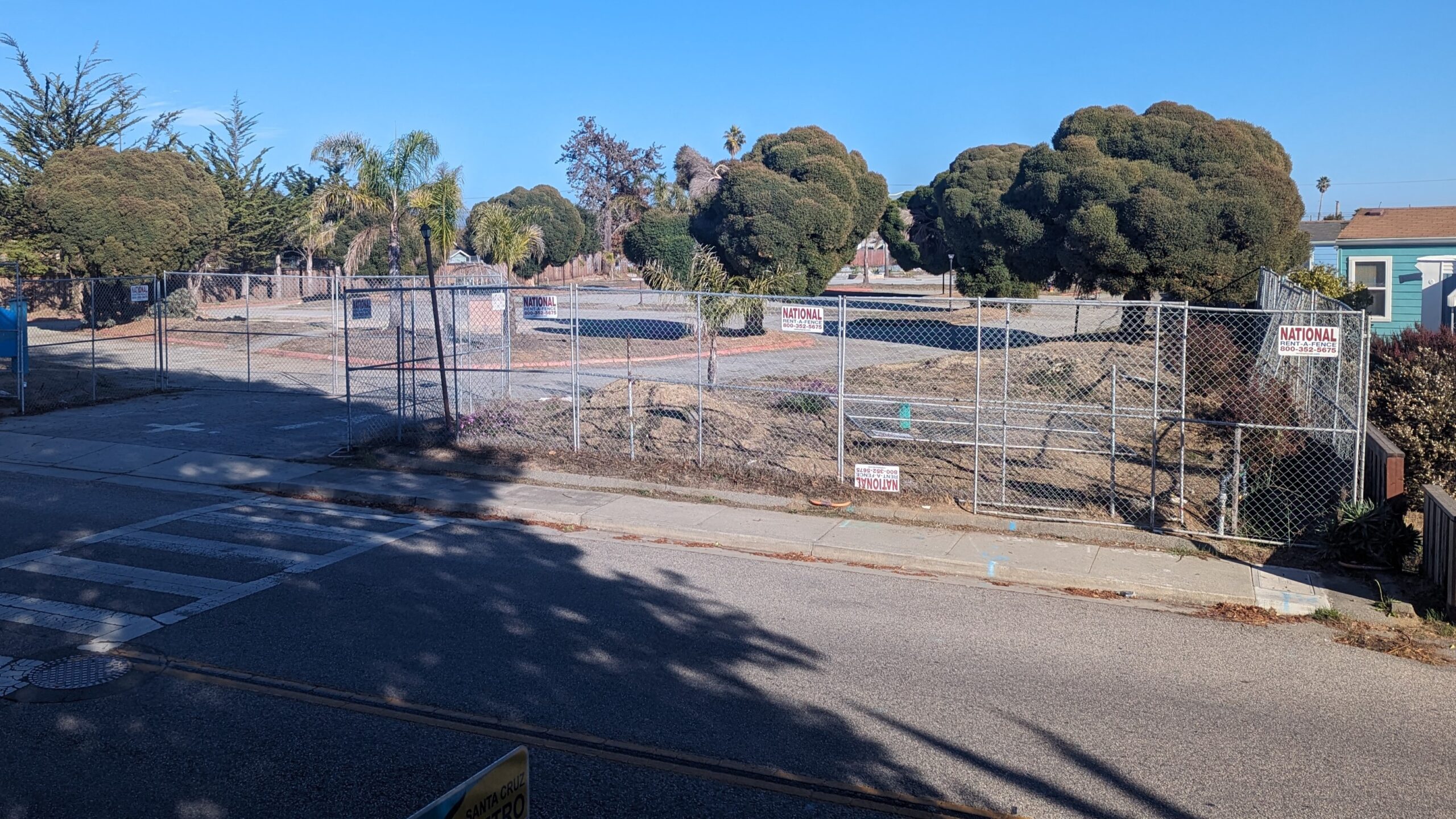 A 52-unit affordable housing project is proposed at 1098 38th Ave. in Capitola. (Tyler Maldonado — Santa Cruz Local)
CAPITOLA >> A 52-unit affordable housing proposal at 1098 38th Ave. advanced this month when the Capitola City Council approved a $250,000 loan to nonprofit developer MidPen Housing.
At a Nov. 9 city council meeting, leaders approved a loan that is expected to pay for surveys, architectural design and other predevelopment work. Some of the work has started, said MidPen spokeswoman Lyn Hikida. 
"If everything goes smoothly with design and financing, we hope to begin construction in late 2025," Hikida wrote in an email.
The loan agreement does not bind the city to approval of the project, but there is an expectation that city leaders will consider providing more construction money, according to a city staff report.
MidPen proposed the project to provide high quality affordable housing to people in need, Hikida said. The goal is to "foster diverse communities that allow people from all ethnic, social, and economic backgrounds to live in dignity, harmony, and mutual respect," Hikida wrote in an email. 
The proposal is three stories with a ground-floor community room and property management offices, Hikida said in July. 

The proposal is 100% affordable, based on

state income limits.

It's not yet clear how many units will be for each income level, said Hikida. 

The project would include 70 parking spaces, Hikida said.

The project is expected to cost $46 million, MidPen representative Joanna Carman said during a June Capitola City Council meeting.
A convalescent home on the proposed project site closed in 2016. Capitola leaders received the project application in September 2022. A wholly owned MidPen-owned affiliate, MP Rail Trail Associates LP, bought the property in March 2023.
Capitola city leaders are nearly finished with an update to the state-required Housing Element of the General Plan. City leaders must plan for 1,336 new housing units by the end of 2031. More than half of the homes must be for "low income" or "very low income" residents. The units from this project would count toward the element's housing goals.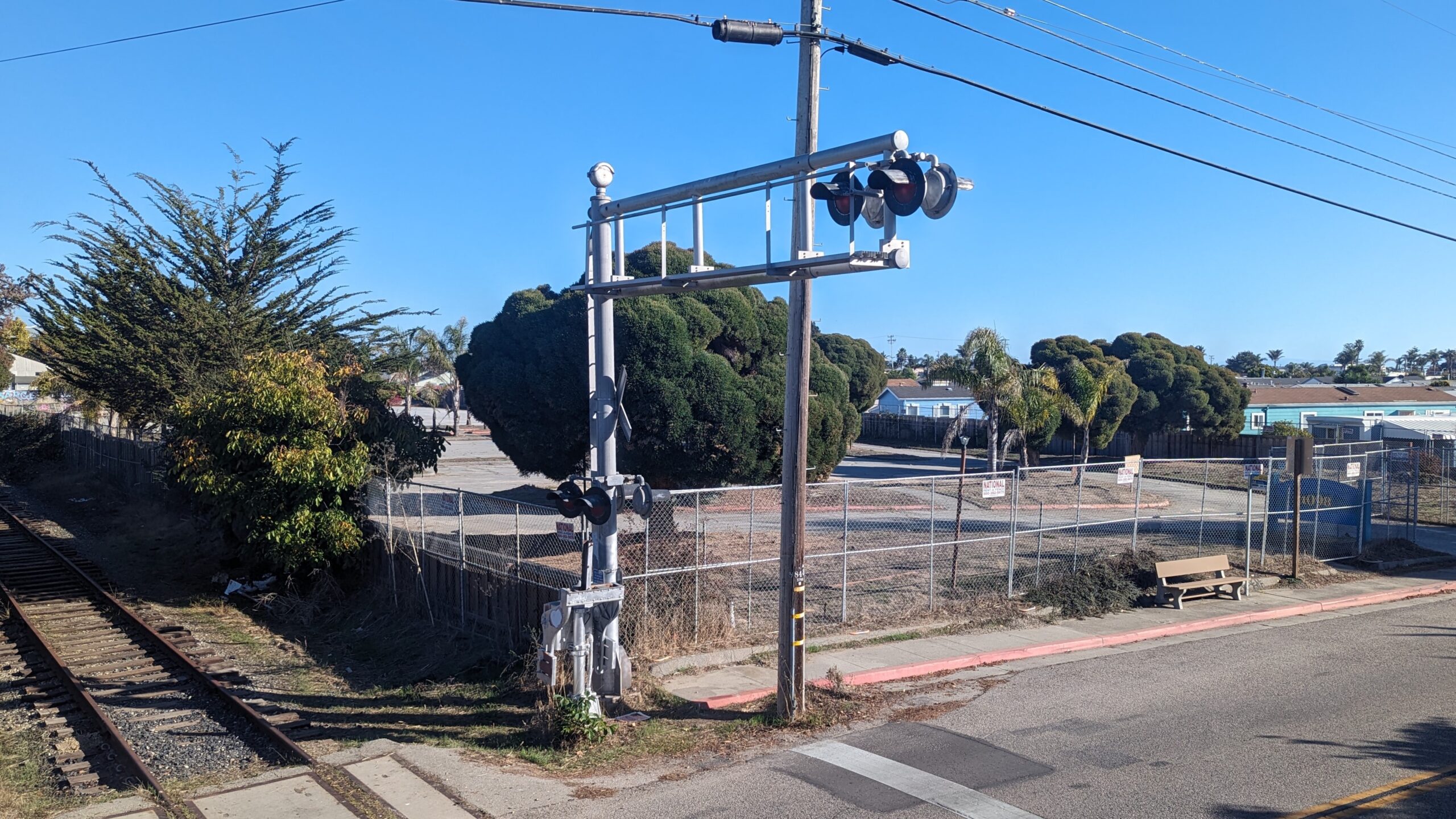 A new crosswalk with flashing lights is part of a plan for the rail trail at 38th Avenue. An affordable housing project is proposed at that corner. (Tyler Maldonado — Santa Cruz Local)
County road problems
The property is at the border of Capitola and Live Oak next to the railroad tracks. Santa Cruz County Public Works is in charge of maintenance, signs, crosswalks and sidewalks on 38th Avenue in front of the property.
Some neighbors at Shangri-La Mobile Estates at 1040 38th Ave. next to the proposed project said drivers often zip by a 25-mph-speed-limit sign. The street is also poorly lit at night, they said.
"There is no sidewalk and there is no light and the cars go by really fast," said Esther Phillips, a 72-year-old retired administrative aide, at the Nov. 9 city council meeting. 
Phillips said county leaders should add a crosswalk and lights. "We need something done here, you guys need to talk to each other, because someone's going to get killed," Phillips said to city and county leaders. 
The housing proposal happens to be next to the railroad where a separate rail trail project is planned. In the rail trail project, a new crosswalk with flashing lights across 38th Avenue is proposed in an October draft environmental impact report for Segment 10 of the rail trail. A "bulb out" to slow traffic and drainage improvements also are planned. 
Changes to 38th Avenue in the rail-trail project could begin as soon as 2026, authorities have said.
Comments on the draft environmental report for Segments 10 and 11 will be accepted until Dec. 15. 
Separately, county leaders are collecting comments on safety on county-maintained roads like 38th Avenue in a Local Road Safety Plan.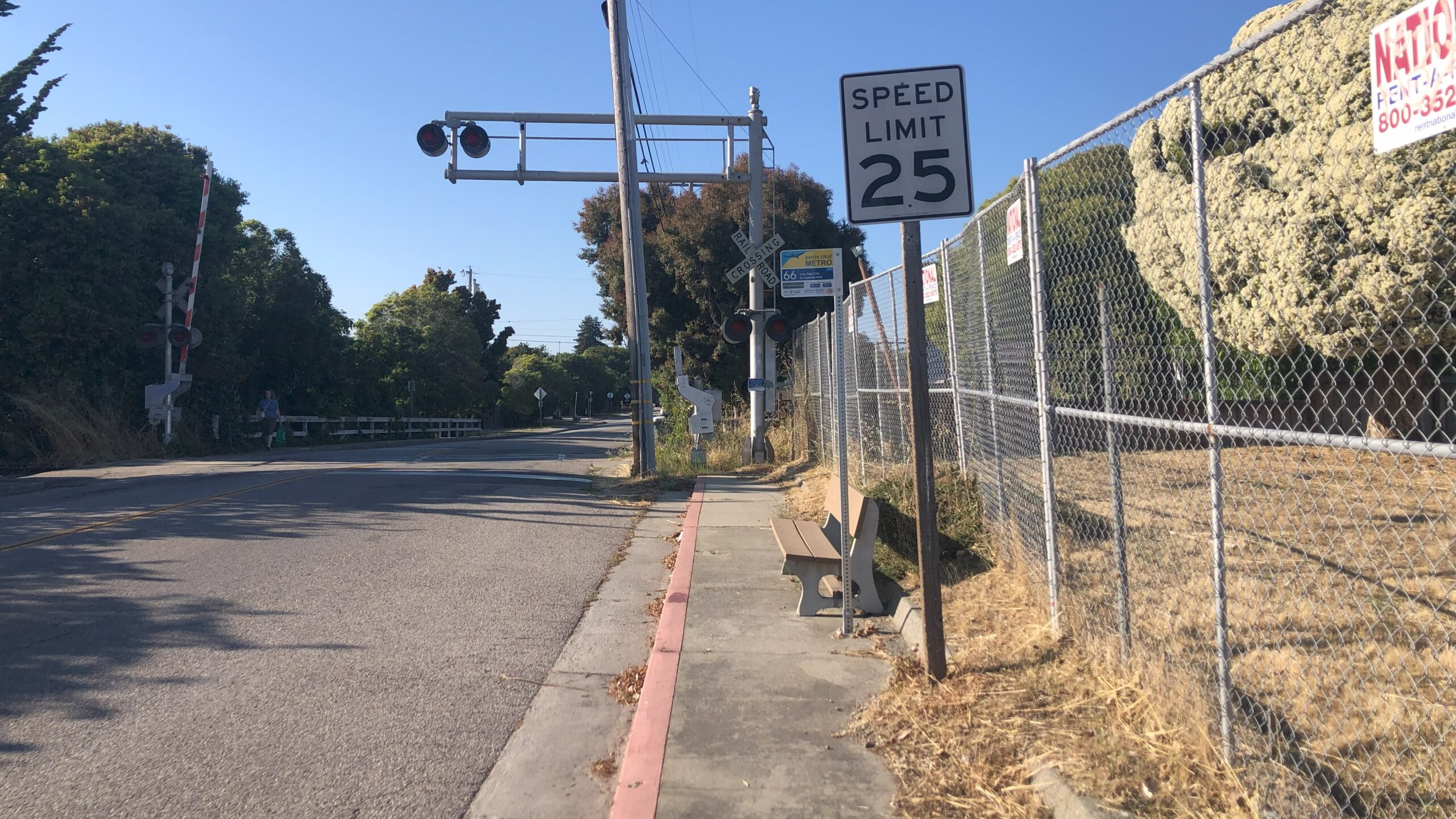 A Santa Cruz Metro bus route runs past proposed homes at 1098 38th Ave. (Naomi Friedland — Santa Cruz Local file)
Hikida, of MidPen, said her colleagues were "actively engaged in conversations with local neighbors and our city and county partners, so that we can fully understand safety concerns and begin to explore potential solutions."
Liz Ricks, 66, is another resident of the Shangri-La mobile home park. She said there have been two recent crashes on 38th Avenue near the proposed project.
"While we know the MidPen project is needed and will move forward next door, we hope the road's ingress will be a top priority for them for the safety of all," Ricks wrote in an email.
Learn about membership
Santa Cruz Local's news is free. We believe that high-quality local news is crucial to democracy. We depend on locals like you to make a meaningful contribution so everyone can access our news.
Learn about membership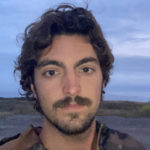 Tyler Maldonado holds a degree in English from the University of California, Berkeley. He writes about housing, homelessness and the environment. He lives in Santa Cruz County.