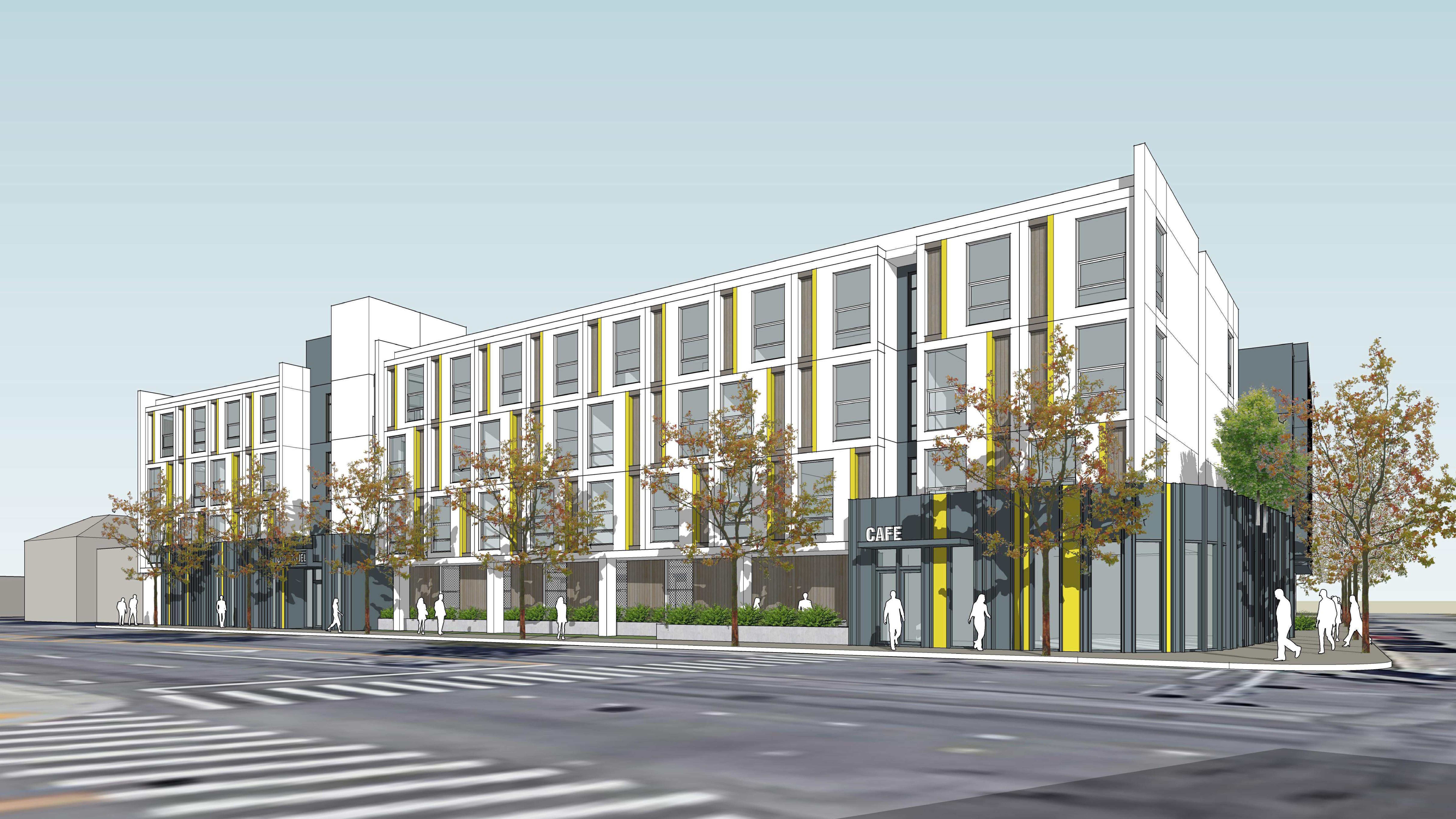 Eighty-four apartments and ground-floor retail space are proposed at 1800 Soquel Ave. in Santa Cruz. (Lowney Architecture)
SANTA CRUZ >> Plans for a four-story, 84-unit apartment complex at 1800 Soquel Ave. were presented to residents in an online meeting Thursday, and the Santa Cruz Planning Commission could consider the project this summer.
The proposal would join 1800, 1812 and 1818 Soquel Ave. to build 42 one-bedroom units and 42 studios, including 14 affordable units for renters with "low" and "very-low" incomes as defined by the state. The property now includes two used car dealers and a car detailing service across Hagemann Avenue from a Walgreens drug store.
"We expect these to be people's first apartments — potentially students and young professionals starting out. We're trying to keep it as affordable as possible. That's one reason the units are smaller," said Vince Sosnkowski, a partner with developer 1800 Soquel LLC, during Thursday's meeting.
The project would include:
Three buildings on 0.08 acre with the roof level 46 feet. Apartment parking and space for a cafe or restaurant would be on the ground floor with three stories of apartments above it.

There would be exterior walkways to connect apartments, green space at the complex's center and roof deck recreation spaces.

42 studios at 432 square feet.

42 one-bedroom units at 615 square feet.

14 affordable units are included, with seven for "low" incomes and seven for "very low" incomes as defined by the state.

73 parking spaces for vehicles, 91 indoor bike parking spaces and 24 outdoor bike parking spaces.

Green building standards are expected to be exceeded and rooftop solar panels are anticipated. 

The buildings are designed to be closer to Soquel Avenue and away from the neighborhood.
Sosnkowski introduced the project for public input at the Thursday meeting with architect Mark Donahue and Santa Cruz Senior Planner Ryan Bane.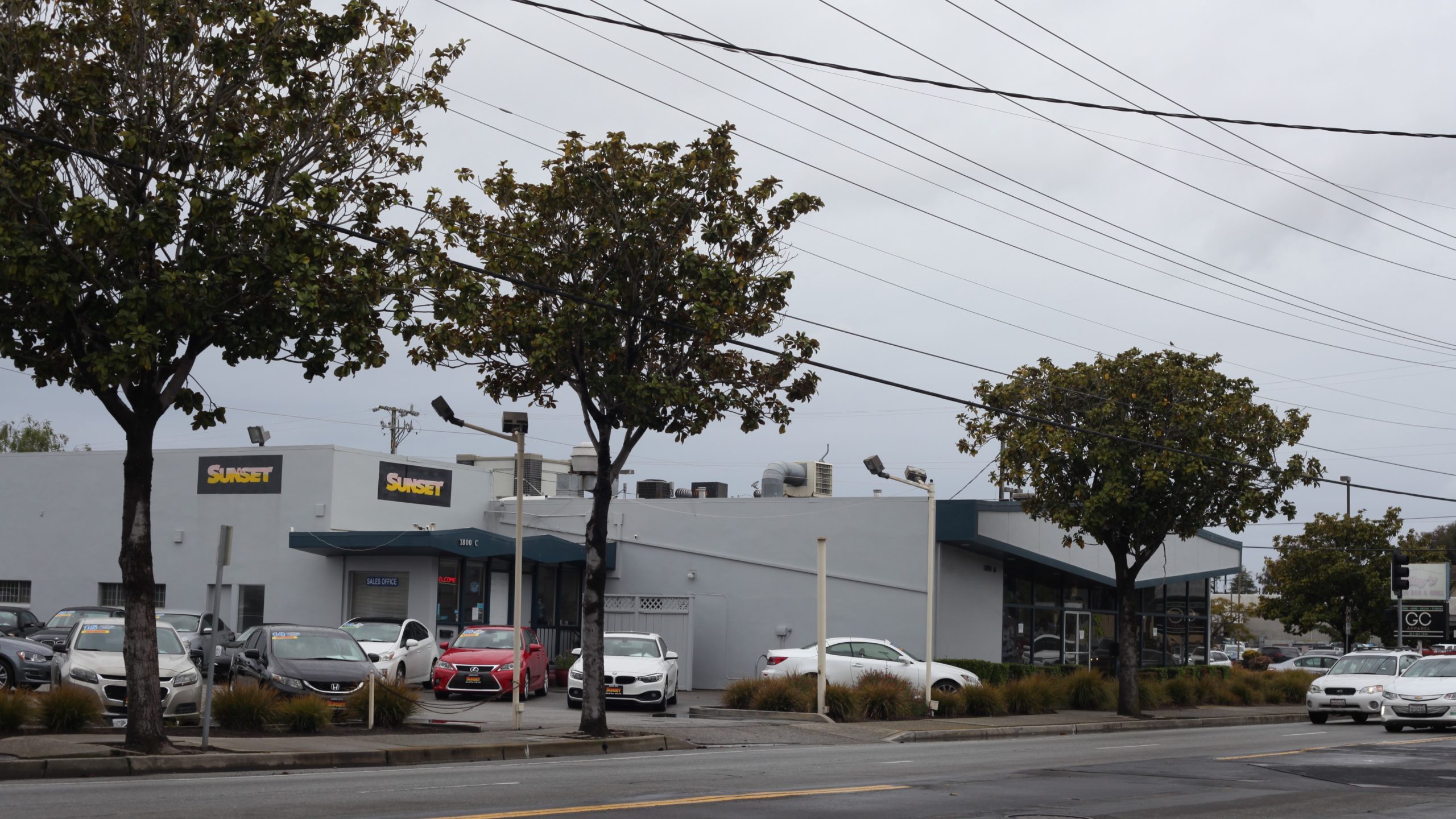 May's Sushi Bar & Grill once occupied the main building of 1800 Soquel Ave. in Santa Cruz. Two car dealers and an auto detailing shop are now on the proposed site of an apartment complex. (Michael Warren Mott — Santa Cruz Local)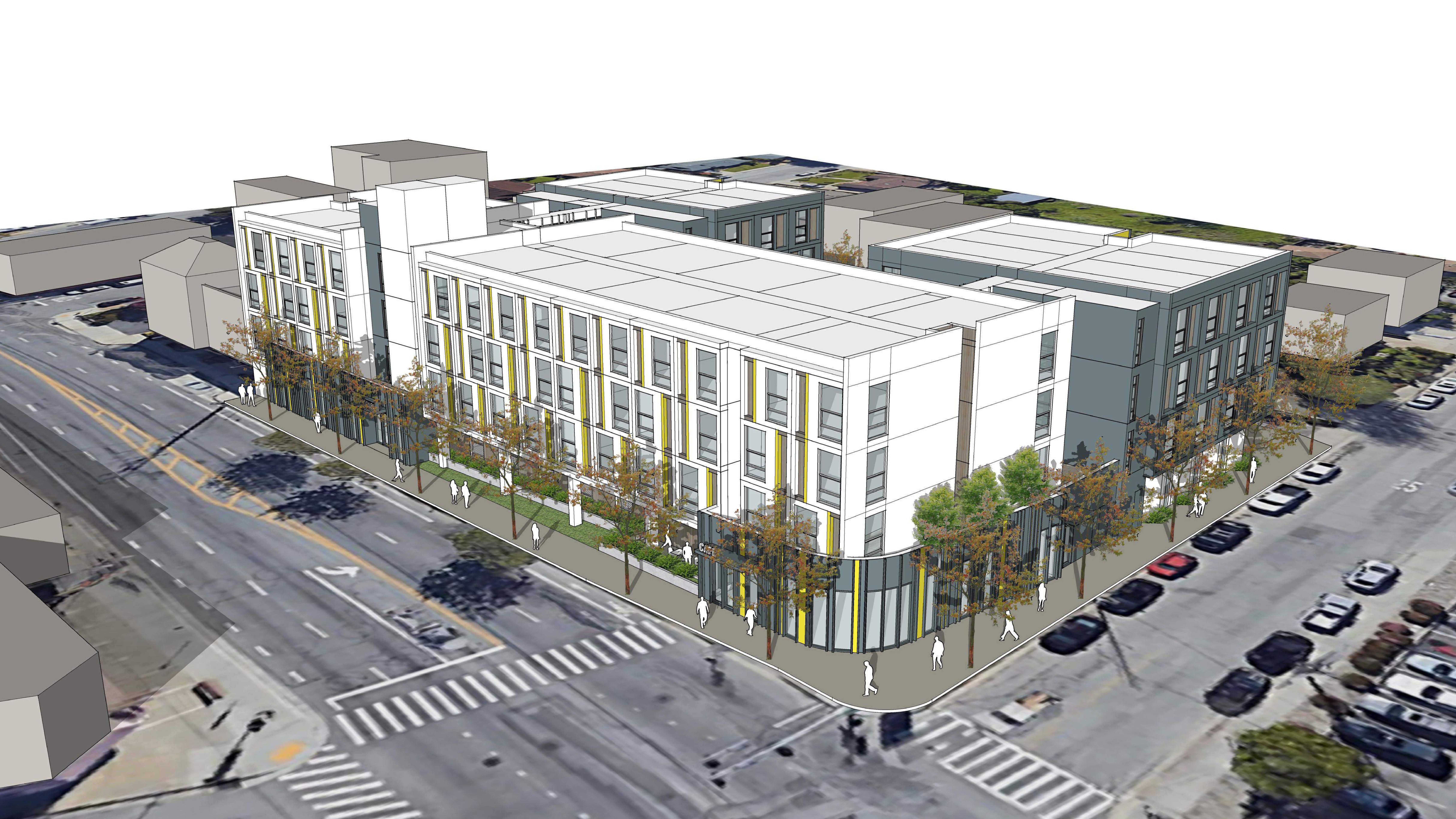 A rendering shows a proposed apartment complex on Soquel and Hagemann avenues in Santa Cruz. (Lowney Architecture)
Bane said the project is under review and in discussion with city departments. More community input meetings are expected before the planning commission weighs in this summer. The project won't need to go before the city council unless it is appealed from the planning commission to the council.
Sosnkowkski laid out the project's scope and community feedback he'd heard already.

"We all know Santa Cruz has a massive housing problem and our priority is providing housing," Sosnkowkski  said. "With 14 very-low and low-income units, we're doing our share to help those very-low and low-income folks." Fourteen affordable units is the legal minimum for a project of its size. 
Concerns with parking, height, alley
Community members weighed in on the project's height, parking, alleyway and landscaping, among other topics.
One resident noted that there are no other four-story buildings near the proposal and expressed concerns about privacy and shadows. The nearby Walgreens is 32 feet tall compared with the proposal's 46 feet. Many other buildings in the neighborhood are shorter.
Architect Mark Donahue said that the project's orientation would only cast a shadow on nearby residential  buildings early in the morning during summer.
Windows will generally face Soquel Avenue and away from the neighborhood. The building's proposed color scheme is inspired by Santa Cruz's mountain, ocean and beaches, with blue, lemon and white stucco and Nichicha wood-like siding, as well as perforated metal panel accents.
Sosnkowkski said that some neighbors before the meeting expressed concerns about a lack of one parking space per unit of housing. "We think this is a neighborhood that lends itself to people walking, biking and not using cars," Sosnkowkski said.
Soquel Avenue near the site often has heavy traffic during commute times and in recent months because of road work related to the Pure Water Soquel Conveyance Project. 
Resident George Mead, who attended the online meeting, said, "The sidewalks are a disaster with cracks, trees, utility poles."
Sosnkowkski said there are five bus routes within 2.5 blocks of the proposal. The sidewalks on Soquel at the site are expected to be widened to 10 feet, Bane said.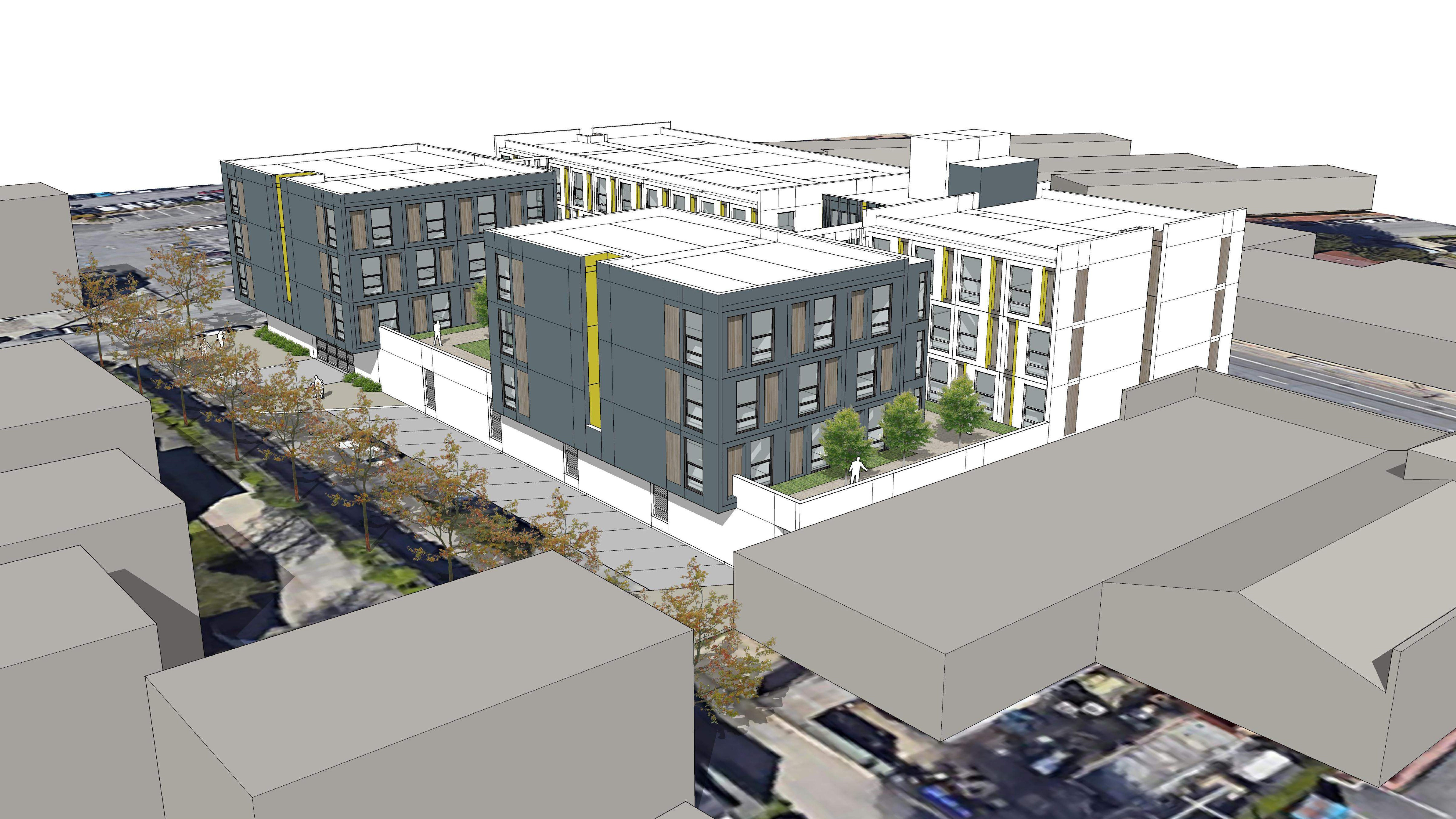 A rendering shows the view of a proposed apartment complex at 1800 Soquel Ave. from Forest Avenue and an alley behind the complex. (Lowney Architecture)
A person who identified themself as Rena at the online meeting said empty parking spaces outside the proposal would be "asking" for illegal camping. Sosnkowkski said people would be more likely to camp in the site's alley now due to its lack of use.
Donahue, the architect, said they could make the landscaping "defensible" to prevent camping, and Bane later wrote in an email they could take a closer look at the design of the alley with Public Works to address the concerns about the alley. with the alleyway. as well.
"If the city is amenable, it's easier to put in a couple of parking spots than trees," Sosnkowski said.
The parking will be gated. Questions about the size of the alleyway and whether it will be one-way or two-way will be addressed at a future public meeting after discussions with the city, the developer said. "That is a narrow two-way at 15 feet," Bane added.
Next steps
If the project is approved by the planning commission this summer, it should take 18 months to build, the developers said. Some parts of the building may be factory-built to expedite construction.
Future public meetings will be noticed but haven't been set. The developers said input will be taken into account on parking, the alley and other topics. 
Residents can comment and get more information on the project on the city's website. 
Learn about membership
Santa Cruz Local's news is free. We believe that high-quality local news is crucial to democracy. We depend on locals like you to make a meaningful contribution so everyone can access our news.
Learn about membership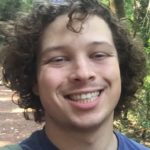 Michael Warren Mott is a graduate of UC Santa Cruz and Columbia University's School of Journalism. He has worked for newspapers across California.