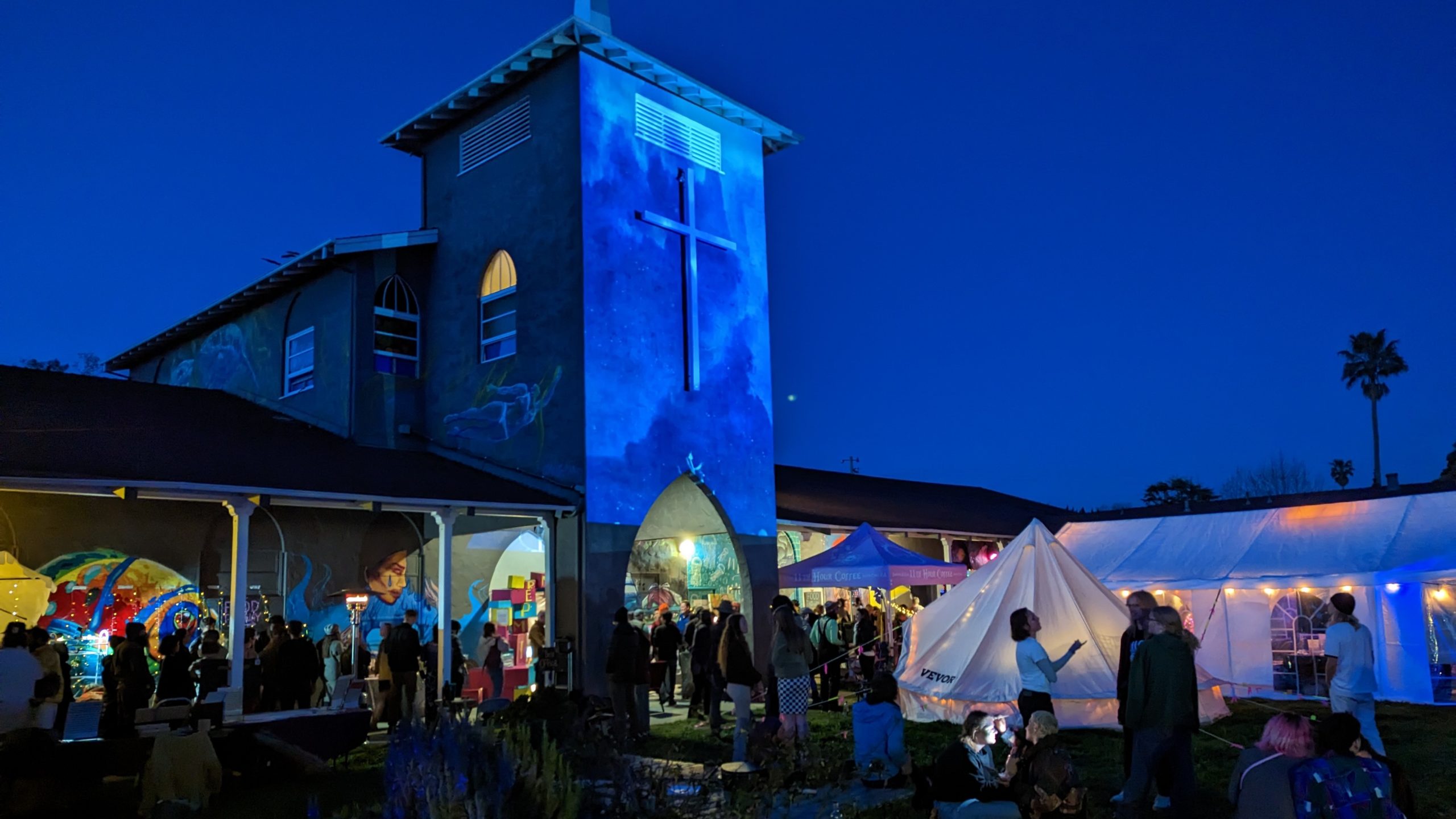 Several hundred people attended a Liminal Space Collective art and music event at the Circle Church at 111 Errett Circle in Santa Cruz on March 25. (Stephen Baxter — Santa Cruz Local)
SANTA CRUZ >> Nearly three years after the Santa Cruz City Council approved the demolition of the Circle Church to build 12 homes, the property owners said they aim to knock down the church in April but lack a demolition permit and city-approved property lines.

City planners said they need a final property-line map to be drawn shortly after demolition, and the group has not yet organized those pieces nor submitted bond money assurances in case construction is not completed.
"They're close but just not there yet," Santa Cruz City Inspector Curtis Busenhart said Friday. "I still need documentation, bond and agreement executed."
In part because of the Circle Church's redevelopment delays, the property owners have allowed the Liminal Space Collective to paint murals on the buildings since December. On March 25, an art and music event called 'Impermanence' drew hundreds to the church.
Circle of Friends LLC bought the property in 2017 for about $3.3 million to build a cooperative housing project with 12 homes, potential in-law units and a common area. Brett Packer, one of the owners and the project's liaison, said the project has been delayed in part because of the owner group and the city's permitting process.
"It's an extremely demanding and complicated administrative process," Packer said. "And we're a co-op, not a business — so it's not just one person making decisions. There's several owners and we have to reach consensus. Between the city and the co-op group, things are a little slow."
The owners and developers are families and individuals who have been living in rentals and trailers around Santa Cruz waiting for the project to proceed, Packer said.
"It's been a co-housing project since the beginning. Members who have been part of it since the beginning have been through a long, arduous process and are still looking forward to living together," Packer said.
Packer said they have hired Castroville-based demolition contractor Randazzo Enterprises Inc.
After the expected demolition and lot subdivision, it will be up to the property owners to obtain design and building permits to build each single-family home, said Santa Cruz Senior Planner Ryan Bane. Construction could start as soon as the fall, Packer said.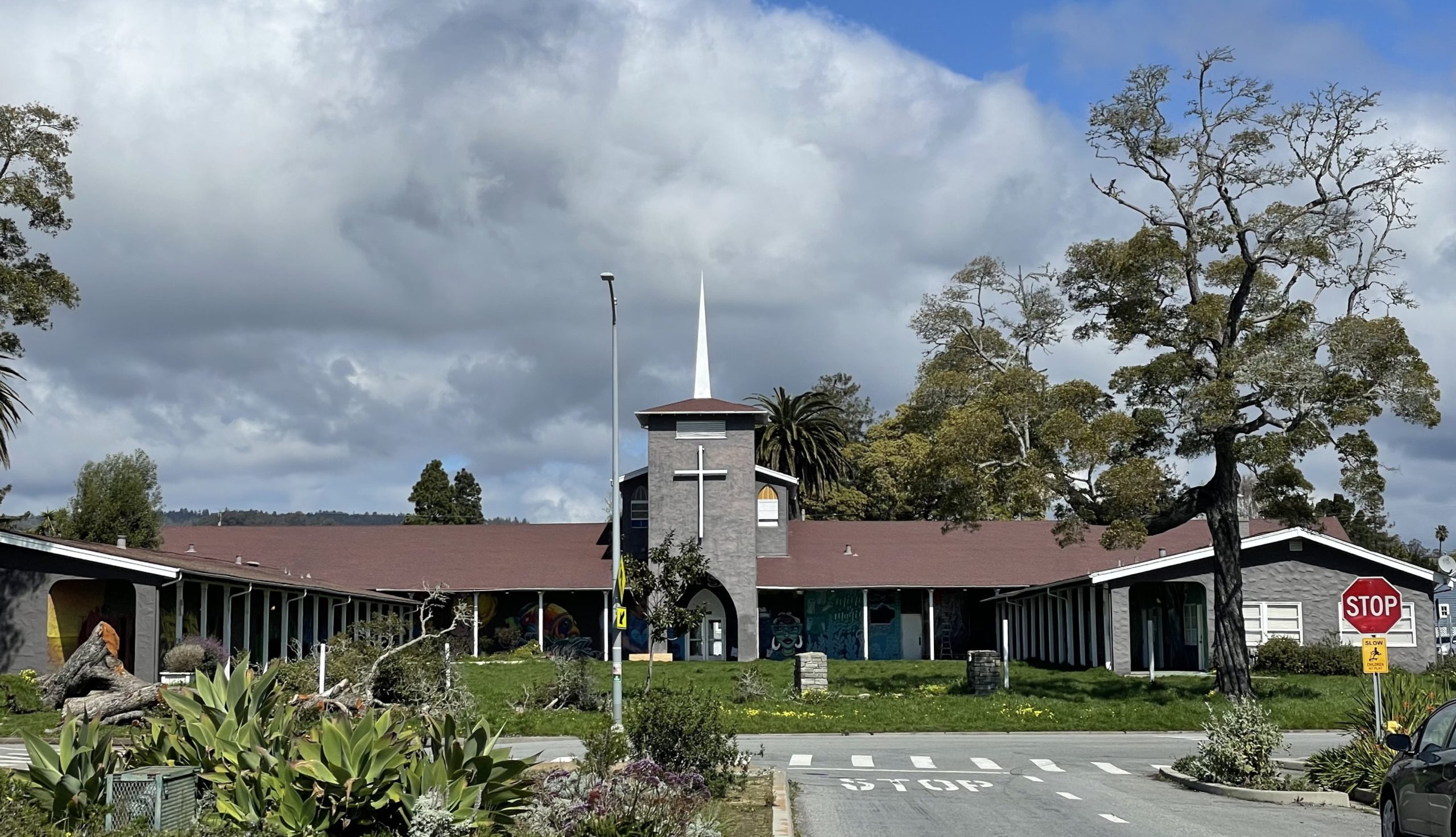 Spray-paint art and murals have been added to the exterior halls of the Circle Church at 111 Errett Circle in Santa Cruz in recent months. (Natalya Dreszer — Santa Cruz Local)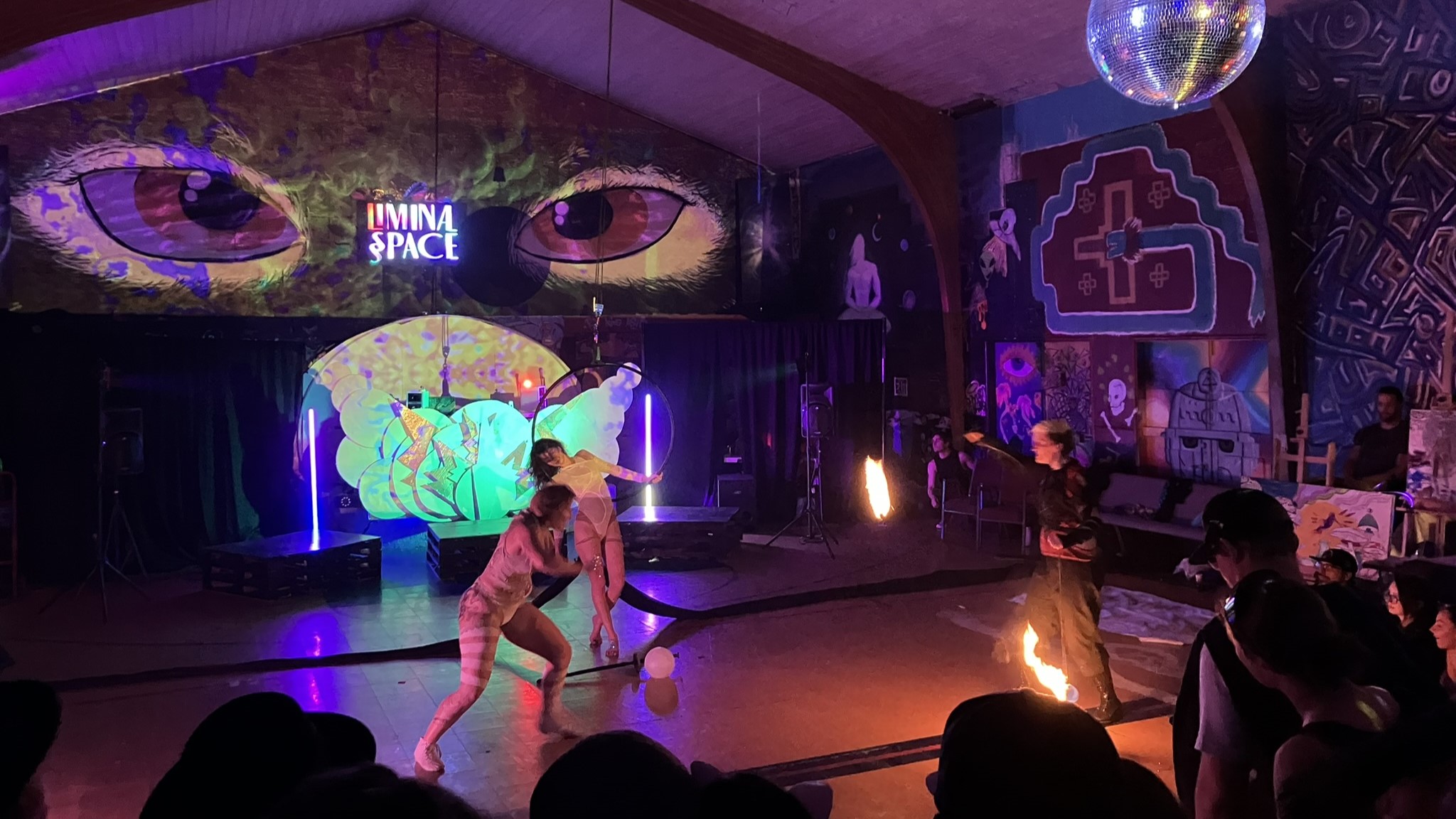 Fire poi spinners and circus arts performers entertain a large crowd during a March 25 event at the Circle Church in Santa Cruz. (Michael Warren Mott — Santa Cruz Local)
The developers have applied for a demolition permit and city officials said they are ready to issue it. The developers also have to finalize and record the property's Final Map, said Bane. "It's been in their court for awhile," Bane said.
Since the church covers the property and the developers want to split it into 12 separate lots, the city requires a bond and subdivision agreement before demolition can begin.
"The bond process is for public improvements, sidewalks, utilities, connections, that kind of stuff. They have to bond to 225% of that total amount to cover inflation and the cost index if work gets done years later," Busenhart said. "They have to have everything in place to record the map before getting authorization on a demo permit."
To begin demolition, bonding is a necessary step to protect the public's interest, Busenhart said.

"Say if you tore up half the sidewalks and the project went belly-up, we would give it some time and hopefully either someone starts or completes it, and we'd use the bond money to make sure the public right of way is back in order. It guarantees it will get done," Busenhart said.
The housing project
The 12 single-family homes are planned as market-rate housing. To meet Santa Cruz's affordable housing policy, the developers agreed to pay an in-lieu fee of $645,000, said Andrea Inouye, a management analyst at the Santa Cruz Economic Development Office.
"If they are not able to pay the fee the city will seek to retain two lots for providing affordable housing to meet the city's inclusionary requirement," Inouye wrote in an email.
Packer, who has lived in the neighborhood for years and raised his kids in Bonny Doon, said he hoped the redevelopment would revive the property.
"I've always argued through the approval process, over the last 20 years there's been different organizations and churches, but it wasn't terribly vibrant — they've had events and basketball, and that was awesome, but it wasn't used to its potential. With options for [in-law units], that's 20 families living communally full time," Packer said. 
"We're a mix of a group, we're all pro-housing, not from a development space. None of us are deep pockets, we're just building homes and either have grown up here or lived here for a long time and just want to live in the neighborhood," Packer said. 
At least two people in the development group are first-time home-buyers, Packer said. 
For decades, residents near the church played with their children on the large grassy area. Youth sports, craft fairs and many other events have taken place in a small gym and community room. A small school for students with special needs was in one building. Neighbors still often take their dogs there. 
While community members won't get to walk their dogs in the park during and after the redevelopment, there might be more community activity there in the future, Packer said.  
"Hopefully we'll be able to continue that in some way with the new project. That will have a lot to do with who the members are and what their appetite is for how much community they can handle," Packer said.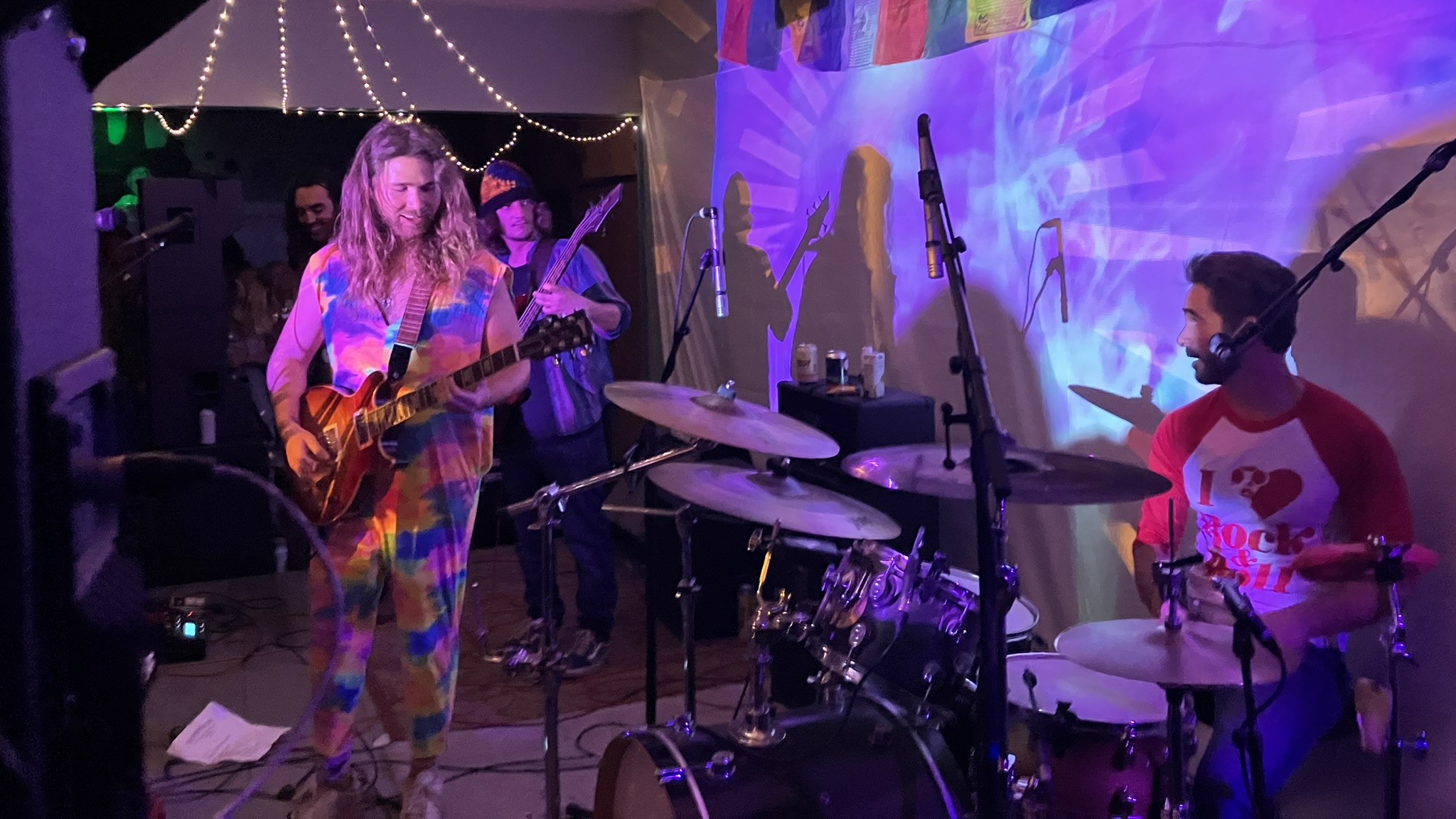 Nate Smith, left, shares a moment with Taylor Brougham, right, performing in the Santa Cruz band Superblume at a Liminal Space event at the Circle Church in Santa Cruz on March 25. (Michael Warren Mott — Santa Cruz Local)
During the demolition and construction delays, a church group continues to use the space for a small fee. Separately, the Liminal Space Collective began painting murals and other art on the halls and in some rooms. 
Liminal Space began in December 2021 on the coattails of Art Meetup Santa Cruz, said Weston Mossman, founder, creative director and artist with Liminal Space. 
Locals came together weekly to make art as part of the meetup, which began in May of 2021 and met at Sunny Cove in Live Oak. 
The group began to meet at 11th Hour Coffee, with a first event there in January 2022. That coffee shop is near Michael Leeds' home and art workshop Santa Cruz Ironworks.
Leeds thought it was great what they were doing and connected the group with the Circle Church coop group, Mossman said.
Packer said the group came in December and people started painting graffiti and murals individually and without organization. Those pieces evolved in a couple days and were painted over in a curated way once the team started organizing the art there.
Now, the group has over 60 active and dedicated collective members. Anyone can join, said Katie Gentile, creator of the Stan Land exhibit at the March 25 event. "Liminal will continue to do amazing events, anything is possible and amazing people will help you," Gentile said.
Before Liminal's March 25 event at the Circle Church, the group held a town hall meeting outside the church with heaters and catered food to hear neighbors' concerns. 
A vibrant event
On March 25, hundreds gathered at the church for "Impermanence," a festival that featured psychedelic rock, performances, visual art, crafts, and installations that some artists had worked on for months. More than 200 visual, immersive and music artists contributed to the event. 
Murals covered almost every wall. People dressed in furred vests and flowery full-length coats gathered to be inspired and enjoy immersive art and music. The event was billed not to include drugs or alcohol — although there was a whiff of unsanctioned marijuana on the lawn. Entry was $27 with discounts for neighbors.
"I don't want to curate a place where we just make money off alcohol, to be inebriated for the sake of inebriated," Mossman said. "We want it to feel weird and awkward so we can get past that, experience real connection and have a suggestive and foundational experience."
Nate Smith performed with Superblume, described as a psychedelic funk rock disco jam band. Between songs, wearing a tie-dye onesie, Smith said into the mic, "We're so blessed to be part of this community. We canceled Felton Music Hall to be here. It's a crazy time for Santa Cruz right now. We're losing a lot of spaces like this right now," Smith said. "This is the heartbeat of Santa Cruz, we can't let it die."
Packer said that in Santa Cruz, art space is at a premium. He wished the collective well on their next steps. 
"It's harder and harder to find an affordable space for art and community to happen here," Packer said. "I'm very pleased with Liminal Space, they went out on a limb for us and the city's been supportive of us as well. It feels like it was overall really good for us."
"It shows what amazing things can happen when you give a canvas to somebody or a group of somebodies, that's all we did. We gave them a space and they took to it, and their organization grew by leaps and bounds," Packer said.
Liminal Space Collective is considering the former Logos Books as its next potential space. The group is planning to launch a crowdfunding campaign, and updates are expected through an email list at LiminalSpaceCollective.com.
"There's a lot of good and beauty in what's happening here, and I think people see that," Mossman said. "It would be not just a shame but a tragedy for it all to disappear with the Circle Church." 
Read more
Learn about membership
Santa Cruz Local's news is free. We believe that high-quality local news is crucial to democracy. We depend on locals like you to make a meaningful contribution so everyone can access our news.
Learn about membership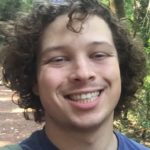 Michael Warren Mott is a graduate of UC Santa Cruz and Columbia University's School of Journalism. He has worked for newspapers across California.