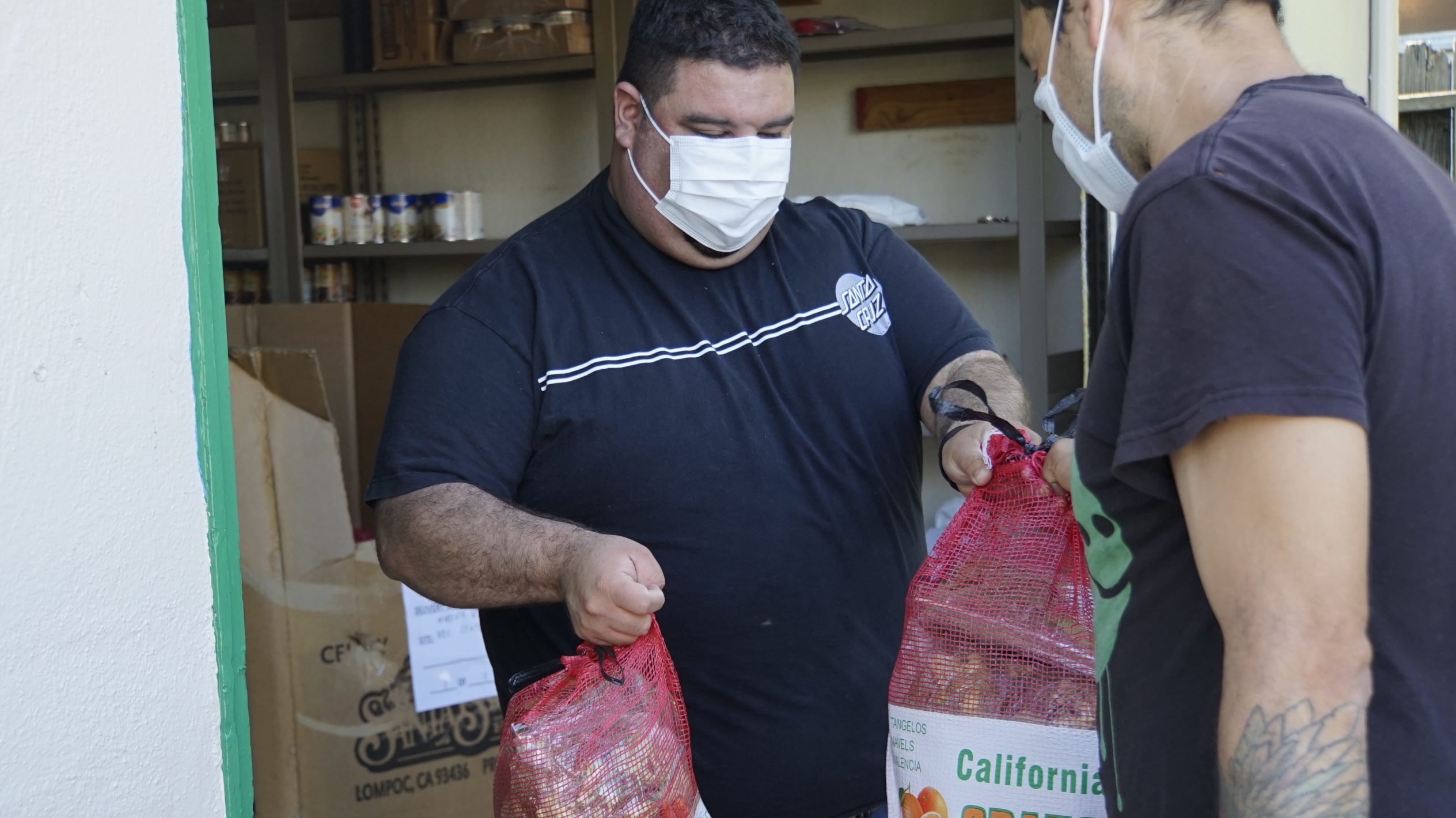 Nueva Vista Community Resources in Santa Cruz provides food at its pantry in 2020. (Kara Meyberg Guzman — Santa Cruz Local file)
SANTA CRUZ >> About 31,000 Santa Cruz County residents who receive food money through CalFresh are expected to receive fewer dollars in April when a pandemic related program expires. Nearly 86,000 county residents on Medi-Cal health insurance also must renew their coverage starting in June, county leaders said.
CalFresh and Medi-Cal are changing because a federal public health emergency is expected to end May 11.
CalFresh monthly money is expected to

drop to pre-pandemic levels in April

. Food banks remain an alternative place to get free food.

Starting in June, Santa Cruz County staff plan to send requests to patients who need to renew their Medi-Cal applications.

Medi-Cal recipients whose mailing address has changed in the past three years must renew their coverage or notify the county to receive renewal forms, staff said.
Community Bridges CEO Ray Cancino said the process of having to apply annually for Medi-Cal can be a "deterrent" to maintaining coverage, particularly for first-generation immigrants or others unfamiliar with government processes.
Losing automatic re-enrollment "means people are also probably not going to the doctors and not getting proper visits early enough, because they don't know they have to reapply or they don't remember that they have to reapply," Cancino said.
CalFresh changes
CalFresh is California's Supplemental Nutrition Assistance Program. Since March 2020, households enrolled in CalFresh have received at least $95 more a month in emergency allotments. That extra money will end this month, according to CalFresh.
This summer, CalFresh also will reintroduce work requirements for students who receive food assistance. During the pandemic, some students from low-income households could receive CalFresh food stamps without working. Starting this summer, students will have to work at least 20 hours a week. There are some work exemptions, such as a disability that prevents work.
The reduction in allotments will be a blow to the county's low-income residents, said Ray Cancino, CEO of the Watsonville-based nonprofit Community Bridges.
"The additional dollars were a huge help and support for not only families and children, but also seniors and individuals on fixed incomes," Cancino said. Last year in Santa Cruz County, CalFresh recipients included about 9,660 children and about 5,000 people age 60 and older.
Community Action Board Director Paulina Moreno said the end of emergency allotments is concerning to farmworkers. "Especially with what many of them experienced in January, which is a huge loss of income," Moreno said, referring to the floods and delayed agricultural work. Many farmworkers will continue to have less work as January's storm damage delays harvests, she said.
Cancino pointed to an Urban Institute report that suggested that states with emergency allotments reduced poverty by 9.6% and reduced child poverty by 14% relative to anticipated poverty levels without the increased funds.
"It's a shame that we're reverting back and not continuing such programs that had some rich data outcomes," Cancino said. "I think that we should look at this as a failed policy decision."
CalFresh is funded by the U.S. Department of Agriculture. The start and end of the emergency allotments were enacted by federal laws. CalFresh recipients may be eligible for the U.S. Department of Agriculture's other food assistance programs.
More information about CalFresh is available at Santa Cruz County's CalFresh Customer Service Centers:
1020 Emeline Ave., Building B, Santa Cruz.

18 West Beach  St., Watsonville. 

By phone at

888-421-8080

.
For additional support, contact USDA's Hunger Hotline. The Hunger Hotline connects callers with emergency food providers in their community, government assistance programs, and various social services. Call 1-866-3-HUNGRY (1-866-348-6479) or 1-877-8-HAMBRE (for Spanish 1-877-842-6273) 10 a.m. to 7 p.m. Monday through Friday.
Medi-Cal changes
California residents on Medi-Cal increased by 22% between February 2020 and October 2022, according to state data. That increase is largely due to automatic enrollment, according to the Public Policy Institute of California. 
In Santa Cruz County, 85,964 people were enrolled in Medi-Cal as of February 2023, up about 25% from February 2020, according to county data.
Medi-Cal recipients need to submit their renewal paperwork on the month they first applied for coverage. Those who applied in June, for instance, will be the first who need to renew coverage, said Josie Montes, senior human services analyst for the County of Santa Cruz.
County staff plan to start to mail renewal paperwork to June applicants in May, Montes said. Large, flat manila-style envelopes are expected. Medi-Cal patients must submit renewal paperwork by the end of June to keep their health insurance active.
The county plans to process 5,000 to 6,000 renewals per month, Montes said. The process includes verification of applicants' income. 
Some applicants can be verified through federal databases and won't have to fill out paperwork. "That usually works for about 20% to 25% of the caseload," said Montes. Medi-Cal patients with verified incomes below the program's limits will be notified by mail that they've been automatically re-enrolled, Montes said.
Most Medi-Cal recipients will need to submit pay stubs or other documentation of their income. Medi-Cal recipients who have moved in the past three years will need to update their mail address with the county, Montes said. 
Recipients can submit a form with new contact information in several ways: 
In person at 1020 Emeline Ave., Santa Cruz and 18 West Beach St., Watsonville.

By mail at P.O. Box 1320 Santa Cruz, CA, 95061.

By fax at 831-786-7100.

Online at

MyBenefitsCalwin.org

,

CoveredCA.com

and

GetCalFresh.org

. 

Recipients also can update their contact information, or ask when they will need to renew their application, by calling the county's Human Services Department

1-888-421-8080

.
Once re-enrolled, Medi-Cal recipients need to report changes to employment or income within 10 days, Montes said. If patients are no longer eligible for Medi-Cal, they'll be offered a paid plan through Covered California, the state's insurance marketplace. Covered California plans include partial subsidies for lower-income customers.
Community outreach
Watsonville nonprofit Community Action Board is partnering with the county to reach out to Medi-Cal recipients who may need help reapplying.
Part of the effort includes reaching non-English speaking farmworker communities in South County, said Moreno. Beginning in April 2022, Community Action Board staff have conducted presentations about Medi-Cal at farms across South County. 
"One of the biggest needs in our community is language support," said Moreno. About 40% of Santa Cruz County Medi-Cal recipients primarily speak Spanish, she said. Others speak the indigenous languages Triqui, Mixteco and Zapotec indigenous languages. 
The county has created one-page fliers for Medi-Cal renewal in English, Spanish and Mixteco.
Low-income immigrants often don't apply for or renew their benefits because they're afraid of a record of public assistance negatively affecting their immigration status, Moreno said. According to a Department of Homeland Security rule effective December 2022, public assistance for food and housing cannot be held against an applicant in immigration proceedings. 
"We're still dealing with the aftermath of an administration that was very open about targeting the immigrant community," said Moreno. "That's been the biggest challenge, is the fear that continues to perpetuate in the community."
Medi-Cal or CalFresh applicants who need help in Spanish or indigenous languages can contact Community Action Board:
In person at 406 Main St., Suite 207, Watsonville.

By phone at 831-763-2147.
Learn about membership
Santa Cruz Local's news is free. We believe that high-quality local news is crucial to democracy. We depend on locals like you to make a meaningful contribution so everyone can access our news.
Learn about membership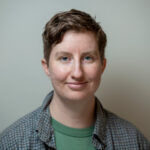 Jesse Kathan is a staff reporter for Santa Cruz Local through the California Local News Fellowship. Kathan holds a master's degree in science communications from UC Santa Cruz.