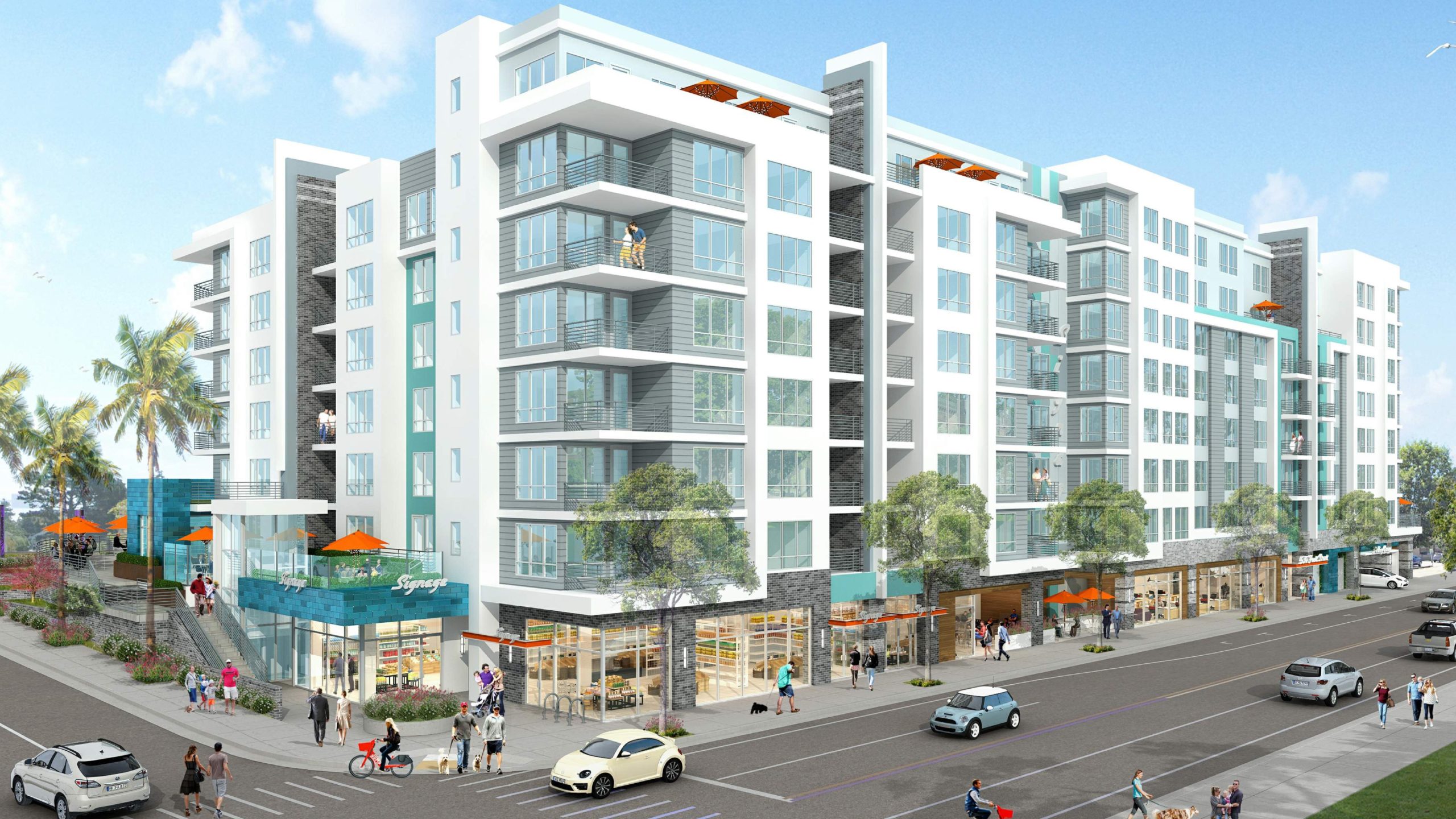 A housing complex is proposed on Front Street at Soquel Avenue in Downtown Santa Cruz. (Swenson Builder)
SANTA CRUZ >> A seven- and eight-story, 276-unit rental housing complex at Front Street and Soquel Avenue in Downtown Santa Cruz is expected to be considered by the Santa Cruz Planning Commission on March 2.
The developer, Swenson Builder, has asked city leaders to consider a plan that is two stories taller than its initial plans in 2020. The site at 530 Front St. has been a Wells Fargo Home Mortgage bank. The intersection now includes Oswald's restaurant and parking lots for CVS pharmacy and New Leaf Community Market.
The current plans call for more units and floors than originally proposed in 2020:
The proposal includes two wings that are eight stories and another wing that is seven stories with a proposed roof garden.

It has 276 units including 169 studios, 102 one-bedroom units, and 5 two-bedroom units. All units will be offered as rentals.

Twenty-eight units are expected for "very low" income renters and nine units for low-income renters.

Income limits are set by the state annually.

A rooftop garden and two private courtyards for residents.

A ground-level garage with an electronic stacking system for 181 cars.

Residential parking space for 372 bikes in private storage lockers and a communal storage space. 

An outside bike rack for visitors with six spaces.

Nearly 7,000 square feet for businesses and a restaurant.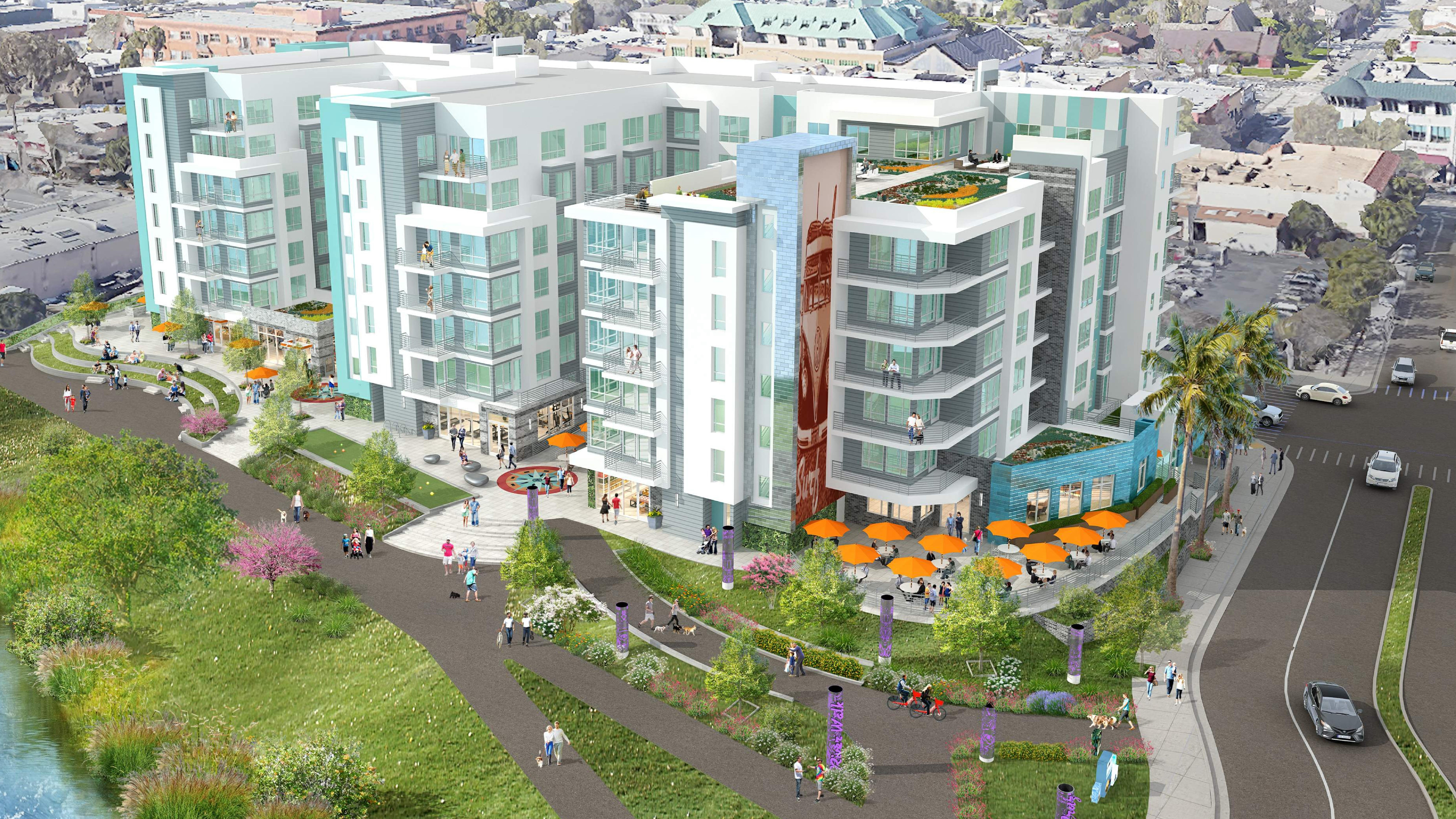 The planned development includes a landscaped area adjoining the San Lorenzo River levee with public seating, a bocce ball court and a terraced lawn. (Swenson Builder)
The proposal also includes a public, landscaped area along the San Lorenzo River levee with a bocce ball court, a terraced lawn and seating. The area was designed in collaboration with city staff, said Jessie Bristow, development project manager for Swenson. 
"What we hope to accomplish is a great public amenity along the Riverwalk," Bristow said.
The new, larger design of the complex was spurred by a 2020 state law that gives projects with affordable units a 50% density bonus, Bristow said. The previous design included a 35% density bonus.
The density bonus allows projects with affordable units to bypass some building rules. Swenson requested several waivers to the city's rules, including:
A denser development than allowed by the General Plan.

A building height of 89 feet with eight floors rather than 70 feet with six floors.

A reduction in car parking requirements.
Zoning codes also specify stepback heights for tall buildings. Stepbacks are similar to a wedding cake shape, where floor areas above a certain height are smaller than the footprint at the building's base. The developer has requested waivers to increase the height of the base of the building and reduce the amount that the top two floors must step back. 
Projects can receive unlimited waivers for any standards that would "physically preclude the project as proposed,"said Santa Cruz Senior Planner Clara Stanger. 
If the planning commission approves the project, the Santa Cruz City Council could consider it for approval in March or April, Stanger said. As an infill project, the project would bypass the environmental review process of the California Environmental Quality Act, or CEQA. 
Because of state law, the planning commission and city council can only deny the project if it doesn't conform to the city's standards.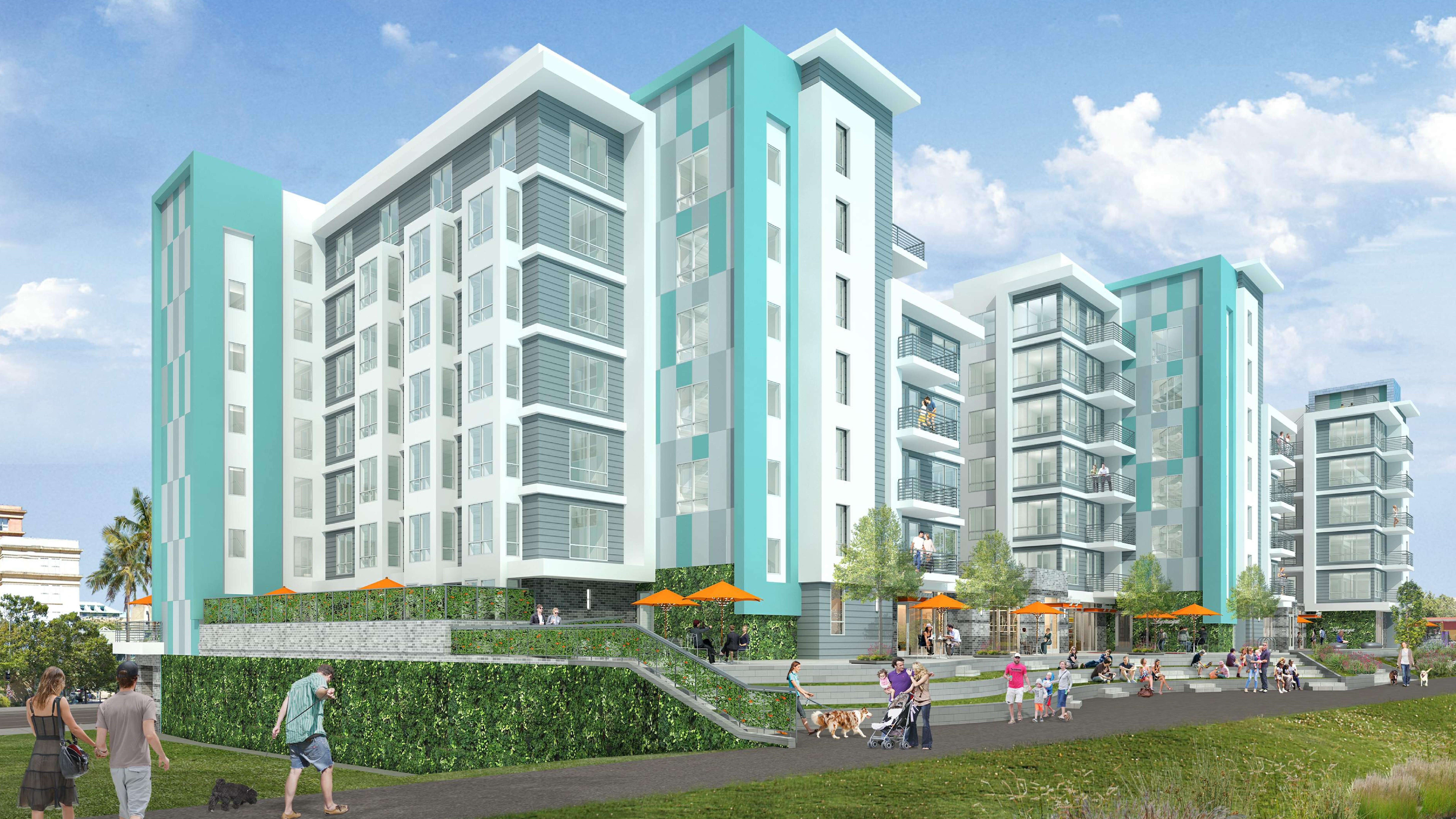 A planned eight-story building at 530 Front St. would include a public deck. (Swenson Builder)
Preliminary plans for the development were accepted by the planning department in 2020. That means it won't be subject to the objective standards approved by the city council in 2022, said Stanger. Instead, it will be subject to the rules in the city's General Plan, zoning codes and other city documents. City staff believe the project conforms to those rules, Stanger said. 
City staff have received an email that criticized the "modern style" of the building. Another email suggested that more public space be added rather than the planned bocce ball court.
If the city council approves the project, it could break ground by the end of the year, Bristow said.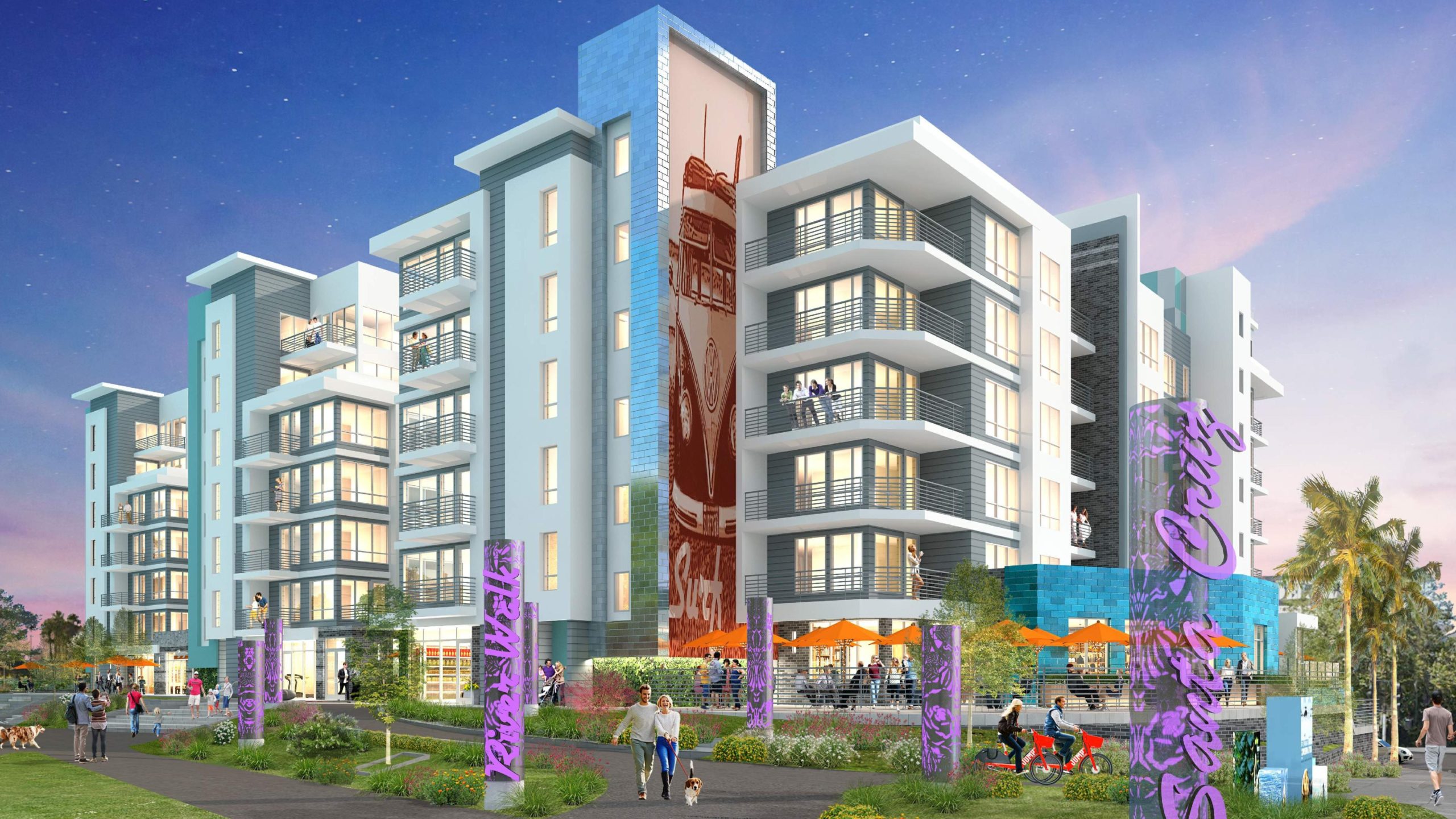 A rendering shows pedestrian and bike paths to connect with the Santa Cruz Riverwalk. (Swenson Builder)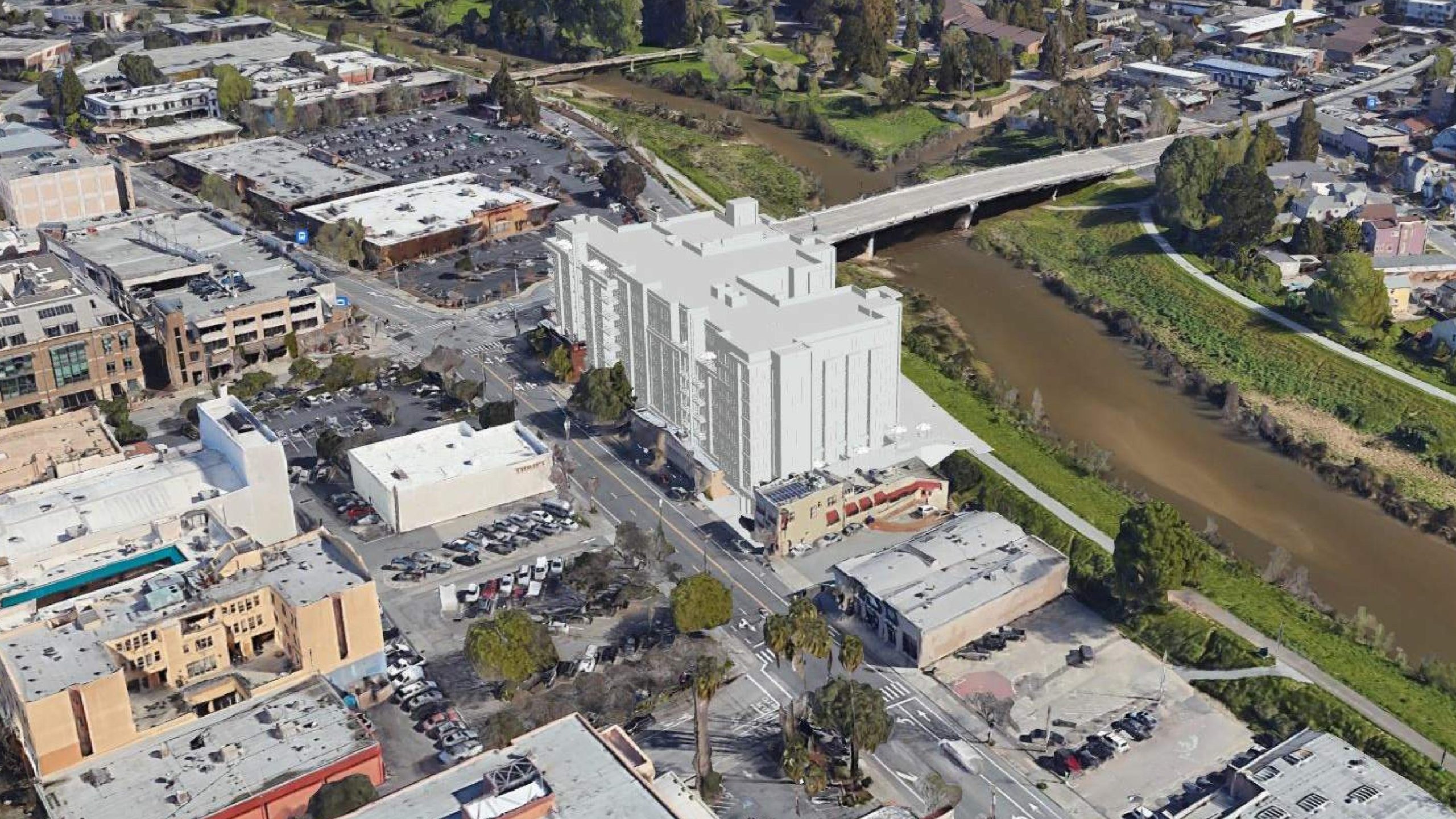 A rendering shows a proposed project at 530 Front St. in Santa Cruz. (Swenson Builder)
Learn about membership
Santa Cruz Local's news is free. We believe that high-quality local news is crucial to democracy. We depend on locals like you to make a meaningful contribution so everyone can access our news.
Learn about membership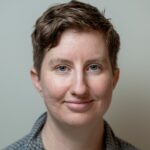 Jesse Kathan is a staff reporter for Santa Cruz Local through the California Local News Fellowship. Kathan holds a master's degree in science communications from UC Santa Cruz.