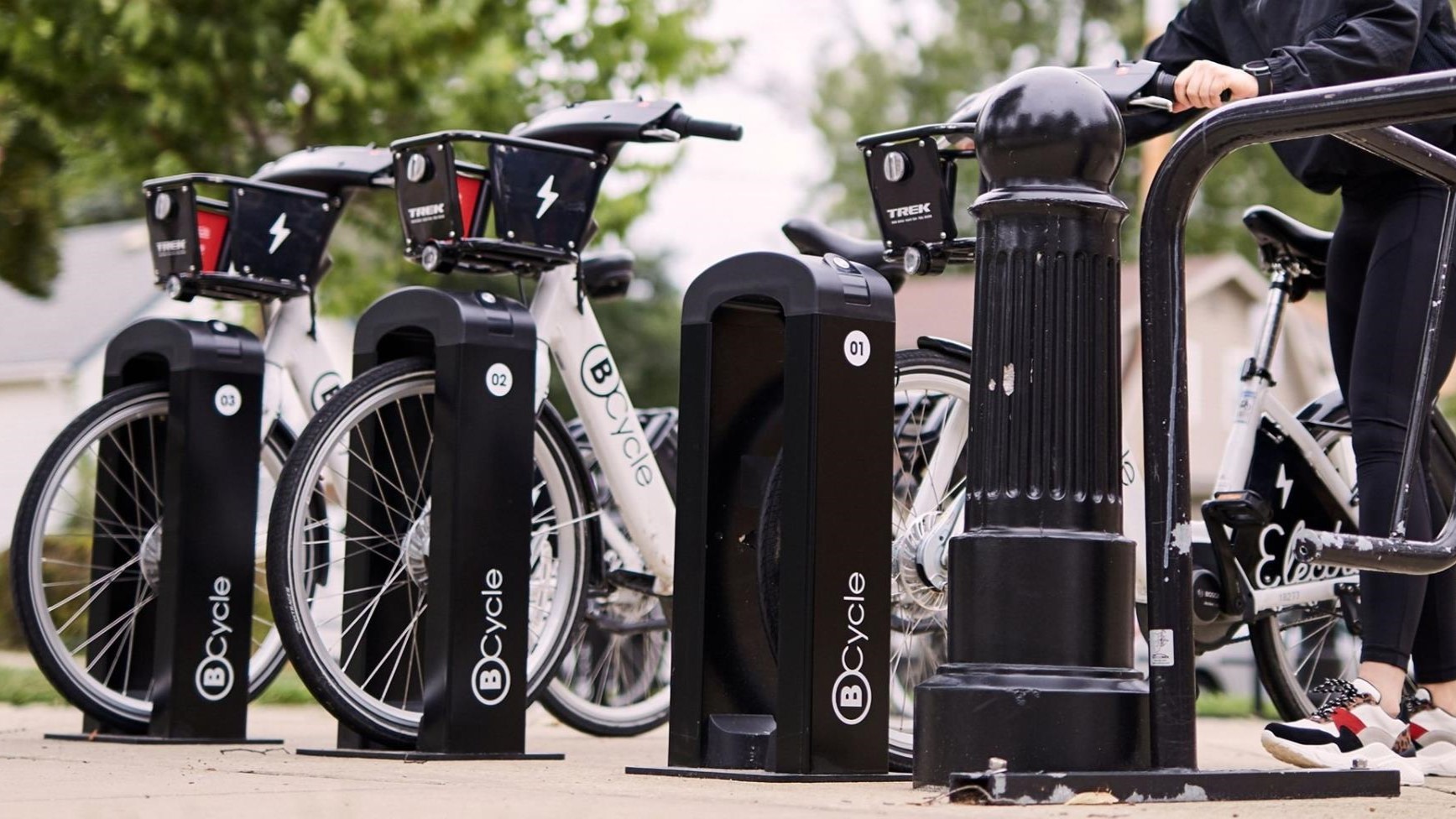 BCycle docking stations are expected to be installed in Santa Cruz in June. (BCycle)
SANTA CRUZ >> Three years after the ubiquitous red JUMP bikes left Santa Cruz in 2020, hundreds of rentable electric bikes are expected to return to Santa Cruz and expand to UC Santa Cruz, Cabrillo College, Capitola and other Santa Cruz County areas through a subsidiary of Trek Bicycle Corp. called BCycle LLC.
Santa Cruz in June is expected to receive bikes and have docking stations installed at the same locations that JUMP bikes had, city and BCycle leaders said. Additional docks are expected at UC Santa Cruz in June, said Santa Cruz Transportation Planner Claire Gallogly.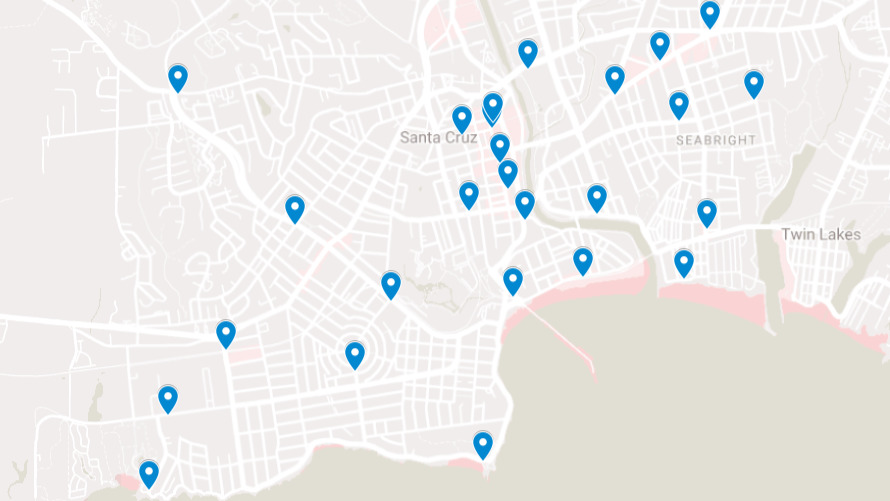 A map shows BCycle bike share docking stations proposed in Santa Cruz. (City of Santa Cruz)
With typical e-bikes priced from $800 to $3,000, the rental program aims in part to reduce car trips and facilitate cycling among visitors and commuters. 
"I'm so excited to offer this as an alternative for folks who work downtown but maybe live in Live Oak or Capitola," Gallogly said. 
Gallogly has helped coordinate the BCycle rollout across the county. She said the popularity of JUMP bikes in Santa Cruz from 2018 to 2020 showed the "game changer" potential of bike sharing. The City of Santa Cruz already has one of the highest rates of bike commuters in the nation, the League of American Bicyclists reported in 2019. 
"We're going to have an easy, fast and efficient option to get from home to work," Gallogly said.
Costs and how to ride
Riders will be able to access the bikes and pay using the BCycle app. The app displays a map that will show users where the bikes are currently available. It allows users to undock the bike with a button.
The cost to rent a BCycle is based on 30-minute rides with prices per ride, annually or monthly.
Walk-up pass: $7 for every 30-minute trip with a daily maximum of $75.

Monthly membership: $30 for unlimited 30-minute trips, add $3 for each extra 30 minutes.

Annual membership: $150 for unlimited 30-minute trips, add $3 for each extra 30 minutes.
The bikes must return to a dock after each ride. "Abandonment" of the bikes could result in a $2,500 fee to the user for the bike, according to BCycle rules in Santa Barbara.
City, county and BCycle leaders are trying to make bikes accessible to riders without a smartphone or a credit card. "The app will probably be the easiest," said Katie Herlihy, Capitola's community development director. "But they are looking at ways in which the library can issue cards that can be utilized and read at the bikes," Herlihy said.
Reboot details
Through 2024, at least 600 bikes and 1,320 single-bike docks are anticipated in Santa Cruz, Capitola, Watsonville, Cabrillo College, UCSC and unincorporated areas of Santa Cruz County. Each docking station can contain several single-bike docks.
Through 2024, city, county and BCycle leaders said 660 bikes are expected to be distributed in several areas: 
Santa Cruz:

300 bikes, 600 single-bike docks.

UC Santa Cruz:

160 bikes, 320 single-bike docks.

Capitola:

50 bikes, 100 single-bike docks.

Cabrillo College and vicinity:

50 bikes, 100 single-bike docks.

Live Oak and Pleasure Point:

25 bikes, 50 single-bike docks.

Aptos:

25 bikes, 50 single-bike docks.

Soquel:

25 bikes, 50 single-bike docks.

Watsonville:

25 bikes, 50 single-bike docks.
BCycle has signed agreements with leaders in Santa Cruz and UC Santa Cruz, but Capitola's agreement is expected to be finalized in October, Herlihy said. Bikes and docks could be in Capitola as soon as 2024, she said. It's not yet clear when bike sharing could start in Watsonville and Cabrillo College.
Scotts Valley is not expected to be part of the bike share program. "The City of Scotts Valley participated in some of the discussions when the request for proposals was being developed, but did not have the staffing resources necessary to see through the development of the program here," said Scotts Valley Public Works Director Chris Lamm.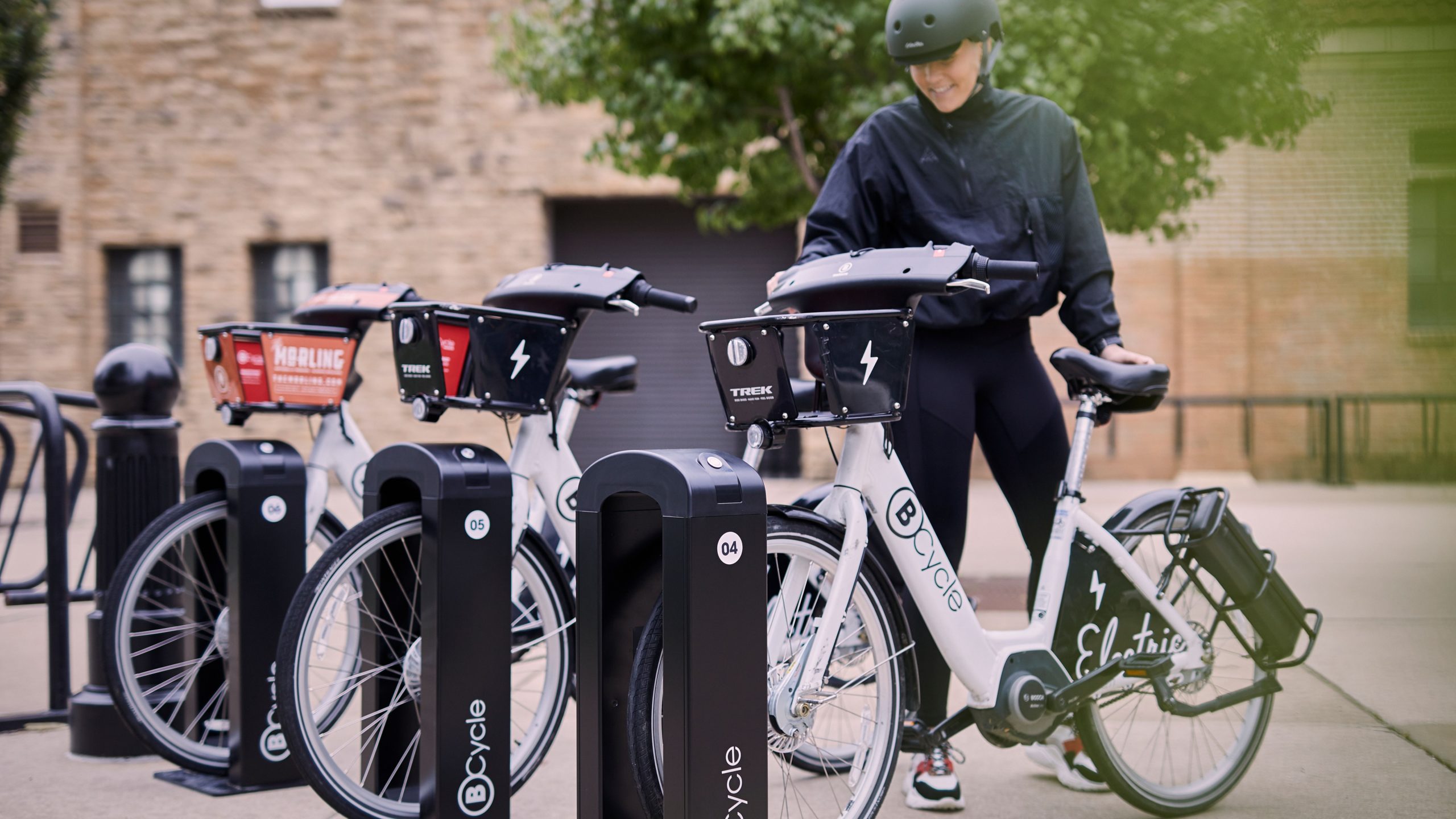 BCycle bike rentals are expected to be $7 per 30-minute trip in Santa Cruz. (BCycle)
Improving on past bike shares
The BCycle rollout comes three years after Santa Cruz's contract with bike share company JUMP ended. Owned by Uber Technologies Inc., JUMP bikes were removed from Santa Cruz and other areas in 2020 in part because the business was not profitable. Uber sold JUMP in 2020 to Lime, a San Francisco-based bike and scooter share business.
When JUMP bikes were available in Santa Cruz, the price per ride rose. Prices cannot increase for the first two years after implementation, according to BCycle's agreements with the Santa Cruz County jurisdictions with BCycle. After that, the price can't increase more than 10% per contract year or the consumer price index plus 3%, whichever is less. "We learned a lot from JUMP and we have some guardrails in place to keep that from happening again," said Gallogly.
Another difference between JUMP and BCycle is that JUMP bikes could be left on any street or sidewalk to be picked up for its next ride. Gallogly said that system led to complaints of sidewalk clutter and blocked walkways which were especially problematic for people with limited mobility. BCycle requires that each ride begins and ends with a docking station.
JUMP bikes could only be docked at docking stations in the city of Santa Cruz, but the new system is more expansive.
"One of the big pieces of feedback that we got during (JUMP) was that people wanted to go beyond just the city of Santa Cruz," said Gallogly. 
The BCycle has a top speed of 17 mph and can provide power for about 25 miles per charge, according to the company. 
The BCycle design appears similar to JUMP bikes in that they have a step-through frame, they contain a cargo basket on the handlebars and they are heavier than a non-electric bike. The BCycle battery pack is mounted to the seat stay of the frame near the rear wheel, rather than mounted to the down tube of the frame on a JUMP bike.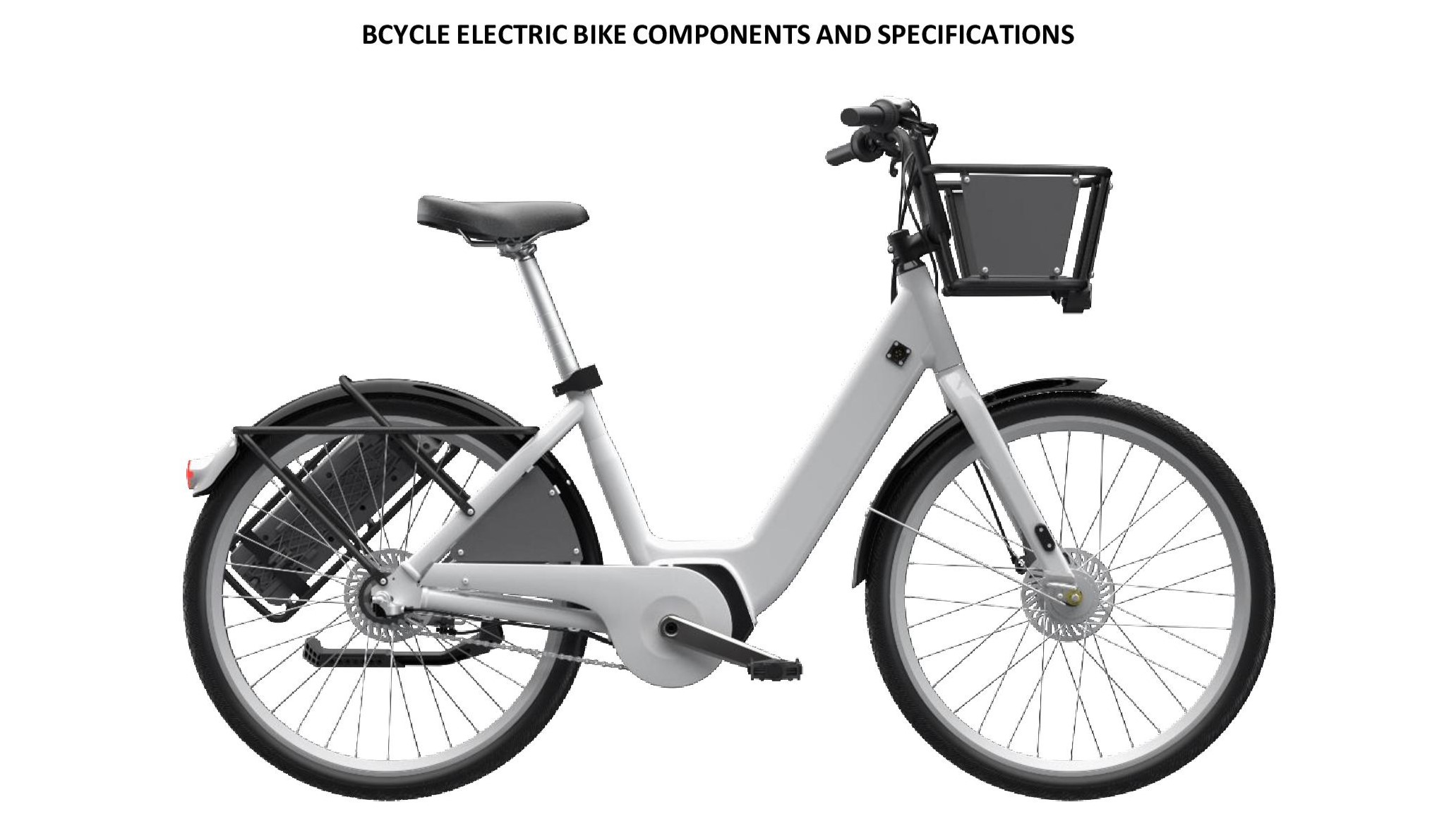 BCycles are intended for rides of 30 or fewer minutes and returned to docking stations. (BCycle)
BCycle rentals are already in Santa Barbara, Los Angeles, Las Vegas and other areas that include El Paso and Austin, Texas. 
In some cities, the city government or transportation authority helps fund the bike share service, and a separate company operates it, in partnership with BCycle. For instance, in Austin, the service is owned by the City of Austin and the city's transportation authority. The nonprofit Bike Share of Austin operates it in partnership with BCycle.
The City of Santa Cruz is not expected to pay for any of the BCycle bike-sharing docks or bikes. "We are not contributing any capital or operating funds," said Gallogly. All costs will be covered by BCycle, Gallogly said. There is potential revenue for the city in three to five years "based upon revenue generated by the company," Gallogly said.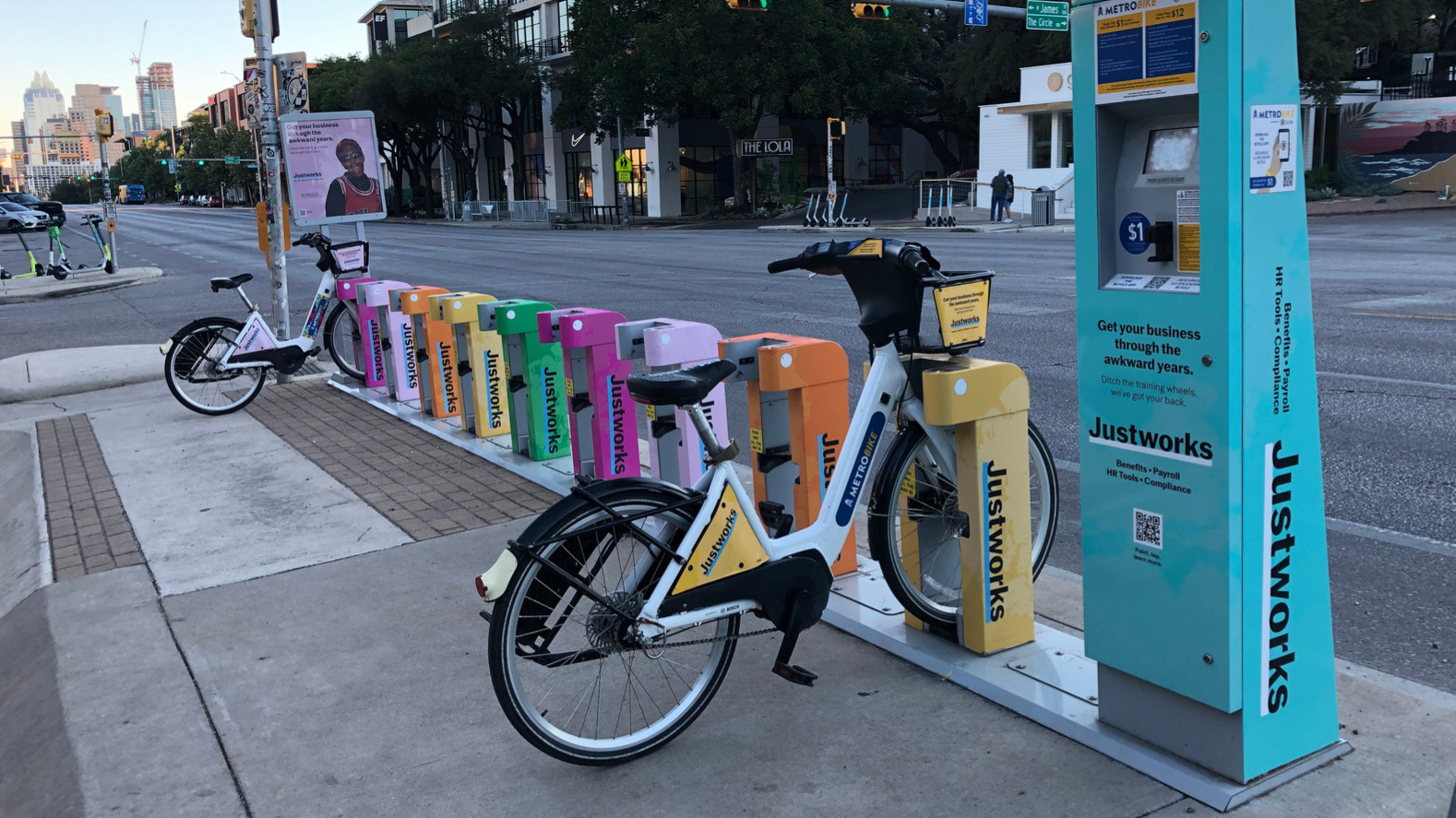 A MetroBike station in Austin, Texas shows two BCycle bikes for rent in October. (Kara Meyberg Guzman — Santa Cruz Local)
In Santa Cruz County, BCycle leaders have asked residents in a survey where they would like to see BCycle docking locations. In the first five years of the contract, BCycle has the option to expand to up to 2,000 bikes region-wide, Herlihy said.
Kyle Klein, BCycle's Santa Cruz general manager, said they will be launching with the same docking sites that Santa Cruz had with JUMP. The Santa Cruz City Council does not need to weigh in on the location of the bike share stations because the council approved JUMP sites that will be reactivated, Gallogly siad. 
"We're going to be cognizant of how we roll out and expand the system, but there's a lot of room that we have to do that with," said Klein. If the number of trips per bike per day exceeds five, Klein said they will "definitely be expanding the fleet."
Residents can share questions and comments about the BCycle bike share program on the city's website.
Editor's note: This story has been updated to correct a detail about the BCycle docking stations. The docks will not recharge the bikes. BCycle staff will replace bike batteries when recharge is needed, said a UCSC associate director of transportation and parking services.
Learn about membership
Santa Cruz Local's news is free. We believe that high-quality local news is crucial to democracy. We depend on locals like you to make a meaningful contribution so everyone can access our news.
Learn about membership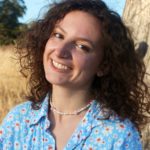 Allison Gasparini is a science writer and recent graduate of the UC Santa Cruz Science Communication master's program. She has written for the Monterey Herald, the Mercury News and Forbes' science section.