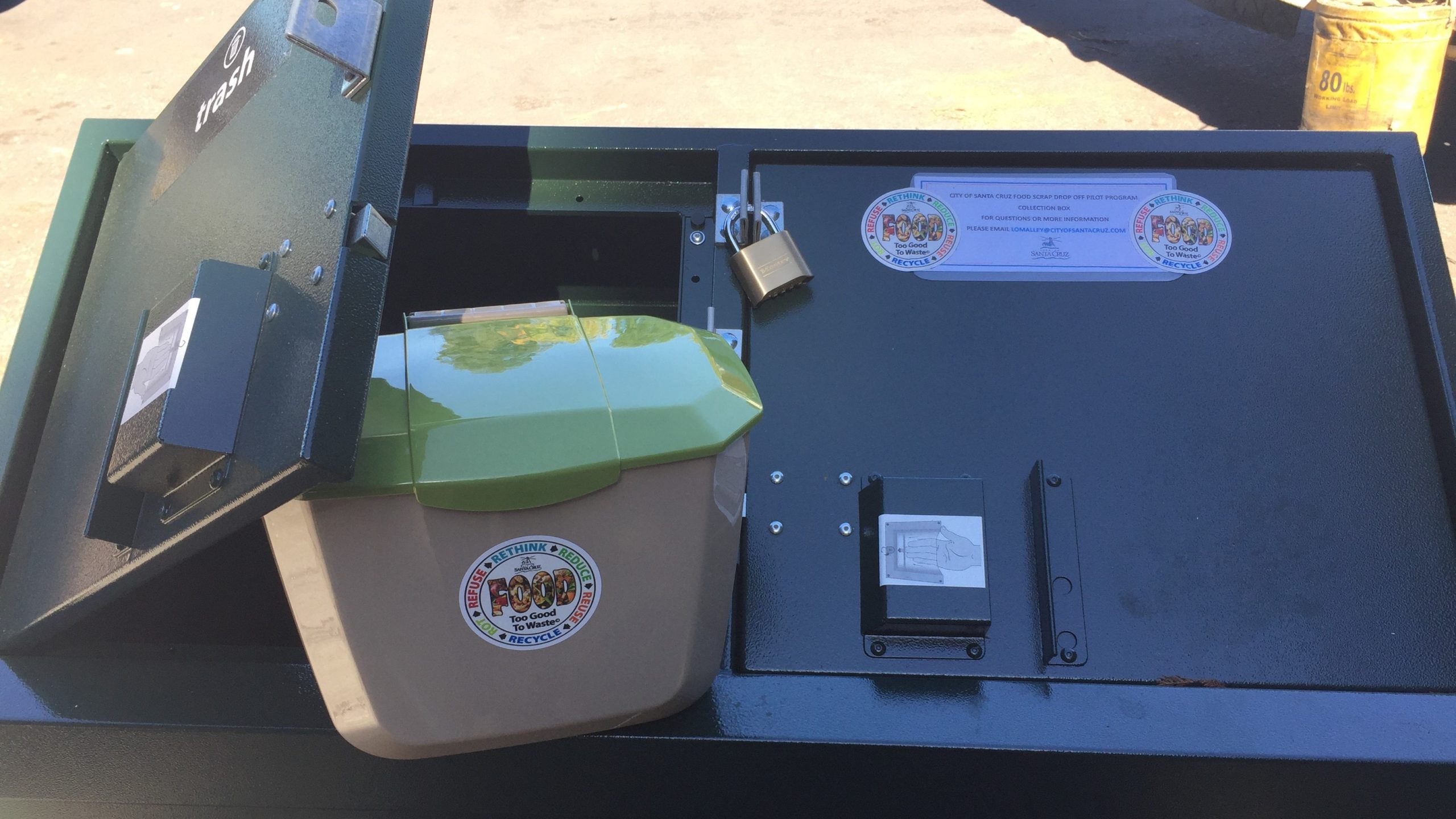 Food scraps have been collected in small bins and taken to a locked box on Trescony Street in Santa Cruz during a pilot program in recent months. (Leslie O'Malley — Contributed)
SANTA CRUZ >> In a pilot program to keep more food waste out of Santa Cruz County landfills, about 100 Santa Cruz city residents have been bringing food scraps to a locked box on Trescony Street for nearly the past 12 months.
Early next year, curbside food-waste collection could start because of a new state law that requires cities to phase in organic waste collection from residents and businesses. Santa Cruz city trash bills also are likely to increase to help pay for the program, said Leslie O'Malley, the city of Santa Cruz's waste reduction production manager.
Food waste accounts for nearly 25% of the garbage in the city's landfill on Dimeo Lane, according to a city study. A goal of state law SB 1383 is to reduce 75% of food waste sent to landfills compared with 2014 levels.
Some of the new state requirements for cities include:
Organic waste collection to all residents and businesses
Diversion of unsold edible food from restaurants and groceries to food banks and soup kitchens instead of landfills
The law takes effect Jan. 1, 2022 and includes penalties for noncompliance. O'Malley said she hoped the pilot program and next year's efforts would help more residents understand the importance of separating household trash, recycling and food waste.
"It's an opportunity to engage residents and help them understand the issue of food waste in the landfill, how to divert it and also the importance of making sure that we're getting the right material," O'Malley said. "Because we already have a big issue with contamination in the recycling."
In early 2022, Santa Cruz city leaders are expected to roll out a citywide Food Scrap Curbside Collection program to comply with the goals of state law SB 1383. In the interim, the city launched a pilot food scrap diversion program for residents.
Pilot program
Containers in the pilot program have been a few gallons with a tight fitted, plastic lid. Participants are given the code to a local "bear box" where they bring food scraps from their home. Participants share information such as how often they drop off, what kind of food is included and how much of it there is.
The biggest obstacle has been teaching residents how to separate food waste, trash and recycling, city leaders aid. Through the program, leaders will determine how a citywide program will look. Food waste is expected to be picked up in a separate bin curbside, rather than at a central box as it was in the pilot program.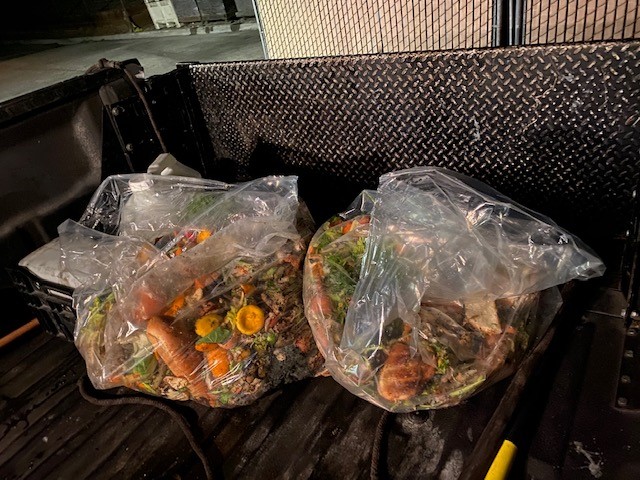 State law mandates cities to collect food waste starting in 2022. A pilot program has begun in Santa Cruz. (City of Santa Cruz)
"This pilot program will help us determine the most appropriate container size to use for the residential collection," wrote Bob Nelson, the city's resource recovery operations manager, in an email.
Nelson said in general, the city of Santa Cruz, Scotts Valley, and unincorporated Santa Cruz County should expect to see a rate increase for trash collection to cover the costs of complying with SB 1383.
The Scotts Valley City Council recently discussed a need for a new waste management contract. Scotts Valley, like Capitola and unincorporated Santa Cruz County, has a contract with San Jose-based hauler GreenWaste Recovery, Inc. It is unclear how much rates will increase for customers. Rates are set by GreenWaste, not Scotts Valley, said Scotts Valley City Attorney Kirsten Powell.
O'Malley, the waste reduction program manager, said that because the city of Santa Cruz owns sanitation trucks, landfill, and a food waste processor, it's in a "unique" position to keep costs potentially lower than a private hauler.
"It's projected to be funded through our rate structure," O'Malley said. "We don't have any extra grants." It's not yet clear how much rates are expected to rise. The monthly rate is now $32.04 for a 32-gallon trash bin in Santa Cruz.
Restaurants pitch in
In addition to the residential food scrap diversion program, O'Malley said the city's commercial food scrap diversion program in the past 18 months has diverted about 12 tons of food waste from Santa Cruz's landfills each week.
"The best way to reduce greenhouse gas emissions from food waste is to reduce it from happening in the first place, all along the supply chain," said O'Malley. "Getting it out of the landfill at the end of its life is great."
Some Santa Cruz residents said they are ready for the change.
"It's time for a smart system, with a kick-butt information campaign and a will to enforce," wrote Santa Cruz resident Erica Aitken, in an email. Aitken, 67, co-founded the Santa Cruz technical design services firm Rods and Cones. She's also a Santa Cruz Local member.
Aitken said the food scrap diversion program is just one of the ways she wants to see the city commit to being fully environmentally friendly with sustainable practices.
"I'd like to see a commitment and a strategy with cost analysis, deadlines, and implementation to become a self-sustaining city that rewards 'green' habits, efforts and social creativity," Aitken wrote.
Participants of Santa Cruz's food scrap diversion pilot program must be city residents. Residents interested in joining the program can fill out a questionnaire on the city's website.
Become a member of Santa Cruz Local, an independent, community-supported newsroom that's owned and led by local journalists. Our stories are free and always will be, but we rely on your support.
Already a member? Support Santa Cruz Local with a one-time gift.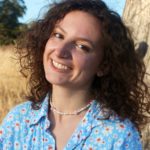 Allison Gasparini is a science writer and recent graduate of the UC Santa Cruz Science Communication master's program. She has written for the Monterey Herald, the Mercury News and Forbes' science section.