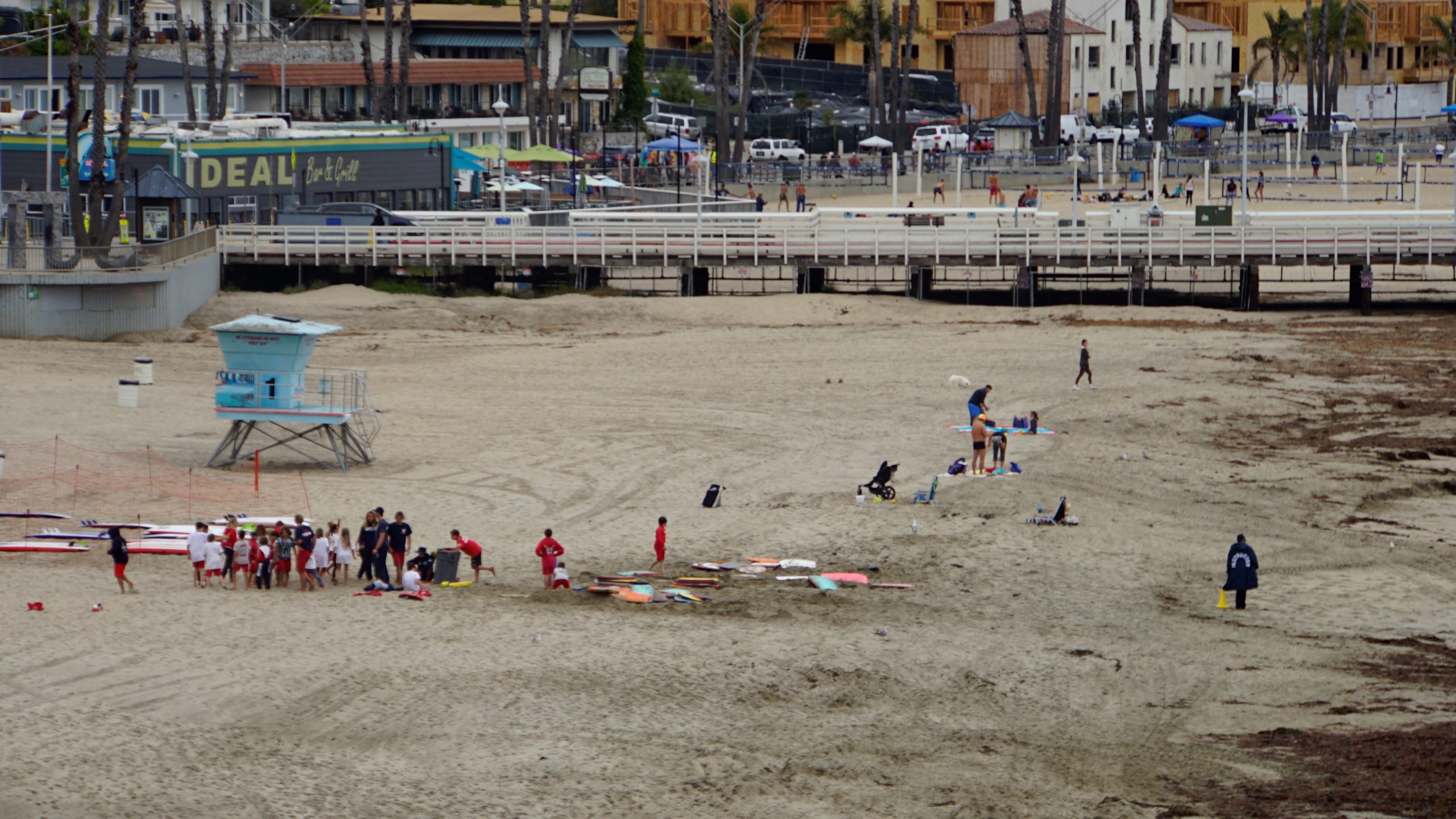 Beachgoers have dealt with more litter on Cowell's and Santa Cruz Main Beach this spring and summer with fewer paid staff to pick it up. (Kara Meyberg Guzman — Santa Cruz Local file)
SANTA CRUZ >> Garbage strewn on Cowell's and Santa Cruz Main Beach is often a problem with increased visitors during the spring and summer, but the issue has become more pronounced in recent months with fewer Santa Cruz Beach Boardwalk workers to help remove trash.
City staff and Boardwalk staff both typically collect trash on Main Beach during the summer. The Seaside Co. that owns the Boardwalk usually employs more than 1,400 part-time workers for a range of positions during the summer. This year it's been harder to find help.
"We continue to be severely understaffed," said Kris Reyes, the Seaside Co. director of strategic development and external affairs, in an email this month. "Regardless, we are cleaning the beach along our seawall and servicing the trash cans at all of our beach entrances multiple times a day," Reyes said.
Reyes added, "Given the severe impacts caused by losing the 2020 summer season, significant staff layoffs as a result of the pandemic, our late and unexpected reopening in April of 2021 and the nationwide challenge of hiring staff, we notified the city that our resources for helping in 2021 would be very limited." 
The Boardwalk's lack of staff mirrors a countywide downtrend in leisure and hospitality staff. In June, Santa Cruz County had about 1,700 workers in the arts, entertainment and recreation sector, according to data from the California Economic Development Department.  That figure includes employees of the Santa Cruz Beach Boardwalk. In June 2019 there were 3,000 workers in that sector, state data shows.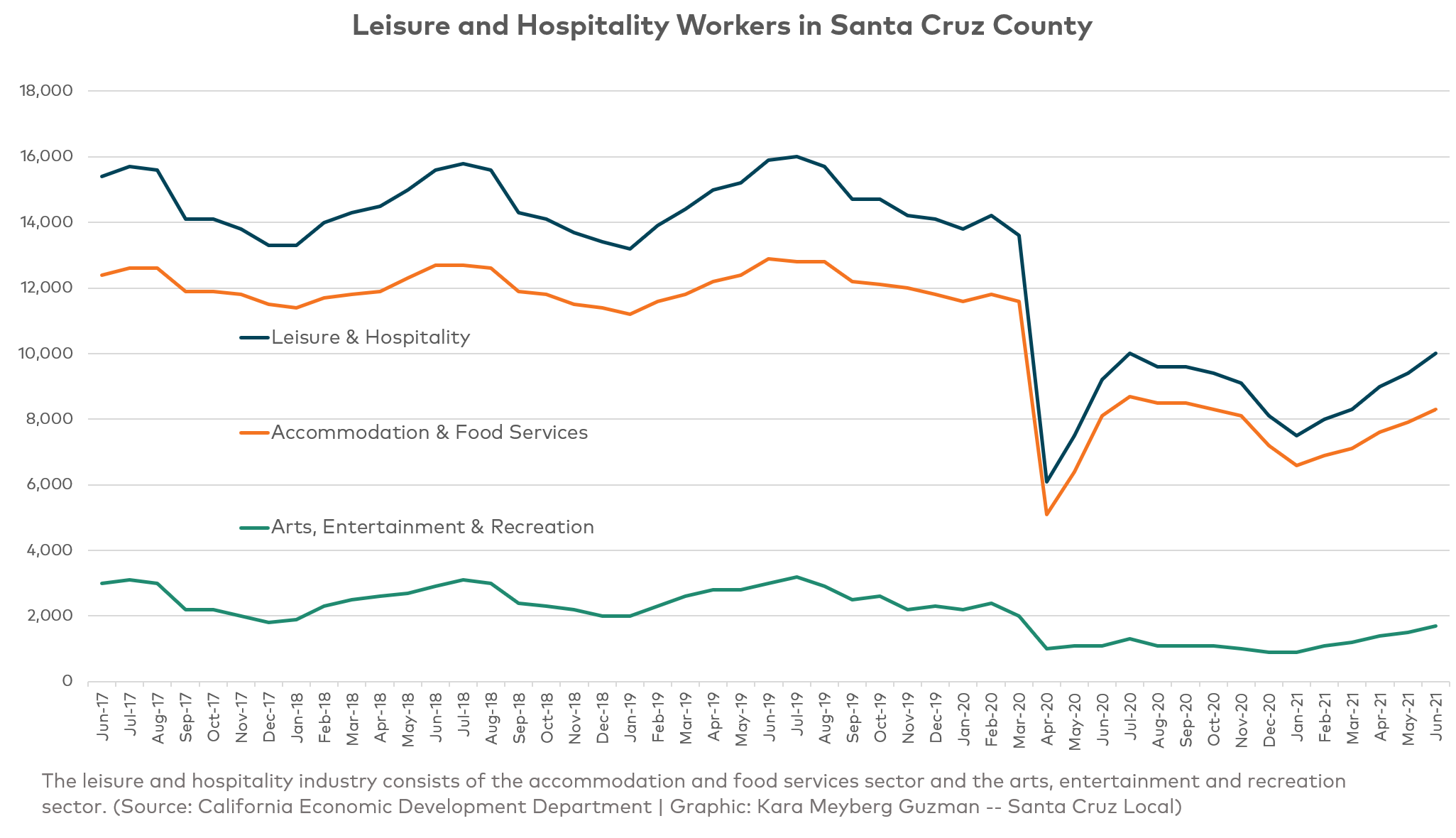 Despite the lack of staff, visitors continue to be drawn to Santa Cruz beaches. 
Santa Cruz city leaders said they received many complaints of beach trash during the spring. Some new types of refuse like disposable masks were part of the problem, city leaders said. 
"Trash management is always an issue, on Main Beach in particular," said Travis Beck, Santa Cruz's city parks superintendent. "This year we received maybe more than the normal level of complaints due to some larger impact that we experienced this year," Beck said. 
Some solutions
At a Santa Cruz City Council meeting in June, Santa Cruz Parks and Recreation Director Tony Eilliott called beach trash a "major problem." Elliott said, "We've got to get a handle on how we address this problem in a more upstream way."
Upstream solutions, or solutions that address the problem before the trash reaches the beach, include reducing single-use plastics that end up on beaches. Wind carries such trash into the ocean. Birds and other animals digest it.
Since the spring, city workers also offered more trash receptacles around the beaches. Beck said, "July 4 we had our largest number of dumpsters ever."
City leaders also have worked with volunteers at Save Our Shores. "We are able to mobilize a lot of volunteers," said Katherine O'Dea, executive director of Save Our Shores. 
Before 2020, the organization worked with a few thousand volunteers in their beach cleanup efforts. This summer the volunteers have remained. O'Dea said it's "really not very hard at all" to entice volunteers to come pick up trash on the beach. 
Volunteers return
Even though the organization wasn't conducting its typical large volunteer operations during COVID lockdowns, O'Dea said people would still contact her asking how they could help keep the beaches clean during the pandemic.
With the combination of further volunteer efforts, more dumpsters, and new enforcements by the city to reduce the number of street vendors, city leaders said the city is in a good position to improve garbage management. Beck said city council members are getting directly involved.
"Each of the council members has organized their own group of volunteers to come out and help with litter collection on the beach as well as to interact with the public," Beck said. "I feel like we're in a pretty good place right now."  
Save Our Shores beach cleanups
Volunteers must register and sign waivers. 
Become a member of Santa Cruz Local, an independent, community-supported newsroom that's owned and led by local journalists. Our stories are free and always will be, but we rely on your support.
Already a member? Support Santa Cruz Local with a one-time gift.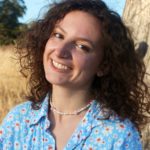 Allison Gasparini is a science writer and recent graduate of the UC Santa Cruz Science Communication master's program. She has written for the Monterey Herald, the Mercury News and Forbes' science section.