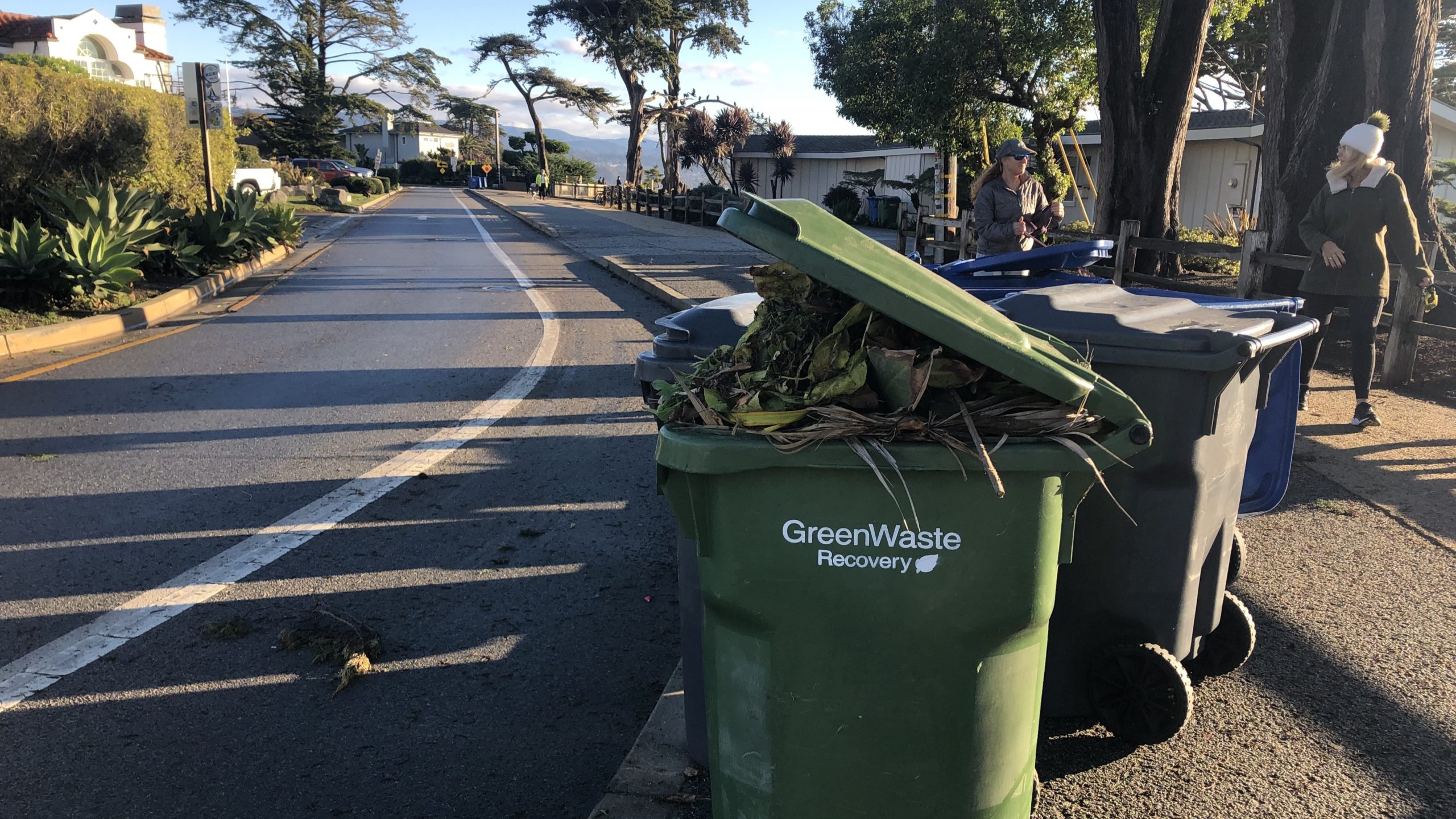 Food waste can be added to GreenWaste yard trimmings bins like this one on East Cliff Drive in Pleasure Point. (Allison Gasparini — Santa Cruz Local)
APTOS >> Residents in Aptos, Scotts Valley, Capitola, Watsonville and many other areas of Santa Cruz County have been able to include food waste in their yard-waste bins for months, but awareness and participation vary widely throughout the county.
GreenWaste is a private company that hauls trash, recyclables, yard waste and food waste in the cities of Capitola and Scotts Valley, as well as unincorporated Santa Cruz County areas such as Soquel, Aptos and the San Lorenzo Valley. 
Because of state law SB 1383's aim to reduce emissions at landfills, GreenWaste in January 2022 began to collect food waste in its yard-waste bins from Santa Cruz County customers.
Accepted in GreenWaste yard waste bins

: Vegetables, fruits, grains, cooked meat, dairy items, fish, shellfish, bones, shells, eggshells, coffee grounds and paper filters can be put in the yard waste bins. 

Not accepted in GreenWaste yard waste bins:

Cooking oil, liquids and raw meat are not accepted.
Sara Treat, customer service and outreach manager for GreenWaste, said the response this year has been "positive," but they need more time to understand residents' participation levels. 
"To be able to identify the difference in what is being added into that cart in terms of weight is pretty tricky," Treat said. "It's something that we will possibly be able to see as a trend over time."
Organics and food scraps are collected by GreenWaste and composted by Salinas-based Keith Day Co. Santa Cruz city food waste is processed separately in Santa Clara.
Anecdotally across Santa Cruz County, some people have added food waste to their yard trimmings each week. Others aren't aware of the collection. Still others initially added food waste to the bins but were dissuaded by the mess or insects or animals that were attracted during collection.
One incentive to collect food waste in the yard waste bin is that it could allow residents to downsize their garbage containers and save money, GreenWaste representatives said.

Food waste pails are also available to GreenWaste customers in Scotts Valley, Capitola and unincorporated areas of Santa Cruz County by calling 831-768-9505. 
Reducing emissions from landfills
State law requires organic waste disposal to be reduced by 75% compared with 2014 levels by the year 2025. The law's aim is to reduce the state's greenhouse gas emissions. Organic waste in landfills accounts for a significant share of California's methane emissions. Methane is a greenhouse gas that is 25 times more potent than carbon dioxide at trapping heat in the atmosphere over 100 years, according to studies by the Intergovernmental Panel on Climate Change.
This year, leaders in each city and jurisdiction that hauls trash across the state have had to find a way to collect residents' food waste. 
In the city of Santa Cruz, residents were given 6-gallon brown pails for food waste collection this year. 
In Watsonville, the plan has been to collect food waste with yard trimmings. However, several thousand residents did not have a green bin for yard trimmings in 2021. In November 2021, the Watsonville City Council voted to spend up to $300,000 for 6,000 35-gallon yard waste bins for those residents. Bins were delivered over the course of this year.
Watsonville's program has similar rules to GreenWaste's.
Accepted in Watsonville's yard waste bins

: Vegetables, fruits, grains, cooked meat and bones, dairy items, fish, shellfish, bones, shells, eggshells, grass clippings, weeds, flowers, leaves, branches, paper tea bags without staples, coffee grounds and paper filters can be put in the yard waste bins.  

Not accepted in Watsonville's yard waste bins:

Cooking oil, liquids, raw meat, food packaging, pet waste, compostable plates and bags, palm leaves, bamboo, cactus and other succulents, poison oak and dirt are not accepted.
Tamara Vides, Watsonville's interim public works and utilities director, did not provide participation data but said she believed there were "a large number of residents" complying with the new mandate. "We're pretty pleased about that," Vides said. 
As a part of the new law, Vides said the city is required to buy back a portion of the compost created from the processing of the waste. Vides said the city is aiming to have that compost available for residents to buy starting in early 2023.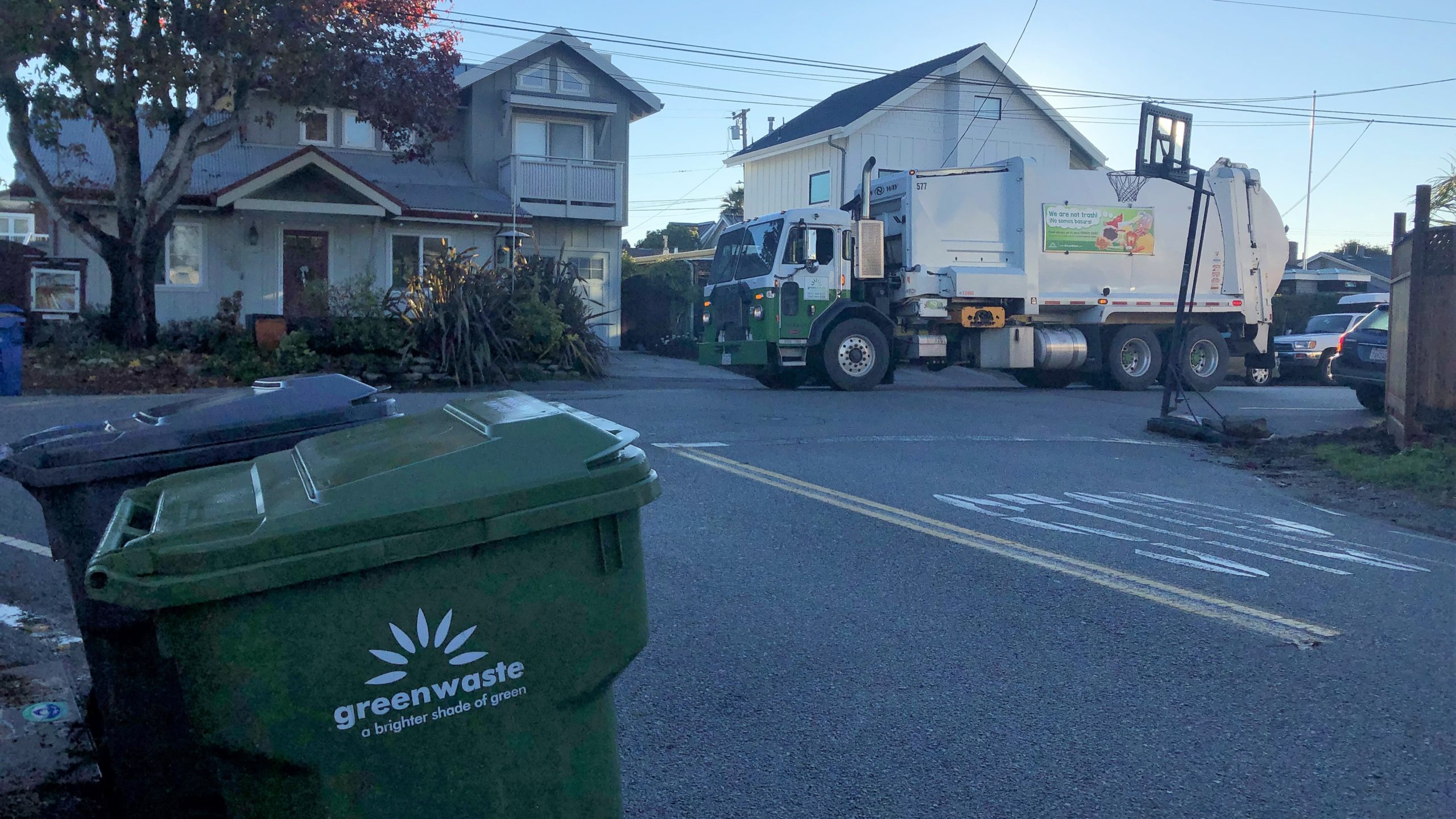 A Greenwaste crew collects waste in Pleasure Point on Dec. 12. (Allison Gasparini — Santa Cruz Local)
Outreach and education
Watsonville's public works department produced commercials in Spanish and English to run on local TV channels. Vides said the city has "not stopped yet in terms of education."
Sarah Patiño Hulick, a 33-year old horticulture instructor at Cabrillo College and volunteer with Watsonville-based climate justice organization Regeneración, was already an avid composter when the new state law took effect. She said she has been enthusiastically contributing kitchen food waste into her green bin.
"I think we could improve the education and outreach component," said Patiño Hulick. "I do think there's still some unknowns about it and people aren't sure what they could be putting in there." 
She suggested stickers which clarify what food waste is and isn't acceptable could be added to the bins to help guide residents through the change. 
In Capitola, Scotts Valley and unincorporated areas of Santa Cruz County, GreenWaste has published quarterly newsletters to make residents aware of the new law. GreenWaste also mailed a recycling guide to let customers know what is accepted in the green bins, what's not accepted, and tips for collection. 
The Santa Cruz County Public Works department has also published guides about what food is acceptable to put in yard waste bins. The guides are for unincorporated areas of the county such as Aptos, Soquel, Freedom, the San Lorenzo Valley, and parts of Live Oak where GreenWaste operates. 
Geoffrey Ellis, a retired software engineer who lives in the Santa Cruz Gardens area, said that while he's received mail on the new law from the county and GreenWaste and has found information on the GreenWaste website.
"I suspect that most residents are not aware of the new guidelines or not following them at all," Ellis said. He said most of his neighbors did not have a green bin out when he recently took his trash out. 
In Boulder Creek, educational consultant Kari Hood said she has virtually no food waste to put in her bin because her vegetable scraps feed her chickens. However, she thinks putting waste in green bins makes perfect sense." 
Hood said she liked the idea of incorporating food waste in with yard waste because "there is no need for extra labor/time spent on food waste specific bins," Hood wrote in a private message on Nextdoor.com. 
Overcoming the 'ick factor'
Both Vides and Treat said they've received feedback and questions from residents regarding bagging food scraps prior to collecting them in the green bin. Plastics and food packaging are not accepted with the organics and compostable bags are strongly discouraged. 
"There's definitely an ick factor in this new process," said Treat. "I think the biggest obstacle is each individual household kind of trying to manage how they can do this in a way that just works for their family." 
Treat recommended keeping a small container with a lid on a countertop to collect food scraps through the week. Before garbage day, dump the food waste on top of yard waste to avoid having old food stick to the bottom of their green bins.

Vides, the Watsonville city leader, recommended lining the bottom of the yard-waste bin with leaves before to prevent food waste sticking to the bottom. 

Residents can also spray a layer of non-stick cooking spray in the bins, Vides said. 

Other Watsonville residents have found success in keeping food scraps in a bag in the freezer throughout the week to prevent unpleasant smells from the waste, Vides said
GreenWaste leaders said that because the program is still so new, it's hard to make a blanket statement on how the program might evolve in the future. 
"The goal is to just see how it goes and troubleshoot along the way," Treat said. 
Read Santa Cruz Local's related stories:
Learn about membership
Santa Cruz Local's news is free. We believe that high-quality local news is crucial to democracy. We depend on locals like you to make a meaningful contribution so everyone can access our news.
Learn about membership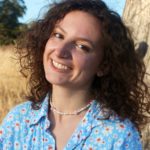 Allison Gasparini is a science writer and recent graduate of the UC Santa Cruz Science Communication master's program. She has written for the Monterey Herald, the Mercury News and Forbes' science section.