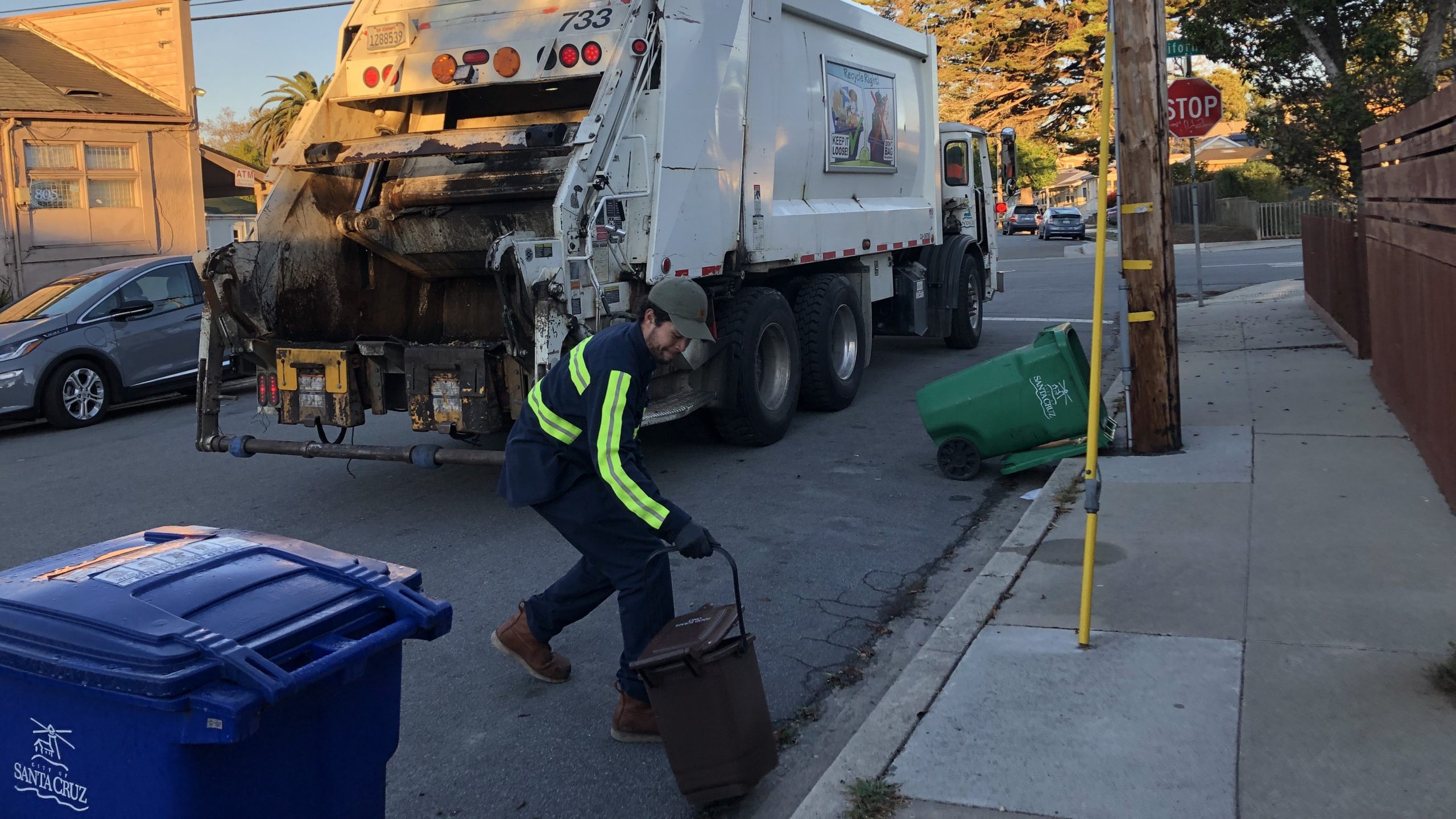 A sanitation worker collects a food-waste pail near California Avenue and Walk Circle in Santa Cruz in November. (Allison Gasparini — Santa Cruz Local)
SANTA CRUZ >> More than three months since Santa Cruz residents received small brown bins to collect food waste for weekly pickup, participation has varied widely in neighborhoods and city leaders have tried to correct some problems with the program.
To separate food waste from other household trash and comply with state law, more than 14,000 of the 6-gallon pails were delivered to homes in Santa Cruz and parts of Live Oak where city workers collect garbage. City leaders anticipated that some residents would be slow to use the cans, said Bob Nelson, Santa Cruz resource recovery operations manager. 
One problem has been that the pails have been destroyed by garbage-truck drivers who can't see them in the dim morning hours of trash collection.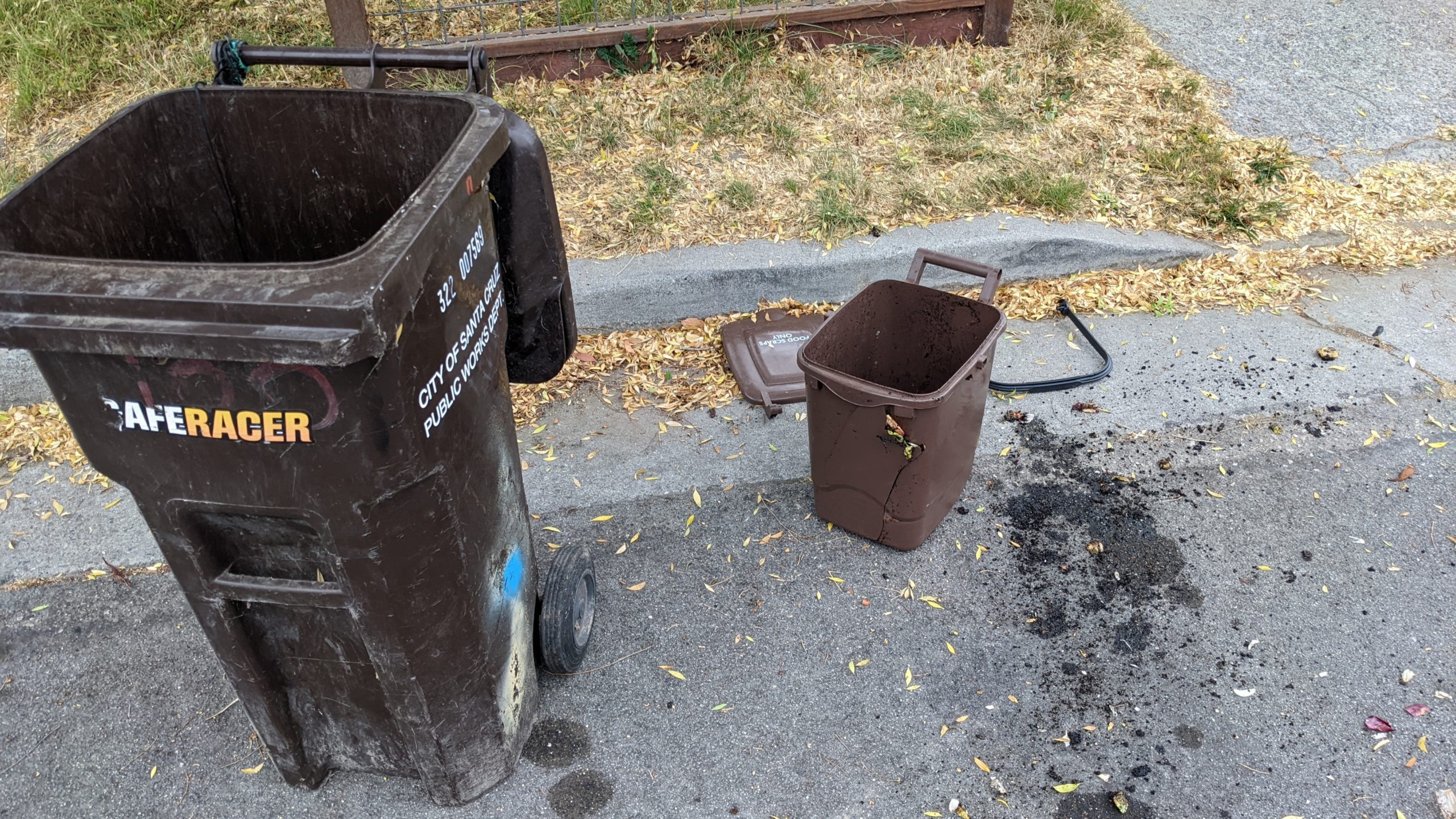 A food-waste bin is pierced and dismantled after a pickup this fall in Santa Cruz. (Stephen Baxter — Santa Cruz Local)
At least one or two bins were crushed by trash trucks daily when the program started in August. "We had a lot of them at first, but we're not seeing many complaints on that in the last few weeks," Nelson said Thursday. Nelson estimated that 50 to 100 pails have been replaced. 
Residents who need replacements — and those who never received the cans — now get pails with an orange reflective strip to make them more visible to drivers, said Leslie O'Malley, Santa Cruz's waste reduction manager.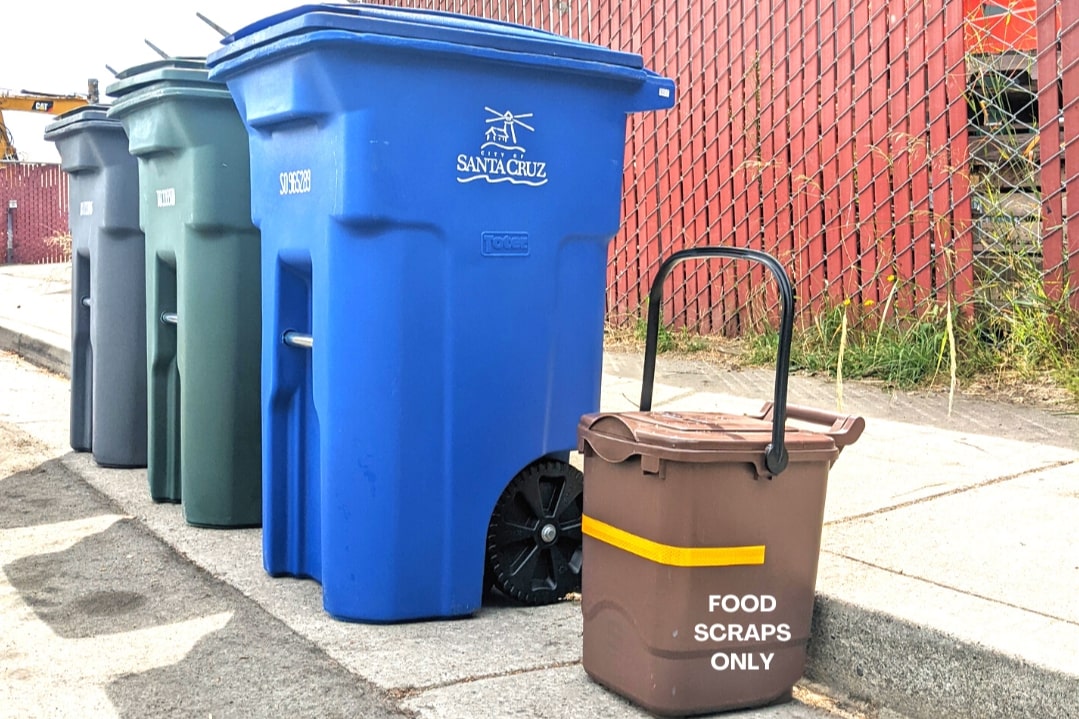 New food-scrap pails have a reflective strip. (City of Santa Cruz)
Uneven participation
At dawn on a recent Thursday, brown food-waste pails stood dutifully on the street for several houses in a row in the Circles neighborhood of Santa Cruz's Lower Westside.
On other blocks in the same neighborhood, there were no pails next to the trash and recyclables because residents chose not to participate.
Sanitation truck crews collected trash and recyclables. A separate truck added to the route collected food scraps. Two sanitation workers took turns hanging off the back of the truck. When it stopped, a worker hopped out and grabbed the brown pail by its handle, then dumped it in the back of the truck. They moved on to the next house.
Food waste goes to the Dimeo Lane landfill north of Santa Cruz where it is mechanically processed into a mash.
"That mash is held in holding tanks and it's taken over to (the city of) Santa Clara about every 10 to 14 days where it is further processed into a variety of products including pellets for pig feed, biodiesel, and fertilizer," O'Malley said.
Climate change and food waste
Leaders in Santa Cruz must collect food waste separately from trash because of state law SB 1383. Adopted in 2016, it requires organic waste disposal to be reduced by 75% compared with 2014 levels by the year 2025. It also aims to divert unsold edible food from restaurants and groceries to food banks and soup kitchens instead of landfills.
The law's aim is to reduce the state's greenhouse gas emissions. Organic waste in landfills accounts for a significant share of California's methane emissions. Methane is a greenhouse gas that is 25 times more potent than carbon dioxide at trapping heat in the atmosphere over 100 years, according to studies by the Intergovernmental Panel on Climate Change.
California cities and other jurisdictions that collect waste had some latitude in how to collect food waste separately from trash.
Residents of places like Scotts Valley and Watsonville were told to put their food waste in with their yard waste containers. That didn't happen in Santa Cruz because it wouldn't have "penciled out financially," O'Malley said. Seven trucks would have had to take round trips to the closest industrial composting facility in Marina every day, she said.
The cost of the food scrap collection pails was about $174,000, Nelson said. A grant from the California's Department of Resources Recycling and Recovery covered about $60,000, Nelson said.
Meat, bones, fish, vegetables, fruit, coffee grounds, dairy products and other food are accepted in the pails. Liquids, paper and food packaging are not accepted.
O'Malley said she and others have received questions from residents about how to make the pail less "yucky." Food collection in the bins can attract insects and animals, as many residents anticipated.
"My new grossest chore each week: Rinsing out the decomposing sludge left over in the new food waste bins," wrote Santa Cruz resident Greg Larson, on Nextdoor.com.
How to reduce the mess
Some residents have found that the pail fits under a kitchen sink, O'Malley said. Because of insects, others keep the pail in a garage or outside. The pails are designed to lock with the handle straight up or all the way down.
Rather than put food waste in the pail during the week, some residents keep food waste sealed in another bag or container. Then they transfer the food waste into the pail right before it is set on the street.

After collection, the pails must be cleaned out weekly with water.
Nancy Jackson, a 63-year-old from Santa Cruz, is a dietitian and longtime food composter. She said the key is to rinse out the food bin promptly after trash collection.
"It isn't a nice chore to do," Jackson said. "But I don't let it sit."
Despite some complaints, O'Malley said she believed there's big potential to increase participation.
"Say a street has quite a lot of participation. Some household that isn't doing it may be more motivated to do it because everyone else is doing it," O'Malley said.
Contact the City of Santa Cruz's food scrap program with questions or comments at [email protected] or 831-420-5377.
Questions or comments? Email [email protected]. Learn more about Santa Cruz Local and how we are funded. Santa Cruz Local is supported by members, major donors, sponsors and grants for the general support of our newsroom. Our news judgments are made independently and not on the basis of donor support.
Santa Cruz Local's news is free. We believe that high-quality local news is crucial to democracy. We depend on locals like you to make a meaningful contribution so everyone can access our news. Learn about membership.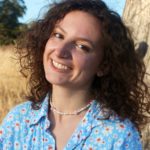 Allison Gasparini is a science writer and recent graduate of the UC Santa Cruz Science Communication master's program. She has written for the Monterey Herald, the Mercury News and Forbes' science section.