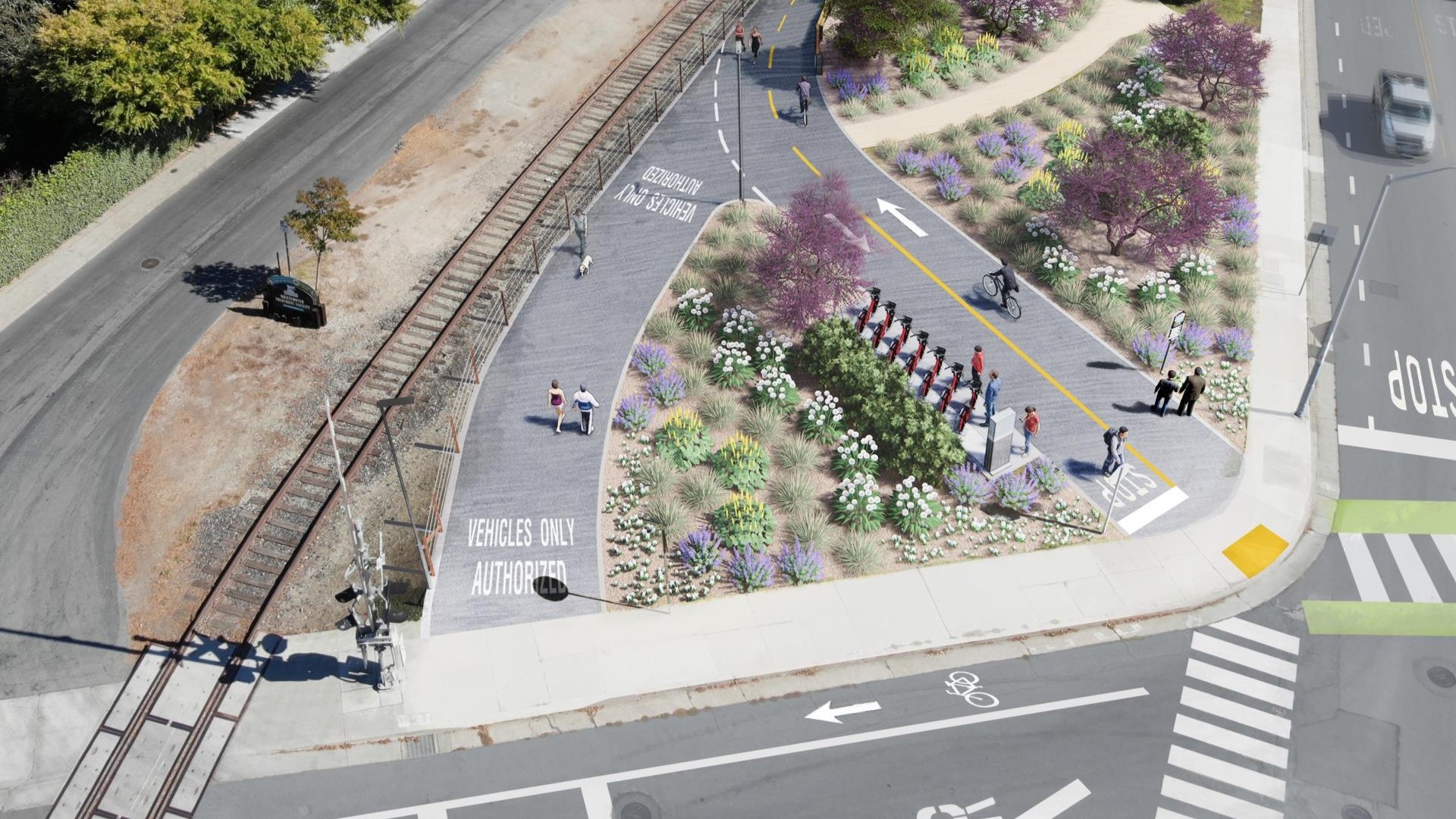 Construction is expected to start this summer on a paved path parallel to the train tracks along Bay Street near California Street in Santa Cruz. (City of Santa Cruz rendering)
SANTA CRUZ >> Construction is expected to resume this month on a paved path along the railroad tracks from Bay Street to Beach Street in Santa Cruz.
The $11.4 million, 0.8-mile, one-year project resumes progress on the rail trail that is now paved from Natural Bridges Drive to Bay and California streets. The project's goal is to increase safety and mobility "so the next generation of young people is better able to move around our community walking or biking," said Claire Gallogly, transportation planner for the City of Santa Cruz.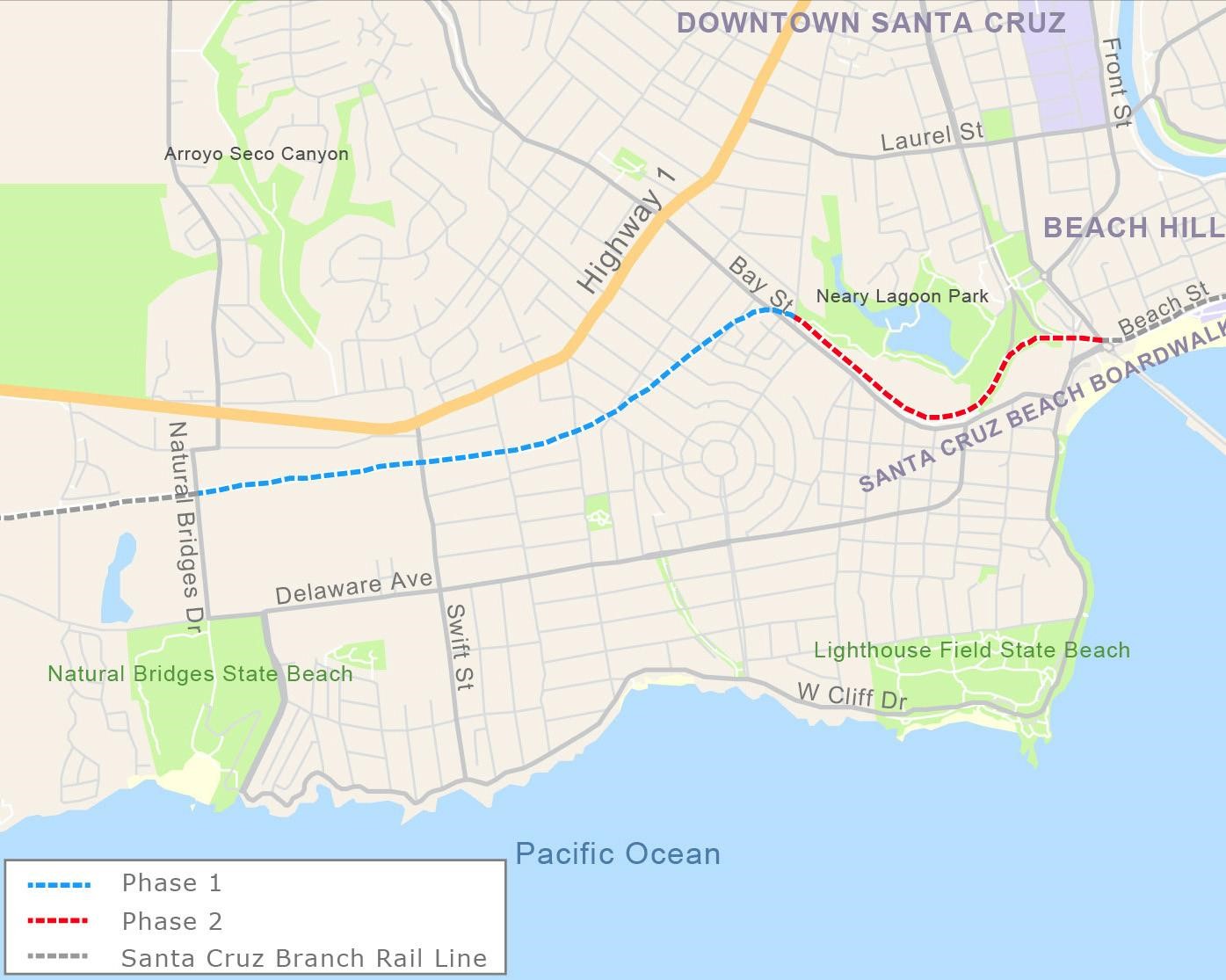 Segment 7 of the Santa Cruz Branch Rail Line runs from Natural Bridges Drive to Pacific Avenue in Santa Cruz. Construction on Phase 2 is expected to start this month and end in July 2023. (City of Santa Cruz)
The work expected to start this month is the second phase of Segment 7 of the Coastal Rail Trail. The first phase, from Natural Bridges Drive to California Street, was completed in December 2020. The full segment is 2.1 miles. 
A state Active Transportation Grant funded $9 million of the $11,395,667 contract for the new construction, city leaders said. Money also came from sales tax revenue from Measure D that was approved by Santa Cruz County voters in 2016. The outcome of a separate Measure D in the June 7 election had no bearing on this project.
Traffic flow and stop signs on Bay Street, California Street and California Avenue are not expected to change, city leaders said. The new path will run along the train tracks on Bay Street, then edge along Neary Lagoon Park to Pacific Avenue and Beach Street near the Santa Cruz Municipal Wharf.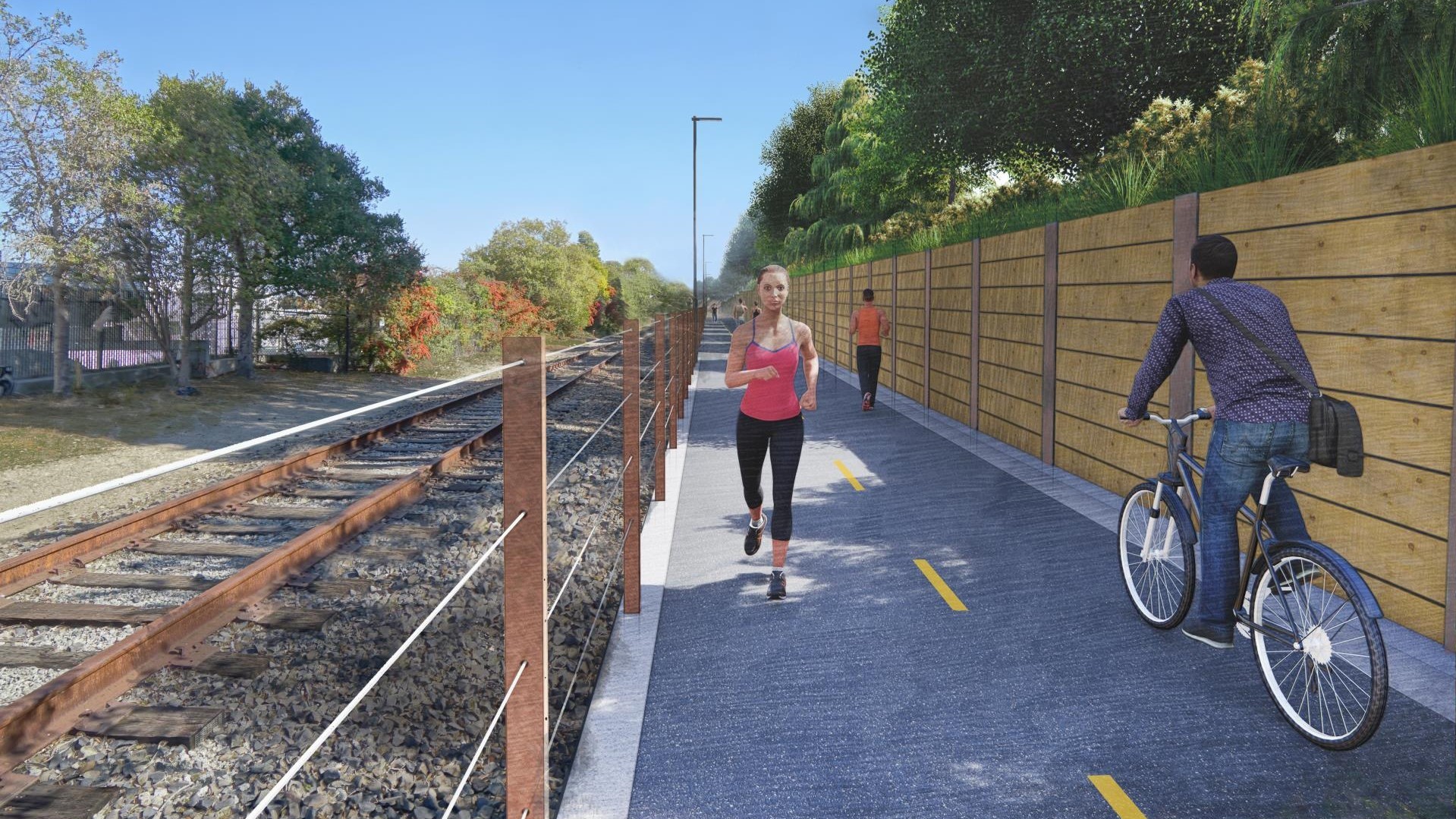 An artist's rendering shows a paved path for walkers and cyclists on the second phase of Segment 7 of the rail trail in Santa Cruz. (RRM Design Group rendering)
Starting in mid-July, construction is expected from 8 a.m. to 5 p.m. weekdays. There are no planned road closures, said Miguel Lizarraga, associate professional engineer for the City of Santa Cruz. Residents should plan for "slight delays on Bay and California for material deliveries," Lizarraga said. "As far as noise and dust, we do have a plan to mitigate that," Lizarraga said.
There is already a dirt path along Bay Street. A small section of the dirt path will become part of the paved path, but most of the dirt path will remain, Lizarraga said. A paved path that avoids West Cliff Drive will provide faster access from Bay Street to Beach Street.
"It'll be great to have easy, off-road access to bike lanes," Lizarraga said. 
Retaining walls are expected to be built along a paved path near Neary Lagoon Park and the Santa Cruz Wastewater Treatment Facility in Santa Cruz. (RRM Design Group rendering)
Bay View Elementary access
Because many students use Bay Street to get to Bay View Elementary School at 1231 Bay St. in Santa Cruz, the new path could provide a safer way to walk or cycle to school. 
Leaders from Ecology Action, a Santa Cruz-based nonprofit group, plan to promote walking and biking to school. 
"At Bay View Elementary, we're conducting a vertical model of programming, in which students across grade levels, and their families, receive both education and encouragement to promote the use of active transportation," said Kira Ticus, senior program specialist at Ecology Action. 
City leaders now train second through fifth-graders on safe walking and biking to school. A pilot program at Bay View Elementary is expected to expand that program to more grade levels.
"We are excited because we haven't done this program before," said Gallogly, the city transportation planner.
Ecology Action programming was funded through an Active Transportation Programs state grant. It also includes public adult cycling presentations, safety training, mechanical checks, some free bike maintenance and community rides.
"Our goal is to educate, empower, and transform habits for Bay View Elementary families and the community along Segment 7 so that active transportation skyrockets and becomes the norm," Ticus said. 
Although construction is expected to start in July, an official, public groundbreaking and celebration has been planned for 12:15 p.m. Thursday, Aug. 11 at La Barranca Park, 700 Bay St. near California Avenue. More details on the event are expected in August. 
Learn more about Santa Cruz Local and how we are funded. Santa Cruz Local is supported by members, major donors, sponsors and grants for the general support of our newsroom. Our news judgments are made independently and not on the basis of donor support.
Santa Cruz Local's news is free. We believe that high-quality local news is crucial to democracy. We depend on locals like you to make a meaningful contribution so everyone can access our news. Learn about membership.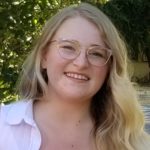 Alyssa Shook is a Santa Cruz-based journalist and a recent graduate of Sacramento State's journalism program. Shook is working on a master's degree in education and single-subject English teaching credential at UC Santa Cruz.