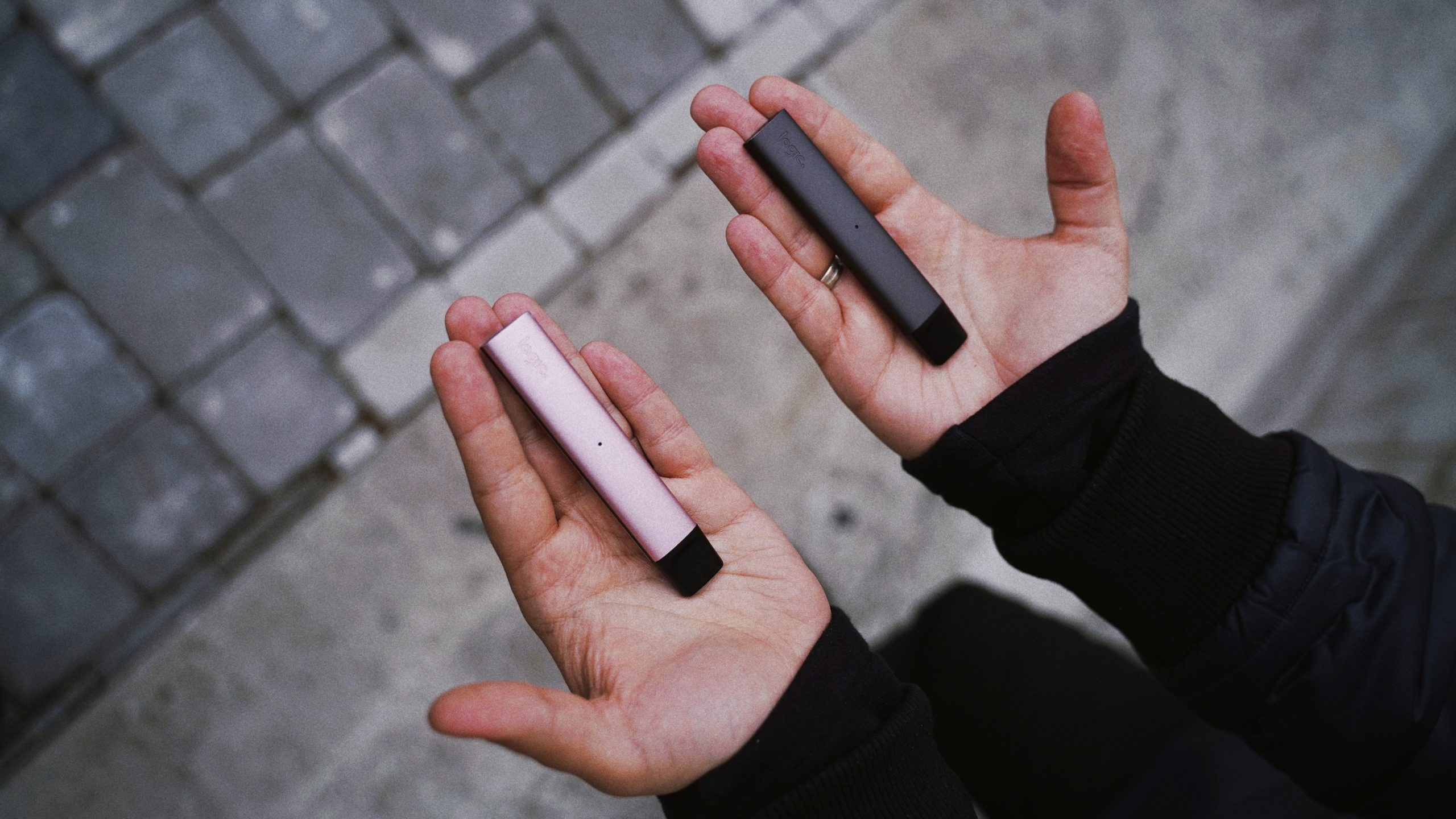 The Scotts Valley City Council on Wednesday banned the sale of flavored tobacco products including those in many e-cigarette cartridges. (Olena Bohovyk — Contributed)
SCOTTS VALLEY>> To reduce teens' use of electronic cigarettes and other "vape" products, the Scotts Valley City Council on Wednesday banned the sale of flavored tobacco products in the city. 
The sale of flavored tobacco has already been banned in the other three cities in Santa Cruz County as well as in unincorporated areas of the county.
Electronic cigarettes heat a flavored liquid with nicotine and flavorings into a vapor. They are the most commonly-used tobacco product among teens, according to the CDC. In 2018, the U.S. Surgeon General called e-cigarette use among youth "a public health epidemic."
"There's been numerous studies done that show that these are starter products for youth to begin smoking," said Scotts Valley Police Capt. Jayson Rutherford, at Wednesday's council meeting.
The council voted 5-0 to adopt the updated rules. "This is an epidemic," said Councilmember Derek Timm. "Kids refer to the bathroom at the high school as the vape room."
The new rules will also prohibit smoking or vaping in outdoor dining spaces.
Several residents at the meeting said they supported the proposed rules. "Banning flavored tobacco products is a critical step in breaking the cycle of nicotine addiction," said Rachel Kippen, co-chair of Santa Cruz County Tobacco Education Coalition and an education consultant at the Santa Cruz County Office of Education. "Some students are consuming more than 50 milligrams of nicotine daily, which equals more than two packs worth of cigarettes."
The council received opposition letters from representatives of Scotts Valley Gas & Mart and Scotts Valley Smoke Shoppe. 
Council reviews draft plan to fund projects
In preparation for budget talks next month, the council discussed priorities for capital improvement projects in the next five years.
Scotts Valley Administrative Services Director Casey Estorga presented a draft plan with more than 70 projects. About $11.5 million is proposed to be spent in the fiscal year that starts July 1. That's about $4 million more than the previous fiscal year.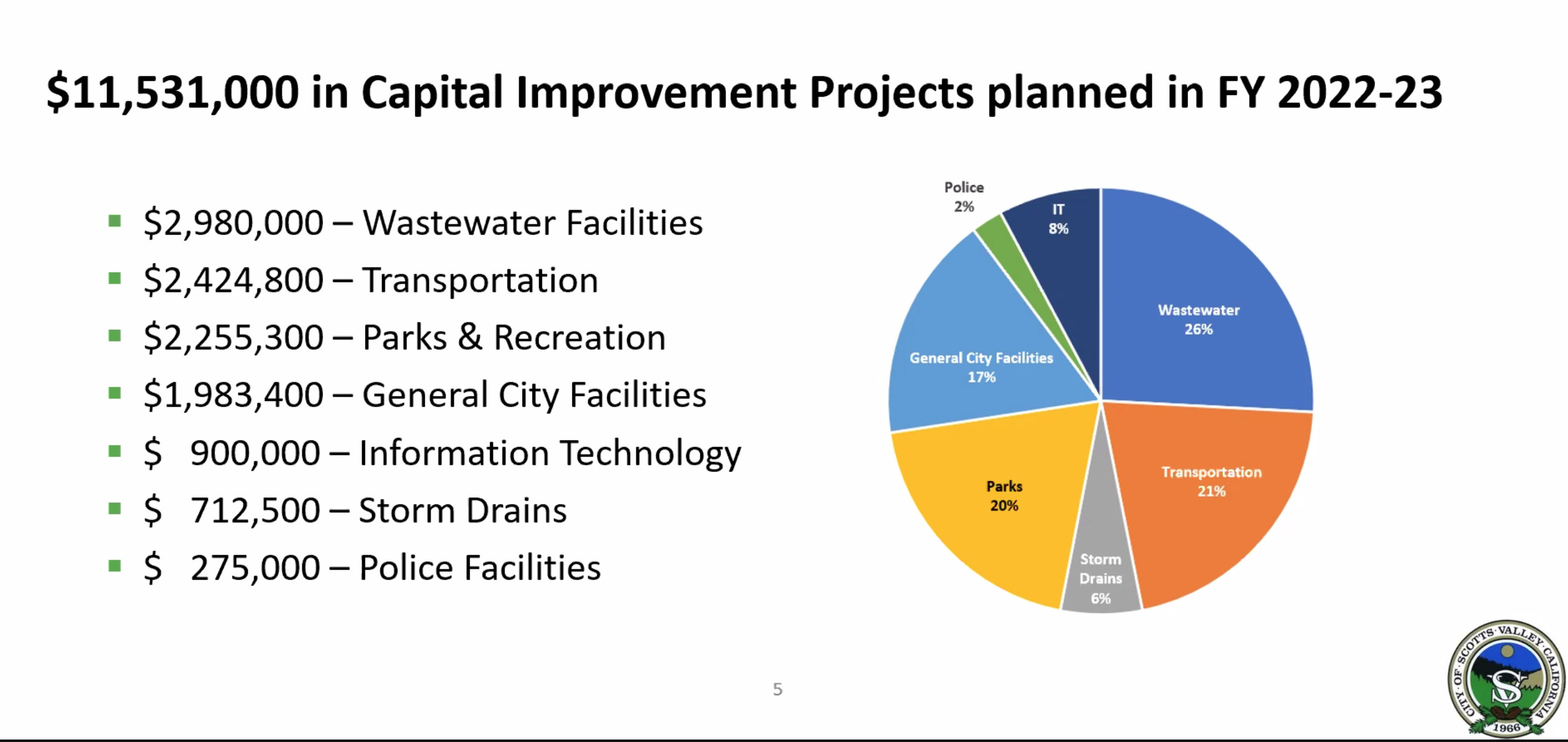 Proposed capital improvement plans include $11.5 million in spending over the next fiscal year. (City of Scotts Valley)
"We are ambitious, but it also is allowing the city to catch up on some deferred maintenance, specifically in our city parks on city roads," said Estorga. 
Forty of the projects are categorized as "essential/critical," the highest-level priority. Those include: 
Granite Creek overcrossing improvements ($608,800)

Skypark play structure equipment ($1.01 million)

City Hall roof replacement ($285,000)

Police department locker room ($125,000)

Mount Hermon Road pavement maintenance ($200,000)

Bean Creek Road pavement rehabilitation ($600,000)
Improvements to the wastewater treatment plant total about $13.7 million over the next five years. They will be funded by increases to wastewater bills approved last year. About $1.3 million in road improvements over the next five years will be funded with Measure D, a sales tax approved by Santa Cruz County voters in 2016 to fund transportation projects. 
Councilmember Jack Dilles requested that in addition to repairing major roads, money be allocated to residential streets. "We tend to spend our dollars on major streets and on streets that are obviously deteriorating," said Dilles. "I'd love to see us start—even with limited dollars—start spreading those dollars around a little bit more."
Santa Cruz Local's news is free. We believe that high-quality local news is crucial to democracy. We depend on locals like you to make a meaningful contribution so everyone can access our news. Learn about membership.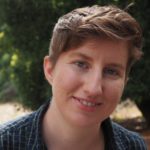 Jesse Kathan is an environmental journalist and a graduate of UC Santa Cruz's science communications program. Kathan has contributed to the Mercury News, Monterey County Weekly and KSQD-FM.