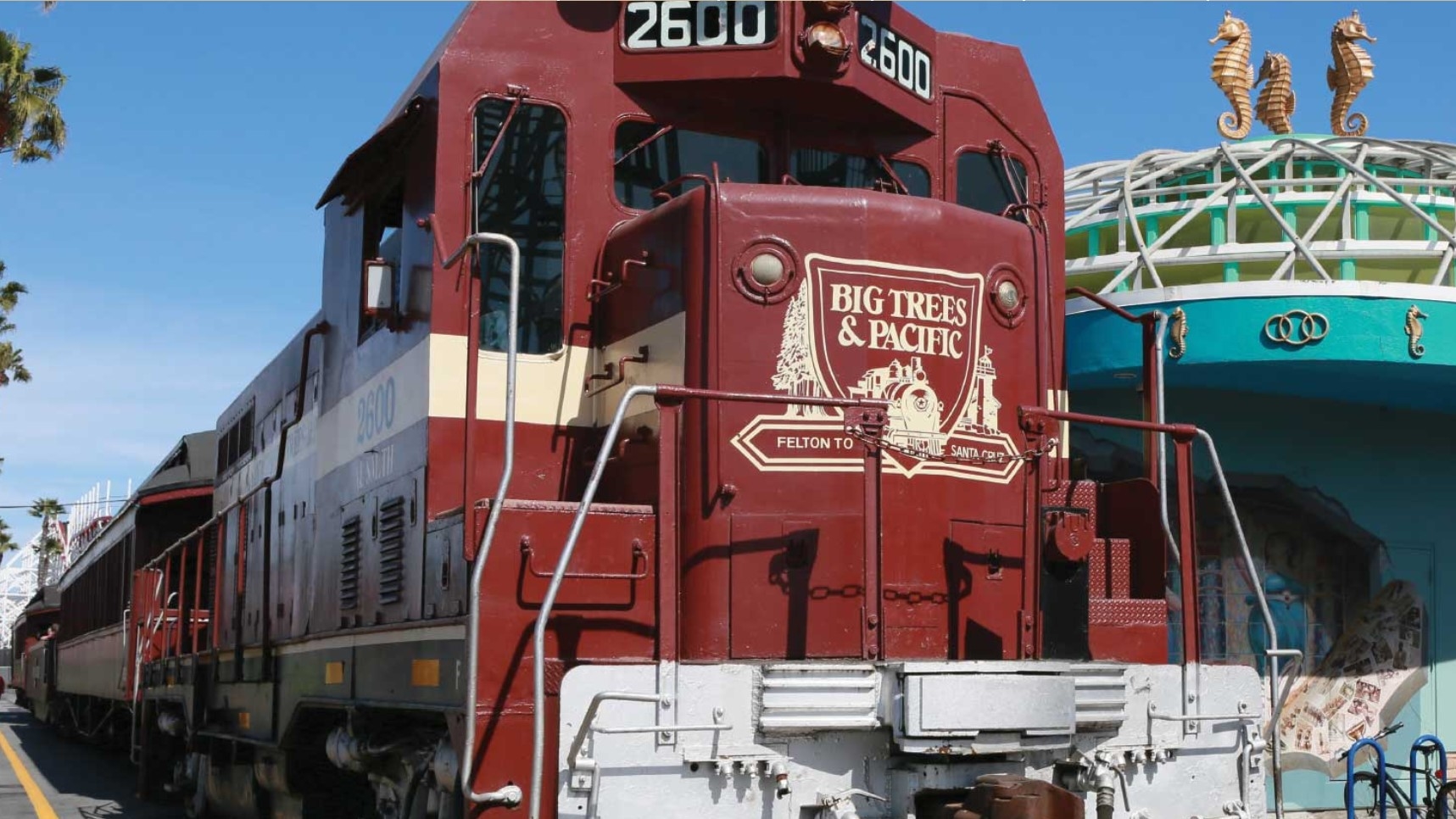 Roaring Camp runs a train service from Felton to Santa Cruz. (Roaring Camp)
SANTA CRUZ >> A Santa Cruz County Transportation Commission proposal to close off Santa Cruz area rail lines to freight service has caused an uproar in recent weeks about the future of Roaring Camp Railroads and the Santa Cruz Branch Rail Line.
But ahead of a commission meeting on Thursday, officials said the plan would not affect Roaring Camp's beach train and would not prevent the future development of passenger rail.
During Thursday's meeting, commissioners are expected to discuss the proposal and hear community concerns. Commissioners are not expected to vote on the issue, officials said. 
The online meeting will start at 9 a.m. Thursday, Feb. 3.

Join

on Zoom

or call 669-900-6833, meeting ID 884 1796 2384

Comments can be submitted to

[email protected]

until 9 a.m. Wednesday.
What is the status of freight rail service in Santa Cruz County?
The Santa Cruz County Regional Transportation Commission is a planning agency that oversees improvements to county roads, railroads, bus lines and trail systems. In 2012, the commission purchased the Santa Cruz Branch Rail Line, which runs from Davenport to Watsonville. Most of the line has been out of service since 2017 due to major damage from winter storms. Repairing the line to carry freight would cost an estimated $50 million to $65 million, according to a Regional Transportation Commission report.
Roaring Camp Railroads is a Felton-based company which operates tourist trains from the Santa Cruz Mountains to the Santa Cruz Beach Boardwalk. Although the Felton line was historically used for freight, unusable portions of the Santa Cruz Branch Rail Line have left it cut off from the rail network. 
The Regional Transportation Commission contracts with third-party rail operators to provide freight services on a small portion of operable track in Watsonville. Minnesota-based Progressive Rail took over the contract in 2018, but found the line to be unprofitable. In 2021, Roaring Camp took over freight service as a subcontractor. They serve five clients in the Watsonville area. Although Roaring Camp wants to resume freight service to the Felton line, neither they nor the Regional Transportation Commission are willing to pay for the necessary repairs.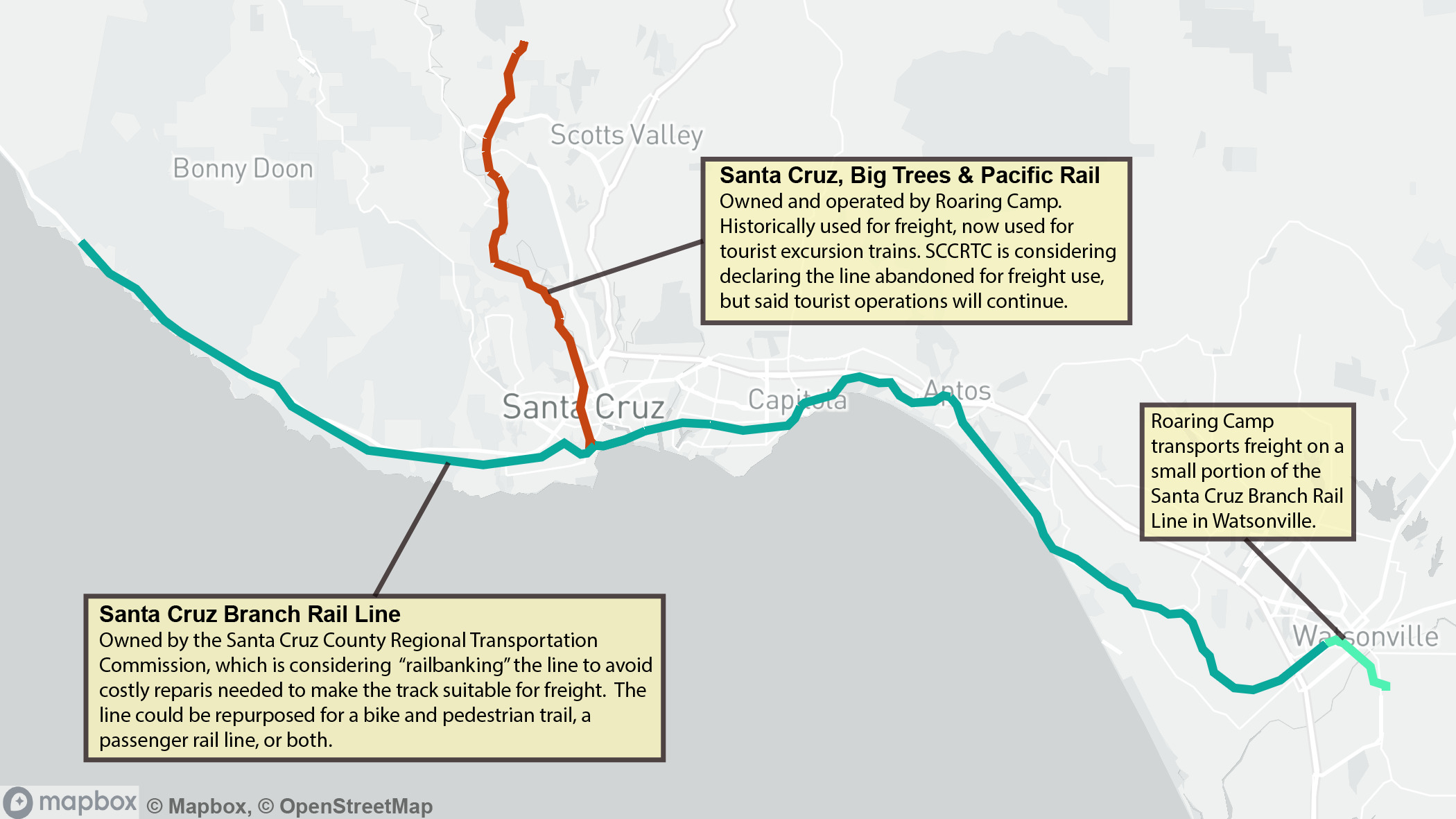 A map shows Santa Cruz County's two rail lines: The Santa Cruz Branch Rail Line and Santa Cruz, Big Trees, and Pacific Rail, also known as the Felton Branch. (Caltrans)
What is the Thursday, Feb. 3 meeting about?
Unable to fund repairs, the Regional Transportation Commission has begun discussions of "railbanking" the Santa Cruz Branch Rail Line. Railbanking is a process that allows the railroad to be converted to a trail. In doing so, the Felton Branch, which connects the city of Santa Cruz with Felton, would be cut off from Davenport, Watsonville, and the rest of the rail system.
Railbanking still allows the possibility of future rail use on the corridor, and does not necessarily mean the tracks will be removed. It also does not preclude future passenger or freight rail, said Guy Preston, executive director of the Santa Cruz County Regional Transportation Commission.
Opponents of railbanking include Santa Cruz County Friends of the Rail and Trail. Its leaders said that in the 40 years the federal government has allowed railbanking, few trails have transitioned back to train use.
To move forward with railbanking, the Regional Transportation Commission is expected to consider filing "adverse abandonment" of the Felton line with the federal Surface Transportation Board. The filing would force the Felton line to give up its designation as a freight line. Tourist trains would still be permitted to run.
A vote on railbanking is not expected Thursday. The commission is expected to hear input from residents and ask questions of staff.
If the commission goes ahead with adverse abandonment proceedings, the Surface Transportation Board could deny the request, said Preston, the Regional Transportation Commission director. Even if the commission pursues advanced abandonment, it's unlikely Felton will be reconnected to the rail network anytime soon. "Right now, we can't afford to do the improvements anyway," Preston said in an interview.
Given the large public response to the proposal, Preston predicts the commission won't decide whether to pursue adverse abandonment any time soon. "I don't really feel comfortable putting a timeline on it," he said. "It may never happen."
Why is Roaring Camp opposed?
Regional Transportation Commission officials have said that the Felton line's potential loss of freight designation would not affect Roaring Camp's tourist trains which run from Felton to the Santa Cruz Boardwalk. It also would not affect its freight operations in Watsonville, transportation commission leaders said.
Roaring Camp leaders said otherwise. "Adverse abandonment will be a slow death for Roaring Camp," Roaring Camp CEO Melani Clark wrote in an email.
Losing Roaring Camp's federal protection as a freight line would mean the Regional Transportation Commission "would 100% control our access to Santa Cruz and the Boardwalk," Clark wrote. Roaring Camp's leaders also are concerned about potential eminent domain claims on the Felton line.
Fire chiefs of four fire districts in the Santa Cruz Mountains also voiced opposition to the plan and support for Roaring Camp's position. In a public letter, the chiefs wrote that freight lines "may be critical" to provide supplies and transport firefighters during future wildfires.
Why can't the Regional Transportation Commission afford to repair the line?
The line has long needed millions of dollars in repairs to bridges, tracks and other infrastructure throughout its 32 miles, said Preston. "These are structures that are over 100 years old," he said. Heavy storms in 2017 caused further damage to culverts, embankments and drainage ditches at seven locations along the line, including Wilder Ranch State Park, Three Mile Beach and the Aptos bridge over Highway 1.
Clark, the Roaring Camp CEO, said the Regional Transportation Commission should repair the freight line with grant funding, public-private partnerships and money from Measure D. Measure D's 0.5% sales tax approved by county voters in 2016 is expected to raise $500 million in 30 years for transportation projects.
Measure D provides about $2 million for rail preservation each year, said Preston. That is far less than the estimated $50 million to $65 million needed for repairs. Because the line isn't currently being used for freight, Preston said it's unlikely the commission would receive state or federal funds for repairs. "We're kind of stuck in this hole," he said.
The commission has received $285,000 in state funding for the repair of the Pajaro River Bridge in Watsonville — part of the line still used for freight. Thursday, the commission will vote on whether to enter into an agreement with Caltrans and accept the funding.
Santa Cruz Local's news is free. We believe that high-quality local news is crucial to democracy. We depend on locals like you to make a meaningful contribution so everyone can access our news. Learn about membership.
Santa Cruz Local's news is free. We believe Santa Cruz County is stronger when everyone has access to fair and accurate information. Our newsroom relies on locals like you for financial support. Our members make regular contributions, starting at $19 a month or $199 year.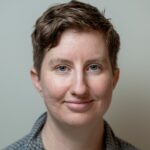 Jesse Kathan is a staff reporter for Santa Cruz Local through the California Local News Fellowship. Kathan holds a master's degree in science communications from UC Santa Cruz.