WATSONVILLE >> Watsonville city leaders are expected to adopt a city budget on Tuesday that would raise the police department's budget by about 8% and nearly double the Parks and Community Services budget. This week, some advocates collected signatures on a budget demand petition that aims to shift money away from police and toward libraries, parks, street and sidewalk repair and other programs.
Advocates' proposed policy changes would follow the city councils of Salinas and Richmond, which enacted police department hiring freezes this month. Oakland leaders also are considering police budget cuts. 
Watsonville police's budget is proposed to be more than 40% of the General Fund in the fiscal year that starts July 1, city leaders said. It has been more than 30% of the General Fund budget for the past 10 years, according to city records.
"I think the community is just tired. Tired of seeing like the city isn't investing in the community," said Anissa Balderas, a member of the city's Ad-Hoc Committee on Policing and Social Equity. The committee is expected to present separate police reform ideas to the city council in August. "Our General Fund isn't that big compared to other cities. So we need to make sure that our money is going to the best place possible," Balderas said.
She and others followed Salinas' lead in distributing a budget demand petition among advocates. They plan to present it to the city council. 
Watsonville police's budget has risen in recent years. 
Watsonville's General Fund expenditures were about $51 million this year and are anticipated to be about $53 million in the fiscal year that starts July 1. 

Watsonville administrators

have proposed that the police's budget

, including capital costs, should rise 8% to about $23 million in the fiscal year that starts July 1.

More than 25% of the police's budget includes Animal Services, an additional mental health liaison, the Police Athletics League, fuel, utilities, insurance, training, pension liabilities, 911 services and the youth diversion program Caminos Hacia El Éxito, said Cindy Czerwin, the city's administrative services director.
Balderas said Watsonville should do what Salinas did and divert some money from police to basic services like sidewalks. She also wanted the city to aim more money toward housing. Many residents lacked affordable housing and were broadsided financially by the pandemic, she said. 
This week's organizing followed a June 8 city council meeting where more than a dozen residents advocated for police money diverted to social services. 
"I understand that community frustration," said Francisco Estrada, a Watsonville City Council member and a member of the Ad-Hoc Committee on Policing and Social Equity. In an interview this week, Estrada said he wanted to wait until the committee made recommendations to the council in August before he would support changes.
"I'm a big firm believer in processes," Estrada said. "I want to make sure we try our best to do this right."
The city council could decide later how money is allocated within the police department or make other changes based on the committee's recommendations, said Cindy Czerwin, Watsonville's administrative services director. 
Police leaders have said that recruiting officers has been difficult for years as the department tries to fill positions as officers retire. Police agencies across the state face the same problem,  Watsonville Assistant Police Chief Tom Sims has said. Budget cuts make hiring more difficult. 
Watsonville police has solved, or "cleared" an increasing share of violent crime from 2016 to 2019, according to police records that it reports to the FBI. Calls for service have dropped in the same period.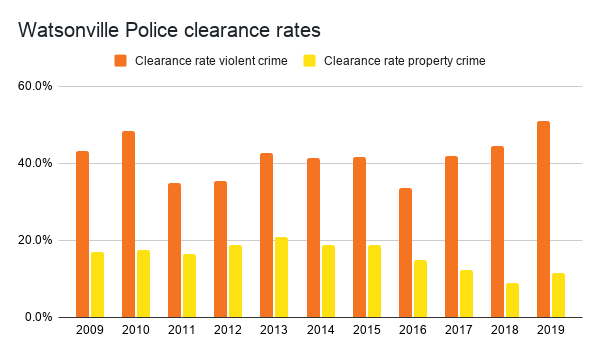 Source: Watsonville police | Graphic: Stephen Baxter, Santa Cruz Local
Related stories
Become a member of Santa Cruz Local, an independent, community-supported newsroom that's owned and led by local journalists. Our stories are free and always will be, but we rely on your support.
Already a member? Support Santa Cruz Local with a one-time gift.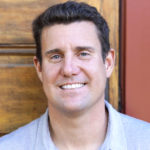 Stephen Baxter is a co-founder and editor of Santa Cruz Local. He covers Santa Cruz County government.