This is Santa Cruz Local's newsletter issue for Wednesday, Sept. 29, 2021. Our newsletter informs Santa Cruz County residents of big decisions in local government and how to get involved.
In this issue:
1/ HEALTH
State mandate raises vaccination rate of healthcare workers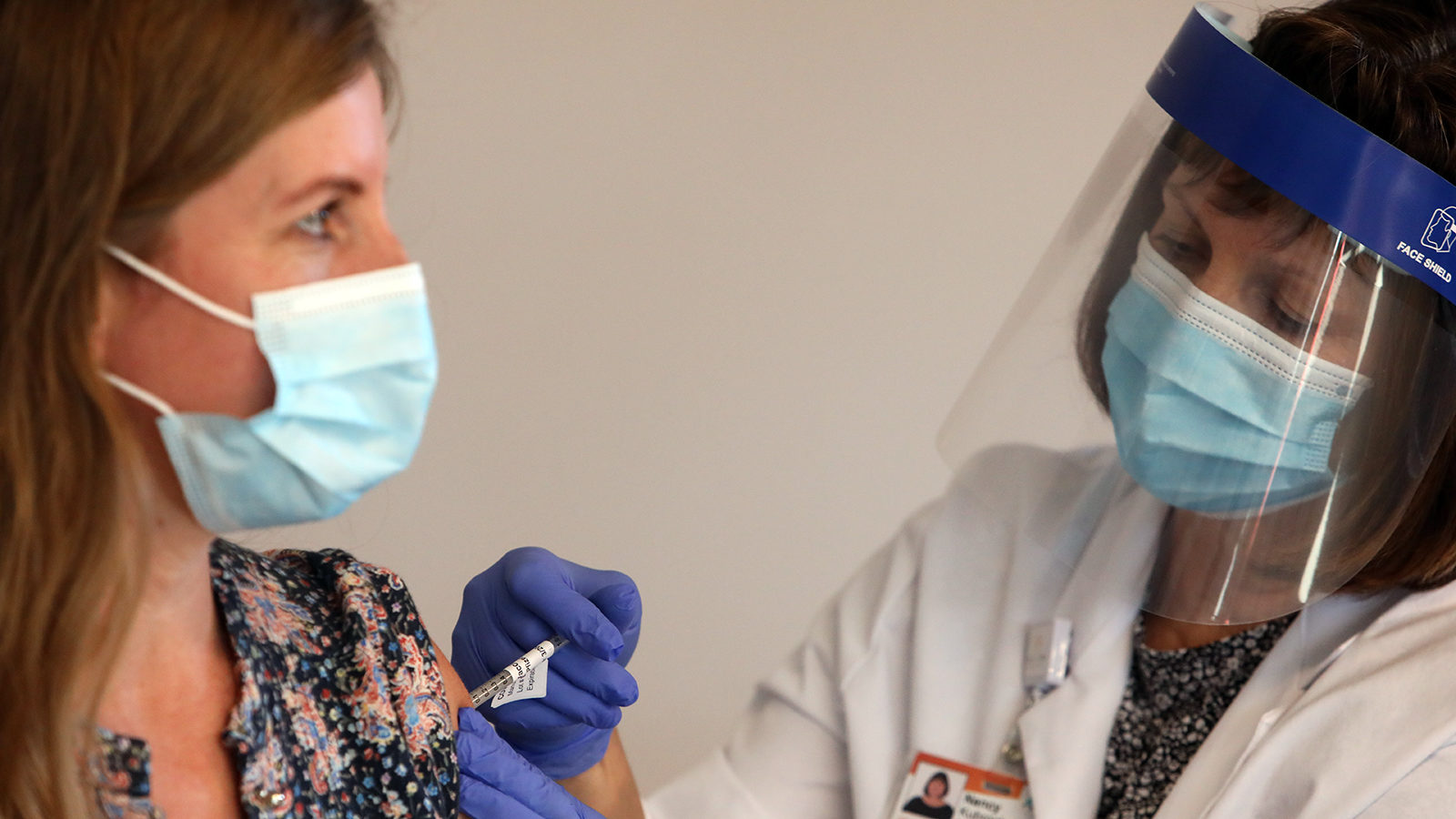 Marika Riggs, an intensive care unit nurse at Dominican Hospital, receives a COVID-19 vaccine dose in December 2020. (Pool photo by Shmuel Thaler — Santa Cruz Sentinel)
As Thursday's deadline approaches to require COVID-19 vaccinations among healthcare and nursing home staff, Santa Cruz County has at least 9 in 10 healthcare workers vaccinated, according to preliminary county data. 
Before the mandate, vaccination rates at skilled nursing and senior residential care facilities were stuck at about 7 in 10, said Dr. David Ghilarducci, Santa Cruz County's deputy health officer. 

The mandate is important in part because 103 of the 213

COVID deaths in Santa Cruz County have been among skilled nursing and senior residential care residents

, according to

county data

as of Sunday, Sept. 26.

Dominican Hospital has a staff vaccination rate of approximately 96%, according to county data. Watsonville Community Hospital has a staff vaccination rate of about 95%, according to county data. The hospitals are subject to a stricter mandate which does not allow an option for weekly testing to replace vaccination. Some unvaccinated staff have been on voluntary leave, hospital representatives said.

The seven skilled nursing facilities in the county have an average staff vaccination rate of at least 90%, county officials said. The 40 senior residential care facilities — which operate under a separate mandate — average 93%. Data is missing from four facilities, county officials said.
The California Department of Public Health set a deadline of Thursday, Sept. 30 for healthcare workers — including skilled nursing facility staff — to either prove they've been vaccinated for COVID-19, qualify for an exemption, or potentially lose their jobs. The deadline applies to hospitals, skilled nursing facilities and most other healthcare settings. Employees there do not have the option of weekly COVID testing to get out of it. 
"We were seeing (COVID) transmission mostly from employees that would come to work who didn't even know they were ill," Ghilarducci said. "They transmitted the virus to medically vulnerable people, and that was where most of our deaths have been." Ghilarducci, the county's deputy health officer, said the mandates have had a significant impact at nursing homes and residential care facilities.
"Doctors were talking with the staff and doing what they could, but there was just a lot of resistance," Ghilarducci said. 
2 / SANTA CRUZ CITY COUNCIL
Pogonip farm relocation advances in Santa Cruz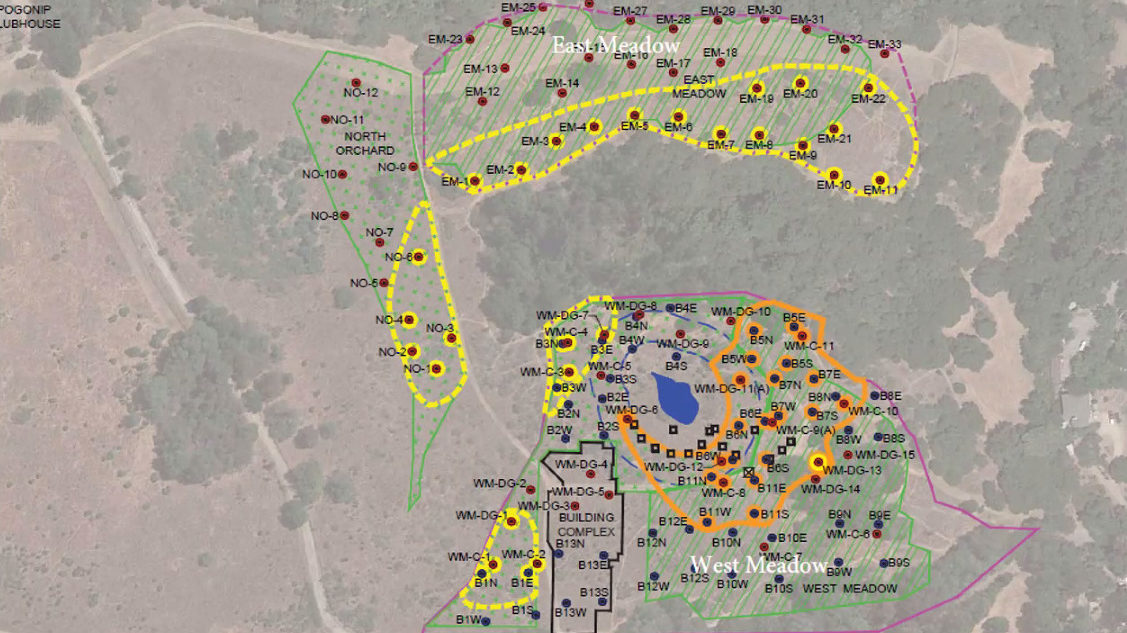 Yellow and orange boundaries show contaminated areas of the lower meadow in Pogonip. Green boundaries show areas deemed safe for farming in the lower meadow. (RMD Environmental Solutions)
A proposal for a farm in a Pogonip meadow advanced Tuesday as city leaders began a roughly two-year process to gather public input and study potential environmental effects. 
The Homeless Garden Project has planned a farm in a Pogonip meadow near Golf Club Drive for years. Pogonip is a city-owned wildland area with trails adjacent to UC Santa Cruz. 
Shortly after the Santa Cruz City Council approved the project in 2018, city workers discovered lead and other contaminants related to skeet shooting in that lower meadow.

Homeless Garden Project leaders now want to relocate the proposed farm to a meadow uphill and closer to the defunct Pogonip Clubhouse. 

The plan calls for a 9-acre farm, two buildings and two greenhouses. The move would require a change to the Pogonip Master Plan with public hearings and environmental review. The Homeless Garden Project is a nonprofit group that trains and employs homeless people in farm work. 
In a unanimous vote Tuesday, the Santa Cruz City Council:
Confirmed a schedule and process to potentially change the Pogonip Master Plan to allow the relocation

Approved a $102,500 cost for environmental review and related consultant fees  

Told staff to estimate costs and timeline to clean up the lead contamination in the lower meadow. The approved motion by Councilmember Sandy Brown focused on a high standard of cleanup that would allow residential or agricultural use. 
The Homeless Garden Project has a farm on Shaffer Road at Delaware Avenue and a store on Pacific Avenue. The project leases the farm from Ron Swenson, a developer who plans to build housing on that lot.
Darrie Ganzhorn, Homeless Garden Project's executive director, wrote in an email to Santa Cruz Local that "there is no possibility that (Homeless Garden Project) can permanently stay at our current location." Attempts to reach Swenson this week were unsuccessful. 
Several residents also spoke in favor and opposition to change. Members of Friends of the Greenbelt spoke against it and recently hired a San Luis Obispo-based lawyer to advocate against development of the upper meadow.
Read Jesse Kathan and Kara Meyberg Guzman's story
3 / SANTA CRUZ COUNTY BOARD OF SUPERVISORS
New debris-flow maps, rules aim to help CZU Fire rebuilding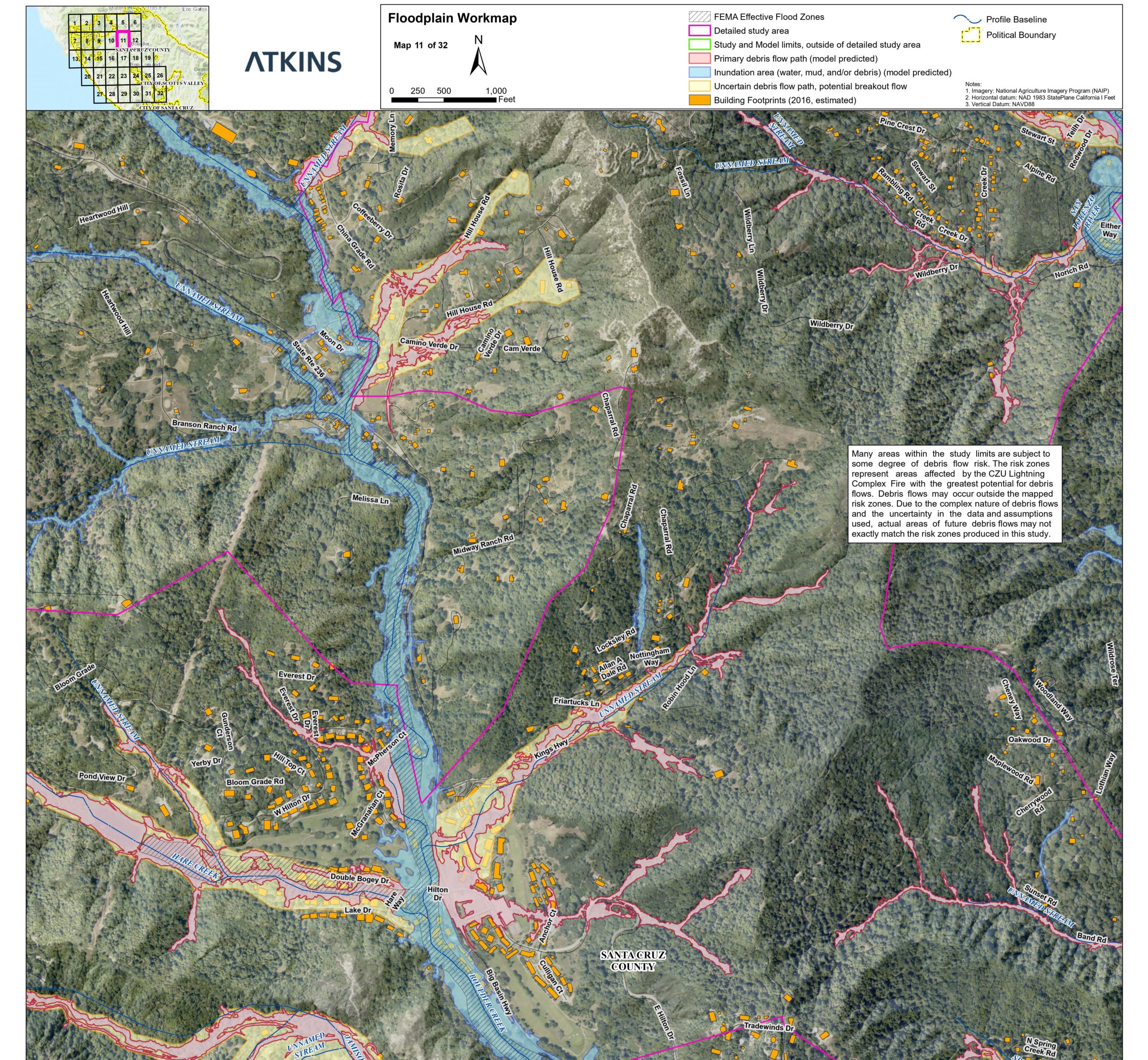 Recently released maps detail debris-flow risks near properties in the CZU Fire zone. (County of Santa Cruz, Atkins North America Inc.)
Amid continued complaints about the slow pace of rebuilding permits in the CZU Lighting Complex Fire zone, Santa Cruz County supervisors on Tuesday loosened rules on the risks that landowners must acknowledge on property titles in the fire zone.
The supervisors decided earlier this month that property owners who do not perform geologic evaluations acceptable to the county must accept the risk of landslides with a formal statement on their property title. Many residents bristled at the requirement in part because they feared a loss in their property value.
Tuesday, the supervisors said the formal acknowledgement did not need to be the same for each property. Instead, a template could be used and details specific to the property could be included in it.
Separately at Tuesday's meetings, an engineer from Atkins North America Inc. described 32 pages of the most detailed debris-flow modeling maps released so far of the burn zone. Atkins did similar work in Santa Barbara County in the wake of post-wildfire slides that killed 23 people in 2018.
The new maps include:
Overlaid information on watersheds, topography, debris flow models and home locations.

Color-coded "primary" debris flow paths and "uncertain" debris flow paths. Uncertain areas are flatter, wider, lower in elevation or at the base of drainage areas. They are generally less likely than the other areas to have debris flow.
4/ HOUSING
Deadline Thursday to apply for rent help
The state's eviction moratorium ends Thursday, which means that starting Friday, tenants may face eviction for failure to pay rent. 
Until this week, state legislation has banned residential and commercial evictions for failure to pay rent due to financial losses related to COVID-19. 

Starting Nov. 1, landlords can collect unpaid rent in small claims court, said Stephanie Duck, a lawyer in Santa Cruz's City Attorney's Office. 

State law prevents local governments from enacting a local eviction moratorium until April 2022.
Santa Cruz County landlords and tenants can apply for a state rent relief program at housing.ca.gov or 833-687-0967. The application deadline is Thursday, Sept. 30.
Tenants must meet state calculated income limits and have financial hardship related to the pandemic. 

For assistance with the application, call Community Bridges' housing support line at 831-316-1822, visit

Community Bridges' website

, or text "Rent" to 211-211. 
As of Monday, the state rent relief program has received 1,778 rent help applications from Santa Cruz County residents, according to a state dashboard. Those residents have received $6.1 million of their total $21.5 million requested. The average payment was about $11,000.
For legal assistance, call:
—Kara Meyberg Guzman
5 / YOUR THOUGHTS
We asked: "What local shop or business do you feel nostalgic about? Share a memory."
Readers answered:
"East meets West: It was a great place to browse with my teenage daughter." —Ruth Pierce
"The Pacific Avenue jewelry store with — pre-quake — a stained-glass canopy over the sidewalk. And the Cooper House and Andy's Auto Parts."—John R. McNicholas Jr.
"I miss the Capitola Book Cafe, Balzac Bistro, Begonia Gardens nursery. Each of these businesses were very good at what they did, but still gone." —Craig Wilson
A note from staff
Santa Cruz Local believes that our community is stronger when everyone has access to fair and accurate local information. Our news will always be free and accessible. Support local news with a Santa Cruz Local membership today.
Kara Meyberg Guzman, Stephen Baxter and Natalya Dreszer
Santa Cruz Local