Santa Cruz Local offers its wildfire-related work free as a public service. But our journalism takes time and money to produce. 
Santa Cruz Local depends on memberships from people like you to make sure vital information can be available to all. Can we count on your help?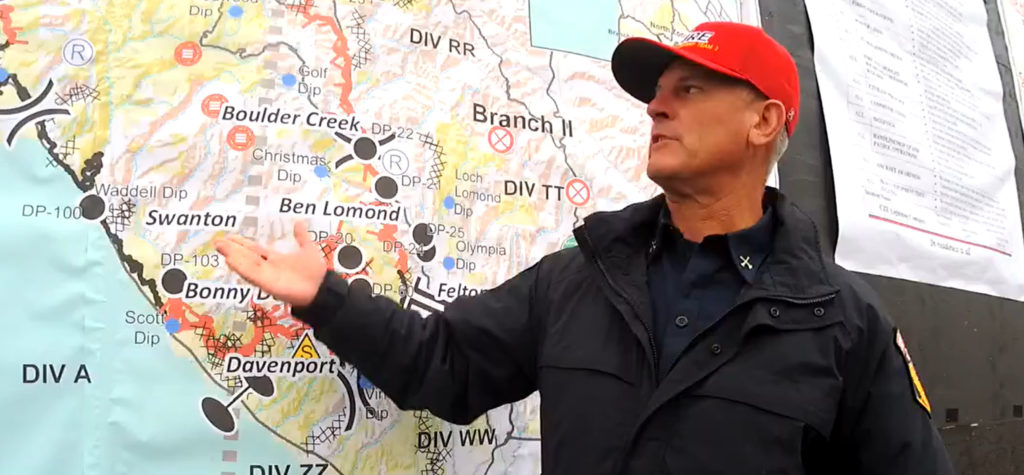 SANTA CRUZ >> Areas of Felton, Brookdale, Boulder Creek and areas north, as well as Swanton, Bonny Doon and much of the North Coast remained evacuated Monday, as firefighters made progress on the CZU Lightning Complex fire.
Monday, more than 2,300 firefighting personnel achieved 41% containment, up from 37% a day prior, according to Cal Fire. The burn area was 132 square miles Monday evening.
Fire updates
Crews focused on the area near Butano State Park, on the northern end of the fire Monday, said Mark Brunton, a Cal Fire operations chief, "getting in there and and really getting into the heart of the fire that exists there, doing some burn operations to straighten up the lines and to make sure that the fire is fully out."
Crews will likely patrol the San Lorenzo Valley and North Coast to extinguish hot spots "for many weeks to come," said Ian Larkin, Cal Fire San Mateo Santa Cruz Unit chief. "This is an almost 86,000 acre fire. And we're going to be here probably until it rains," he said.
Hotter, drier weather is expected Wednesday through the weekend in San Lorenzo Valley, with highs in the 80s and 90s, according to the National Weather Service. More smoke is expected.
Davenport: Monday, crews did "mop up" on the hot spots around Davenport, Brunton said. "That's looking really good with the repopulated area there," he said.
Highway 9 corridor: Crews continued to construct fire lines Monday. "Very steep area and a lot of heavy fuels," Brunton said of the area outside Felton, through Boulder Creek and parts north. "A lot of burned out trees are still falling," Brunton said. 
Bonny Doon: Crews are "getting lines around all the various fires and spot fires that had occurred, the burned out areas and rendering that safe," Brunton said. Utility companies are working in the area, he said. No updates were given Monday on when Bonny Doon residents could return. Wednesday, Santa Cruz County sheriff's Deputy Chris Clark said Bonny Doon's reopening was weeks away. Monday, Clark said crews worked to contain fire in the area of McGivern Way off Empire Grade.
Big Basin Redwoods State Park:  Brunton said the park had "significant devastation." "And so there's a lot of work to make that safe in there and to get the utility companies so that they can start doing the repairs through that area," Brunton said.
Damage, resources
The fire has destroyed at least 1,401 structures in Santa Cruz County, of which 901 were single-family homes.
Monday, the county's preliminary damage assessment map was 97% complete, according to Supervisor Ryan Coonerty. Residents can use the map to determine how much of their home is damaged, to start insurance claims or government relief applications.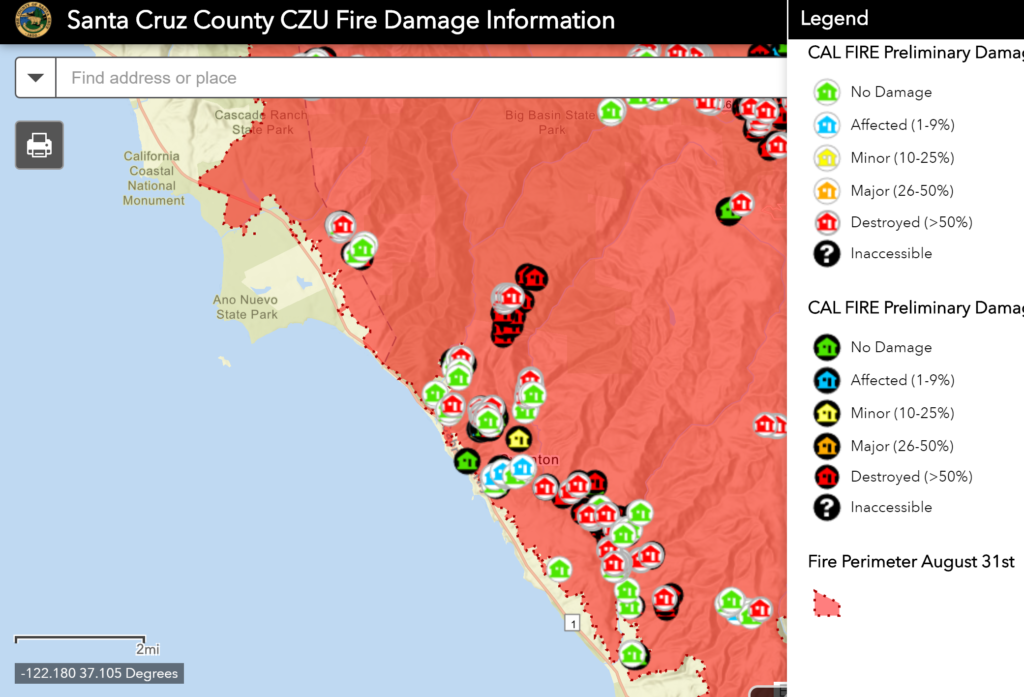 Online registration for federal assistance is at DisasterAssistance.gov. More resources are available at the county's Recovery Resource Center. The event is open daily 11 a.m. to 7 p.m. at Kaiser Permanente Arena, 140 Front St., Santa Cruz. Information at the in-person event also is online.
San Lorenzo Valley Water District
The San Lorenzo Valley Water District has issued a "Do not drink — Do not boil your water" unsafe water alert for areas north of Brookdale at Highway 9 and Alba Road, including Boulder Creek, areas off Bear Creek Road, Riverside Grove and San Lorenzo Park.
As Santa Cruz Local previously reported, the wildfire melted plastic water lines that may cause contamination of the water supply. The water contamination is unknown, according to Saturday's alert from the district.
Residents are advised to not drink, boil or attempt to treat the water. Bottled water should be used for all drinking (including juice and baby formula), brushing teeth, washing dishes, making ice and food preparation. Residents will be notified if conditions change, according to the alert.
Shelter, donations
This week, county leaders plan to consolidate the 11 county-run evacuation shelters to four sites: the Santa Cruz County Fairgrounds in Watsonville, the Seventh Day Adventists Campgrounds in Soquel, the Simpkins Family Swim Center in Live Oak and Harbor High School in Santa Cruz. Shelter availability is posted on the county's resources page.
Santa Cruz County authorities said the following items are in high demand. Items will only be accepted if they are new. Donations can be taken to 1082 Emeline Ave., Santa Cruz or 114 Walker St., Watsonville 10 a.m. to 4 p.m. Monday through Saturday.  

Men's clothing: Pants, t-shirts, shoes, socks, underwear, hoodies, sweatshirts and sweatpants
Women's clothing: Pants, t-shirts, shoes, socks, underwear, hoodies, sweatshirts and sweatpants
Bath and hand towels
Queen size and smaller bed sheets, linens and pillow cases
Sleeping pads
Ice chests, coolers
Food donations may be brought to Second Harvest Food Bank.
Volunteers are invited to sign up with the Volunteer Center of Santa Cruz County. Santa Cruz County Emergency Operations Manager Rosemary Anderson said Monday, "Our volunteers that are working out in the Recovery Resource Center, our shelters, as well as these donation centers, has just been astounding. I've lived in the county for 45 years, been through every disaster. I've never seen such an outpouring of support, community involvement, and just the collaboration between all of our agencies. It should make you feel really proud to live here."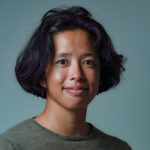 Kara Meyberg Guzman is the CEO and co-founder of Santa Cruz Local. ​Prior to Santa Cruz Local, she served as the Santa Cruz Sentinel's managing editor. She has a biology degree from Stanford University and lives in Santa Cruz.