Meet Jim Reed
Age:

55

Residence

: Skypark

Occupation

: Jim Reed has been the chief of staff for San Jose Mayor Sam Liccardo since 2015.

Reed is vice mayor of Scotts Valley. He has served on the Scotts Valley City Council since 2007. 

Local government experience:

Reed worked for internet startups for nearly 15 years.

Reed then worked for

the

San Jose Silicon Valley Chamber of Commerce in public policy, then for San Jose Mayor Sam Liccardo.

Reed manages up to 50 people at Liccardo's office.

Important local issues: In Scotts Valley, Reed believes everything the city has is based on community trust: "We don't have the traditional developments that result in local government being very well funded. The only way we can begin to provide basic core services, the only way the city is going to be able to do that and maintain its viability as a city going forward, is if we have strong reflexive support from the local community. That's support that can only be earned, and we earn it every single day. There's nothing more important than conducting ourselves at all times in a manner that is consistent with maximum trust."
Fun fact: "I married someone a lot better than myself," Reed said, noting his 25-year marriage to wife Lea. They have four children.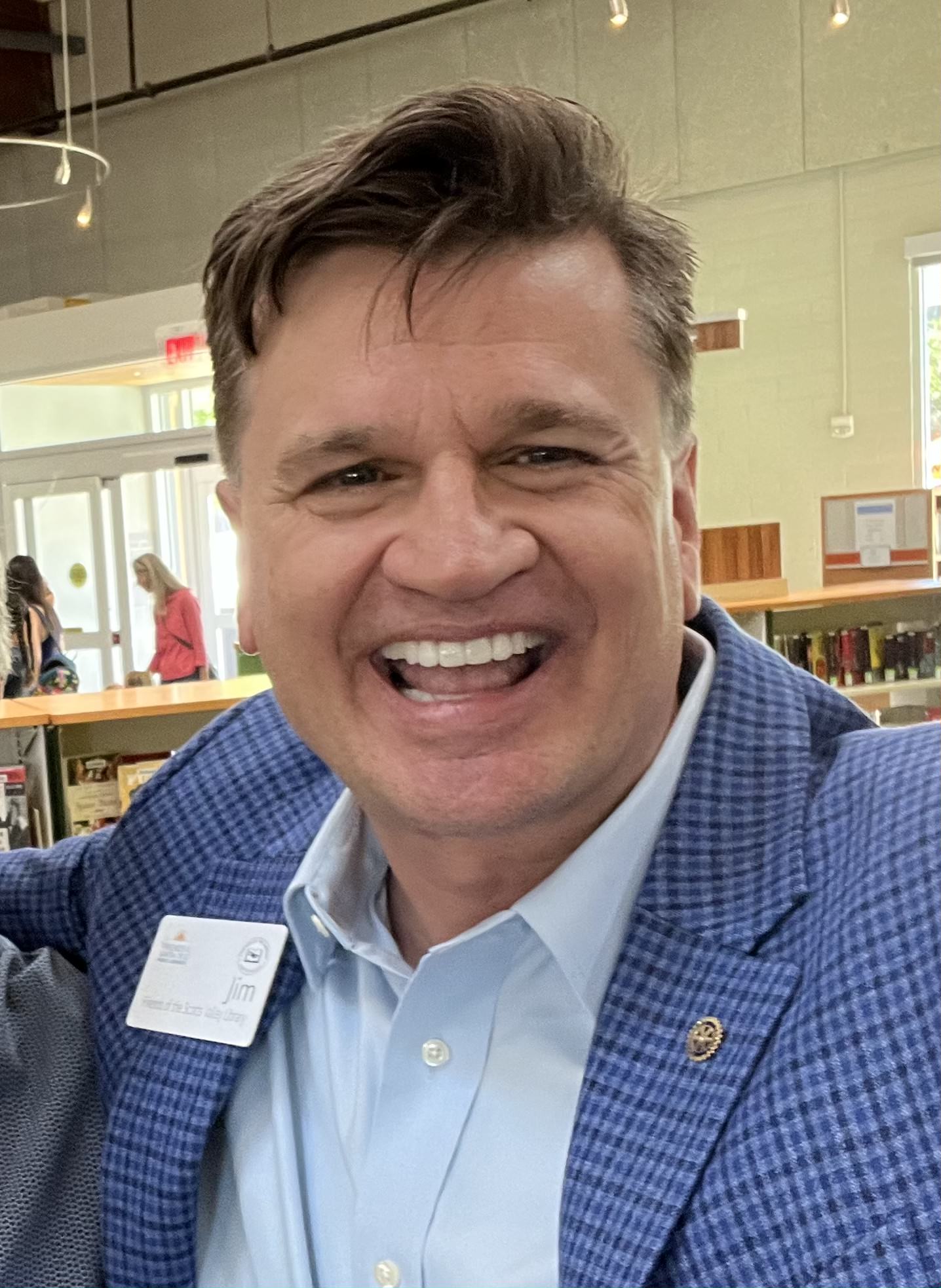 Several Scotts Valley voters told us they do not feel safe cycling in part because of a lack of bike lanes. What will you do to improve bike safety and bike routes?
Jim Reed: I don't blame folks for not feeling safe on bikes on roads. To me, getting more exercise on my bike, I've got a certain level of discomfort from sharing roads with vehicles going 35 mph that weigh a ton.
From my San Jose experience, we've done a road diet in Willow Glen where we intentionally narrow parts of the street to make it a little more accessible for pedestrians and bicycles and just kind of put drivers in a little bit of a separate frame of mind. The other thing that we've done successfully is we've gotten bollards up around a lot of our key bike lanes. 
I think bollards in particular can not only create the impression of safety that would get more people comfortable with using their bicycles. I think data shows they're also very effective at signaling to drivers 1) The road is not as narrow as you might think, and 2) You've got to share the road and you've got to share it with bikes. I think bollards are an especially interesting way — if you're talking about good bang for the buck improvements on bicycles, bollards would be very high on my list.
Additionally, I believe the money we use for core transportation improvements for bikes is also for other transportation. The challenge we have is that most of where our transportation money comes from, most of the money that can be used for bike lanes is going to come from the same place that we use money for widening roads and for pavement maintenance. Again, the challenge is money for bike lanes has to come from somewhere, and usually the pools of funds can also be used for pavement maintenance. It's definitely a balancing act.
Some Scotts Valley voters told us they wanted better roads. How can you bring money to Scotts Valley's approved Active Transportation Plan? What road projects would you prioritize?
Jim Reed: I think the approach I would take in how I would prioritize would be a very simple, utilitarian argument: What provides the greatest benefit for the greatest number? Outside of being very aggressive on grant funding, it really is a question of making the tough prioritization questions of competing projects, and those aren't easy to do.
I think that what provides the greatest bang for the buck, and as a rule, those are going to tend to be arterial roads and pavement maintenance. It's not sexy, it's not exciting, but I think that's the most important thing that we need to look at.
Several Scotts Valley voters said they wanted more accessible and affordable child care. What's your plan to increase accessibility to child care?
Jim Reed: The single thing that I have championed most consistently in my entire time on the city council when it comes to our capital improvement budget has been the multipurpose rooms at Vine Hill and Brook Knoll. That's where we offer our after school child care.
There are not a lot of cities that do what we do, where we're spending a couple $100,000 I believe this year. Thank goodness (U.S. Rep.) Anna Eshoo got some federal funding for the new multipurpose room up at Vine Hill School. But the city is still making significant investments in capital costs in those buildings at Vine Hill and Brook Knoll for our after school program and for the school to use during the day. 
That is a very close No. 2 behind our police in terms of a priority for me. Once you get past that though, you start to get into some challenges because there's a trade off between understand why folks want or need more care. At the same time, what's the right amount for those folks to pay for that care versus other taxpayers who — young families who are struggling who don't have kids yet, older folks who don't have those challenges — to what extent is it fair to subsidize folks who have a desperate need for child care, especially in today's high-inflation environment?
I don't have the easy answers, but the first priority would be I am fully committed — even though we've gotten some criticism for continuing our partnership with the school district — to continue offering those after school day care programs at both of the elementary schools. We could also do a request for proposal with child care providers to see if they would be interested in partnering at some of the facilities they have, including Skypark, Siltanen Community Center and the Boys & Girls Club. At the same time, again, the challenge there is how much does the (Scotts Valley) General Fund underwrite costs that a smaller group disproportionately receive benefits from?
Scotts Valley's budget has improved recently, but city leaders have described its finances as stable but fragile. Are you open to raising the city's hotel tax or any other local tax? What other ways could the city grow its revenue or develop its economy?
Jim Reed: We should increase our transient occupancy (hotel) tax, in conjunction with other jurisdictions such as Santa Cruz County. That's especially important because that's a tax that's primarily paid by folks who don't live here.
Because the city has a 100% transient occupancy tax paid by out of state residents, it's definitely something we should pursue. We also need to have a dialogue with our hoteliers, but they have been pretty honest with me that they don't see that as something that's going to have a huge impact on their business.
The only reason our finances are stable is because we have good trust with our community, and they have been willing to support us in some of the highest (city revenue from) local sales taxes that any city in the state has, at 1.25%. I would never support a permanent sales tax increase, but I have supported a temporary increase, even before I was on council. I'll continue to do that, as I think those are needed.
Because the "stable" part of our finances are so dependent on the goodwill of our community, that's why I think it's so critically important that we bend over backwards to be completely transparent, and be accountable, and share our metrics openly of what our priorities are, and how we're trying to achieve them. We can do better — and have to do better — on our transparency and accountability to make sure we're being as efficient as possible.
Editor's note: Scotts Valley city sales tax is 9.75%. The city receives 1.25% of the revenue collected from it, which is one of the highest shares of city sales tax revenue in the state.
Some voters said they wanted more parks and recreation programs. What will you do to expand parks and recreation programs, including reopening the Siltanen Swim Center? 
Jim Reed: The answer is twofold: One, we need to come up with more revenues. And two, better job partnering. How can we share resources with other cities? Is there a way that some of the cities can come together, and maybe we can offer some of these services a little more efficiently instead of each of us having our own offering for a particular thing? The best opportunities for us to stretch our recreation dollars further in the immediate future is more partnerships.
Outside of that, I think there is a limit on how far those dollars can go. I think for a greater efficiency of dollars, you start to look at cutting elsewhere, and at revenue measures. Parks and recreation is hugely important, but there's nothing, from my perspective, that's more important than making sure our police officers are fairly paid every year.
Scotts Valley City Council incumbents Jim Reed and Derek Timm also answered questions on the following topics.
The town center development plan has been in discussion for as long as you've been on council. It calls for denser housing shops, restaurants, and a town commons. Why has the town center vision taken so many years to realize? What parts of the town center plan would you push in your upcoming term, and how? 
The big part of the reason it hasn't worked is that none of us who live in Scotts Valley want to be as dense as San Jose or Silicon Valley. That's a big part of what gives us our great quality of life that none of us want to compromise on, but that also comes at the cost of the types of stores and retail outlets we can attract.
So that's been one challenge is getting retailers who are willing to make an investment here despite us having — if you locate anywhere in Santa Cruz versus anywhere in San Jose,  you've got access to several times more high-purchasing consumers in San Jose than you do in Santa Cruz County. I know it's obvious, but that needs to be stated. 
We've also had some real hurdles in terms of environmental costs and cleanups, which we weren't aware of until we started assessments. Another huge thing is the retail environment; we approved the plan back in 2006 with up to 200,000 square feet of retail. There's nowhere near that amount of space that will be supported today.
The one thing that all of us can agree on is that we want more shopping, the village feel, a gazebo, wine bars, restaurants, outdoor cafes and a common gathering place for folks of all ages. I think we can have that, but it's going to need to be something small, like maybe an Abbott Square size. But you can't let me or anyone else off by saying they only want to develop parts of this town center — there's no way we're going to get a town center without hundreds of housing units.
The only way the town center will happen is if we have a package of hundreds of housing units along with all the amenities we want. Maybe I'm naive, but I believe we can have that.
In the Nov. 8 election, Scotts Valley residents will vote for two of three candidates who are vying for seats on the Scotts Valley City Council. Read Santa Cruz Local's Election Guide for the other candidates in this race:
—Grace Stetson
Editor's note: The number of staff that Jim Reed manages has been corrected.