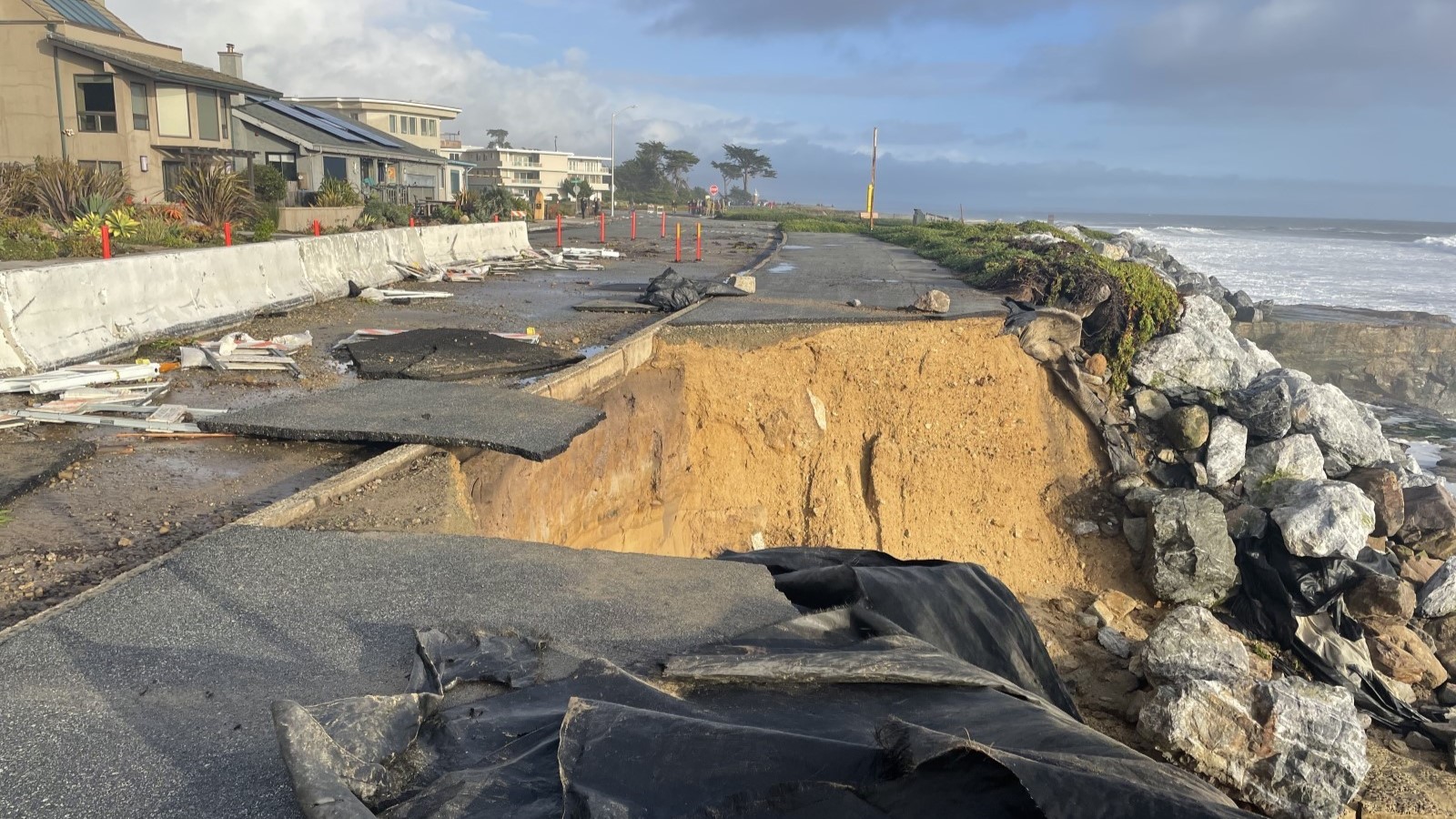 Waves and runoff from storms in early January helped carve a chunk out of the West Cliff Drive bike path near Columbia Street. (City of Santa Cruz)
SANTA CRUZ >> After waves and runoff from three major storms in January ripped out parts of West Cliff Drive and its bike path, Santa Cruz city workers rerouted traffic and started more formal discussions with residents about the road's future.
City leaders plan to describe the short- and long-term plans for West Cliff during an online meeting 5:30 to 7 p.m., Monday, Feb. 13.
"Our focus right now is keeping the public safe, allowing for access along some of the parts of our roadways and part of the path," said Santa Cruz Public Works Director Nathan Nguyen, during a Jan. 23 Santa Cruz Transportation and Public Works Commission meeting.
Since Jan. 20:
On West Cliff Drive from Columbia Street to Woodrow Avenue, a single, westbound lane for drivers was created along with a temporary bike and walk path. Waves and runoff slid the bike path down the cliff there during recent storms.

On West Cliff just west of Woodrow Avenue, drivers are blocked because of storm damage and a culvert problem, said Matt Starkey, transportation manager for Santa Cruz Public Works, at the Jan. 23 meeting. Walkers and cyclists can still access the area.

On West Cliff Drive between Almar Avenue and David Way, the road is closed for drivers except for local traffic. Walkers and cyclists can access the area.
City leaders estimated more than $5 million in damage to West Cliff Drive during this month's storms.
"We've kind of done this project backwards, where we implemented something first" and began taking public feedback later, Starkey said at the commission meeting. "Generally, we are hearing that people like the path, but we're also hearing from the neighborhood that they're concerned about the increased, additional traffic."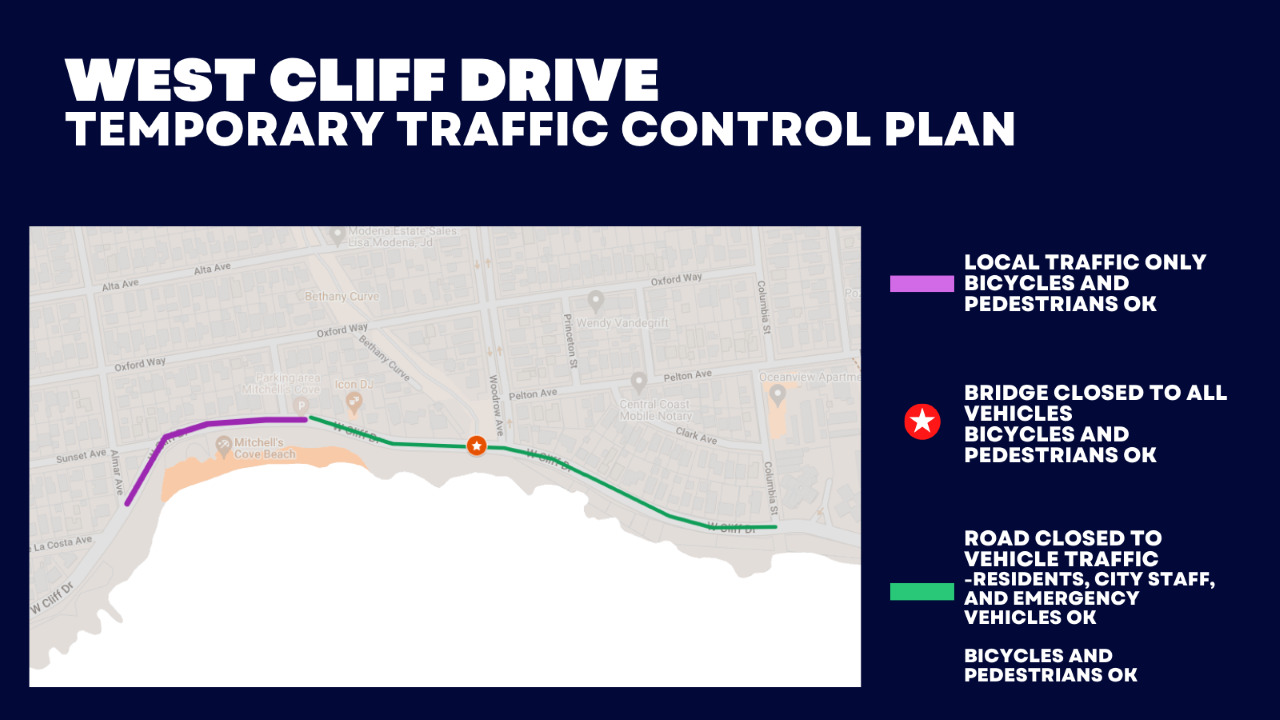 Storm damage prompted traffic to be diverted off West Cliff Drive at Almar Avenue and off West Cliff Drive at Woodrow Avenue in Santa Cruz. (City of Santa Cruz)
Starkey said it has not yet been decided how to repair the culvert near Bethany Curve. Water-filled barriers in that area "will be in place for an unknown time," Starkey said.
During the Jan. 23 commission meeting, a resident near David and Oxford ways said there is more traffic in front of his home because of the West Cliff Drive detours. He said his children can't chase a basketball in the street as easily as before.
To gear up for a long-term plan, some city traffic commissioners said they wanted traffic speeds measured in the neighborhood. City staff said they planned to measure drivers' speeds and the number of cars in the area. Caltrans equipment has been requested, Starkey said.  
"We actually want to put some real numbers to this issue so we can understand it more holistically," Starkey said. 
Long-term plans
Because erosion on West Cliff Drive is nothing new, the Santa Cruz City Council approved a West Cliff Drive Adaptation and Management Plan in April 2021. The 15-year plan requires California Coastal Commission approval.
"The Coastal Commission has been sitting on it for about two years," said Santa Cruz Transportation Planner Claire Gallogly, at the Jan. 23 city meeting. "So we are likewise frustrated that we don't have an agreed upon set of responses with Coastal and we're still in this negotiation spot right now," Gallogly said. "It would have been great if we had gotten that adopted two years ago, and could have started on some of those projects that were in the plan." 
She said she planned to meet with Coastal Commission staff in late January. 
The West Cliff Drive Adaptation and Management Plan guides access, parking, recreation, cliff protection and other public works projects along West Cliff Drive. It also calls for measures to deal with sea-level rise that include:
Road markers for shared traffic with cyclists.

Improved signs and crosswalks.

Measures to reduce car speeds
The 2021 plan includes a "potential next step" of reducing traffic from two-way to one-way.
One car lane would be converted to a two-way bike track.

The existing trail would be primarily for walkers.

Consideration of this option would be based on erosion and sea-level-rise triggers that no longer allow the status quo.

Further erosion would trigger the closure of the existing path, and the bike track would convert into a bike and walk path.
Since the storms in early January, some large boulders have been delivered by crane to try to stave off more cliff erosion in the short term. 
Also this month, a group called Save West Cliff formed to try to work with city leaders to address problems with the road. 
Gallogly said she and other city staff have spoken with members of the group. "So far, their ideas are fairly broad in terms of 'Do something' rather than 'Do a defined set of things,' Gallogly said. She said she looked forward to talking to group members and other residents. 
Gallogly described West Cliff as "the community's front yard." 
Gallogly said, "It's not just a few who live right there, but (it's) for all of us to enjoy. So we're looking forward to hearing more feedback."
Find updates on West Cliff Drive damage and repair on the city's website.
Read more Santa Cruz Local stories
Learn about membership
Santa Cruz Local's news is free. We believe that high-quality local news is crucial to democracy. We depend on locals like you to make a meaningful contribution so everyone can access our news.
Learn about membership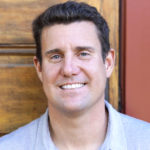 Stephen Baxter is a co-founder and editor of Santa Cruz Local. He covers Santa Cruz County government.