Editor's note: This story has been updated to include a response from Coastal Commission staff.

SANTA CRUZ >> A plan aimed to address coastal erosion along West Cliff Drive was unanimously approved by the Santa Cruz City Council on Tuesday, which for the first time creates a long-term vision for protection and repairs of the roadside cliffs. It also sets up a potential plan for one-way traffic on West Cliff Drive with a lane set aside for cyclists.
The West Cliff Drive Adaptation and Management Plan will guide access, parking, recreation, cliff protection and other public works projects along West Cliff Drive for the next 15 years. The iconic strip and its coastal trail are a tourist destination and a major conduit for car traffic for the Lower Westside.
The plan also calls for an "improved status quo" to adapt to sea-level rise in the short term. That includes:
road markings that indicate shared traffic with bikers

better signs

measures to reduce car speeds

new and improved crosswalks. Details have not been decided.
A "potential next step," according to the plan, is the reduction of traffic from two-way to one-way.
One car lane would be converted to a two-way bike track.

The existing trail would be primarily for walkers.

Consideration of this option would be based on erosion and sea-level-rise triggers that no longer allow the status quo.

Further erosion would trigger the closure of the existing path, and the bike track would convert into a bike and walk path.
For decades, the California Coastal Commission has pushed the city to develop a West Cliff Drive management plan. In the past, Coastal Commission staff have criticized city leaders for having a reactive, rather than proactive, approach to repair damage to the road and cliffs caused by large waves.
The next step for the plan is consideration and approval by the California Coastal Commission.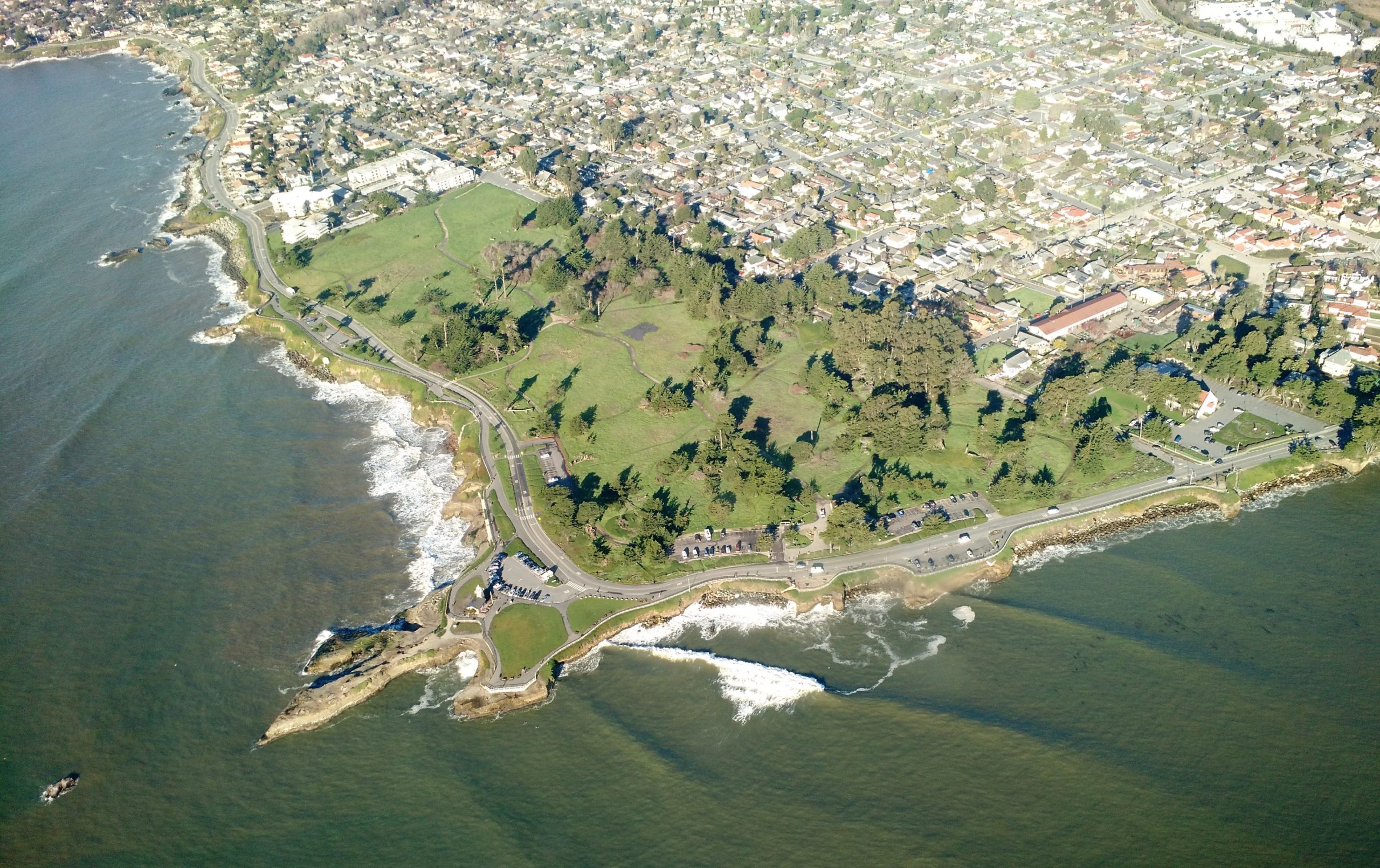 The Santa Cruz City Council on Tuesday approved a plan to address coastal erosion along West Cliff Drive. (Kara Meyberg Guzman — Santa Cruz Local file, with aerial support from LightHawk)
One-way traffic
Tiffany Wise-West, the city's sustainability and climate action manager, said Tuesday that a conversion to one-way traffic would require a longer plan and design process that she expects to begin soon. The plan approved Tuesday does not include detailed project plans for that conversion, she said. 
Claire Gallogly, a city transportation planner, said conversion to one-way traffic would require years of community engagement due to West Cliff Drive's key role in traffic patterns across the entire Lower Westside. 
"In converting to a one-way, we would really need to look at traffic calming, partial closures and other holistic tools with almost every street in the Lower Westside. That would involve direct engagement with all of those neighbors and neighborhoods," said Gallogly. "And as we know, when you do these projects, there are winners and losers. And it would take a lot of dedicated staff time and work on that. I'd also anticipate that it would take an iterative design process and a significant amount of budget just to move forward to consensus on that project — if we could get to consensus, which I think is a lofty aspiration for this project."
This week, the council received about 60 letters from residents who called for council to direct the city's Transportation and Public Works Commission to discuss a more immediate adoption of one-way traffic. The city council decided not to send that issue back to the commission. 
Also, in a survey this past fall, the city staff heard concerns about a longer-term plan to reroute traffic inland if a disaster forced permanent closure of West Cliff Drive. That plan included options to reroute traffic onto Pelton Avenue and Monterey Street. 
Those longer-term rerouting plans were not included in the plan that was approved Tuesday.
Paths and armoring
Recommendations of the plan included:
Evaluate the potential of armoring or filling a sea cave at Lighthouse Point to protect public access

Maintain and remove extra rocks in the the piles of rocks, or rip rap, that buttress cliffs to prioritize recreation and access

Prohibit new rip rap or other protective structures with large footprints. Curved sea walls would be preferred. Sea walls must allow for informal "goat trails" so surfers can exit.

Maintain the bike and walking path and establish bike parking areas

Improve storm drain structures along the cliffs to limit coastal erosion

Monitor shoreline changes and establish thresholds to consider new policies
The plan also lists possible financing strategies for changes to West Cliff Drive. It is unlikely that state and funding would completely cover the costs, according to the plan. Options include:
Parking fees and fines

Increased property, sales and hotel taxes

Tolls for non-local drivers

Second-home taxes
The plan's development has been guided since 2019 by an initiative known as Resilient Coast Santa Cruz, led by city staff and a 17-member advisory committee. The initiative has been funded in part by a California Coastal Commission grant.
Ryan Moroney, the California Coastal Commission Central Coast district supervisor, said in a December interview that collaboration with city staff in the past year was positive. He said the city's public outreach was "robust."
Moroney said, "It's turned out really great from our perspective, and it's heading down a great path."
Thursday, Noaki Schwartz, a Coastal Commission representative, confirmed that Coastal Commission staff have continued to collaborate with city leaders on the plan.
Coastal Commission staff were not ready to comment specifically, "but we definitely support the city in its efforts to address the challenges facing West Cliff Drive, and will continue to do so as the proposal makes its way through the Commission process," Schwartz wrote in an email to Santa Cruz Local.
Regarding the potential conversion to one-way traffic, Schwartz wrote, "In general, the alternatives and proposals identified in the plan can be appropriate sea-level-rise adaptation methods to be considered."
Regarding the plan's preference for curved sea walls rather than new rip rap, Schwartz wrote, "We are always looking to find the least environmentally damaging feasible alternative for protection under the law, and as a general rule that has meant trying to limit beach and shoreline coverage. At the same time, there can be times when armoring is required under that and a wider footprint might actually be less environmentally damaging. For example, some nature-based solutions that might include underlying armor and overlaying that with sand to allow for recreation on a beach. In any individual case, it really depends on the facts and the circumstances."
City assistance for commercial rent
In other news, the city council unanimously approved a plan to assist qualified downtown businesses and landlords with commercial rent payments. The six-month pilot program, known as "Downtown Pops!," aims to fill vacant storefronts downtown.
There are 18 vacant storefronts on Pacific Avenue and 37 across downtown Santa Cruz, city staff said Tuesday. Most vacancies have occurred since the start of the pandemic.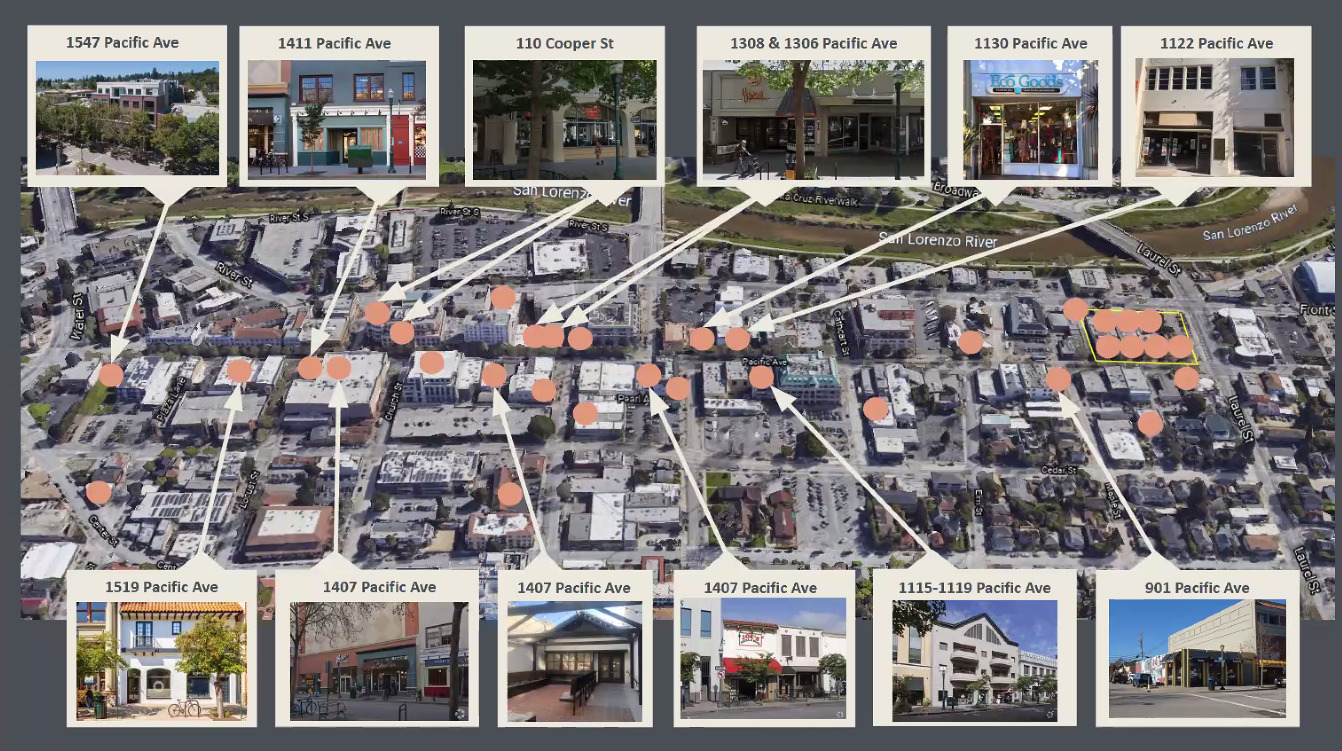 Downtown Santa Cruz has more than 30 vacant storefronts, city staff said Tuesday. (City of Santa Cruz)
Key parts of the plan:
The city would sign six-month lease agreements with downtown commercial property owners and guarantee a minimum rent, equal to about 50% of market rent, or $1 per square foot.

The city would sublease those properties to qualifying pop-up business owners. Examples could include food vendors, retailers and aspiring entrepreneurs.

City staff would select those tenants with input from the Downtown Association and the Downtown Management Corporation. The program would prioritize business owners who are female or people of color, and who pay a living wage.

Tenants would owe the city a percentage of their sales, about 3-5%, which the city would pass on to landlords. Overall, the city would owe landlords a maximum of $2 per square foot. Any excess amount collected from tenants would be held in each tenant's account with the city, to be used for business growth or future rent payments.

The city council approved $200,000 of the city's Economic Development Trust Fund to be used for the program.
The council also supported Councilmember Martine Watkins' request for city staff to look into the use of vacant spaces for child care.
Jorian Wilkins, the executive director of the Downtown Association of Santa Cruz, thanked the council during public comment for considering the plan.
"It's a lot easier to run a thriving business next to another thriving business," Wilkins said. "It's a lot harder to run a thriving business next to a boarded-up window."
In other news
Other actions by the council on Tuesday included:
The council unanimously approved a

plan for trees on city streets

. The plan will guide the planting and maintenance of trees on city streets for the next five years. The plan also clarifies the standards to which property owners are responsible for the maintenance of adjacent street trees.

The council unanimously approved a five-year lease extension for the Beach Flats Community Garden on Raymond Street. The city leases the land from the Santa Cruz Seaside Co., the owner of the Santa Cruz Beach Boardwalk, for $1 per year. This lease extension is the third in recent years, since the Seaside Co. announced its intention to end the lease in 2015.

The council unanimously approved a

resolution

that denounces hate crimes against Asian Americans and Pacific Islanders.
Become a member of Santa Cruz Local, an independent, community-supported newsroom that's owned and led by local journalists. Our stories are free and always will be, but we rely on your support.
Already a member? Support Santa Cruz Local with a one-time gift.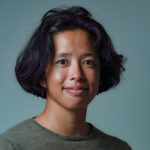 Kara Meyberg Guzman is the CEO and co-founder of Santa Cruz Local. ​Prior to Santa Cruz Local, she served as the Santa Cruz Sentinel's managing editor. She has a biology degree from Stanford University and lives in Santa Cruz.