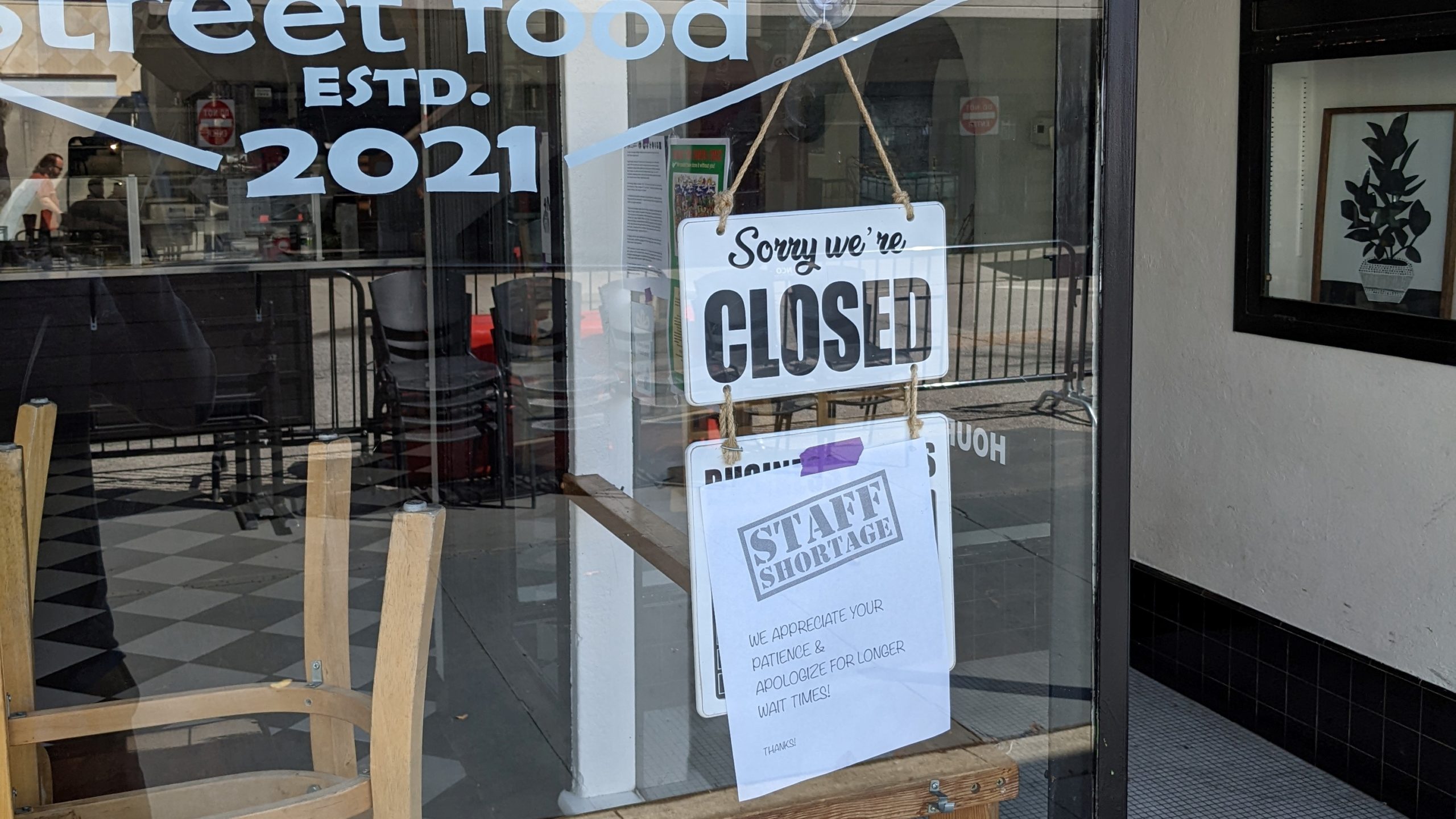 Arslans Turkish Street Food on Walnut Avenue in Santa Cruz was closed on an afternoon in March because of a lack of workers. (Stephen Baxter — Santa Cruz Local)
SANTA CRUZ >> Two economic reports released in May describe Santa Cruz County's shrinking labor force, as well as some strategies for workers and employers to succeed in a high-cost area with a changing job market.
Wednesday, a State of the Workforce report and presentation was given to the County of Santa Cruz Workforce Development Board. The board advises the Santa Cruz County supervisors and brings business and government leaders together in part to find solutions to local workforce challenges. 
Peter Detlefs, business services manager for Workforce Santa Cruz County, said the report echoed some themes he'd heard in the past few years in Santa Cruz County and other areas of the Central Coast. Workforce Santa Cruz County helps connect employers and job seekers.
"In San Luis Obispo County, Santa Barbara County and Santa Cruz County, we're all in a similar situation. We have an aging population and less-educated individuals working in low-wage jobs," Detlefs said.
Carlsbad-based BW Research Partnership Inc. wrote the 50-page State of the Workforce report, and its President and Principal Researcher Josh Williams led Wednesday's presentation. "Before March 2020, the Santa Cruz County economy exhibited several positive economic indicators and trends. Unemployment was low, job quality had been improving, and several industry clusters with high average earnings had grown considerably," according to the State of the Workforce report. 
"While we have not been able to quantify the full extent of the economic impact of COVID-19 on Santa Cruz County, it is safe to say that issues like lowered labor participation and a decline in total jobs from the pandemic has hurt the county's economic landscape and particularly lowered economic opportunities, especially for lower-income residents," the workforce report stated.
Separately on May 20, a Monterey Bay Economic Partnership meeting included a presentation  on economic trends in Santa Cruz and Monterey counties. Christopher Thornberg, founding partner of Los Angeles-based Beacon Economics, presented the roughly 60-minute report. It examined the national economic recovery and zoomed in on some trends in Santa Cruz County. 
The two reports overlapped in several of their findings: 
Labor force participation continues to shrink in Santa Cruz County.

Labor force participation has trended down in the county since at least 2015 and has not recovered to its January 2020 level of about 61%, according to the State of the Workforce report. Labor participation was about 58% in January. There were 10,600 fewer workers in Santa Cruz County in February 2021 compared with February 2020, according to the State of the Workforce report.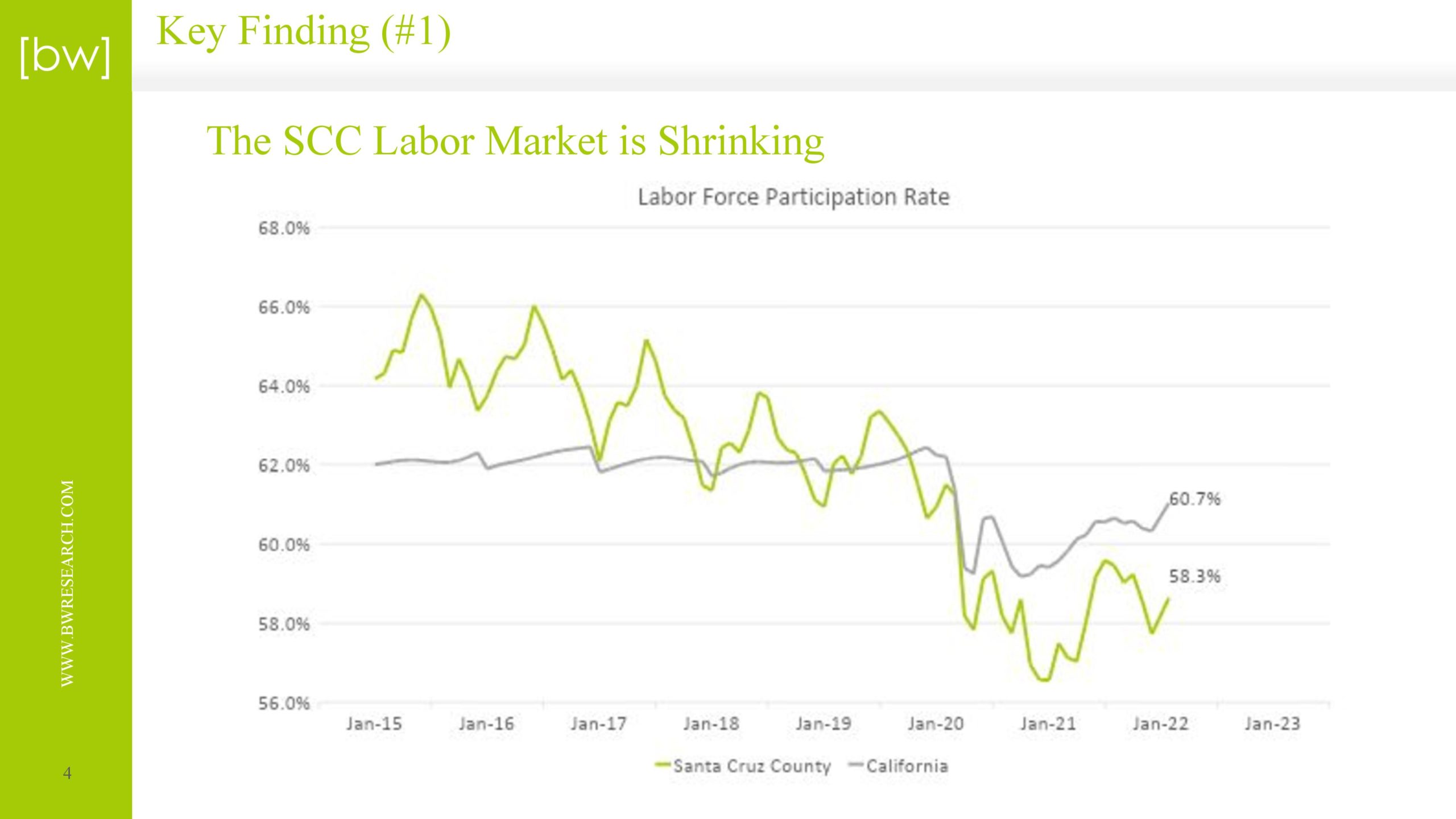 Labor force participation was falling in Santa Cruz County even before the COVID-19 pandemic. (BW Research Partnership)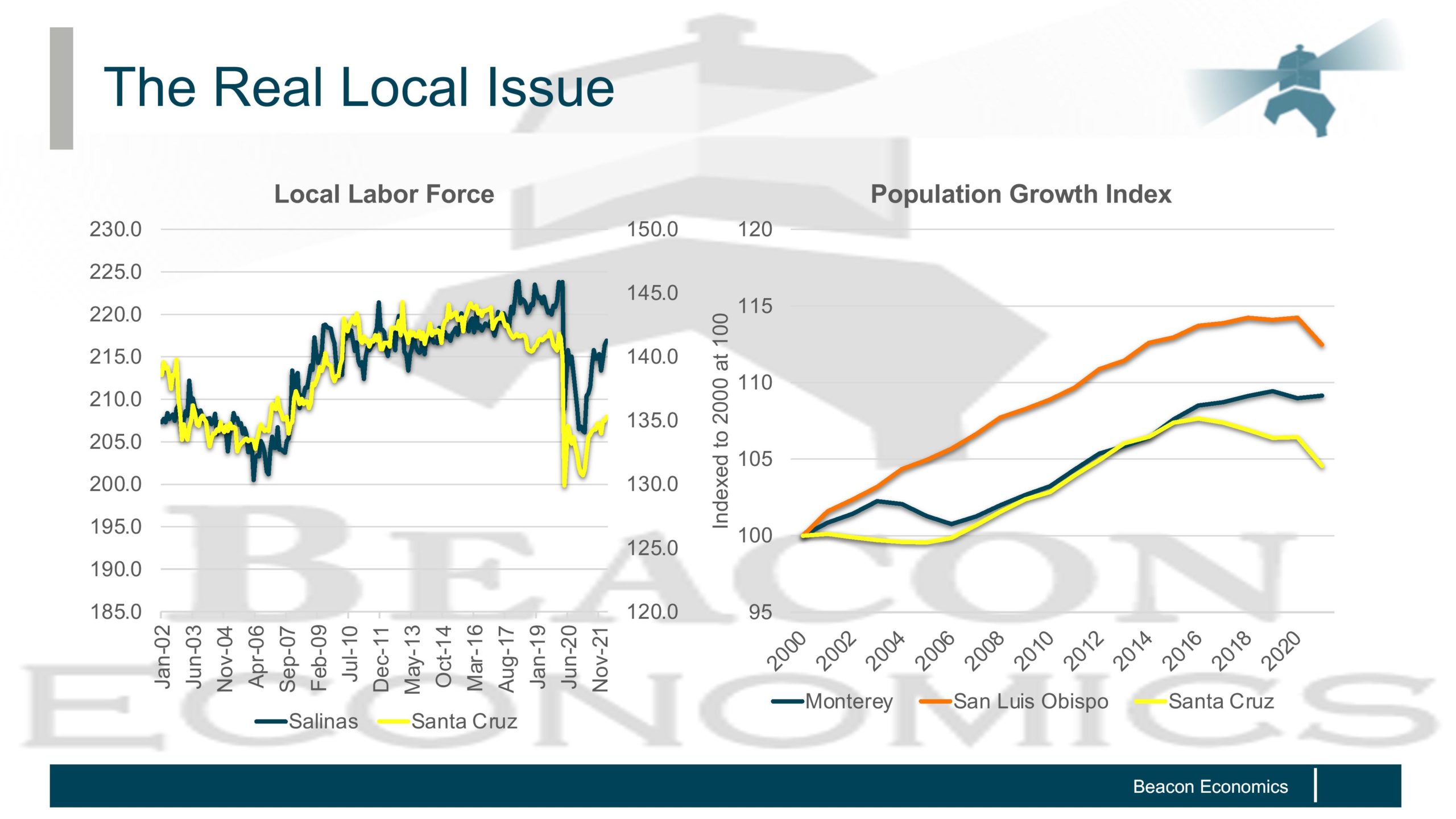 Labor participation has not fully rebounded in Santa Cruz County since the start of the pandemic. The county's population growth, at right, has trended down since about 2016. (Beacon Economics)
Santa Cruz County residents are trending older

. "Santa Cruz County's population and workforce are getting older, particularly in the North," Josh Williams wrote in the State of the Workforce report. From 2014 to 2019, the share of residents 65 and older in the North County increased by 37% and increased by 10% in the South County, Williams wrote. "A population with a growing share of older residents can dampen a region's economy as employers may struggle to find local talent," he wrote. Thornberg noted that Santa Cruz County workers typically retire and remain in the county, rather than move to warmer climates as often happens with East Coast retirees.

There are fewer jobs in Santa Cruz County than there were before the pandemic.

Also, the unemployment rate in Santa Cruz County is the lowest it has been since 2005. Those factors indicate that much of the available labor force is tapped out. "The problem, of course, is you cannot fill jobs," Thornberg said.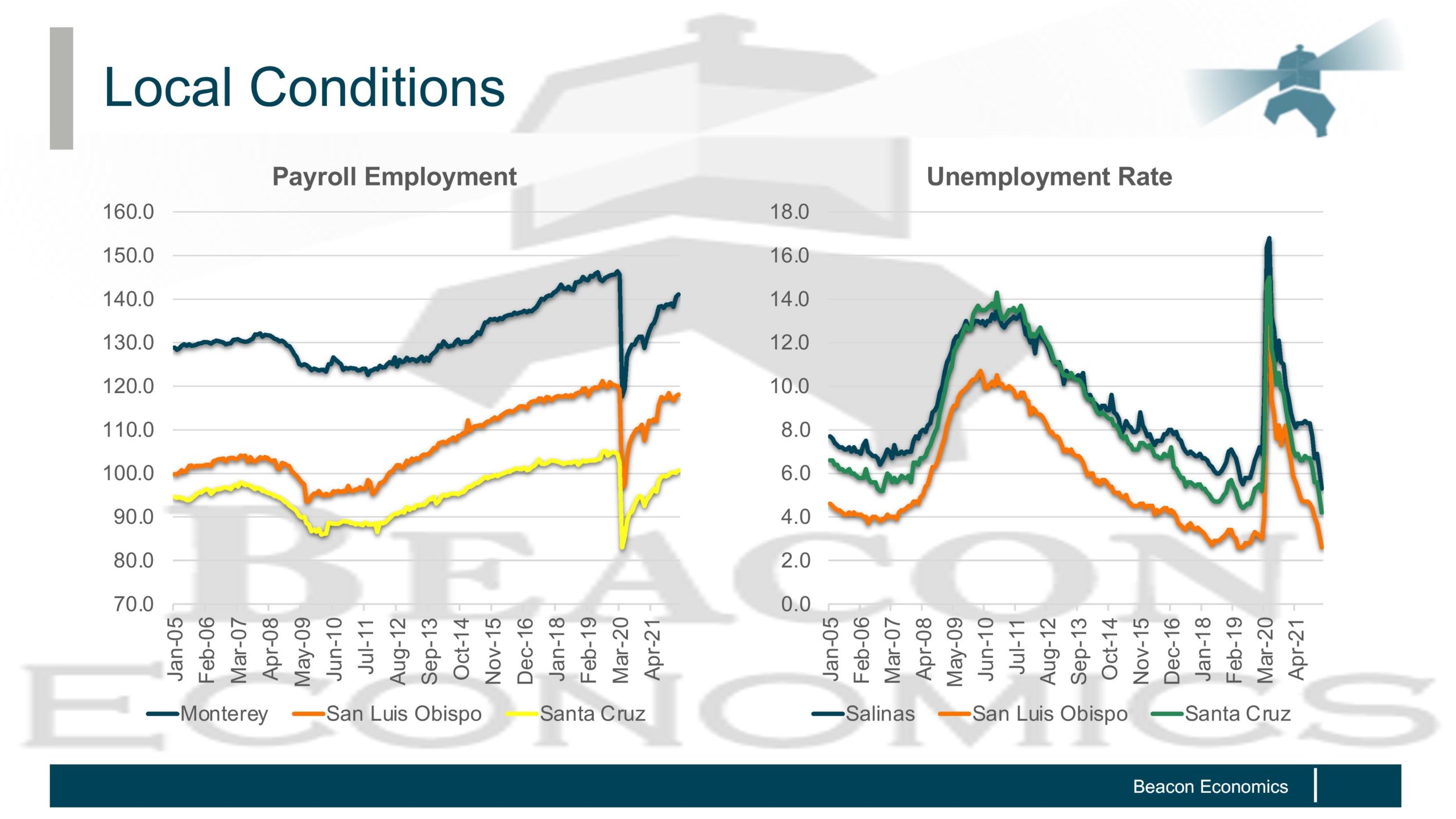 Many lower-wage workers are leaving Santa Cruz County because they are priced out of housing.

Thornberg said California's

economy is moving toward "very high-end sectors that can afford this housing, whereas lower-end sectors that can't [afford housing] have to move out." Thornberg added, "We're turning into country club California and I don't think that's fair. So I would like us to build more housing."

A rise in remote work presents challenges and opportunities in Santa Cruz County.

Because many employers have expanded the ability to work from home, both reports predicted more Silicon Valley workers buying homes in Santa Cruz County and commuting occasionally. Thornberg said stock market volatility would not make a big impact for many Silicon Valley residents who want to buy homes in Santa Cruz County because they often have wealth in home equity. The remote work trend also means that some Santa Cruz County employers can expand their hiring with people who live outside the county. Santa Cruz County workers also might be more able to secure remote jobs from employers in Silicon Valley.

High-wage jobs have increased in Santa Cruz County and low-wage jobs have decreased.

The highest-wage jobs

increased in Santa Cruz County

by 9.5% from 2015 to 2021, according to the State of the Workforce report. The lowest-wage jobs decreased by 3.2% in that time.

Some businesses struggled while others thrived during the pandemic.

Many tourism and hospitality businesses shed jobs in Santa Cruz County and have struggled to rehire workers. Other industries such as construction and manufacturing have grown since 2020. Some retail clothing shops, for instance, continue to struggle with a migration toward online shopping. Other retail shops in hardware, home improvement and recreation like bike shops increased earnings since the pandemic started, Thornberg said.

Agricultural jobs in the county were declining before the pandemic and continue to decline.
The reports also offered some suggestions:
Show young Santa Cruz County workers career paths to in-demand jobs in healthcare, information technology, construction trades and hospitality management.

Williams suggested that business leaders work with schools and community groups to show students career tracks that pay enough to live in Santa Cruz County.

Strengthen education and training for young South County residents.

South County has a younger population who can play a big role in the county's future workforce, Williams said. Apprenticeships, internships and hybrid instructional programs could help, he said.

Government subsidized child care would help many Santa Cruz County women return to work, Thornberg and Williams said.

Many women left the Santa Cruz County workforce during the pandemic and did not return in part because of closed schools and a lack of child care. Detlefs, of Workforce Santa Cruz County, noted that Santa Cruz County leaders directed some money from the American Rescue Plan Act to child care programs in the fall.

Capitola

and

Scotts Valley

leaders also have directed money toward child care programs.

Additional workforce housing in Santa Cruz County would help keep workers in Santa Cruz County and make it easier for employers to fill jobs.

Thornberg essentially said that new housing construction has not kept up with job growth. He called for more multifamily housing such as apartments. Many South County residents work in North County, so more homes in North County would help reduce commute times.

Cultivating talent within an organization could help fill roles with more responsibility.

For instance, Thornberg said hotel housekeeping staff could be trained for management roles.
The State of the Workforce report listed 25 common jobs in Santa Cruz County that earn a living wage and are projected to grow more than 5% from 2019 to 2024. These jobs "may provide particularly strong opportunities for workers in Santa Cruz County," Williams wrote. These jobs and their median annual earnings include:
Registered nurses ($142,938).

General and operations managers ($106,475).

Computer systems analysts ($92,498).

Police and sheriff's patrol officers ($108,805).
Detlefts said the Workforce Development Board asked that the State of Workforce report have a section on health care trends. About 14% of jobs in Santa Cruz County are in health care, and health care employment grew more than 26% from 2010 to 2020, according to the report. 
There has been high turnover in health care nationally since the pandemic started, said Nate Hunt, a project manager at GW Research Partnership, during Wednesday's presentation. 
"National surveys show that about 18% of workers who were working in health care before the pandemic ended up quitting at some point during the pandemic, and 12% were laid off," Hunt said. "A lot of those folks came back, but still, the fact that some residual amount did not come back still leads to the gaps that we're seeing now. And those gaps — those kinds of shortages of workers — are going to be hard to replace."
Some chief reasons that health care workers left their jobs were because of the pandemic, a lack of money, opportunities or career growth, or feeling "burned out or overworked," according to the State of the Workforce report.
A survey suggests that health care workers left their jobs during the pandemic for many reasons. (GW Research Partnership)
Santa Cruz Local's news is free. We believe that high-quality local news is crucial to democracy. We depend on locals like you to make a meaningful contribution so everyone can access our news. Learn about membership.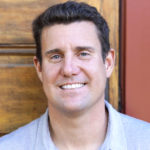 Stephen Baxter is a co-founder and editor of Santa Cruz Local. He covers Santa Cruz County government.