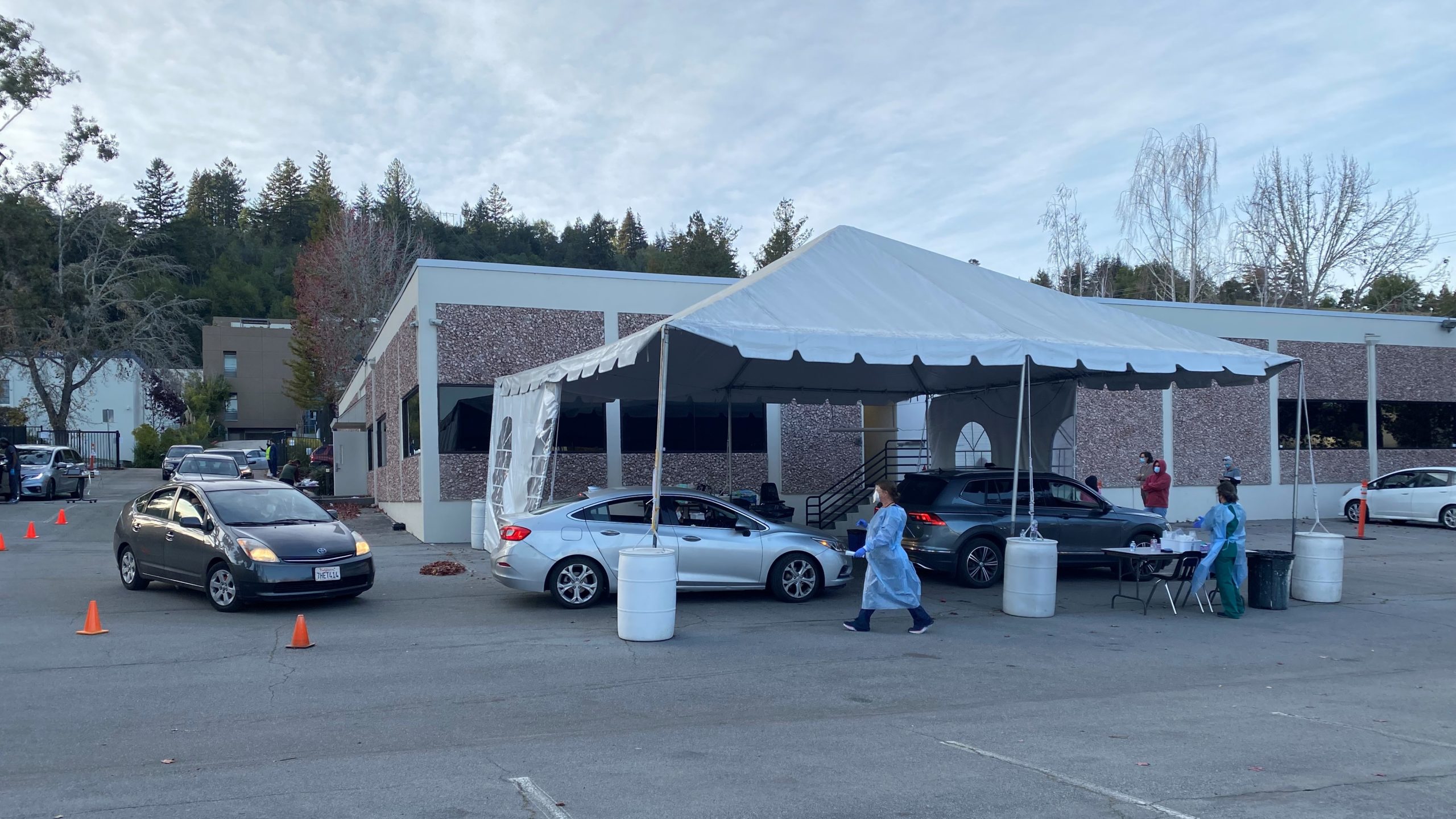 Cars lined up for COVID-19 tests Friday at the Santa Cruz County Office of Education building at 399 Encinal St. in Santa Cruz. COVID cases in local schools have spiked up recently due to the omicron variant. (Jacob Meyberg Guzman — Santa Cruz Local)
SANTA CRUZ>> Santa Cruz County schools are expected to stay in person in the coming weeks as health experts predict a continued surge of COVID-19 cases from the omicron variant. 
Online-only education would only happen if the California Department of Public Health compelled them, said county superintendent Faris Sabbah in an interview this week. "I don't think that's going to be the case just because we recognize that having open schools is so important for the well being of our students," Sabbah said. 
Maintaining in-person learning is the goal, Sabbah said.
As of Thursday, test sites at Santa Cruz County schools listed 2,451 active cases, a recent peak, according to the Santa Cruz County Office of Education COVID-19 dashboard.
Some schools this week issued a new protocol for "substantial exposure" — when all students and staff can be presumed to have been exposed to the virus, Sabbah wrote in a statement Friday. In that protocol:
Notifications to families of exposure would be reduced to once a week.

Students exposed to COVID would continue to be tested twice a week, Sabbah wrote.
Regardless of whether a school has substantial exposure, Santa Cruz County schools follow the California Department of Public Health school guidelines as of Friday:
Exposed students who are vaccinated or who had COVID in the last 90 days do not need to quarantine.

Exposed students who are not vaccinated must quarantine. Those students may attend in-person classes in a "modified quarantine" if:

At exposure, "both parties" wore a mask and were supervised by school staff.

They have no symptoms.

They wear a mask as required.

They get tested twice a week during quarantine. 

They do not participate in extracurricular activities at school,

according to the state guidelines

. 

Quarantine is either five or 10 days, depending on test results and symptoms.

Read details from the Santa Cruz County Office of Education on the guidelines

.

Active COVID-19 cases in Santa Cruz County schools have spiked up recently, according to data as of Jan. 20, 2022 from Santa Cruz County school test sites. (Santa Cruz County Office of Education)
School attendance drops due to COVID
At a County Office of Education board meeting Thursday, Sabbah said 20-25% of students are out of the classroom. That figure includes students with COVID, unvaccinated students with possible exposure to COVID, and students whose parents don't want them in school, Sabbah said.
Sabbah said his goal is to increase attendance and maintain the safety of the students. 
Casey Carlson, a Soquel High teacher and president of the Greater Santa Cruz Federation of Teachers union, said that local teachers unions have proposed more flexibility around a return to online teaching for two weeks to see the effect on cases. "At this time, the state won't allow them," she said of classroom closures. "That option just isn't on the table."
Nevertheless, Carlson said teachers support in-person learning as the best option for students' emotional and educational growth. 
With the increase in cases, Santa Cruz County schools have not experienced staff shortages as other schools around the country where parents have been asked to step in as substitute teachers.
Testing at schools
There are four drive-through test sites across Santa Cruz County in addition to the tests available in schools. The sites are available to staff, students and family with registration, without need for an appointment. 
The four Santa Cruz County Office of Education test sites administer PCR tests, which give the most accurate results. Before the omicron variant began its surge, schools received PCR results in 24 hours. Now, Sabbah said results are delayed by five days. In addition, approximately 1,000 rapid antigen tests are distributed a day in schools for students and staff. 
COVID testing at schools can be disruptive to classroom learning, said Carlson, the teacher union leader. 
"I know that's really hard for our high school teachers," said Carlson. "You have students, you know, leaving class, being gone, waiting in line for testing. So that's a real challenge." 
'Falling through the cracks'
Jacob Pinpin, 17, a high school senior at El Nido, an alternative school on Cabrillo College's Watsonville campus, zipped around on his skateboard Thursday afternoon at the Ramsay Park Skate Park in Watsonville. Pinpin has elected to remain in online classes since 2020. Due to a recent outbreak at his school, the rest of his class also has returned to online learning, he said. 
Pinpin prefers the flexible schedule to in-person classes, but it's hard for him to get help, he said. His teacher manages remote and in-person students at the same time.
"I think it would be a lot better if we had two teachers, one teaching in person, one teaching online. That would give us easier access to help, so like, if we really need their help, we can just call them without having them help the in-person students as well," Pinpin said.
Stephanie Garcia has a child in kindergarten at Landmark Elementary in Watsonville and a teenager at a San Jose high school. Garcia said that Landmark Elementary requires parents to log in every morning to the school website and report any COVID symptoms or possible exposure. She doubts that anyone monitors that data since she does not submit reports and school leaders have not held her accountable, she said.  
She said her child's kindergarten classroom feels safe, but school leaders are distracted by the COVID rules and protocols, and her child has not received the social and emotional help that he needs.
"I don't feel like there's enough available for him as far as, like, help," Garcia said. "He's not a problem kid in the classroom. He's not throwing things, right. He's not an immediate problem. But that doesn't mean he's not suffering. And that can have big consequences later in life, so that bothers me."
"As a parent of — I hate to use the 'falling through the cracks' phrase, but it's true — his issues are huge and they're not being met. And I have reached out, I have tried, and I haven't gotten the response. It's sort of like, 'OK, we'll see what we can do,' but there's no follow-through," Garcia said.
N95, KN95 masks preferred
This month, the CDC updated its mask guidance, saying that N95 and KN95 masks offer the best protection against COVID for the general public. 
In an interview this week, Dr. Cal Gordon, a deputy health officer for Santa Cruz County, said an N95 mask is drastically more effective than a cloth mask. State leaders sent N95 masks for all students. 
"They sent, unfortunately, only one size which was a large size so it's good for people in high school," Gordon said. "It's probably not appropriate for the smaller children."
Sabbah said at Thursday's meeting that schools are waiting for children-size masks to be sent by state leaders.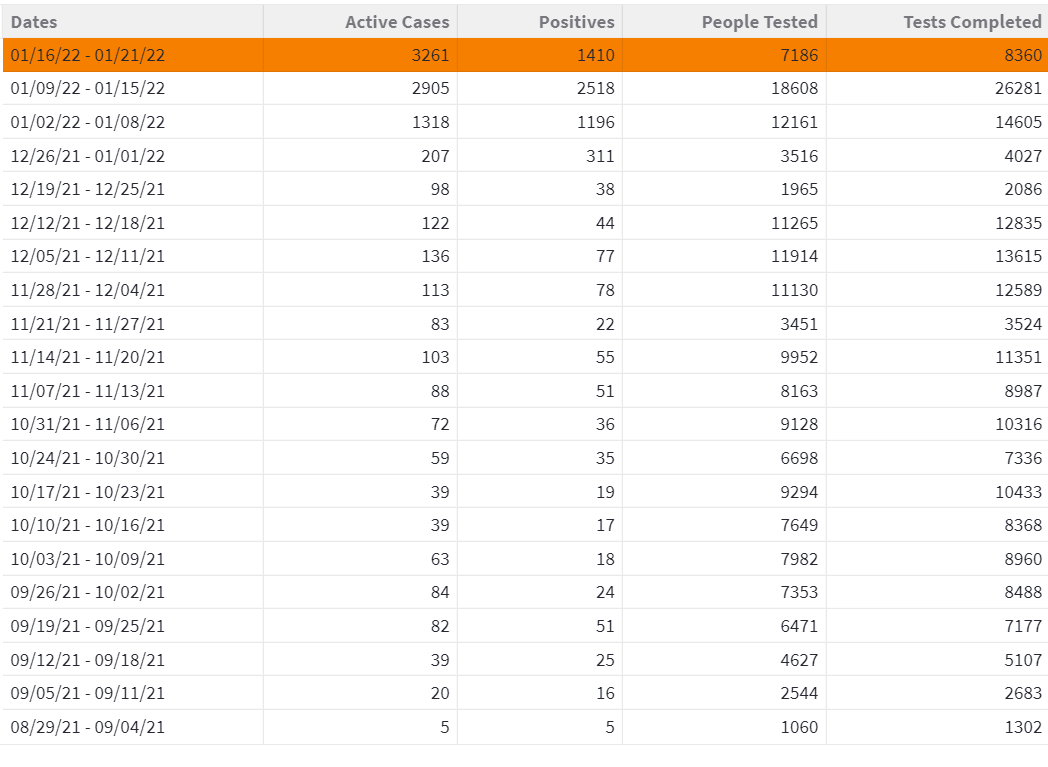 A table with weekly COVID test results at Santa Cruz County schools sites shows a recent spike in active cases. The table includes test results as of Jan. 20, 2022. (Santa Cruz County Office of Education)
Santa Cruz Local's Kara Meyberg Guzman contributed to this report from Watsonville.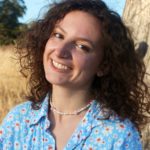 Allison Gasparini is a science writer and recent graduate of the UC Santa Cruz Science Communication master's program. She has written for the Monterey Herald, the Mercury News and Forbes' science section.