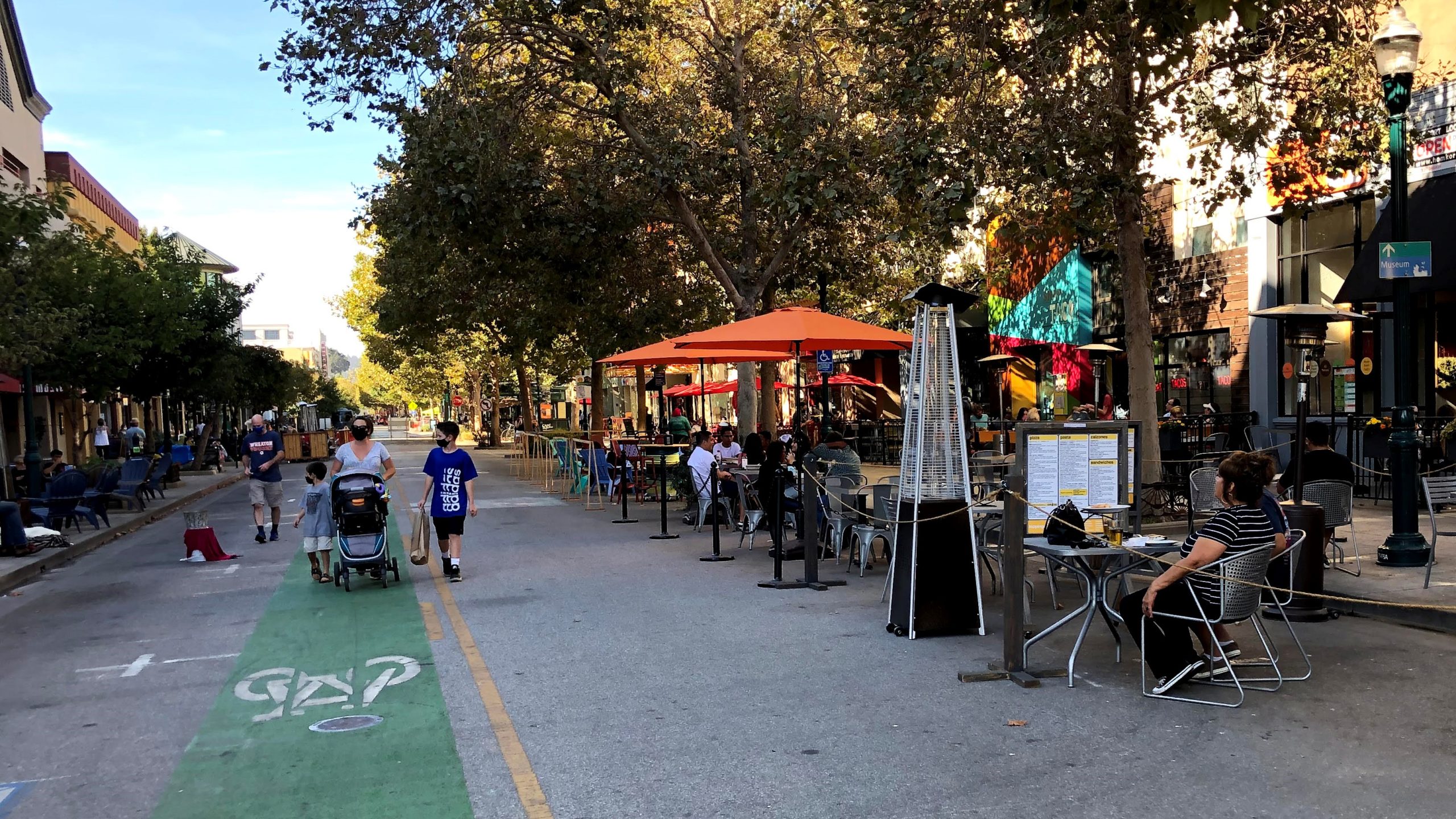 Pacific Avenue in Santa Cruz has been closed to cars between Cathcart and Lincoln streets to allow outdoor dining during much of the pandemic. (Kara Meyberg Guzman — Santa Cruz Local file)
SANTA CRUZ >> Rules will be refined for an outdoor dining program that helped save several restaurants in Santa Cruz during the pandemic, the Santa Cruz City Council decided Tuesday. 
Jump to a brief report on the council's other actions Tuesday:
Expansion of outdoor seating
The council directed city staff to create a proposal to expand outdoor seating on private property and on street parking spots. The proposal would have new fees and design rules for "parklets" or seating areas built on public parking spaces. It could take effect next year.
During the pandemic, city leaders created an emergency program to allow free temporary permits for:
dining on sidewalks, public parking spots, alleys and private property

retail, service and fitness uses on public and private property
Those emergency rules are set to expire Dec. 31. In the next month, the council is expected to vote on an extension of those rules to the end of 2022.
Prior to the pandemic, the city allowed parklets downtown. Two businesses participated. Costs for businesses included $1,271 for a design permit and $1,335 annually for each parking space occupied. 
Karen Madura, owner of the bars Brady's Yacht Club in Seabright and the Jury Room on Ocean Street, said her temporary patios were "absolutely vital" to her bars' survival. "These patios absolutely have been a lifeline," Madura said during the meeting. "I just can't stress enough — without these, we definitely would have gone under."
The council approved the direction 6-0. Vice Mayor Sonja Brunner recused herself, since she is employed as the director of operations at the Downtown Association of Santa Cruz. The association is advocating for more outdoor dining.
Rami Kayali, owner of MeloMelo Kava Bar on Pacific Avenue, urged the council to consider parklet design rules that would allow shelter from rain, as other cities have. Kayali said his business likely will rely on outdoor tables this winter if COVID rules persist. 
Kayali said when he built a parklet shelter around the start of the pandemic, the structure was red-tagged and he received a warning that he'd be charged $1,200 a day until it met the city's design rules. He rebuilt the structure without overhead shelter. He asked the council to look into grants to businesses for parklets and a list of preferred designs for parklets.
"It's been a year now and we still haven't seen the ball move forward," Kayali said.
City leaders also plan to examine the downtown street closures on Cathcart Street and on Pacific Avenue between Cathcart and Lincoln streets. During the pandemic, those streets have been closed to car traffic to allow outdoor dining.
City staff have recommended an extension of the partial Cathcart Street closure until the end of 2022. No decision has been made.
Ian McRae, an owner of Hula's Island Grill and Tiki Room on Cathcart Street, said he predicts a permanent public demand for outdoor dining. During the pandemic, Hula's has expanded its outdoor seating on the closed street.
McRae said he'd like to see "a vision of Cathcart Street as 'restaurant row' from Cedar to Front" streets with more than a dozen restaurants and a connection to the San Lorenzo Riverwalk.
Possible relocation of Homeless Garden Project farm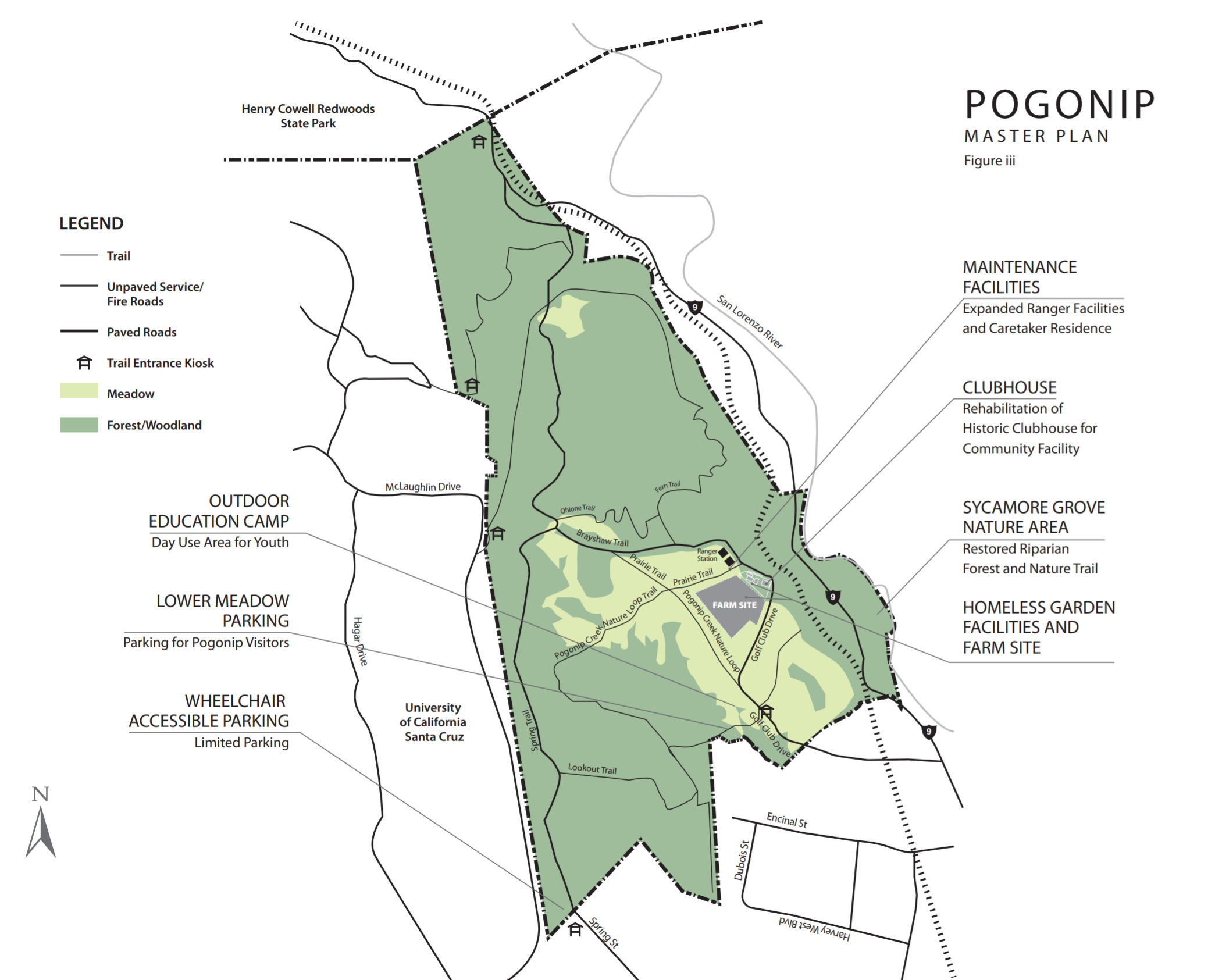 A map shows the new proposed location of a Homeless Garden Project farm, next to the Pogonip Clubhouse. (Homeless Garden Project)
The Homeless Garden Project has planned a farm in a Pogonip meadow near Golf Club Drive for years. The project is a Santa Cruz nonprofit that trains and employs homeless people in farm work. It has a farm on Shaffer Road at Delaware Avenue and a store on Pacific Avenue.
Homeless Garden Project leaders now want to relocate the proposed farm to a meadow uphill, closer to the defunct Pogonip Clubhouse. A 2018 report showed lead contamination related to skeet shooting in the lower meadow. The move would require a change to the Pogonip Master Plan with public hearings and environmental review, according to the staff report.
Tuesday, the council unanimously directed city staff to begin a process to change the Pogonip Master Plan. An update is due at the council's Sept. 28 meeting. The city's parks and recreation commission is expected to discuss the issue at its Sept. 13 meeting.
Special session on state laws related to 831 Water St. project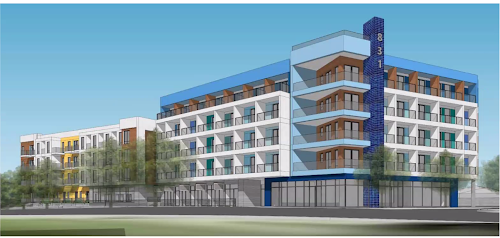 A development plan for 831 Water St. in Santa Cruz shows a five-story building and a four-story building. (Rendering: Novin Development and Lowney Architecture)
A special study session of the city council is scheduled for 7:30 p.m. Sept. 7 to discuss state laws that allow streamlined approval and higher density for a proposed apartment complex at 831 Water St. 
The project includes 145 apartments across two buildings. Of those, 71 apartments will have rents set at affordable rates for people who earn 30% to 80% of area median income. 
The buildings are four stories and five stories tall. The project has received heavy pushback from neighbors who say it is out of scale with the neighborhood.
The proposal is the first project in Santa Cruz to seek streamlined approval under state law SB 35. The law, which took effect in 2018, aims to incentivize housing development in cities which have not met state targets for low-income and moderate-income housing.
Because Santa Cruz did not make enough progress on its Regional Housing Needs Assessment goals, the city council's power to change the project is limited if the proposal meets the SB 35 requirements. 
Requirements for streamlined approval in Santa Cruz include:
Designating at least half the units as below market-rate rentals

Providing multifamily housing rather than single-family homes

A commitment by the developer to pay the state's prevailing wage to contractors
The developer also applied for a "density bonus," which allows the project to exceed city height standards. In return, the developer would build more affordable housing for people with qualifying incomes under state law.
To deny the density bonus, the city council would have to prove that the added height does one of the following:
Does not reduce overall cost to allow affordable housing

Has a negative impact on "public health and safety or the physical environment" and cannot be fixed without making the proposal unaffordable to people with lower incomes

Is against state or federal law
Tuesday, the council unanimously directed city staff to discuss the following at the Sept. 7 meeting:
A process to designate the council as the approval body for density bonuses in SB 35 projects

The council's power to approve or deny density bonus requests

The developer's requirement to provide financial documents related to density bonus requests
Residents will be able to comment state laws related to 831 Water St. at the meeting.
Special meeting on district elections
The council will hold a special meeting at 4:30 p.m. Aug. 31 to discuss the city's possible transition to district elections by the November 2022 elections.
The proposed change was spurred by the threat of a lawsuit from a Santa Barbara-based law firm that alleged that Santa Cruz violated the California Voting Rights Act by not adequately representing Latinos in the city. 

Santa Cruz and many other cities have at-large elections where residents from anywhere in the city can vote for any candidate. With district elections, the city is divided into geographical districts and voters in each district choose a council member that lives in their district.
The Santa Cruz City Council has seven members who represent the entire city. Council members' terms end in different years, so choosing which district votes first could be contentious.
A draft map of the districts is due by November. It will be based on 2020 census data and public comments. The council is expected to vote on a law to finalize a transition to district elections by March 2022. 
The Aug. 31 meeting will include public comment and a presentation by city staff and a demographer.
To email comments to city staff, email [email protected].
Learn more:
New lighting expected on San Lorenzo Riverwalk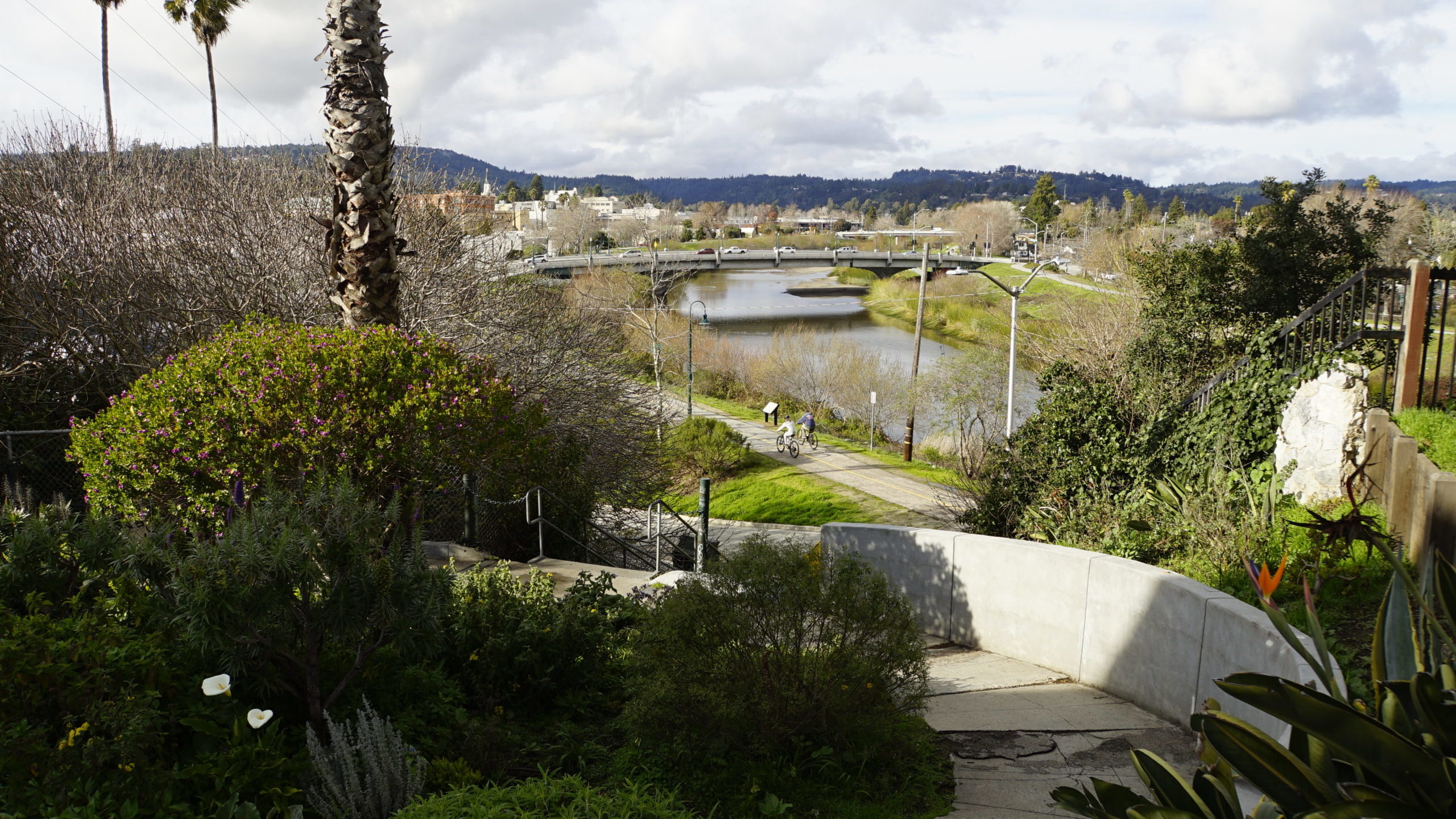 A lighting project on the San Lorenzo Riverwalk aims to increase safety for walkers and bikers. (Kara Meyberg Guzman — Santa Cruz Local file)
The council unanimously accepted a state grant to construct roughly 55 light posts on the San Lorenzo Riverwalk between Water Street and Highway 1. The lights are intended to improve safety for cyclists and walkers at night and early mornings. Construction costs are estimated at $857,000 and would be entirely state funded.
Possible changes to Beach Flats parking permits
Vice Mayor Sonja Brunner and Councilmembers Sandy Brown and Justin Cummings are set to begin work on a proposal to address residents' concerns about limited parking in Beach Flats. 
The neighborhood has heavy tourist traffic around the Santa Cruz Beach Boardwalk and Main Beach during summer. Residents said they have trouble finding parking. 
Tuesday, as part of its consent agenda, the council unanimously approved city staff exploration of:
New parking locations for Beach Flats residents during summer

Reduced cost of parking permits for Beach Flats residents

Reduced cost and improved distribution of parking permits at the Nueva Vista Apartments. Nueva Vista is an affordable housing complex on Leibrandt Avenue.
A report is expected in early 2022.
New interim city manager
Tuesday, the council unanimously appointed Santa Cruz Water Director Rosemary Menard as the city's interim city manager.
City Manager Martín Bernal is scheduled to retire Aug. 31. City leaders' national search for his replacement is ongoing.
Editor's note: This story has been updated to reflect the nature of the Sept. 7 special meeting.
Become a member of Santa Cruz Local, an independent, community-supported newsroom that's owned and led by local journalists. Our stories are free and always will be, but we rely on your support.
Already a member? Support Santa Cruz Local with a one-time gift.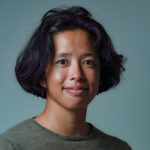 Kara Meyberg Guzman is the CEO and co-founder of Santa Cruz Local. ​Prior to Santa Cruz Local, she served as the Santa Cruz Sentinel's managing editor. She has a biology degree from Stanford University and lives in Santa Cruz.