SANTA CRUZ >> The Santa Cruz City Council voted 5-2 to advance broader limits than previously considered for where and when homeless people can camp in the city. 
If city-sanctioned or private shelter beds are available, camping essentially would not be allowed on public property unless city leaders give permission for that site. The proposal aims to deter large, unmanaged homeless camps. 
City staff must wait for applications from storage and safe sleeping site operators before the policy can take effect. The proposed law is expected to be voted on in a second reading in the coming weeks. City leaders seek public input by email to [email protected].
The proposed law includes:
A daytime storage program.

Safe sleeping, shelter or managed camp spots for at least 150 people on city-owned property. The sites and hours of operation are not yet determined. Possibilities include the River Street Shelter at 115C Coral St., the city yard at 1220 River St., the three-story River Street garage downtown, the two-story Cedar Street parking garage, and other downtown parking lots, according to the staff report. 

Safe sleeping sites cannot be in or next to residential areas or schools. 
Limits on camping:
People would be allowed to camp on public property if sanctioned sleeping spots, shelter beds and hotel vouchers are not available. 

If shelter is available, night camping would be banned on public property from one hour before sunset to one hour after sunrise but no later than 8 a.m. Day camping would be prohibited one hour after sunrise (but no later than 8 a.m.) to one hour before sunset on public property once a day storage program starts. 
Other rules:
The city council and the city manager have the authority to allow areas for camping.

The camping bans would not apply to families with children. The rules may be enforced against people with disabilities if city staff can provide "reasonable assistance" to break camp and store belongings, according to the draft law.

Penalties start with a verbal warning, followed by a ticket with up to a $20 fine or community service. If the person does not break down their camp, they could be arrested and charged with a misdemeanor. Police would then be able to seize and store their property. 

The proposal calls for data collection including a quarterly homeless census and a semi-annual review of related arrests and tickets.
Councilmembers Martine Watkins, Shebreh Kalantari-Johnson, Renee Golder, Vice Mayor Sonja Brunner and Mayor Donna Meyers voted in favor of the draft law. Councilmembers Sandy Brown and Justin Cummings voted against it.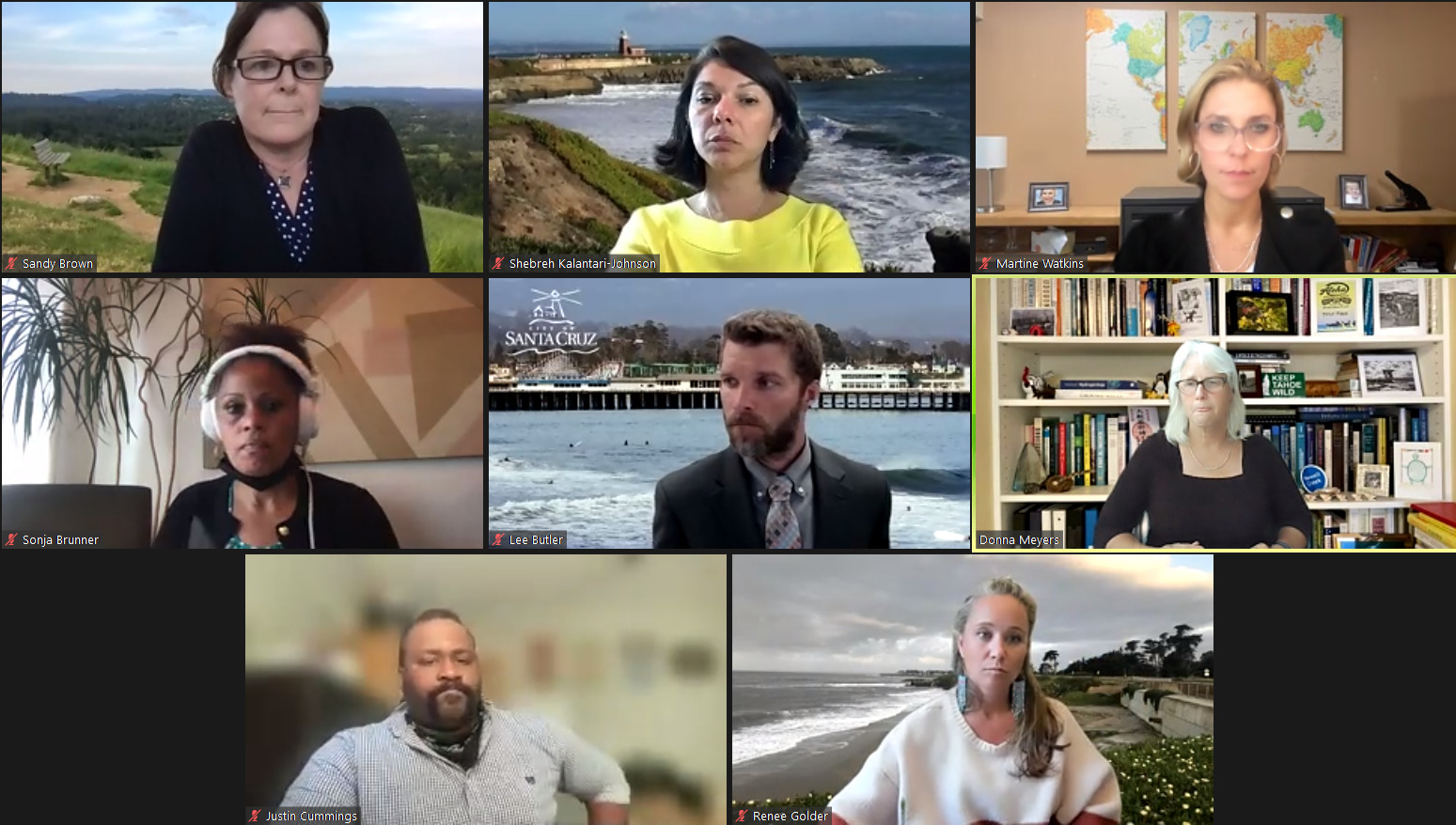 From top left, clockwise, Santa Cruz City Council members Sandy Brown, Shebreh Kalantari-Johnson, Martine Watkins, Mayor Donna Meyers, Renee Golder, Justin Cummings and Vice Mayor Sonja Brunner discuss the proposed homeless camping law Tuesday with city Planning and Homelessness Response Director Lee Butler, center. (Zoom screenshot)
Explaining their votes
Mayor Meyers said Gov. Newsom's announcement Tuesday of nearly $50 million available to local governments to move people from homeless camps to housing was "a signal" that the city's proposed law was aligned with state funding opportunities. Meyers and other council members said that the city needed a law in place to address homeless camps to compete for state grants.
"We need to be ready as a community. I'm tired of talking and not doing anything," Meyers said. "We've got to get assistance for the people who need it here in this community. I'm done talking about it."
Brown and Cummings said they wanted the safe sleeping and storage programs, but they wanted more public hearings to engage residents. The proposed law was published on the city's website late last week and did not give enough time for many residents to digest it, Cummings said. 
The council received hundreds of emails in opposition to a previous version of the law. The council abandoned the previous version last month.
"I just keep recommending that we have this opportunity to have further engagement with the community, because that's what the community is asking us for," Cummings said. "It would go a long way to rebuild trust and let them know that we are trying to hear them out." 
Vice Mayor Brunner also pushed for more meetings to get input on the policy in part because it would not start until storage and sleeping sites are available.
No one who identified themselves as homeless spoke during Tuesday afternoon's council meeting, which stretched for nearly nine hours and took place online only. 
Councilmember Brown expressed concern that city staff did not yet have a clear plan to identify if shelter was available, which would trigger the night camping ban. Santa Cruz Planning and Homelessness Response Director Lee Butler said Tuesday that a possible idea is development of a mobile app to show in real time which shelter sites have availability, but staff "haven't gotten to the point where we're making that a reality."
Brown said she was hopeful, but not convinced, that the app could be created.
"Given that we have never been able to figure this out before, it's hard to imagine that all of a sudden we're going to figure it out and make it happen in this short amount of time," Brown said. "So I think we really do need a clear understanding of what we can actually do — what the city can do, what operators can do — before we say we're going to do this. Otherwise we're really kind of misleading the public." 
Not enough services
Nearly every council member acknowledged that the 150 safe sleeping, shelter or managed camp spots that the proposed law would create would not be enough to meet the need.
The most recent homelessness point-in-time count from 2019 identified nearly 1,200 homeless people in the City of Santa Cruz, 865 of whom were unsheltered.
During the COVID-19 pandemic, the number of shelter beds offered by the County of Santa Cruz has peaked due to new COVID-related state and federal funding. More than 800 shelter beds are filled daily countywide, county spokesman Jason Hoppin said Tuesday.
"We are at an all-time high for shelter capacity," Hoppin said. 
Beds do come open, but there's a wait list of about another 800 people, he said. County staff prioritize open beds for older people and others medically at risk for severe COVID, Hoppin said.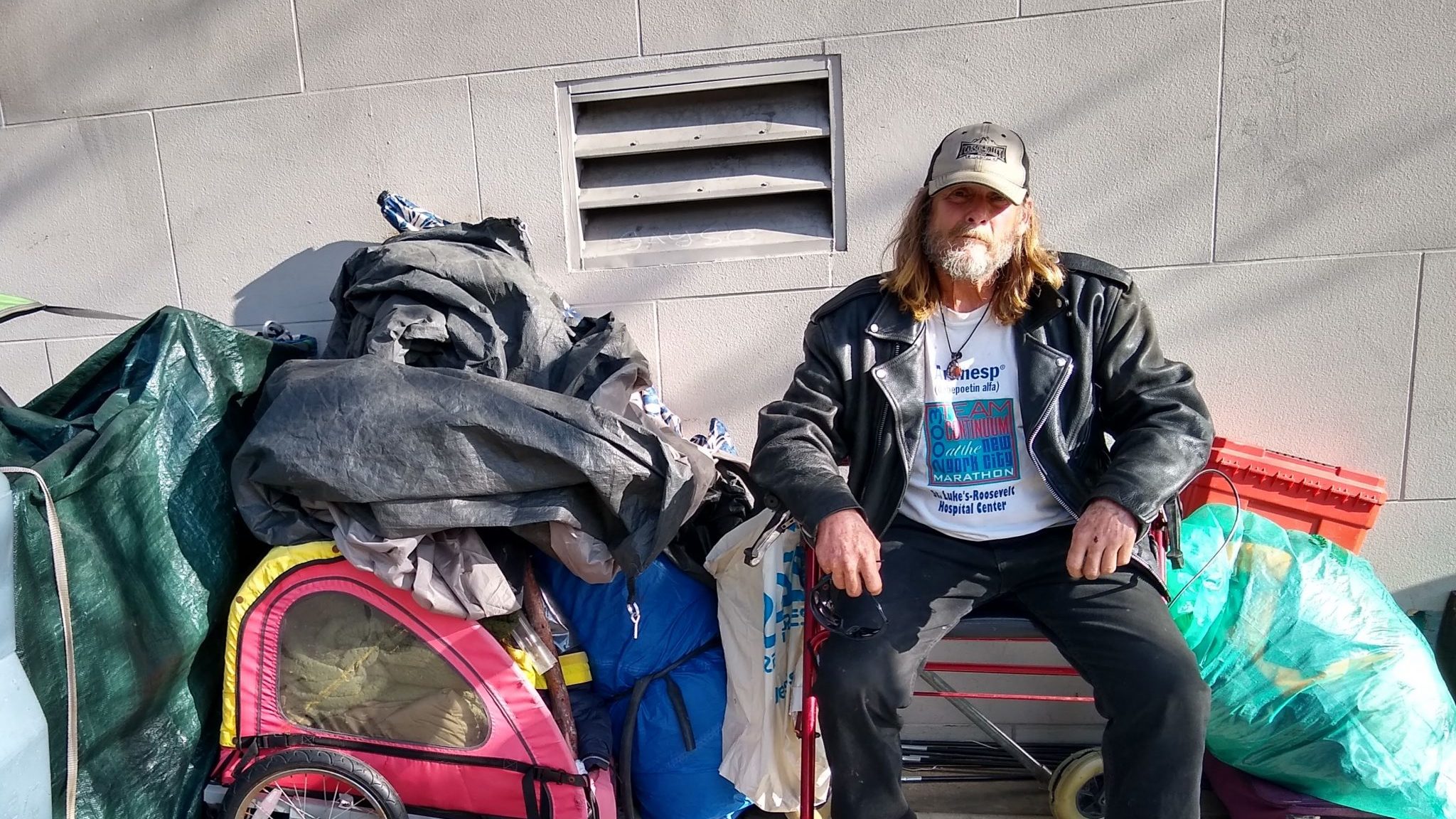 Gary, 63, said he would go to a shelter if it accepted his belongings. He camped near the post office in downtown Santa Cruz in 2020. (Stephen Baxter — Santa Cruz Local file)
Camp closures
For decades, city leaders have struggled to manage unsanctioned homeless camps along the San Lorenzo River. When city officials close one camp, another typically starts. 
For the past several months, city leaders have tried to work with Caltrans and county officials to relocate a large homeless camp at Highways 1 and 9 in Santa Cruz. Several dozen people have camped mostly along the highway shoulders, on Caltrans property.
Friday, Caltrans officials posted notices to vacate the camp within 72 hours. Tuesday, about five campers remained, a Caltrans spokesman said.
County staff placed some Highway 1/9 campers into the county's shelter system based on age and medical necessity, a county spokesman said. The county's shelter system does not have the capacity to absorb the dozens of people who lived at the Highway 1/9 camp.
In negotiations, city leaders have asked Caltrans officials to provide a place to relocate the homeless campers. Tuesday, a Caltrans spokesman did not answer whether Caltrans found an alternate place.
"We will continue to work with the city and county of Santa Cruz to move people into safer situations as available," the spokesman wrote.
City staff also have recently moved campers at another large homeless camp at San Lorenzo Park. About 130 managed tent sites, supported by county staff, have been marked at the benchlands next to San Lorenzo Park. City staff moved campers from the San Lorenzo Park duck pond area to the benchlands camp. 
An order from a federal judge temporarily prevents city officials from clearing the camp. A court hearing is scheduled for 10 a.m. Thursday.
The benchlands camp is meant to mostly serve homeless people who lived at San Lorenzo Park. The benchlands camp also includes seven tent sites for people who arrived there since Friday's closure notice at the Highway 1/9 camp. 
City leaders soon plan to close another homeless camp at the Friendship Garden in Harvey West Park. The camp has issues including illegal timber harvesting, hillside terracing and "perceived" drug dealing, city Parks and Recreation Director Tony Elliot said Tuesday. 
City officials plan to add tent sites to the benchlands camp to serve people who live in the Friendship Garden camp, Butler said Tuesday.
District elections
Tuesday, the city council unanimously voted to advance a plan to transition to district elections by the November 2022 election.
The proposed change was spurred by the threat of lawsuit from a Santa Barbara-based law firm that alleged that Santa Cruz violated the California Voting Rights Act by not adequately representing Latinos in the city. 

Santa Cruz and many other cities have at-large elections, where residents from anywhere in the city can vote for any candidate. With district elections, the city is divided into geographical districts and voters in each district choose a council member that lives in their district.
The Santa Cruz City Council has seven members who represent the entire city. Council members' terms end at different times, so choosing which district votes first could be contentious. 
Watsonville City Council has had district elections for many years. Santa Cruz City Schools recently changed to district elections after a similar threat of a lawsuit. Cities and counties across the state have faced similar legal threats and have begun to shift.
A draft map of the districts is due by November. It will be based on 2020 census data and public comments. Several public hearings will be held over the next 11 months to gather input on the maps and election schedule for the council members' staggered terms of office.

The council is expected to vote on a law to finalize a transition to district elections by March 2022.

Tuesday, the city council also directed staff to research other types of elections, including a mayoral election and ranked-choice voting. Santa Cruz's mayor is selected by a council vote, not by city voters. Ranked-choice voting would allow voters to rank candidates by preference. The city council also directed staff to get public input on whether to pursue an independent redistricting committee or commission. Should the council move forward with district elections, an independent commission could help reshape district boundaries in future elections after the council decides the initial boundaries.
Related stories
Become a member of Santa Cruz Local, an independent, community-supported newsroom that's owned and led by local journalists. Our stories are free and always will be, but we rely on your support.
Already a member? Support Santa Cruz Local with a one-time gift.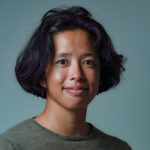 Kara Meyberg Guzman is the CEO and co-founder of Santa Cruz Local. ​Prior to Santa Cruz Local, she served as the Santa Cruz Sentinel's managing editor. She has a biology degree from Stanford University and lives in Santa Cruz.